Down & Out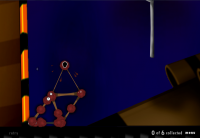 Author:
Peter B
Total downloads: 3,195
Latest version: 1.0
Release date: 11/10/2010 - 15:46
This is my first level, it was a bit of a pain to make, but I'm happy with how it turned out.
Your aim is to build up to the sleeping goo and wake them, thus allowing you to build to the opposite side, wake the goo, and so on, all the way to the top. Sounds simple, but there's a twist.
(If you fail to wake them, then you'll need to retry)
Comments and ratings are welcome.
*Note: The starting speed can vary a bit, so if it's barely moving then hit retry. Also, you might want to retry as soon as the level starts, unless you're quick enough. You'll understand all this when you play it.
There is 1 current download.