Face Lift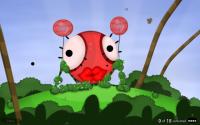 Author:
Daft as Brush
Total downloads: 1,038
Latest version: 1.2
Release date: 03/28/2010 - 04:36
Thought I'd start making levels rather than just beating them!
Beauty needs lift... can you help her?
I've set OCD at 69 moves.
v1.2 - I've taken out a few goos, and built holding structures on either side for the remainder. Should make things less frustrating!
Notes
I designed this level to exploit / demonstrate an aspect of the physics which hasn't been used in any of the levels I've seen.
If you can figure out what, then you'll find there's an easy and elegant solution which will also get you OCD if you are careful.
Oh and when I say "easy"...
I mean you don't need ANY Goo Superpowers (like kicking or throwing or any of that)
Hopefully someone will figure it out!
There is 1 current download.