Screamers and Deaths (Darkness Level)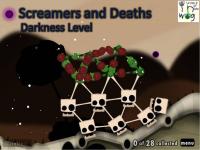 Author:
inwog
Total downloads: 2,208
Latest version: 1.3
Release date: 06/01/2010 - 23:14
WARNING! This addin depends on Element Buster Level, because you need the Darkness Product.
ASSOCIATED WITH PURPLE DARKNESS!
One of the levels that you can't see the Darkness Products. With your structure pitted by a group of spikes, the pipe is at the left side of the screen. Just you know that its easy to get a least move or least time records. Try find the Darkness Products and Collect them to gain bonus and OCD.
Darkness Element - this element can make the goo ball's color darker and rarely more tough. But sometimes it can go on destruction by destroying a block or kill a goo. For more info, go to the Element Buster Level!
inwog's 11th Single Level Addin.
Level made by inwog.
New Version: 1.3
- Cursor changed to Purple.