Varap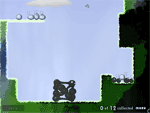 Author:
feunyboy
Total downloads: 1,754
Latest version: 1.2
Release date: 01/06/2010 - 08:12
My first.
Easy and quiet way up !
Have fun.
version 1.2 out thanks to thB
Changes include:
- Fix: crash on widescreen at level start
- Fix: several collision errors where balls would get stuck or lost
- Fix: removed duplicate image and unused resource links
There is 1 current download.