World of Goo Mouse Cursors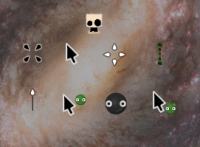 Author:
MOM4Evr
Total downloads: 3,906
Latest version: 1.0
Release date: 04/14/2010 - 09:48
Now introducing...
The World of Goo Corporation approved* mouse cursors for Windows!
Simply unzip the folder, put it somewhere safe on your hard drive, and go into Control Panel.
From there, find the mouse properties (should be somewhere close by, it's in "Appearance and Personalization->Personalization" in Vista), click on the "Pointers" tab, and start changing your mouse cursors to the appropriate ones from the package (use their names as a guide). When you are done, click "Apply" and Poof! Your mouse cursors are instantly World of Goo Corporation approved!

NOTE TO VISTA USERS: For me, the mouse cursors do not persist between turning the computer off and back on again. It may just be my computer, but if this happens to you, copy the cursors to "(your drive letter here, usually C: )\Windows\Cursors" and you should be fine.
These cursors should work fine with Windows XP, Vista, or 7. Unfortunately, I don't have a program for creating cursors for Mac or Linux. If you know of such a program and want to make Mac or Linux cursors out of these, let me know and I'll post the original .png images.
Cursors created with RealWorld Cursor Editor. A very special thanks toward them!
Enjoy!
MOM4Evr
*As far as we know. We haven't really told them about these mouse cursors yet, but we're sure they'll like them.
| Version | Platform | Release Date | Filename | Size | Downloads |
| --- | --- | --- | --- | --- | --- |
| 1.0 | Windows | Wed, 04/14/2010 - 09:48 | WOG_Cursors.zip | 42.22 KB | 3,906 |
There is 1 current download.