Second Hand Smoke
Cog in the Machine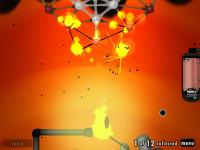 Normal: 12 balls
OCD: 25 balls
Previous level:
Burning Man
.
Next levels:
Super Fuse Challenge Time
,
Misty's Long Bony Road
.
some balls are more flammable than other balls
Signposts
More mysterious pipes appeared up in the sky!
What are they building in this factory?
There is a rumor...
'Everything changes in Chapter 4'
...whatever that means.
-the intrepid Sign Painter
You need Flash player 8+ and JavaScript enabled to view this video.
There is 1 video.
<level

 

ballsrequired

=

"12"

 

letterboxed

=

"false"

 

visualdebug

=

"false"

 

autobounds

=

"false"

 

textcolor

=

"255,255,255"

 

texteffects

=

"true"

 

timebugprobability

=

"0"

 

strandgeom

=

"false"

 

allowskip

=

"false"

 

>


 
	

<!-- Camera -->


	

<camera

 

aspect

=

"normal"

 

endpos

=

"0.27,520.44"

 

endzoom

=

"0.683"

>


		

<poi

 

pos

=

"-2.08,474.31"

 

traveltime

=

"0"

 

pause

=

"0.7"

 

zoom

=

"0.693"

 

/>


		

<poi

 

pos

=

"-7.25,1297.56"

 

traveltime

=

"4"

 

pause

=

"0"

 

zoom

=

"0.861"

 

/>


	</camera

>


	

<camera

 

aspect

=

"widescreen"

 

endpos

=

"0,520.44"

 

endzoom

=

"0.913"

>


		

<poi

 

pos

=

"0,474.31"

 

traveltime

=

"0"

 

pause

=

"0.7"

 

zoom

=

"0.913"

 

/>


		

<poi

 

pos

=

"0,1297.56"

 

traveltime

=

"4"

 

pause

=

"0"

 

zoom

=

"0.913"

 

/>


	</camera

>


 
	

<!-- Music -->


	

<music

 

id

=

"SOUND_LEVEL_SECONDHANDSMOKE_TEMP_DWTD2"

 

/>


 
	

<!-- Fire -->


	

<fire

 

depth

=

"0"

 

particles

=

"fireStackSmaller2"

 

x

=

"25"

 

y

=

"602"

 

radius

=

"95"

 

/>


 
	

<!-- Signposts -->


		

<signpost

 

name

=

"signpost_gray"

 

depth

=

"8.8"

 

x

=

"-478.39"

 

y

=

"1374.51"

 

scalex

=

"0.823"

 

scaley

=

"0.912"

 

rotation

=

"167.73"

 

alpha

=

"1"

 

colorize

=

"128,128,128"

 

image

=

"IMAGE_SCENE_SECONDHANDSMOKE_SIGNPOST_GRAY"

 

text

=

"SIGNPOST_SECONDHANDSMOKE_1"

   

/>


 
	

<!-- Pipes -->


	

<pipe

 

id

=

"0"

 

depth

=

"0"

 

>


		

<Vertex

 

x

=

"-22"

 

y

=

"600"

 

/>


		

<Vertex

 

x

=

"-281"

 

y

=

"600"

 

/>


		

<Vertex

 

x

=

"-281"

 

y

=

"205"

 

/>


		

<Vertex

 

x

=

"-41"

 

y

=

"205"

 

/>


		

<Vertex

 

x

=

"-41"

 

y

=

"55"

 

/>


		

<Vertex

 

x

=

"-266"

 

y

=

"55"

 

/>


		

<Vertex

 

x

=

"-266"

 

y

=

"-45"

 

/>


	</pipe

>


 
	

<!-- Balls -->


	

<BallInstance

 

type

=

"GooProduct"

 

x

=

"37"

 

y

=

"492"

 

id

=

"0"

 

angle

=

"0"

 

/>


	

<BallInstance

 

type

=

"GooProduct"

 

x

=

"-15"

 

y

=

"479"

 

id

=

"1"

 

angle

=

"0"

 

/>


	

<BallInstance

 

type

=

"GooProduct"

 

x

=

"-41"

 

y

=

"429"

 

id

=

"2"

 

angle

=

"0"

 

/>


	

<BallInstance

 

type

=

"GooProduct"

 

x

=

"-81"

 

y

=

"460"

 

id

=

"3"

 

angle

=

"0"

 

/>


	

<BallInstance

 

type

=

"GooProduct"

 

x

=

"87"

 

y

=

"458"

 

id

=

"4"

 

angle

=

"0"

 

/>


	

<BallInstance

 

type

=

"GooProduct"

 

x

=

"91"

 

y

=

"433"

 

id

=

"5"

 

angle

=

"0"

 

/>


	

<BallInstance

 

type

=

"GooProduct"

 

x

=

"59"

 

y

=

"437"

 

id

=

"6"

 

angle

=

"0"

 

/>


	

<BallInstance

 

type

=

"GooProduct"

 

x

=

"48"

 

y

=

"462"

 

id

=

"7"

 

angle

=

"0"

 

/>


	

<BallInstance

 

type

=

"GooProduct"

 

x

=

"14"

 

y

=

"467"

 

id

=

"8"

 

angle

=

"0"

 

/>


	

<BallInstance

 

type

=

"GooProduct"

 

x

=

"24"

 

y

=

"430"

 

id

=

"9"

 

angle

=

"0"

 

/>


	

<BallInstance

 

type

=

"GooProduct"

 

x

=

"-11"

 

y

=

"438"

 

id

=

"10"

 

angle

=

"0"

 

/>


	

<BallInstance

 

type

=

"GooProduct"

 

x

=

"-43"

 

y

=

"460"

 

id

=

"11"

 

angle

=

"0"

 

/>


	

<BallInstance

 

type

=

"Anchor"

 

x

=

"445"

 

y

=

"1435.51"

 

id

=

"12"

 

angle

=

"0"

 

/>


	

<BallInstance

 

type

=

"Anchor"

 

x

=

"321"

 

y

=

"1453.51"

 

id

=

"13"

 

angle

=

"0"

 

/>


	

<BallInstance

 

type

=

"Anchor"

 

x

=

"163"

 

y

=

"1457"

 

id

=

"14"

 

angle

=

"0"

 

/>


	

<BallInstance

 

type

=

"Anchor"

 

x

=

"-418"

 

y

=

"1441.51"

 

id

=

"15"

 

angle

=

"0"

 

/>


	

<BallInstance

 

type

=

"Anchor"

 

x

=

"-272"

 

y

=

"1454"

 

id

=

"16"

 

angle

=

"0"

 

/>


	

<BallInstance

 

type

=

"Anchor"

 

x

=

"-136"

 

y

=

"1476"

 

id

=

"17"

 

angle

=

"0"

 

/>


	

<BallInstance

 

type

=

"Anchor"

 

x

=

"-5"

 

y

=

"1455.51"

 

id

=

"18"

 

angle

=

"0"

 

/>


	

<BallInstance

 

type

=

"common_albino"

 

x

=

"-7.74"

 

y

=

"1154.35"

 

id

=

"19"

 

angle

=

"0"

 

/>


	

<BallInstance

 

type

=

"common_albino"

 

x

=

"93.26"

 

y

=

"1313.35"

 

id

=

"20"

 

angle

=

"0"

 

/>


	

<BallInstance

 

type

=

"common_albino"

 

x

=

"-2.74"

 

y

=

"1348.35"

 

id

=

"21"

 

angle

=

"0"

 

/>


	

<BallInstance

 

type

=

"common_albino"

 

x

=

"176.26"

 

y

=

"1261.35"

 

id

=

"22"

 

angle

=

"0"

 

/>


	

<BallInstance

 

type

=

"common_albino"

 

x

=

"-200.74"

 

y

=

"1270.35"

 

id

=

"23"

 

angle

=

"0"

 

/>


	

<BallInstance

 

type

=

"common_albino"

 

x

=

"-104.74"

 

y

=

"1310.35"

 

id

=

"24"

 

angle

=

"0"

 

/>


	

<BallInstance

 

type

=

"common_albino"

 

x

=

"-7.74"

 

y

=

"1249.35"

 

id

=

"25"

 

angle

=

"0"

 

/>


	

<BallInstance

 

type

=

"common_albino"

 

x

=

"-107.74"

 

y

=

"1208.35"

 

id

=

"26"

 

angle

=

"0"

 

/>


	

<BallInstance

 

type

=

"common_albino"

 

x

=

"98.26"

 

y

=

"1206.35"

 

id

=

"27"

 

angle

=

"0"

 

/>


	

<BallInstance

 

type

=

"Fuse"

 

x

=

"65"

 

y

=

"1365"

 

id

=

"28"

 

angle

=

"0"

 

/>


	

<BallInstance

 

type

=

"Fuse"

 

x

=

"240"

 

y

=

"1310"

 

id

=

"29"

 

angle

=

"0"

 

/>


	

<BallInstance

 

type

=

"Fuse"

 

x

=

"310"

 

y

=

"1335"

 

id

=

"30"

 

angle

=

"0"

 

/>


	

<BallInstance

 

type

=

"Fuse"

 

x

=

"290"

 

y

=

"1390"

 

id

=

"31"

 

angle

=

"0"

 

/>


	

<BallInstance

 

type

=

"Fuse"

 

x

=

"160"

 

y

=

"1410"

 

id

=

"32"

 

angle

=

"0"

 

/>


	

<BallInstance

 

type

=

"Fuse"

 

x

=

"85"

 

y

=

"1440"

 

id

=

"33"

 

angle

=

"0"

 

/>


	

<BallInstance

 

type

=

"Fuse"

 

x

=

"15"

 

y

=

"1415"

 

id

=

"34"

 

angle

=

"0"

 

/>


	

<BallInstance

 

type

=

"Fuse"

 

x

=

"-265"

 

y

=

"1390"

 

id

=

"35"

 

angle

=

"0"

 

/>


	

<BallInstance

 

type

=

"Fuse"

 

x

=

"-38"

 

y

=

"1222.33"

 

id

=

"36"

 

angle

=

"0"

 

/>


	

<BallInstance

 

type

=

"Fuse"

 

x

=

"25.33"

 

y

=

"1222.33"

 

id

=

"37"

 

angle

=

"0"

 

/>


	

<BallInstance

 

type

=

"Fuse"

 

x

=

"66"

 

y

=

"1275"

 

id

=

"38"

 

angle

=

"0"

 

/>


	

<BallInstance

 

type

=

"Fuse"

 

x

=

"160"

 

y

=

"1307"

 

id

=

"39"

 

angle

=

"0"

 

/>


	

<BallInstance

 

type

=

"Fuse"

 

x

=

"-124"

 

y

=

"1407"

 

id

=

"40"

 

angle

=

"0"

 

/>


	

<BallInstance

 

type

=

"Fuse"

 

x

=

"118"

 

y

=

"1276.33"

 

id

=

"41"

 

angle

=

"0"

 

/>


	

<BallInstance

 

type

=

"Fuse"

 

x

=

"-54.67"

 

y

=

"1352.33"

 

id

=

"42"

 

angle

=

"0"

 

/>


	

<BallInstance

 

type

=

"Fuse"

 

x

=

"20.67"

 

y

=

"1294.33"

 

id

=

"43"

 

angle

=

"0"

 

/>


	

<BallInstance

 

type

=

"Fuse"

 

x

=

"-31.33"

 

y

=

"1291.67"

 

id

=

"44"

 

angle

=

"0"

 

/>


	

<BallInstance

 

type

=

"Fuse"

 

x

=

"-74"

 

y

=

"1273"

 

id

=

"45"

 

angle

=

"0"

 

/>


	

<BallInstance

 

type

=

"Fuse"

 

x

=

"-128"

 

y

=

"1277.67"

 

id

=

"46"

 

angle

=

"0"

 

/>


	

<BallInstance

 

type

=

"Fuse"

 

x

=

"-126"

 

y

=

"1359"

 

id

=

"47"

 

angle

=

"0"

 

/>


	

<BallInstance

 

type

=

"Fuse"

 

x

=

"-174"

 

y

=

"1321"

 

id

=

"48"

 

angle

=

"0"

 

/>


	

<BallInstance

 

type

=

"Fuse"

 

x

=

"-290"

 

y

=

"1335"

 

id

=

"49"

 

angle

=

"0"

 

/>


	

<BallInstance

 

type

=

"Fuse"

 

x

=

"-9"

 

y

=

"1049.51"

 

id

=

"50"

 

angle

=

"0"

 

/>


	

<BallInstance

 

type

=

"Fuse"

 

x

=

"311"

 

y

=

"1273.51"

 

id

=

"51"

 

angle

=

"0"

 

/>


	

<BallInstance

 

type

=

"Fuse"

 

x

=

"347"

 

y

=

"1363.51"

 

id

=

"52"

 

angle

=

"0"

 

/>


	

<BallInstance

 

type

=

"Fuse"

 

x

=

"198"

 

y

=

"1369.51"

 

id

=

"53"

 

angle

=

"0"

 

/>


	

<BallInstance

 

type

=

"Fuse"

 

x

=

"-333"

 

y

=

"1366.51"

 

id

=

"54"

 

angle

=

"0"

 

/>


	

<BallInstance

 

type

=

"Fuse"

 

x

=

"-308"

 

y

=

"1269.51"

 

id

=

"55"

 

angle

=

"0"

 

/>


	

<BallInstance

 

type

=

"Fuse"

 

x

=

"-193"

 

y

=

"1366.51"

 

id

=

"56"

 

angle

=

"0"

 

/>


	

<BallInstance

 

type

=

"Fuse"

 

x

=

"71"

 

y

=

"1402.51"

 

id

=

"57"

 

angle

=

"0"

 

/>


	

<BallInstance

 

type

=

"Fuse"

 

x

=

"-56"

 

y

=

"1406.51"

 

id

=

"58"

 

angle

=

"0"

 

/>


 
	

<!-- Arms -->


	

<Strand

 

gb1

=

"50"

 

gb2

=

"19"

 

/>


	

<Strand

 

gb1

=

"57"

 

gb2

=

"53"

 

/>


	

<Strand

 

gb1

=

"58"

 

gb2

=

"57"

 

/>


	

<Strand

 

gb1

=

"26"

 

gb2

=

"27"

 

/>


	

<Strand

 

gb1

=

"25"

 

gb2

=

"22"

 

/>


	

<Strand

 

gb1

=

"24"

 

gb2

=

"20"

 

/>


	

<Strand

 

gb1

=

"23"

 

gb2

=

"25"

 

/>


	

<Strand

 

gb1

=

"25"

 

gb2

=

"27"

 

/>


	

<Strand

 

gb1

=

"19"

 

gb2

=

"25"

 

/>


	

<Strand

 

gb1

=

"25"

 

gb2

=

"26"

 

/>


	

<Strand

 

gb1

=

"24"

 

gb2

=

"25"

 

/>


	

<Strand

 

gb1

=

"25"

 

gb2

=

"21"

 

/>


	

<Strand

 

gb1

=

"20"

 

gb2

=

"25"

 

/>


	

<Strand

 

gb1

=

"27"

 

gb2

=

"20"

 

/>


	

<Strand

 

gb1

=

"24"

 

gb2

=

"26"

 

/>


	

<Strand

 

gb1

=

"26"

 

gb2

=

"23"

 

/>


	

<Strand

 

gb1

=

"19"

 

gb2

=

"26"

 

/>


	

<Strand

 

gb1

=

"27"

 

gb2

=

"19"

 

/>


	

<Strand

 

gb1

=

"22"

 

gb2

=

"27"

 

/>


	

<Strand

 

gb1

=

"20"

 

gb2

=

"22"

 

/>


	

<Strand

 

gb1

=

"21"

 

gb2

=

"20"

 

/>


	

<Strand

 

gb1

=

"24"

 

gb2

=

"21"

 

/>


	

<Strand

 

gb1

=

"23"

 

gb2

=

"24"

 

/>


	

<Strand

 

gb1

=

"56"

 

gb2

=

"58"

 

/>


	

<Strand

 

gb1

=

"58"

 

gb2

=

"24"

 

/>


	

<Strand

 

gb1

=

"57"

 

gb2

=

"20"

 

/>


	

<Strand

 

gb1

=

"53"

 

gb2

=

"20"

 

/>


	

<Strand

 

gb1

=

"51"

 

gb2

=

"22"

 

/>


	

<Strand

 

gb1

=

"53"

 

gb2

=

"22"

 

/>


	

<Strand

 

gb1

=

"53"

 

gb2

=

"52"

 

/>


	

<Strand

 

gb1

=

"56"

 

gb2

=

"55"

 

/>


	

<Strand

 

gb1

=

"56"

 

gb2

=

"23"

 

/>


	

<Strand

 

gb1

=

"55"

 

gb2

=

"23"

 

/>


	

<Strand

 

gb1

=

"56"

 

gb2

=

"24"

 

/>


	

<Strand

 

gb1

=

"58"

 

gb2

=

"21"

 

/>


	

<Strand

 

gb1

=

"57"

 

gb2

=

"21"

 

/>


	

<Strand

 

gb1

=

"51"

 

gb2

=

"53"

 

/>


	

<Strand

 

gb1

=

"51"

 

gb2

=

"52"

 

/>


	

<Strand

 

gb1

=

"52"

 

gb2

=

"12"

 

/>


	

<Strand

 

gb1

=

"52"

 

gb2

=

"13"

 

/>


	

<Strand

 

gb1

=

"53"

 

gb2

=

"13"

 

/>


	

<Strand

 

gb1

=

"53"

 

gb2

=

"14"

 

/>


	

<Strand

 

gb1

=

"57"

 

gb2

=

"14"

 

/>


	

<Strand

 

gb1

=

"57"

 

gb2

=

"18"

 

/>


	

<Strand

 

gb1

=

"58"

 

gb2

=

"18"

 

/>


	

<Strand

 

gb1

=

"58"

 

gb2

=

"17"

 

/>


	

<Strand

 

gb1

=

"56"

 

gb2

=

"17"

 

/>


	

<Strand

 

gb1

=

"54"

 

gb2

=

"16"

 

/>


	

<Strand

 

gb1

=

"56"

 

gb2

=

"16"

 

/>


	

<Strand

 

gb1

=

"54"

 

gb2

=

"56"

 

/>


	

<Strand

 

gb1

=

"54"

 

gb2

=

"55"

 

/>


	

<Strand

 

gb1

=

"54"

 

gb2

=

"15"

 

/>


 
	

<!-- Level Exit -->


	

<levelexit

 

id

=

"theExit"

 

pos

=

"-22,600"

 

radius

=

"75"

 

filter

=

""

 

>


	</levelexit

>


 
</level

>
<scene

 

minx

=

"-600"

 

miny

=

"0"

 

maxx

=

"600"

 

maxy

=

"1800"

 

backgroundcolor

=

"0,0,0"

 

>


 
	

<!-- ForceFields -->


	

<linearforcefield

 

type

=

"gravity"

 

force

=

"0,-10"

 

dampeningfactor

=

"0"

 

antigrav

=

"true"

 

geomonly

=

"false"

 

/>


 
	

<!-- Particles -->


	

<particles

 

effect

=

"cigSmoke"

 

depth

=

"-32"

 

pos

=

"24.35888671875,602.67236328125"

 

pretick

=

"0"

 

/>


	

<particles

 

effect

=

"blackLeavesHeavy"

 

depth

=

"-240"

 

pos

=

"147.99755859375,1702.00244140625"

 

pretick

=

"0"

 

/>


 
	

<!-- SceneLayers -->


		

<SceneLayer

 

name

=

"signpostPole_gray"

 

depth

=

"8"

 

x

=

"-469.45"

 

y

=

"1390.86"

 

scalex

=

"0.869"

 

scaley

=

"1.046"

 

rotation

=

"163.07"

 

alpha

=

"1"

 

colorize

=

"0,0,0"

 

image

=

"IMAGE_SCENE_SECONDHANDSMOKE_SIGNPOSTPOLE_GRAY"

   

/>


	

<SceneLayer

 

name

=

"lf2"

 

depth

=

"80"

 

x

=

"-0.04"

 

y

=

"673.04"

 

scalex

=

"5.313"

 

scaley

=

"5.313"

 

rotation

=

"0"

 

alpha

=

"0.60000002384186"

 

colorize

=

"255,255,255"

 

image

=

"IMAGE_SCENE_SECONDHANDSMOKE_LF2"

   

/>


	

<SceneLayer

 

name

=

"hfg2"

 

depth

=

"8"

 

x

=

"48"

 

y

=

"235.81"

 

scalex

=

"1.09"

 

scaley

=

"1.173"

 

rotation

=

"0"

 

alpha

=

"1"

 

colorize

=

"255,255,255"

 

image

=

"IMAGE_SCENE_SECONDHANDSMOKE_HFG2"

   

/>


	

<SceneLayer

 

name

=

"stacks"

 

depth

=

"0"

 

x

=

"5.18"

 

y

=

"1612.98"

 

scalex

=

"2.386"

 

scaley

=

"1.492"

 

rotation

=

"0"

 

alpha

=

"1"

 

colorize

=

"255,255,255"

 

image

=

"IMAGE_SCENE_SECONDHANDSMOKE_STACKS"

   

/>


	

<SceneLayer

 

name

=

"match"

 

depth

=

"-8"

 

x

=

"213.54"

 

y

=

"472.1"

 

scalex

=

"1.189"

 

scaley

=

"1.82"

 

rotation

=

"55.91"

 

alpha

=

"1"

 

colorize

=

"255,255,255"

 

image

=

"IMAGE_SCENE_SECONDHANDSMOKE_MATCH"

   

/>


	

<SceneLayer

 

name

=

"hbg2"

 

depth

=

"-80"

 

x

=

"182.38"

 

y

=

"446.87"

 

scalex

=

"1.531"

 

scaley

=

"1.721"

 

rotation

=

"-0.05"

 

alpha

=

"1"

 

colorize

=

"255,255,255"

 

image

=

"IMAGE_SCENE_SECONDHANDSMOKE_HBG2"

   

/>


	

<SceneLayer

 

name

=

"bgVeggiesWarm"

 

depth

=

"-240"

 

x

=

"24.49"

 

y

=

"1547.99"

 

scalex

=

"2.83"

 

scaley

=

"2.164"

 

rotation

=

"-180"

 

alpha

=

"1"

 

colorize

=

"255,255,255"

 

image

=

"IMAGE_SCENE_SECONDHANDSMOKE_BGVEGGIESWARM"

   

/>


	

<SceneLayer

 

name

=

"bgVeggiesWarm"

 

depth

=

"-240"

 

x

=

"-24.48"

 

y

=

"95.53"

 

scalex

=

"2.83"

 

scaley

=

"1.184"

 

rotation

=

"0"

 

alpha

=

"1"

 

colorize

=

"255,255,255"

 

image

=

"IMAGE_SCENE_SECONDHANDSMOKE_BGVEGGIESWARM"

   

/>


	

<SceneLayer

 

name

=

"bg"

 

depth

=

"-400"

 

x

=

"0"

 

y

=

"900.04"

 

scalex

=

"2.344"

 

scaley

=

"3.516"

 

rotation

=

"0"

 

alpha

=

"1"

 

colorize

=

"255,255,255"

 

image

=

"IMAGE_SCENE_SECONDHANDSMOKE_BG"

   

/>


 
	

<!-- Buttons -->


 
	

<!-- Labels -->


 
	

<!-- Static Geometry -->


	

<circle

 

id

=

"stopper1"

 

static

=

"true"

 

tag

=

"stopsign"

 

material

=

"rock"

 

x

=

"200"

 

y

=

"457"

 

radius

=

"40"

 

/>


	

<circle

 

id

=

"stopper1"

 

static

=

"true"

 

tag

=

"stopsign"

 

material

=

"rock"

 

x

=

"-201"

 

y

=

"475"

 

radius

=

"40"

 

/>


	

<circle

 

id

=

""

 

static

=

"true"

 

material

=

"rock"

 

x

=

"-159"

 

y

=

"386"

 

radius

=

"66"

 

/>


	

<line

 

id

=

""

 

static

=

"true"

 

tag

=

"deadly"

 

material

=

"rock"

 

anchor

=

"-16,-116"

 

normal

=

"0,1"

 

/>


	

<line

 

id

=

""

 

static

=

"true"

 

tag

=

"detaching"

 

material

=

"rock"

 

anchor

=

"605,892"

 

normal

=

"-1,0"

 

/>


	

<line

 

id

=

""

 

static

=

"true"

 

tag

=

"detaching"

 

material

=

"rock"

 

anchor

=

"-600,948"

 

normal

=

"1,0"

 

/>


	

<compositegeom

 

id

=

"platform"

 

x

=

"15.3042"

 

y

=

"188.4375"

 

rotation

=

"0"

 

static

=

"true"

 

tag

=

"kindasticky,walkable"

 

material

=

"rock"

 

>


		

<rectangle

 

id

=

""

 

x

=

"78.094"

 

y

=

"191.0967"

 

width

=

"231.0886"

 

height

=

"66.4901"

 

rotation

=

"0.1498"

 

/>


		

<rectangle

 

id

=

""

 

x

=

"-156.0798"

 

y

=

"-32.4658"

 

width

=

"67.3324"

 

height

=

"437.4064"

 

rotation

=

"0.0346"

 

/>


		

<rectangle

 

id

=

""

 

x

=

"-85.6775"

 

y

=

"197.96"

 

width

=

"159.7271"

 

height

=

"64.8673"

 

rotation

=

"-0.2949"

 

/>


	</compositegeom

>


	

<rectangle

 

id

=

""

 

static

=

"true"

 

material

=

"rock"

 

x

=

"23.488"

 

y

=

"1719.0637"

 

width

=

"849.4117"

 

height

=

"485.0464"

 

rotation

=

"-0.011"

 

/>


	

<rectangle

 

id

=

""

 

static

=

"true"

 

material

=

"rock"

 

x

=

"438.0615"

 

y

=

"1713.0908"

 

width

=

"293.0244"

 

height

=

"485.0466"

 

rotation

=

"-0.395"

 

/>


	

<rectangle

 

id

=

""

 

static

=

"true"

 

material

=

"rock"

 

x

=

"-375.6909"

 

y

=

"1695.1804"

 

width

=

"348.3234"

 

height

=

"440.3064"

 

rotation

=

"0.3334"

 

/>


 
	

<!-- Dynamic Geometry -->


 
	

<!-- Geometry Constraints -->


</scene

>