The Third Wheel
Cog in the Machine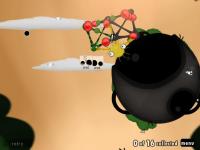 Normal: 16 balls
OCD: 9 moves
Previous level:
Misty's Long Bony Road
.
Next level:
Water Lock
.
hey, look over there!
Signposts
A horrible new species of Goo Ball! It's the most vile of all...
They are extremely rare, and as a result, have become quite lonely.
I think I read online somewhere that when they attach to other Goo Balls,
they sprout dozens of 'love spikes' that can grab onto almost any surface.
And won't let go.
The other Goo Balls try to avoid eye contact.
-the Sign Painter
The prettiest ones are always the deadliest.
Her thorns are filled with poison and contempt.
-the deadly Sign Painter
You need Flash player 8+ and JavaScript enabled to view this video.
There is 1 video.
<level

 

ballsrequired

=

"16"

 

letterboxed

=

"false"

 

visualdebug

=

"false"

 

autobounds

=

"true"

 

textcolor

=

"255,255,255"

 

texteffects

=

"false"

 

timebugprobability

=

"0.9"

 

strandgeom

=

"false"

 

allowskip

=

"true"

 

>


 
	

<!-- Camera -->


	

<camera

 

aspect

=

"normal"

 

endpos

=

"108,480.9"

 

endzoom

=

"0.686"

>


		

<poi

 

pos

=

"430.08,272.5"

 

traveltime

=

"0"

 

pause

=

"0.7"

 

zoom

=

"1.145"

 

/>


		

<poi

 

pos

=

"-261.09,357.72"

 

traveltime

=

"3"

 

pause

=

"0"

 

zoom

=

"0.889"

 

/>


		

<poi

 

pos

=

"-206.13,162.48"

 

traveltime

=

"1"

 

pause

=

"1"

 

zoom

=

"1.869"

 

/>


		

<poi

 

pos

=

"-261.09,357.72"

 

traveltime

=

"1"

 

pause

=

"0"

 

zoom

=

"0.889"

 

/>


	</camera

>


	

<camera

 

aspect

=

"widescreen"

 

endpos

=

"164.45,407.51"

 

endzoom

=

"0.872"

>


		

<poi

 

pos

=

"313.88,272.5"

 

traveltime

=

"0"

 

pause

=

"0.7"

 

zoom

=

"1.145"

 

/>


		

<poi

 

pos

=

"-176.06,357.72"

 

traveltime

=

"3"

 

pause

=

"0"

 

zoom

=

"0.889"

 

/>


		

<poi

 

pos

=

"-206.13,162.48"

 

traveltime

=

"1"

 

pause

=

"1"

 

zoom

=

"1.869"

 

/>


		

<poi

 

pos

=

"-176.06,357.72"

 

traveltime

=

"1"

 

pause

=

"0"

 

zoom

=

"0.889"

 

/>


	</camera

>


 
	

<!-- Music -->


	

<music

 

id

=

"SOUND_LEVEL_THIRDWHEEL_ODETOTHEBRIDGEBUILDER"

 

/>


 
	

<!-- Loop Sound -->


	

<loopsound

 

id

=

"SOUND_LEVEL_THIRDWHEEL_LOOP_SQUEAKSINTHEWIND"

 

/>


 
	

<!-- Fire -->


 
	

<!-- Signposts -->


		

<signpost

 

name

=

"signpost_brown"

 

depth

=

"-8"

 

x

=

"-28.59"

 

y

=

"342.72"

 

scalex

=

"0.89"

 

scaley

=

"0.987"

 

rotation

=

"52.2"

 

alpha

=

"1"

 

colorize

=

"255,255,255"

 

image

=

"IMAGE_SCENE_THIRDWHEEL_SIGNPOST_BROWN"

 

text

=

"SIGNPOST_THIRDWHEEL_1"

   

/>


		

<signpost

 

name

=

"signpost_brown"

 

depth

=

"-8"

 

x

=

"106.71"

 

y

=

"1646.11"

 

scalex

=

"0.693"

 

scaley

=

"0.769"

 

rotation

=

"-143.05"

 

alpha

=

"1"

 

colorize

=

"255,255,255"

 

image

=

"IMAGE_SCENE_THIRDWHEEL_SIGNPOST_BROWN"

 

text

=

"SIGNPOST_THIRDWHEEL_2"

   

/>


 
	

<!-- Pipes -->


	

<pipe

 

id

=

"0"

 

depth

=

"-8"

 

>


		

<Vertex

 

x

=

"411"

 

y

=

"302"

 

/>


		

<Vertex

 

x

=

"411"

 

y

=

"392"

 

/>


		

<Vertex

 

x

=

"249"

 

y

=

"392"

 

/>


	</pipe

>


 
	

<!-- Balls -->


	

<BallInstance

 

type

=

"common"

 

x

=

"438.27"

 

y

=

"225.4"

 

id

=

"0"

 

angle

=

"0"

 

/>


	

<BallInstance

 

type

=

"common"

 

x

=

"334.59"

 

y

=

"219.64"

 

id

=

"1"

 

angle

=

"0"

 

/>


	

<BallInstance

 

type

=

"common"

 

x

=

"438.27"

 

y

=

"118.84"

 

id

=

"2"

 

angle

=

"0"

 

/>


	

<BallInstance

 

type

=

"common"

 

x

=

"329.55"

 

y

=

"121"

 

id

=

"3"

 

angle

=

"0"

 

/>


	

<BallInstance

 

type

=

"Bone"

 

x

=

"-355"

 

y

=

"1339"

 

id

=

"4"

 

discovered

=

"false"

 

angle

=

"0"

 

/>


	

<BallInstance

 

type

=

"Bone"

 

x

=

"-405"

 

y

=

"1341"

 

id

=

"5"

 

discovered

=

"false"

 

angle

=

"0"

 

/>


	

<BallInstance

 

type

=

"Pokey"

 

x

=

"-79"

 

y

=

"919"

 

id

=

"6"

 

angle

=

"0"

 

/>


	

<BallInstance

 

type

=

"BeautyProduct"

 

x

=

"-371.01"

 

y

=

"461.56"

 

id

=

"7"

 

angle

=

"0"

 

/>


	

<BallInstance

 

type

=

"BeautyProduct"

 

x

=

"-477.57"

 

y

=

"537.16"

 

id

=

"8"

 

angle

=

"0"

 

/>


	

<BallInstance

 

type

=

"BeautyProduct"

 

x

=

"-480.45"

 

y

=

"262.84"

 

id

=

"9"

 

angle

=

"0"

 

/>


	

<BallInstance

 

type

=

"BeautyProduct"

 

x

=

"-479.01"

 

y

=

"369.4"

 

id

=

"10"

 

angle

=

"0"

 

/>


	

<BallInstance

 

type

=

"BeautyProduct"

 

x

=

"-405.57"

 

y

=

"439.96"

 

id

=

"11"

 

angle

=

"0"

 

/>


	

<BallInstance

 

type

=

"BeautyProduct"

 

x

=

"-549.57"

 

y

=

"406.84"

 

id

=

"12"

 

angle

=

"0"

 

/>


	

<BallInstance

 

type

=

"BeautyProduct"

 

x

=

"-457.41"

 

y

=

"425.56"

 

id

=

"13"

 

angle

=

"0"

 

/>


	

<BallInstance

 

type

=

"BeautyProduct"

 

x

=

"-345.09"

 

y

=

"373.72"

 

id

=

"14"

 

angle

=

"0"

 

/>


	

<BallInstance

 

type

=

"BeautyProduct"

 

x

=

"-443.01"

 

y

=

"474.52"

 

id

=

"15"

 

angle

=

"0"

 

/>


	

<BallInstance

 

type

=

"BeautyProduct"

 

x

=

"-430.05"

 

y

=

"369.4"

 

id

=

"16"

 

angle

=

"0"

 

/>


	

<BallInstance

 

type

=

"BeautyProduct"

 

x

=

"-404.85"

 

y

=

"520.6"

 

id

=

"17"

 

angle

=

"0"

 

/>


	

<BallInstance

 

type

=

"Ivy"

 

x

=

"-500.16"

 

y

=

"325.44"

 

id

=

"18"

 

angle

=

"0"

 

/>


	

<BallInstance

 

type

=

"Ivy"

 

x

=

"-389.73"

 

y

=

"320.44"

 

id

=

"19"

 

angle

=

"0"

 

/>


	

<BallInstance

 

type

=

"Ivy"

 

x

=

"-453.09"

 

y

=

"192.28"

 

id

=

"20"

 

angle

=

"0"

 

/>


	

<BallInstance

 

type

=

"Ivy"

 

x

=

"-406.29"

 

y

=

"272.2"

 

id

=

"21"

 

angle

=

"0"

 

/>


	

<BallInstance

 

type

=

"Ivy"

 

x

=

"-446.12"

 

y

=

"297.43"

 

id

=

"22"

 

angle

=

"0"

 

/>


	

<BallInstance

 

type

=

"common"

 

x

=

"-398.37"

 

y

=

"213.88"

 

id

=

"23"

 

angle

=

"0"

 

/>


	

<BallInstance

 

type

=

"common"

 

x

=

"-502.05"

 

y

=

"208.12"

 

id

=

"24"

 

angle

=

"0"

 

/>


	

<BallInstance

 

type

=

"common"

 

x

=

"-398.37"

 

y

=

"107.32"

 

id

=

"25"

 

angle

=

"0"

 

/>


	

<BallInstance

 

type

=

"common"

 

x

=

"-507.09"

 

y

=

"109.48"

 

id

=

"26"

 

angle

=

"0"

 

/>


 
	

<!-- Arms -->


	

<Strand

 

gb1

=

"3"

 

gb2

=

"0"

 

/>


	

<Strand

 

gb1

=

"0"

 

gb2

=

"1"

 

/>


	

<Strand

 

gb1

=

"2"

 

gb2

=

"0"

 

/>


	

<Strand

 

gb1

=

"1"

 

gb2

=

"2"

 

/>


	

<Strand

 

gb1

=

"3"

 

gb2

=

"1"

 

/>


	

<Strand

 

gb1

=

"2"

 

gb2

=

"3"

 

/>


	

<Strand

 

gb1

=

"24"

 

gb2

=

"19"

 

/>


	

<Strand

 

gb1

=

"26"

 

gb2

=

"23"

 

/>


	

<Strand

 

gb1

=

"19"

 

gb2

=

"18"

 

/>


	

<Strand

 

gb1

=

"23"

 

gb2

=

"24"

 

/>


	

<Strand

 

gb1

=

"23"

 

gb2

=

"19"

 

/>


	

<Strand

 

gb1

=

"25"

 

gb2

=

"23"

 

/>


	

<Strand

 

gb1

=

"23"

 

gb2

=

"18"

 

/>


	

<Strand

 

gb1

=

"24"

 

gb2

=

"25"

 

/>


	

<Strand

 

gb1

=

"24"

 

gb2

=

"18"

 

/>


	

<Strand

 

gb1

=

"26"

 

gb2

=

"24"

 

/>


	

<Strand

 

gb1

=

"25"

 

gb2

=

"26"

 

/>


 
	

<!-- Level Exit -->


	

<levelexit

 

id

=

"theExit"

 

pos

=

"410.90625,301.7236328125"

 

radius

=

"75"

 

filter

=

""

 

>


	</levelexit

>


 
</level

>
<scene

 

minx

=

"-792"

 

miny

=

"0"

 

maxx

=

"792"

 

maxy

=

"2592"

 

backgroundcolor

=

"0,0,0"

 

>


 
	

<!-- ForceFields -->


	

<linearforcefield

 

id

=

"cloud"

 

type

=

"gravity"

 

center

=

"-393.584,1327.8496"

 

width

=

"149.7598"

 

height

=

"30.2402"

 

force

=

"0,14"

 

dampeningfactor

=

"0.3"

 

antigrav

=

"true"

 

geomonly

=

"false"

 

enabled

=

"true"

 

water

=

"false"

 

/>


	

<linearforcefield

 

id

=

"shoot"

 

type

=

"gravity"

 

center

=

"495.6162,1091.6897"

 

width

=

"272.1602"

 

height

=

"1297.4399"

 

force

=

"0,5"

 

dampeningfactor

=

"0.2"

 

antigrav

=

"true"

 

geomonly

=

"false"

 

enabled

=

"true"

 

water

=

"false"

 

/>


	

<linearforcefield

 

id

=

"goopEnd"

 

type

=

"gravity"

 

center

=

"421.7754,119.9966"

 

width

=

"320.3203"

 

height

=

"78.5869"

 

force

=

"0,0"

 

dampeningfactor

=

"0.6"

 

antigrav

=

"true"

 

geomonly

=

"false"

 

enabled

=

"true"

 

water

=

"true"

 

color

=

"143,0,0,0"

 

/>


	

<linearforcefield

 

id

=

"goop"

 

type

=

"gravity"

 

center

=

"-386.384,114.6499"

 

width

=

"656.6401"

 

height

=

"57.6006"

 

force

=

"0,0"

 

dampeningfactor

=

"0.6"

 

antigrav

=

"true"

 

geomonly

=

"false"

 

enabled

=

"true"

 

water

=

"true"

 

color

=

"143,0,0,0"

 

/>


	

<linearforcefield

 

type

=

"gravity"

 

force

=

"0,-10"

 

dampeningfactor

=

"0"

 

antigrav

=

"true"

 

geomonly

=

"false"

 

/>


 
	

<!-- Particles -->


 
	

<!-- SceneLayers -->


		

<SceneLayer

 

name

=

"signpostPole_brown"

 

depth

=

"-8.8"

 

x

=

"-11.54"

 

y

=

"327"

 

scalex

=

"1"

 

scaley

=

"1.209"

 

rotation

=

"54.32"

 

alpha

=

"1"

 

colorize

=

"255,255,255"

 

image

=

"IMAGE_SCENE_THIRDWHEEL_SIGNPOSTPOLE_BROWN"

   

/>


		

<SceneLayer

 

name

=

"signpostPole_brown"

 

depth

=

"-8.8"

 

x

=

"76.21"

 

y

=

"1687.16"

 

scalex

=

"0.779"

 

scaley

=

"1.73"

 

rotation

=

"-140.93"

 

alpha

=

"1"

 

colorize

=

"255,255,255"

 

image

=

"IMAGE_SCENE_THIRDWHEEL_SIGNPOSTPOLE_BROWN"

   

/>


	

<SceneLayer

 

name

=

"lf1"

 

depth

=

"80"

 

x

=

"-31.44"

 

y

=

"382.43"

 

scalex

=

"4.897"

 

scaley

=

"4.897"

 

rotation

=

"0"

 

alpha

=

"0.5"

 

colorize

=

"255,255,255"

 

image

=

"IMAGE_SCENE_THIRDWHEEL_LF1"

   

/>


	

<SceneLayer

 

name

=

"lf1"

 

depth

=

"80"

 

x

=

"-262.69"

 

y

=

"1631.05"

 

scalex

=

"4.612"

 

scaley

=

"4.612"

 

rotation

=

"0"

 

alpha

=

"0.5"

 

colorize

=

"255,255,255"

 

image

=

"IMAGE_SCENE_THIRDWHEEL_LF1"

   

/>


	

<SceneLayer

 

name

=

"lf1"

 

depth

=

"80"

 

x

=

"199.36"

 

y

=

"2045.09"

 

scalex

=

"4.612"

 

scaley

=

"4.612"

 

rotation

=

"0"

 

alpha

=

"0.5"

 

colorize

=

"255,255,255"

 

image

=

"IMAGE_SCENE_THIRDWHEEL_LF1"

   

/>


	

<SceneLayer

 

name

=

"wogcCloud2"

 

depth

=

"8"

 

x

=

"-437.49"

 

y

=

"1317.52"

 

scalex

=

"0.914"

 

scaley

=

"0.679"

 

rotation

=

"0"

 

alpha

=

"0.62999999523163"

 

colorize

=

"255,255,255"

 

image

=

"IMAGE_SCENE_THIRDWHEEL_WOGCCLOUD2"

   

/>


		

<SceneLayer

 

name

=

"main_03"

 

depth

=

"0"

 

x

=

"437.02"

 

y

=

"1847.49"

 

scalex

=

"1.4"

 

scaley

=

"1.334"

 

rotation

=

"0"

 

alpha

=

"1"

 

colorize

=

"255,255,255"

 

image

=

"IMAGE_SCENE_THIRDWHEEL_MAIN_03"

   

/>


		

<SceneLayer

 

name

=

"main_05"

 

depth

=

"0"

 

x

=

"481.73"

 

y

=

"1103.34"

 

scalex

=

"1.225"

 

scaley

=

"1.124"

 

rotation

=

"0"

 

alpha

=

"1"

 

colorize

=

"255,255,255"

 

image

=

"IMAGE_SCENE_THIRDWHEEL_MAIN_05"

   

/>


		

<SceneLayer

 

name

=

"main_07"

 

depth

=

"0"

 

x

=

"479.86"

 

y

=

"254.8"

 

scalex

=

"1.233"

 

scaley

=

"1.074"

 

rotation

=

"0"

 

alpha

=

"1"

 

colorize

=

"255,255,255"

 

image

=

"IMAGE_SCENE_THIRDWHEEL_MAIN_07"

   

/>


		

<SceneLayer

 

name

=

"main_12"

 

depth

=

"0"

 

x

=

"-384.7"

 

y

=

"47.06"

 

scalex

=

"1.009"

 

scaley

=

"1.066"

 

rotation

=

"0"

 

alpha

=

"1"

 

colorize

=

"255,255,255"

 

image

=

"IMAGE_SCENE_THIRDWHEEL_MAIN_12"

   

/>


		

<SceneLayer

 

name

=

"main_10"

 

depth

=

"0"

 

x

=

"-719.29"

 

y

=

"146.6"

 

scalex

=

"1.204"

 

scaley

=

"1.328"

 

rotation

=

"0"

 

alpha

=

"1"

 

colorize

=

"255,255,255"

 

image

=

"IMAGE_SCENE_THIRDWHEEL_MAIN_10"

   

/>


		

<SceneLayer

 

name

=

"main_09"

 

depth

=

"0"

 

x

=

"18.53"

 

y

=

"248.65"

 

scalex

=

"1.143"

 

scaley

=

"1.051"

 

rotation

=

"0"

 

alpha

=

"1"

 

colorize

=

"255,255,255"

 

image

=

"IMAGE_SCENE_THIRDWHEEL_MAIN_09"

   

/>


	

<SceneLayer

 

name

=

"wogcCloud2"

 

depth

=

"-8"

 

x

=

"-444.95"

 

y

=

"1329.11"

 

scalex

=

"1.652"

 

scaley

=

"1.016"

 

rotation

=

"0"

 

alpha

=

"1"

 

colorize

=

"255,255,255"

 

image

=

"IMAGE_SCENE_THIRDWHEEL_WOGCCLOUD2"

   

/>


		

<SceneLayer

 

name

=

"wheel2black"

 

depth

=

"-8"

 

x

=

"712.59"

 

y

=

"1874.94"

 

scalex

=

"0.754"

 

scaley

=

"0.754"

 

rotation

=

"128.29"

 

alpha

=

"1"

 

colorize

=

"255,255,255"

 

image

=

"IMAGE_SCENE_THIRDWHEEL_WHEEL2BLACK"

 

anim

=

"rot_1rps"

 

animspeed

=

"1"

   

/>


		

<SceneLayer

 

name

=

"wheel2black"

 

depth

=

"-8"

 

x

=

"612.52"

 

y

=

"1796.47"

 

scalex

=

"0.754"

 

scaley

=

"0.754"

 

rotation

=

"65.21"

 

alpha

=

"1"

 

colorize

=

"255,255,255"

 

image

=

"IMAGE_SCENE_THIRDWHEEL_WHEEL2BLACK"

 

anim

=

"rot_1rps"

 

animspeed

=

"1"

   

/>


		

<SceneLayer

 

name

=

"wheel2black"

 

depth

=

"-8"

 

x

=

"493.72"

 

y

=

"1794.3"

 

scalex

=

"0.754"

 

scaley

=

"0.754"

 

rotation

=

"65.21"

 

alpha

=

"1"

 

colorize

=

"255,255,255"

 

image

=

"IMAGE_SCENE_THIRDWHEEL_WHEEL2BLACK"

 

anim

=

"rot_1rps"

 

animspeed

=

"-1"

   

/>


		

<SceneLayer

 

name

=

"wheel2black"

 

depth

=

"-8"

 

x

=

"339.63"

 

y

=

"1847.58"

 

scalex

=

"0.754"

 

scaley

=

"0.754"

 

rotation

=

"127.62"

 

alpha

=

"1"

 

colorize

=

"255,255,255"

 

image

=

"IMAGE_SCENE_THIRDWHEEL_WHEEL2BLACK"

 

anim

=

"rot_1rps"

 

animspeed

=

"-1"

   

/>


		

<SceneLayer

 

name

=

"gear1black"

 

depth

=

"-8"

 

x

=

"60.29"

 

y

=

"2090.27"

 

scalex

=

"0.443"

 

scaley

=

"0.443"

 

rotation

=

"65.21"

 

alpha

=

"1"

 

colorize

=

"255,255,255"

 

image

=

"IMAGE_SCENE_THIRDWHEEL_GEAR1BLACK"

 

anim

=

"rot_1rps"

 

animspeed

=

"-1"

   

/>


		

<SceneLayer

 

name

=

"gear1black"

 

depth

=

"-8"

 

x

=

"-172.2"

 

y

=

"2108.27"

 

scalex

=

"0.443"

 

scaley

=

"0.443"

 

rotation

=

"65.21"

 

alpha

=

"1"

 

colorize

=

"255,255,255"

 

image

=

"IMAGE_SCENE_THIRDWHEEL_GEAR1BLACK"

 

anim

=

"rot_1rps"

 

animspeed

=

"-1"

   

/>


		

<SceneLayer

 

name

=

"gear1black"

 

depth

=

"-8"

 

x

=

"-259.2"

 

y

=

"2003.27"

 

scalex

=

"0.443"

 

scaley

=

"0.443"

 

rotation

=

"65.21"

 

alpha

=

"1"

 

colorize

=

"255,255,255"

 

image

=

"IMAGE_SCENE_THIRDWHEEL_GEAR1BLACK"

 

anim

=

"rot_1rps"

 

animspeed

=

"-1"

   

/>


		

<SceneLayer

 

name

=

"gear1black"

 

depth

=

"-8"

 

x

=

"109.78"

 

y

=

"1818.78"

 

scalex

=

"0.443"

 

scaley

=

"0.443"

 

rotation

=

"65.21"

 

alpha

=

"1"

 

colorize

=

"255,255,255"

 

image

=

"IMAGE_SCENE_THIRDWHEEL_GEAR1BLACK"

 

anim

=

"rot_1rps"

 

animspeed

=

"-1"

   

/>


		

<SceneLayer

 

name

=

"gear1black"

 

depth

=

"-8"

 

x

=

"16.79"

 

y

=

"1742.29"

 

scalex

=

"0.443"

 

scaley

=

"0.443"

 

rotation

=

"65.21"

 

alpha

=

"1"

 

colorize

=

"255,255,255"

 

image

=

"IMAGE_SCENE_THIRDWHEEL_GEAR1BLACK"

 

anim

=

"rot_1rps"

 

animspeed

=

"-1"

   

/>


		

<SceneLayer

 

name

=

"gear1black"

 

depth

=

"-8"

 

x

=

"-176.7"

 

y

=

"1746.79"

 

scalex

=

"0.443"

 

scaley

=

"0.443"

 

rotation

=

"65.21"

 

alpha

=

"1"

 

colorize

=

"255,255,255"

 

image

=

"IMAGE_SCENE_THIRDWHEEL_GEAR1BLACK"

 

anim

=

"rot_1rps"

 

animspeed

=

"-1"

   

/>


		

<SceneLayer

 

name

=

"wheel2black"

 

depth

=

"-8"

 

x

=

"276.28"

 

y

=

"1890.79"

 

scalex

=

"0.754"

 

scaley

=

"0.754"

 

rotation

=

"65.21"

 

alpha

=

"1"

 

colorize

=

"255,255,255"

 

image

=

"IMAGE_SCENE_THIRDWHEEL_WHEEL2BLACK"

 

anim

=

"rot_1rps"

 

animspeed

=

"-1"

   

/>


		

<SceneLayer

 

name

=

"wheel2black"

 

depth

=

"-8"

 

x

=

"-76.14"

 

y

=

"566.58"

 

scalex

=

"1.299"

 

scaley

=

"1.299"

 

rotation

=

"0"

 

alpha

=

"1"

 

colorize

=

"255,255,255"

 

image

=

"IMAGE_SCENE_THIRDWHEEL_WHEEL2BLACK"

 

anim

=

"rot_1rps"

 

animspeed

=

"1"

   

/>


		

<SceneLayer

 

name

=

"wheel2black"

 

depth

=

"-8"

 

x

=

"-216.21"

 

y

=

"1176.7"

 

scalex

=

"1.136"

 

scaley

=

"1.136"

 

rotation

=

"-150.69"

 

alpha

=

"1"

 

colorize

=

"255,255,255"

 

image

=

"IMAGE_SCENE_THIRDWHEEL_WHEEL2BLACK"

 

anim

=

"rot_1rps"

 

animspeed

=

"1"

   

/>


		

<SceneLayer

 

name

=

"wheel2black"

 

depth

=

"-8"

 

x

=

"47.78"

 

y

=

"1176.01"

 

scalex

=

"1.136"

 

scaley

=

"1.136"

 

rotation

=

"-83.98"

 

alpha

=

"1"

 

colorize

=

"255,255,255"

 

image

=

"IMAGE_SCENE_THIRDWHEEL_WHEEL2BLACK"

 

anim

=

"rot_1rps"

 

animspeed

=

"1"

   

/>


		

<SceneLayer

 

name

=

"wheel2black"

 

depth

=

"-8"

 

x

=

"-320.88"

 

y

=

"850.7"

 

scalex

=

"1.136"

 

scaley

=

"1.136"

 

rotation

=

"-150.69"

 

alpha

=

"1"

 

colorize

=

"255,255,255"

 

image

=

"IMAGE_SCENE_THIRDWHEEL_WHEEL2BLACK"

 

anim

=

"rot_1rps"

 

animspeed

=

"1"

   

/>


		

<SceneLayer

 

name

=

"wheel2black"

 

depth

=

"-8"

 

x

=

"-0.44"

 

y

=

"652.2"

 

scalex

=

"0.72"

 

scaley

=

"0.72"

 

rotation

=

"-150.69"

 

alpha

=

"1"

 

colorize

=

"255,255,255"

 

image

=

"IMAGE_SCENE_THIRDWHEEL_WHEEL2BLACK"

 

anim

=

"rot_1rps"

 

animspeed

=

"1"

   

/>


		

<SceneLayer

 

name

=

"wheel2black"

 

depth

=

"-8"

 

x

=

"-145.77"

 

y

=

"1434.2"

 

scalex

=

"0.72"

 

scaley

=

"0.72"

 

rotation

=

"0"

 

alpha

=

"1"

 

colorize

=

"255,255,255"

 

image

=

"IMAGE_SCENE_THIRDWHEEL_WHEEL2BLACK"

 

anim

=

"rot_1rps"

 

animspeed

=

"1"

   

/>


		

<SceneLayer

 

name

=

"wheel2black"

 

depth

=

"-8"

 

x

=

"-351.1"

 

y

=

"556.87"

 

scalex

=

"0.72"

 

scaley

=

"0.72"

 

rotation

=

"0"

 

alpha

=

"1"

 

colorize

=

"255,255,255"

 

image

=

"IMAGE_SCENE_THIRDWHEEL_WHEEL2BLACK"

 

anim

=

"rot_1rps"

 

animspeed

=

"1"

   

/>


	

<SceneLayer

 

name

=

"mainbg"

 

depth

=

"-8"

 

x

=

"429.62"

 

y

=

"930.33"

 

scalex

=

"4.05"

 

scaley

=

"3.516"

 

rotation

=

"0"

 

alpha

=

"1"

 

colorize

=

"255,255,255"

 

image

=

"IMAGE_SCENE_THIRDWHEEL_MAINBG"

   

/>


	

<SceneLayer

 

name

=

"lever"

 

depth

=

"-8"

 

x

=

"180.51"

 

y

=

"1728.76"

 

scalex

=

"0.72"

 

scaley

=

"0.72"

 

rotation

=

"-35.99"

 

alpha

=

"1"

 

colorize

=

"255,255,255"

 

image

=

"IMAGE_SCENE_THIRDWHEEL_LEVER"

   

/>


	

<SceneLayer

 

name

=

"lever"

 

depth

=

"-8"

 

x

=

"174.75"

 

y

=

"1115.32"

 

scalex

=

"0.72"

 

scaley

=

"0.72"

 

rotation

=

"-35.99"

 

alpha

=

"1"

 

colorize

=

"255,255,255"

 

image

=

"IMAGE_SCENE_THIRDWHEEL_LEVER"

   

/>


	

<SceneLayer

 

name

=

"lever"

 

depth

=

"-8"

 

x

=

"42.27"

 

y

=

"511.96"

 

scalex

=

"0.72"

 

scaley

=

"0.72"

 

rotation

=

"-35.99"

 

alpha

=

"1"

 

colorize

=

"255,255,255"

 

image

=

"IMAGE_SCENE_THIRDWHEEL_LEVER"

   

/>


	

<SceneLayer

 

name

=

"blackBogTree"

 

depth

=

"-8"

 

x

=

"466.3"

 

y

=

"1909.22"

 

scalex

=

"0.407"

 

scaley

=

"0.407"

 

rotation

=

"-33.52"

 

alpha

=

"1"

 

colorize

=

"255,255,255"

 

image

=

"IMAGE_SCENE_THIRDWHEEL_BLACKBOGTREE"

   

/>


	

<SceneLayer

 

name

=

"blackBogTree"

 

depth

=

"-8"

 

x

=

"742.43"

 

y

=

"2003.7"

 

scalex

=

"0.523"

 

scaley

=

"0.523"

 

rotation

=

"-6.34"

 

alpha

=

"1"

 

colorize

=

"255,255,255"

 

image

=

"IMAGE_SCENE_THIRDWHEEL_BLACKBOGTREE"

   

/>


	

<SceneLayer

 

name

=

"blackBogTree"

 

depth

=

"-8"

 

x

=

"386.43"

 

y

=

"2000.93"

 

scalex

=

"0.72"

 

scaley

=

"0.72"

 

rotation

=

"5.08"

 

alpha

=

"1"

 

colorize

=

"255,255,255"

 

image

=

"IMAGE_SCENE_THIRDWHEEL_BLACKBOGTREE"

   

/>


	

<SceneLayer

 

name

=

"bush_leafy_1"

 

depth

=

"-16"

 

x

=

"273.01"

 

y

=

"1616.45"

 

scalex

=

"0.9"

 

scaley

=

"0.9"

 

rotation

=

"93.05"

 

alpha

=

"1"

 

colorize

=

"255,255,255"

 

image

=

"IMAGE_SCENE_THIRDWHEEL_BUSH_LEAFY_1"

   

/>


	

<SceneLayer

 

name

=

"bush_leafy_1"

 

depth

=

"-16"

 

x

=

"262.92"

 

y

=

"1119.65"

 

scalex

=

"0.9"

 

scaley

=

"0.9"

 

rotation

=

"75.8"

 

alpha

=

"1"

 

colorize

=

"255,255,255"

 

image

=

"IMAGE_SCENE_THIRDWHEEL_BUSH_LEAFY_1"

   

/>


	

<SceneLayer

 

name

=

"bush_leafy_1"

 

depth

=

"-16"

 

x

=

"-68.5"

 

y

=

"1437.65"

 

scalex

=

"0.9"

 

scaley

=

"0.9"

 

rotation

=

"-2.07"

 

alpha

=

"1"

 

colorize

=

"255,255,255"

 

image

=

"IMAGE_SCENE_THIRDWHEEL_BUSH_LEAFY_1"

   

/>


	

<SceneLayer

 

name

=

"bush_leafy_1"

 

depth

=

"-16"

 

x

=

"-39.95"

 

y

=

"1712.29"

 

scalex

=

"0.9"

 

scaley

=

"0.9"

 

rotation

=

"-174.23"

 

alpha

=

"1"

 

colorize

=

"255,255,255"

 

image

=

"IMAGE_SCENE_THIRDWHEEL_BUSH_LEAFY_1"

   

/>


	

<SceneLayer

 

name

=

"bush_leafy_1"

 

depth

=

"-16"

 

x

=

"-176.74"

 

y

=

"2106.86"

 

scalex

=

"0.9"

 

scaley

=

"0.9"

 

rotation

=

"35.07"

 

alpha

=

"1"

 

colorize

=

"255,255,255"

 

image

=

"IMAGE_SCENE_THIRDWHEEL_BUSH_LEAFY_1"

   

/>


	

<SceneLayer

 

name

=

"bush_leafy_1"

 

depth

=

"-16"

 

x

=

"-176.27"

 

y

=

"493.23"

 

scalex

=

"0.9"

 

scaley

=

"0.9"

 

rotation

=

"-169.42"

 

alpha

=

"1"

 

colorize

=

"255,255,255"

 

image

=

"IMAGE_SCENE_THIRDWHEEL_BUSH_LEAFY_1"

   

/>


	

<SceneLayer

 

name

=

"bush_leafy_1"

 

depth

=

"-16"

 

x

=

"-198.36"

 

y

=

"1141.97"

 

scalex

=

"0.9"

 

scaley

=

"0.9"

 

rotation

=

"139.89"

 

alpha

=

"1"

 

colorize

=

"255,255,255"

 

image

=

"IMAGE_SCENE_THIRDWHEEL_BUSH_LEAFY_1"

   

/>


	

<SceneLayer

 

name

=

"bush_leafy_1"

 

depth

=

"-16"

 

x

=

"-402.35"

 

y

=

"762.54"

 

scalex

=

"0.9"

 

scaley

=

"0.9"

 

rotation

=

"72.88"

 

alpha

=

"1"

 

colorize

=

"255,255,255"

 

image

=

"IMAGE_SCENE_THIRDWHEEL_BUSH_LEAFY_1"

   

/>


	

<SceneLayer

 

name

=

"bush_leafy_1"

 

depth

=

"-16"

 

x

=

"144.83"

 

y

=

"506.21"

 

scalex

=

"0.9"

 

scaley

=

"0.9"

 

rotation

=

"77.45"

 

alpha

=

"1"

 

colorize

=

"255,255,255"

 

image

=

"IMAGE_SCENE_THIRDWHEEL_BUSH_LEAFY_1"

   

/>


	

<SceneLayer

 

name

=

"bgVeggies"

 

depth

=

"-80"

 

x

=

"289.59"

 

y

=

"957.98"

 

scalex

=

"2.092"

 

scaley

=

"1.401"

 

rotation

=

"79.56"

 

alpha

=

"1"

 

colorize

=

"255,255,255"

 

image

=

"IMAGE_SCENE_THIRDWHEEL_BGVEGGIES"

   

/>


	

<SceneLayer

 

name

=

"wires1"

 

depth

=

"-80"

 

x

=

"87.09"

 

y

=

"615.5"

 

scalex

=

"1.378"

 

scaley

=

"0.72"

 

rotation

=

"0.67"

 

alpha

=

"1"

 

colorize

=

"255,255,255"

 

image

=

"IMAGE_SCENE_THIRDWHEEL_WIRES1"

   

/>


	

<SceneLayer

 

name

=

"wires2"

 

depth

=

"-80"

 

x

=

"222.26"

 

y

=

"1206.76"

 

scalex

=

"1.114"

 

scaley

=

"0.422"

 

rotation

=

"0"

 

alpha

=

"1"

 

colorize

=

"255,255,255"

 

image

=

"IMAGE_SCENE_THIRDWHEEL_WIRES2"

   

/>


	

<SceneLayer

 

name

=

"wires1"

 

depth

=

"-80"

 

x

=

"164.87"

 

y

=

"1709.96"

 

scalex

=

"1.727"

 

scaley

=

"0.72"

 

rotation

=

"-22.67"

 

alpha

=

"1"

 

colorize

=

"255,255,255"

 

image

=

"IMAGE_SCENE_THIRDWHEEL_WIRES1"

   

/>


	

<SceneLayer

 

name

=

"bgVeggies"

 

depth

=

"-240"

 

x

=

"-386.81"

 

y

=

"164.25"

 

scalex

=

"1.704"

 

scaley

=

"1.401"

 

rotation

=

"0"

 

alpha

=

"1"

 

colorize

=

"255,255,255"

 

image

=

"IMAGE_SCENE_THIRDWHEEL_BGVEGGIES"

   

/>


	

<SceneLayer

 

name

=

"bgVeggies"

 

depth

=

"-320"

 

x

=

"-885.48"

 

y

=

"517.28"

 

scalex

=

"2.092"

 

scaley

=

"1.401"

 

rotation

=

"-82.29"

 

alpha

=

"1"

 

colorize

=

"255,255,255"

 

image

=

"IMAGE_SCENE_THIRDWHEEL_BGVEGGIES"

   

/>


	

<SceneLayer

 

name

=

"wogcCloud2"

 

depth

=

"-400"

 

x

=

"-678.85"

 

y

=

"1631.54"

 

scalex

=

"2.417"

 

scaley

=

"1.016"

 

rotation

=

"0"

 

alpha

=

"1"

 

colorize

=

"255,255,255"

 

image

=

"IMAGE_SCENE_THIRDWHEEL_WOGCCLOUD2"

   

/>


	

<SceneLayer

 

name

=

"wogcCloud2"

 

depth

=

"-400"

 

x

=

"679.93"

 

y

=

"2314.17"

 

scalex

=

"2.417"

 

scaley

=

"1.016"

 

rotation

=

"0"

 

alpha

=

"1"

 

colorize

=

"255,255,255"

 

image

=

"IMAGE_SCENE_THIRDWHEEL_WOGCCLOUD2"

   

/>


	

<SceneLayer

 

name

=

"wogcCloud2"

 

depth

=

"-400"

 

x

=

"-665.89"

 

y

=

"2262.32"

 

scalex

=

"2.417"

 

scaley

=

"1.016"

 

rotation

=

"0"

 

alpha

=

"1"

 

colorize

=

"255,255,255"

 

image

=

"IMAGE_SCENE_THIRDWHEEL_WOGCCLOUD2"

   

/>


	

<SceneLayer

 

name

=

"bg"

 

depth

=

"-480"

 

x

=

"0.01"

 

y

=

"1254.03"

 

scalex

=

"6.211"

 

scaley

=

"10.54"

 

rotation

=

"0"

 

alpha

=

"1"

 

colorize

=

"255,255,255"

 

image

=

"IMAGE_SCENE_THIRDWHEEL_BG"

   

/>


 
	

<!-- Buttons -->


 
	

<!-- Labels -->


 
	

<!-- Static Geometry -->


	

<compositegeom

 

id

=

"detacherHook"

 

x

=

"314.2412"

 

y

=

"1847.2878"

 

rotation

=

"0"

 

static

=

"true"

 

tag

=

"detaching"

 

material

=

"machine"

 

nogeomcollisions

=

"true"

 

>


		

<rectangle

 

id

=

""

 

x

=

"114.5449"

 

y

=

"-40.6294"

 

width

=

"182.0112"

 

height

=

"65.071"

 

rotation

=

"-0.2507"

 

/>


		

<rectangle

 

id

=

""

 

x

=

"-3.7832"

 

y

=

"-25.1548"

 

width

=

"65.0706"

 

height

=

"145.5302"

 

rotation

=

"0.7296"

 

/>


		

<rectangle

 

id

=

""

 

x

=

"-36.0537"

 

y

=

"-38.8689"

 

width

=

"36.0001"

 

height

=

"239.6233"

 

rotation

=

"0.4955"

 

/>


		

<rectangle

 

id

=

""

 

x

=

"-76.2271"

 

y

=

"61.5098"

 

width

=

"35.9997"

 

height

=

"292.877"

 

rotation

=

"1.0257"

 

/>


	</compositegeom

>


	

<rectangle

 

id

=

""

 

static

=

"true"

 

material

=

"machine"

 

x

=

"666.8154"

 

y

=

"253.5742"

 

width

=

"158.7606"

 

height

=

"389.1749"

 

rotation

=

"-0.1475"

 

/>


	

<rectangle

 

id

=

""

 

static

=

"true"

 

tag

=

"detaching"

 

material

=

"machine"

 

x

=

"797.1172"

 

y

=

"1820.7996"

 

width

=

"221.9867"

 

height

=

"346.6473"

 

rotation

=

"-0.9664"

 

/>


	

<rectangle

 

id

=

""

 

static

=

"true"

 

tag

=

"detaching"

 

material

=

"machine"

 

x

=

"692.7476"

 

y

=

"1652.7949"

 

width

=

"277.5743"

 

height

=

"258.8557"

 

rotation

=

"-0.2566"

 

/>


	

<rectangle

 

id

=

""

 

static

=

"true"

 

material

=

"machine"

 

x

=

"717.5337"

 

y

=

"1407.7507"

 

width

=

"288.3958"

 

height

=

"402.8108"

 

rotation

=

"0.2618"

 

/>


	

<rectangle

 

id

=

""

 

static

=

"true"

 

material

=

"machine"

 

x

=

"681.2593"

 

y

=

"989.4128"

 

width

=

"341.0626"

 

height

=

"521.6641"

 

rotation

=

"-0.3944"

 

/>


	

<rectangle

 

id

=

""

 

static

=

"true"

 

material

=

"machine"

 

x

=

"709.7485"

 

y

=

"496.8203"

 

width

=

"275.0552"

 

height

=

"814.679"

 

rotation

=

"0.3985"

 

/>


	

<rectangle

 

id

=

""

 

static

=

"true"

 

tag

=

"unwalkable"

 

material

=

"machine"

 

x

=

"-774.5374"

 

y

=

"155.8232"

 

width

=

"158.7603"

 

height

=

"442.5198"

 

rotation

=

"0.671"

 

/>


	

<rectangle

 

id

=

""

 

static

=

"true"

 

tag

=

"unwalkable"

 

material

=

"machine"

 

x

=

"91.7896"

 

y

=

"267.3247"

 

width

=

"158.7606"

 

height

=

"657.3801"

 

rotation

=

"-0.6226"

 

/>


	

<rectangle

 

id

=

""

 

static

=

"true"

 

material

=

"machine"

 

x

=

"352.5015"

 

y

=

"638.5684"

 

width

=

"144.4563"

 

height

=

"420.6564"

 

rotation

=

"0.3985"

 

/>


	

<rectangle

 

id

=

""

 

static

=

"true"

 

material

=

"machine"

 

x

=

"264.1865"

 

y

=

"682.2783"

 

width

=

"176"

 

height

=

"458.5703"

 

rotation

=

"0"

 

/>


	

<rectangle

 

id

=

""

 

static

=

"true"

 

material

=

"machine"

 

x

=

"354.0088"

 

y

=

"1094.0571"

 

width

=

"185.9061"

 

height

=

"479.6857"

 

rotation

=

"-0.3944"

 

/>


	

<rectangle

 

id

=

""

 

static

=

"true"

 

material

=

"machine"

 

x

=

"396.9614"

 

y

=

"1419.0217"

 

width

=

"190.1498"

 

height

=

"352.2381"

 

rotation

=

"0.2618"

 

/>


	

<rectangle

 

id

=

""

 

static

=

"true"

 

material

=

"machine"

 

x

=

"384.4771"

 

y

=

"1661.3481"

 

width

=

"191.0992"

 

height

=

"258.0253"

 

rotation

=

"-0.2566"

 

/>


	

<rectangle

 

id

=

""

 

static

=

"true"

 

material

=

"rock"

 

x

=

"358.9727"

 

y

=

"445.0029"

 

width

=

"282.0547"

 

height

=

"59.041"

 

rotation

=

"0"

 

/>


	

<rectangle

 

id

=

""

 

static

=

"true"

 

material

=

"rock"

 

x

=

"160.8125"

 

y

=

"159.7036"

 

width

=

"211.6717"

 

height

=

"297.4848"

 

rotation

=

"0.2717"

 

/>


	

<circle

 

id

=

"statickiller"

 

static

=

"true"

 

tag

=

"mostlydeadly"

 

material

=

"fruit"

 

nogeomcollisions

=

"true"

 

x

=

"-69.094"

 

y

=

"1929.7231"

 

radius

=

"234.0001"

 

/>


	

<line

 

id

=

"right"

 

static

=

"true"

 

tag

=

"detaching"

 

material

=

"rock"

 

anchor

=

"715.0483,1153.2393"

 

normal

=

"-0.9955,0.0945"

 

/>


	

<line

 

id

=

"left"

 

static

=

"true"

 

material

=

"machine"

 

anchor

=

"-820.2939,1216.123"

 

normal

=

"1,0.0081"

 

/>


	

<line

 

id

=

"bottom"

 

static

=

"true"

 

material

=

"rock"

 

anchor

=

"77.906,94.3633"

 

normal

=

"0,1"

 

/>


 
	

<!-- Dynamic Geometry -->


	

<compositegeom

 

id

=

"wheel1"

 

x

=

"-65.7739"

 

y

=

"1926.7229"

 

rotation

=

"0"

 

static

=

"false"

 

tag

=

"unwalkable"

 

material

=

"rock"

 

rotspeed

=

"-0.006"

 

image

=

"IMAGE_SCENE_THIRDWHEEL_WHEEL1"

 

imagepos

=

"-68.3774,1927.7191"

 

imagerot

=

"0.7802"

 

imagescale

=

"1.9305,1.9305"

 

>


		

<rectangle

 

id

=

""

 

mass

=

"494.300419588102"

 

x

=

"-8.2"

 

y

=

"-232.0015"

 

width

=

"67.6001"

 

height

=

"66.7173"

 

rotation

=

"0"

 

/>


		

<rectangle

 

id

=

""

 

mass

=

"509.11011941123"

 

x

=

"2.6802"

 

y

=

"230.9202"

 

width

=

"67.4395"

 

height

=

"68.8799"

 

rotation

=

"0"

 

/>


		

<rectangle

 

id

=

""

 

mass

=

"494.296801970475"

 

x

=

"231.2017"

 

y

=

"-4"

 

width

=

"66.7168"

 

height

=

"67.6001"

 

rotation

=

"0"

 

/>


		

<rectangle

 

id

=

""

 

mass

=

"509.11011941123"

 

x

=

"-230.1201"

 

y

=

"-7.5198"

 

width

=

"68.8799"

 

height

=

"67.4395"

 

rotation

=

"0"

 

/>


		

<circle

 

id

=

""

 

mass

=

"17993.182539619"

 

x

=

"-3.3203"

 

y

=

"3.0002"

 

radius

=

"228.6001"

 

/>


	</compositegeom

>


	

<circle

 

id

=

"wheel2"

 

mass

=

"20000"

 

static

=

"false"

 

tag

=

"unwalkable"

 

material

=

"rock"

 

rotspeed

=

"0.0045"

 

image

=

"IMAGE_SCENE_THIRDWHEEL_WHEEL2"

 

imagepos

=

"-85.0908,1279.0721"

 

imagerot

=

"0"

 

imagescale

=

"1.5947,1.6578"

 

x

=

"-84.7417"

 

y

=

"1268.1787"

 

radius

=

"198.843"

 

/>


	

<circle

 

id

=

"wheel3"

 

mass

=

"20000"

 

static

=

"false"

 

tag

=

"unwalkable"

 

material

=

"rock"

 

rotspeed

=

"-0.006"

 

image

=

"IMAGE_SCENE_THIRDWHEEL_WHEEL3"

 

imagepos

=

"-204.6624,700.5703"

 

imagerot

=

"0"

 

imagescale

=

"1.8225,1.8225"

 

x

=

"-204.6941"

 

y

=

"701.3237"

 

radius

=

"230.4"

 

/>


 
	

<!-- Geometry Constraints -->


	

<hinge

 

body1

=

"wheel1"

 

anchor

=

"-69.09423828125,1929.72314453125"

/>


	

<hinge

 

body1

=

"wheel2"

 

anchor

=

"-84.74169921875,1268.177734375"

/>


	

<hinge

 

body1

=

"wheel3"

 

anchor

=

"-204.6943359375,701.3232421875"

/>


</scene

>