Hype Balls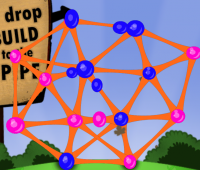 Author:
jmleleven
Total downloads: 1,818
Latest version: 1.1
Release date: 08/08/2012 - 04:14
They're fast, energy packed, not sticky, light, blue, and pink... they're HYPE!!!
This new type of gooball is a genetically modified common goo! (We have some smart scientists, dont we?)
Anyways, let's get back to reality.
This mod is for any one who wants to make or play a level including these balls.
To see them in action, keep an eye out for "The Hype Ball's Testing Chamber"!!!
THIS MOD DOES NOT CHANGE ANY OTHER TYPES OF GOO BALLS.
Information on Hype:
Walks & climbs around 2x the speed as common
2x lighter, too
3 strands
Occasionally jumps 3x as high
COMING SOON:
Super Hype! Big, Purple, 5-stranded, and still normal speed!