Skill of confusition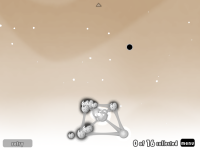 Author:
Wikigoo-4evr
Total downloads: 1,826
Latest version: 0.2
Release date: 07/31/2011 - 07:28
This is my first skill level. Tricky, isn't it? I've been trying this level couple of times to finish it. And only sometimes I got to the finish. The deal is this... To finish this level you definitely have to put albinos on the strands but in that way to wiki balls would be around them so at the finish you could get almost all goos in by leaving only one wiki. Quite hard, isn't it? This level will learn you one skill in witch way you will be able to get some OCDs in other levels! Have a fun... And don't forget to rate and comment the level!
I know that you can easier finish this level by using whacky skill but now everybody can do that!
You can use my wiki ball style if you want...
Don't forget to rate!
Version 0.2 is better...
There are 2 current downloads.