World Spin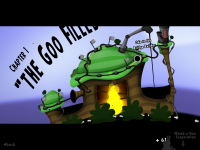 Authors:
MOM4Evr
,
Daft as Brush
Total downloads: 3,602
Latest version: 1.1
Release date: 06/17/2012 - 16:32
This addin places all the levels from the original game into chapter 1!
Concept and a lot of the work was done by Daft as Brush; I finished it up and packaged.
The idea for this is to make it so that chapter addins can override any of the other islands without worry of overwriting the original levels. Overriding island 1 will be prohibited in the near future because of this.
As all the changes are properly merged into the island1.scene.bin, this addin will work with level addins installed. It even supports Daft's Island 1 Enlarger and Mygod's Island 1 Infinite. How's that for nifty?
Of course, any addins that add geometry to island1 (Like my "Intelligent Islands" mod) won't work with this addin installed. But it's a small price to pay!
All 5 islands are on a turntable, grab and pull right or left on the arrows to see other islands. I've tested it a good amount, and haven't found anything majorly wrong, so if you find any bugs, please let me know!
Special thanks to Daft as Brush for coming up with the concept and starting the project, and thanks to AP for finding the "anchor" attribute for buttons, which made it all possible.
I want to see future chapter addins have dynamic level buttons like this!

Known bugs:
- As the signposts in Chapter 4: The Information Superhighway are hardcoded, signposts in these levels will be the normal, rather than ISH, signs.
- There are some glitches with the OCD flags for Tower of Goo and Chain (If you OCD Tower of Goo, then Chain, when the particles for unlocking Ode to the Bridge Builder appear, the OCD flags are reversed). I can't figure out exactly why this is, or if it's a bug in the original game. If anyone knows how to fix it, let me know!
- Very minor aesthetic glitch if Island 1 Enlarger is lower in the addin queue than this addin. Insignificant, so I'm ignoring it.
- The hardcoded "new level" arrow appears overtop the level text, so I changed the alpha of that image so you can still see through it and read the level name. I figured this was a good compromise, rather than shrinking the arrow and messing up the aesthetics of added chapter addins. Let me know if you disagree and think this should be taken out/changed.
Changelog:
* Version 1.1:
-Added background images for each chapter, so they look more like original chapters
-Changed text in MapWorldView to read "World of Goo" instead of "The Goo Filled Hills."
There are 2 current downloads.