The Official TM13's View of the World of Goo: PART 1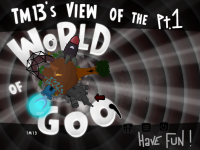 Authors:
tacomann13
,
TM13
Total downloads: 19,468
Latest version: 1.58
Release date: 02/04/2011 - 09:11
This is PART 1 to the huge 3 part mod.
Welcome to the other side of the world.
Its Tacomann13's View, of what the 'other side' looks like.
please note:

That this mod will only work if there are no other LEVEL MODS in your Gootool. That means you can still enjoy themes.
thank you,
-Tacomann13
There is 1 current download.