Deep Water Calamity (Water Level)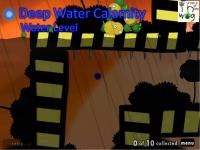 Author:
inwog
Total downloads: 1,707
Latest version: 1.3
Release date: 06/01/2010 - 23:01
WARNING! This addin depends on Element Buster Level, because you need the Water Product.
ASSOCIATED WITH BLUE WATER!
I made this level and its level design is too easy to make. This level is just a similar to a Goo World Level "Water Splashing in Darkness". So far, there are plenty of water surrounded and floods risen up. And of course, Water Goo will make your goo balls swim faster! Definitely this level can be beaten in a fewer moves and/or least time.
Water Element - this element makes your goo balls swim faster! For more info, see Element Buster Level.
inwog's 9th Single Level Addin.
Level made by inwog.
New Version: 1.3
- Physics at hypertube now movable.
- The line at the right now set the detaching tag.
- Cursor now changes into blue.