The Adventure Of Ugly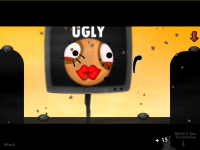 Authors:
copcap
,
Mygod
Total downloads: 4,113
Latest version: 1.27
Release date: 03/02/2021 - 04:22
Long time no see, I was busy learnin' makin' the chapter, and i bring my 1st chapter back!
This chapter is called "The Adventure Of Ugly", i made the story of one ugly, and it shouldn't be difficult.
I overcame many difficulties, maybe they weren't hard to solve, but i tried my best. I spent lots of time makin' it, though the levels aren't many. wish you like it

.
They Are The Levels
Make Ugly Adventure
Underground Subway
Continue To Go
Start To Fly

Please Enter The Password

Change A Channel
Clean The Road
Be The Winner
Kill The Ugly
Emm, that's all. BTW, in fact i made a movie, but when i added it to the goomod, it said wog can't read it. So i deleted it..
Have Fun!
P.S:
1. As soon as you finish level "Start To Fly", you will get the whistle!


2. Thanks Mygod for making the the music which used in the last level.
3. It will replace your chapter 2!
V1.27 uploaded
Added some lost images (it shocked me that i've never found this for such long time:( )
V1.267 uploaded
Fix a bug. Now everyone can play the chapter directly.
V1.266 uploaded!
1.Improve the movie and make it connect to Mysterious Fuel Factory, and the main author of MFF My Gom allowed this.
2.Change the way to finish Clean The Road! Now I belive that everyone canpass it easily!
3.Make the OCDs harder to be collected.
4.Some bugs fixed.
V1.253 uploaded!
1.Add a movie.
2.Fix bugs which found by @Wogfan4Evr !
3.Buttons in island have changed, because @Mygom reported a serious bug called "Buttons Full-scene" by me.
4.Some other problems fixed.
Enjoy!
There are 5 current downloads.