The Goo Worlds*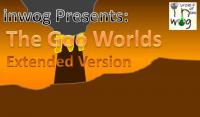 Author:
inwog
Total downloads: 4,175
Latest version: 1.4.1
Release date: 11/27/2010 - 16:45
ONE OF THE 8 SUCCESSFUL ADDINS OF INWOG
The Goo Balls are traveling into 8 different worlds, but there's 3 Levels per each world. With new graphics, adventures, more fun!
List of Levels
World 1: Grass World/The Green Meadows
1-1: Marching into Grass World
1-2: Building Towards Down
1-3: Bridge Building into Grass
World 2: Desert World/Hot Desert
2-1: Sahara Oasis
2-2: Cacti Attack
2-3: Look inside the Pyramid
World 3: Ice World/The Ice Legion
3-1: The Ice and Water Playground
3-2: Flames of Fury
3-3: Snowstorm Revolution
World 4: Underwater World/Under the Ocean
4-1: The Coral Catch
4-2: Spiky Throat
4-3: Spinning Bar Confusion
World 5: Factory World/Smokey Functions
5-1: Great Flames of Hell
5-2: Helios' Chaotic Chamber
5-3: Small Room Stick
World 6: Sky World/The Sky
6-1: Puffy Sky Racing
6-2: Longest Bridge Building
6-3: The Night Sky
World 7: Dark World/Darkness over Time
7-1: Dark and Black Grass Revolution
7-2: Water Splashing in Darkness
7-3: Tower Building Problems
World 8: Lava World/Volcano Magma
8-1: Yellow Destroyers
8-2: Climbing Through Lava
8-3: The Volcano of Doom
Sequel
A sequel of The Goo Worlds would be worked on July 2012. The sequel would be named "The Goo Worlds 2: The Symbols of Truth", and the release date is unknown.
Unfortunately, the project is cancelled, and replacing with the space themed rewind addin "Geometry Hyperspace" due to lack of ideas being thought on.
Changelog:
Version 1.1
- initial release
Version 1.2
- camera positions for widescreen adjusted
- removed all thumbs.db files (did it early)
- camera positions for widescreen now has a travel time (did it early)
Version 1.2.1
- removed black space in level 3-3
Version 1.2.2
- the background image for level 2-3 is being redesigned.
Version 1.3
- new names for these levels.
- OCD in Levels 6-2 and 7-3 changed
Version 1.3.1 (goomod converts into mod type addin)
- levels are now in Chapter 3
- added Spanish Language
Version 1.3.2 (Extended Version)
- redesigning of bg images
- levels are now in the new chapter
- added the 8th World
Version 1.4
- expanded map for the chapter
- ocd for levels 8-1 and 8-2 changed
- final pipecon image fixed
- chapter name changed
Version 1.4.1
- edited the chapter map
- tweak background images
- dependacy for this chapter disabled.
- edited some levels
- override directory is now in island2
Addin by inwog