The radioactive Levels!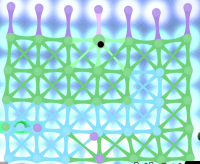 Author:
nothinggoo
Total downloads: 6,366
Latest version: 0.8
Release date: 06/19/2012 - 09:29
I made these guys. I do not know how to make a sandbox so this level has a pipe (but you cant reach it). The goos are not cloned but have the functions of original goo balls (except most of them can have 4 strands). The shadow and the ivy-fuse (they are the ones on the very left when you look at the dispensers) are the second generation. Inside gootool one level will be skipped (rdlevel6) That is because that level has gooballs that failed to work.
For moderators:
THERE! 5 new levels of glowing gooballs! If this addin is not being published due to it being a sandbox there is no more reasons for that! if you want i can remove the sandbox level, but i think it wil be pretty useful.
EDIT
Now it is ten levels! Thanks to MOM4evr i did not have to do all the merging, only 4 levels.
THANK YOU THOSE PEOPLE WHO DOWNLOADED THIS MOD, THE RADIOACTIVE GOOBALLS <3 YOU!