World of Goo Cursor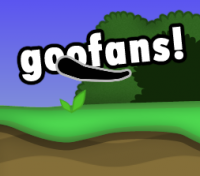 Author:
Mygod
Total downloads: 5,647
Latest version: V3.0.8.1
Release date: 02/11/2014 - 20:52
The GEN-U-INE cursor of World of Goo! Available TODAY!


You can adjust the color, size and breathing speed of this cursor.
Any suggestions or bugs are welcome.
Also try out other people's cursors!
The one made by wooobb's programming guy. (download link)
It works not so perfectly outside the window.
The one based on XNA Framework. (open source and written in C#)
The cursor seemed to be awesome. But unfortunately it can't be used outside the game.
The one made with Game Maker Pro.
It can't be used outside the game, too.
Known Bugs
None so far. Found anything? Leave a comment below!
Changelog
See the comments below.
Developers: This program is written in C# & WPF and it is open source. Feel free to use it in your own program.
The source for the program, other parts, the kernel Control WorldOfGooCursor (included in other parts). Feel free to use it!


P.S. Some of the comments are written in Chinese because I'm a Chinese. Just ignore them if you don't understand.
| Version | Platform | Release Date | Filename | Size | Downloads |
| --- | --- | --- | --- | --- | --- |
| V3.0.8.1 | Windows | Tue, 02/11/2014 - 20:52 | WoGCursor.rar | 325.29 KB | 3,594 |
There is 1 current download.