Blustery Day
Little Miss World of Goo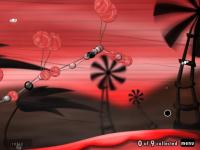 Normal: 9 balls
OCD: 18 balls
Previous level:
Fly Away Little Ones
.
Next level:
Welcoming Unit
.
here come the windmills
Signposts
The windmills were supposed to be a source of cheap clean energy...
...to power the entire world.
But they weren't enough.
And a different source of energy had to be found.
-the Sign Painter
You need Flash player 8+ and JavaScript enabled to view this video.
There is 1 video.
<level

 

ballsrequired

=

"9"

 

letterboxed

=

"false"

 

visualdebug

=

"false"

 

autobounds

=

"false"

 

textcolor

=

"255,255,255"

 

texteffects

=

"true"

 

timebugprobability

=

"0.333"

 

strandgeom

=

"false"

 

allowskip

=

"true"

 

>


 
	

<!-- Camera -->


	

<camera

 

aspect

=

"normal"

 

endpos

=

"-139,585"

 

endzoom

=

"0.523"

>


		

<poi

 

pos

=

"202.99,707.09"

 

traveltime

=

"0"

 

pause

=

"1"

 

zoom

=

"0.762"

 

/>


		

<poi

 

pos

=

"-695.53,428.36"

 

traveltime

=

"3"

 

pause

=

"0"

 

zoom

=

"0.916"

 

/>


	</camera

>


	

<camera

 

aspect

=

"widescreen"

 

endpos

=

"5.78,609.53"

 

endzoom

=

"0.546"

>


		

<poi

 

pos

=

"202.99,707.09"

 

traveltime

=

"0"

 

pause

=

"1"

 

zoom

=

"0.762"

 

/>


		

<poi

 

pos

=

"-602.54,428.36"

 

traveltime

=

"3"

 

pause

=

"0"

 

zoom

=

"0.916"

 

/>


	</camera

>


 
	

<!-- Music -->


	

<music

 

id

=

"SOUND_LEVEL_BLUSTERYDAY_TEMP_JELLY"

 

/>


 
	

<!-- Loop Sound -->


	

<loopsound

 

id

=

"SOUND_LEVEL_BLUSTERYDAY_LOOP_STRONGWIND"

 

/>


 
	

<!-- Fire -->


 
	

<!-- Signposts -->


		

<signpost

 

name

=

"signpost_brown"

 

depth

=

"-8"

 

x

=

"205.22"

 

y

=

"364.02"

 

scalex

=

"0.89"

 

scaley

=

"0.987"

 

rotation

=

"-72.33"

 

alpha

=

"1"

 

colorize

=

"128,128,128"

 

image

=

"IMAGE_SCENE_BLUSTERYDAY_SIGNPOST_BROWN"

 

text

=

"SIGNPOST_BLUSTERYDAY_1"

   

/>


 
	

<!-- Pipes -->


	

<pipe

 

id

=

"0"

 

depth

=

"8"

 

>


		

<Vertex

 

x

=

"833"

 

y

=

"274"

 

/>


		

<Vertex

 

x

=

"833"

 

y

=

"-113"

 

/>


		

<Vertex

 

x

=

"913"

 

y

=

"-113"

 

/>


	</pipe

>


 
	

<!-- Balls -->


	

<BallInstance

 

type

=

"balloon"

 

x

=

"-460.57"

 

y

=

"237.56"

 

id

=

"0"

 

angle

=

"0"

 

/>


	

<BallInstance

 

type

=

"balloon"

 

x

=

"-790.07"

 

y

=

"257.06"

 

id

=

"1"

 

angle

=

"0"

 

/>


	

<BallInstance

 

type

=

"balloon"

 

x

=

"-174.2"

 

y

=

"305.13"

 

id

=

"2"

 

angle

=

"0"

 

/>


	

<BallInstance

 

type

=

"balloon"

 

x

=

"-33.18"

 

y

=

"383.14"

 

id

=

"3"

 

angle

=

"0"

 

/>


	

<BallInstance

 

type

=

"balloon"

 

x

=

"-90.19"

 

y

=

"539.15"

 

id

=

"4"

 

angle

=

"0"

 

/>


	

<BallInstance

 

type

=

"balloon"

 

x

=

"-363.22"

 

y

=

"458.15"

 

id

=

"5"

 

angle

=

"0"

 

/>


	

<BallInstance

 

type

=

"balloon"

 

x

=

"-267.21"

 

y

=

"503.15"

 

id

=

"6"

 

angle

=

"0"

 

/>


	

<BallInstance

 

type

=

"balloon"

 

x

=

"-105.19"

 

y

=

"437.14"

 

id

=

"7"

 

angle

=

"0"

 

/>


	

<BallInstance

 

type

=

"balloon"

 

x

=

"-192.2"

 

y

=

"416.14"

 

id

=

"8"

 

angle

=

"0"

 

/>


	

<BallInstance

 

type

=

"balloon"

 

x

=

"-488.53"

 

y

=

"484.05"

 

id

=

"9"

 

angle

=

"0"

 

/>


	

<BallInstance

 

type

=

"balloon"

 

x

=

"-999.05"

 

y

=

"387.07"

 

id

=

"10"

 

angle

=

"0"

 

/>


	

<BallInstance

 

type

=

"balloon"

 

x

=

"-1052.06"

 

y

=

"291.06"

 

id

=

"11"

 

angle

=

"0"

 

/>


	

<BallInstance

 

type

=

"balloon"

 

x

=

"-900.56"

 

y

=

"448.55"

 

id

=

"12"

 

angle

=

"0"

 

/>


	

<BallInstance

 

type

=

"balloon"

 

x

=

"-704.04"

 

y

=

"200.07"

 

id

=

"13"

 

angle

=

"0"

 

/>


	

<BallInstance

 

type

=

"GooProduct"

 

x

=

"-718.87"

 

y

=

"465.94"

 

id

=

"14"

 

angle

=

"0"

 

/>


	

<BallInstance

 

type

=

"GooProduct"

 

x

=

"-775"

 

y

=

"467"

 

id

=

"15"

 

angle

=

"0"

 

/>


	

<BallInstance

 

type

=

"GooProduct"

 

x

=

"-775"

 

y

=

"512"

 

id

=

"16"

 

angle

=

"0"

 

/>


	

<BallInstance

 

type

=

"GooProduct"

 

x

=

"-679"

 

y

=

"463"

 

id

=

"17"

 

angle

=

"0"

 

/>


	

<BallInstance

 

type

=

"GooProduct"

 

x

=

"-678.5"

 

y

=

"519.5"

 

id

=

"18"

 

angle

=

"0"

 

/>


	

<BallInstance

 

type

=

"GooProduct"

 

x

=

"-729.5"

 

y

=

"515.5"

 

id

=

"19"

 

angle

=

"0"

 

/>


	

<BallInstance

 

type

=

"water"

 

x

=

"-872.33"

 

y

=

"354"

 

id

=

"20"

 

angle

=

"0"

 

/>


	

<BallInstance

 

type

=

"water"

 

x

=

"-778.5"

 

y

=

"414.5"

 

id

=

"21"

 

angle

=

"0"

 

/>


	

<BallInstance

 

type

=

"water"

 

x

=

"-563.01"

 

y

=

"261.01"

 

id

=

"22"

 

angle

=

"0"

 

/>


	

<BallInstance

 

type

=

"water"

 

x

=

"-710.87"

 

y

=

"405.43"

 

id

=

"23"

 

angle

=

"0"

 

/>


	

<BallInstance

 

type

=

"water"

 

x

=

"-753"

 

y

=

"348.5"

 

id

=

"24"

 

angle

=

"0"

 

/>


	

<BallInstance

 

type

=

"water"

 

x

=

"-521"

 

y

=

"313"

 

id

=

"25"

 

angle

=

"0"

 

/>


	

<BallInstance

 

type

=

"water"

 

x

=

"-580"

 

y

=

"306"

 

id

=

"26"

 

angle

=

"0"

 

/>


	

<BallInstance

 

type

=

"water"

 

x

=

"-580"

 

y

=

"212"

 

id

=

"27"

 

angle

=

"0"

 

/>


	

<BallInstance

 

type

=

"water"

 

x

=

"-636.5"

 

y

=

"219.01"

 

id

=

"28"

 

angle

=

"0"

 

/>


	

<BallInstance

 

type

=

"water"

 

x

=

"-407"

 

y

=

"341"

 

id

=

"29"

 

angle

=

"0"

 

/>


	

<BallInstance

 

type

=

"water"

 

x

=

"-452"

 

y

=

"377"

 

id

=

"30"

 

angle

=

"0"

 

/>


	

<BallInstance

 

type

=

"water"

 

x

=

"-162.7"

 

y

=

"557.16"

 

id

=

"31"

 

angle

=

"0"

 

/>


	

<BallInstance

 

type

=

"water"

 

x

=

"-345.21"

 

y

=

"572.16"

 

id

=

"32"

 

angle

=

"0"

 

/>


	

<BallInstance

 

type

=

"water"

 

x

=

"-381.22"

 

y

=

"638.17"

 

id

=

"33"

 

angle

=

"0"

 

/>


	

<BallInstance

 

type

=

"water"

 

x

=

"-288.21"

 

y

=

"611.16"

 

id

=

"34"

 

angle

=

"0"

 

/>


	

<BallInstance

 

type

=

"water"

 

x

=

"-216.7"

 

y

=

"626.16"

 

id

=

"35"

 

angle

=

"0"

 

/>


	

<BallInstance

 

type

=

"water"

 

x

=

"-318.71"

 

y

=

"668.17"

 

id

=

"36"

 

angle

=

"0"

 

/>


	

<BallInstance

 

type

=

"water"

 

x

=

"-414.72"

 

y

=

"668.17"

 

id

=

"37"

 

angle

=

"0"

 

/>


	

<BallInstance

 

type

=

"water"

 

x

=

"-558.73"

 

y

=

"650.17"

 

id

=

"38"

 

angle

=

"0"

 

/>


	

<BallInstance

 

type

=

"water"

 

x

=

"-612.74"

 

y

=

"509.15"

 

id

=

"39"

 

angle

=

"0"

 

/>


	

<BallInstance

 

type

=

"water"

 

x

=

"-639.74"

 

y

=

"578.16"

 

id

=

"40"

 

angle

=

"0"

 

/>


	

<BallInstance

 

type

=

"water"

 

x

=

"-645.74"

 

y

=

"467.15"

 

id

=

"41"

 

angle

=

"0"

 

/>


	

<BallInstance

 

type

=

"water"

 

x

=

"-585.49"

 

y

=

"377"

 

id

=

"42"

 

angle

=

"0"

 

/>


	

<BallInstance

 

type

=

"water"

 

x

=

"-513.49"

 

y

=

"345.5"

 

id

=

"43"

 

angle

=

"0"

 

/>


	

<BallInstance

 

type

=

"water"

 

x

=

"-807.49"

 

y

=

"556.01"

 

id

=

"44"

 

angle

=

"0"

 

/>


	

<BallInstance

 

type

=

"water"

 

x

=

"-633.5"

 

y

=

"298.51"

 

id

=

"45"

 

angle

=

"0"

 

/>


	

<BallInstance

 

type

=

"water"

 

x

=

"-645.5"

 

y

=

"381"

 

id

=

"46"

 

angle

=

"0"

 

/>


	

<BallInstance

 

type

=

"water"

 

x

=

"-695"

 

y

=

"340.5"

 

id

=

"47"

 

angle

=

"0"

 

/>


	

<BallInstance

 

type

=

"GooProduct"

 

x

=

"-880"

 

y

=

"154.5"

 

id

=

"48"

 

angle

=

"0"

 

/>


	

<BallInstance

 

type

=

"GooProduct"

 

x

=

"-983"

 

y

=

"160.5"

 

id

=

"49"

 

angle

=

"0"

 

/>


	

<BallInstance

 

type

=

"Anchor"

 

x

=

"-926"

 

y

=

"242.5"

 

id

=

"50"

 

angle

=

"0"

 

/>


 
	

<!-- Arms -->


	

<Strand

 

gb1

=

"48"

 

gb2

=

"49"

 

/>


	

<Strand

 

gb1

=

"50"

 

gb2

=

"48"

 

/>


	

<Strand

 

gb1

=

"50"

 

gb2

=

"49"

 

/>


	

<Strand

 

gb1

=

"20"

 

gb2

=

"50"

 

/>


	

<Strand

 

gb1

=

"20"

 

gb2

=

"1"

 

/>


 
	

<!-- Level Exit -->


	

<levelexit

 

id

=

"theExit"

 

pos

=

"833.0888671875,273.912109375"

 

radius

=

"75"

 

filter

=

""

 

>


	</levelexit

>


 
</level

>
<scene

 

minx

=

"-1200"

 

miny

=

"0"

 

maxx

=

"1200"

 

maxy

=

"1600"

 

backgroundcolor

=

"0,0,0"

 

>


 
	

<!-- ForceFields -->


	

<linearforcefield

 

id

=

"upperwind"

 

type

=

"gravity"

 

center

=

"-11,1783"

 

width

=

"2944"

 

height

=

"728"

 

force

=

"0,-12"

 

dampeningfactor

=

"0"

 

antigrav

=

"false"

 

geomonly

=

"false"

 

enabled

=

"true"

 

water

=

"false"

 

/>


	

<linearforcefield

 

id

=

"wind"

 

type

=

"force"

 

center

=

"42.0479,1299.9888"

 

width

=

"2902.0957"

 

height

=

"1814.0225"

 

force

=

"4,0"

 

dampeningfactor

=

"0"

 

antigrav

=

"false"

 

geomonly

=

"false"

 

enabled

=

"true"

 

water

=

"false"

 

/>


	

<linearforcefield

 

type

=

"gravity"

 

force

=

"0,-10"

 

dampeningfactor

=

"0.3"

 

antigrav

=

"true"

 

geomonly

=

"false"

 

/>


 
	

<!-- Particles -->


	

<particles

 

effect

=

"rainStreaksHeavy"

 

depth

=

"160"

 

pretick

=

"0"

 

/>


	

<particles

 

effect

=

"mistRight"

 

depth

=

"80"

 

pretick

=

"0"

 

/>


	

<particles

 

effect

=

"mistRight"

 

depth

=

"-80"

 

pretick

=

"0"

 

/>


 
	

<!-- SceneLayers -->


	

<SceneLayer

 

name

=

"windmillPropeller"

 

depth

=

"8"

 

x

=

"146.18"

 

y

=

"766.06"

 

scalex

=

"1.709"

 

scaley

=

"1.709"

 

rotation

=

"0"

 

alpha

=

"1"

 

colorize

=

"255,255,255"

 

image

=

"IMAGE_SCENE_BLUSTERYDAY_WINDMILLPROPELLER"

 

anim

=

"rot_1rps"

 

animspeed

=

"-0.5"

   

/>


	

<SceneLayer

 

name

=

"main"

 

depth

=

"0"

 

x

=

"-485.98"

 

y

=

"129.47"

 

scalex

=

"2.791"

 

scaley

=

"1.008"

 

rotation

=

"0"

 

alpha

=

"1"

 

colorize

=

"255,255,255"

 

image

=

"IMAGE_SCENE_BLUSTERYDAY_MAIN"

   

/>


		

<SceneLayer

 

name

=

"signpostPole_brown"

 

depth

=

"-8.8"

 

x

=

"180.06"

 

y

=

"363.76"

 

scalex

=

"1"

 

scaley

=

"1.209"

 

rotation

=

"-82.36"

 

alpha

=

"1"

 

colorize

=

"0,0,0"

 

image

=

"IMAGE_SCENE_BLUSTERYDAY_SIGNPOSTPOLE_BROWN"

   

/>


	

<SceneLayer

 

name

=

"windmillBase"

 

depth

=

"0"

 

x

=

"96.12"

 

y

=

"524.24"

 

scalex

=

"1.165"

 

scaley

=

"1.165"

 

rotation

=

"0"

 

alpha

=

"1"

 

colorize

=

"255,255,255"

 

image

=

"IMAGE_SCENE_BLUSTERYDAY_WINDMILLBASE"

   

/>


	

<SceneLayer

 

name

=

"windmillPropellerBlur"

 

depth

=

"-72"

 

x

=

"-253.49"

 

y

=

"499.49"

 

scalex

=

"1.36"

 

scaley

=

"1.36"

 

rotation

=

"0"

 

alpha

=

"1"

 

colorize

=

"255,255,255"

 

image

=

"IMAGE_SCENE_BLUSTERYDAY_WINDMILLPROPELLERBLUR"

 

anim

=

"rot_1rps"

 

animspeed

=

"-1"

   

/>


	

<SceneLayer

 

name

=

"windmillBaseBlur"

 

depth

=

"-80"

 

x

=

"-265.45"

 

y

=

"342.51"

 

scalex

=

"2.755"

 

scaley

=

"2.755"

 

rotation

=

"7.46"

 

alpha

=

"1"

 

colorize

=

"255,255,255"

 

image

=

"IMAGE_SCENE_BLUSTERYDAY_WINDMILLBASEBLUR"

   

/>


	

<SceneLayer

 

name

=

"windmillPropellerBlur"

 

depth

=

"-152"

 

x

=

"-104.52"

 

y

=

"372.5"

 

scalex

=

"0.578"

 

scaley

=

"0.578"

 

rotation

=

"0"

 

alpha

=

"1"

 

colorize

=

"255,255,255"

 

image

=

"IMAGE_SCENE_BLUSTERYDAY_WINDMILLPROPELLERBLUR"

 

anim

=

"rot_1rps"

 

animspeed

=

"-0.8"

   

/>


	

<SceneLayer

 

name

=

"windmillBaseBlur"

 

depth

=

"-160"

 

x

=

"-65.39"

 

y

=

"282.19"

 

scalex

=

"1.531"

 

scaley

=

"1.531"

 

rotation

=

"36.5"

 

alpha

=

"1"

 

colorize

=

"255,255,255"

 

image

=

"IMAGE_SCENE_BLUSTERYDAY_WINDMILLBASEBLUR"

   

/>


		

<SceneLayer

 

name

=

"leaf1"

 

depth

=

"-16"

 

x

=

"-1151.95"

 

y

=

"686.91"

 

scalex

=

"1.076"

 

scaley

=

"1.076"

 

rotation

=

"-1.9"

 

alpha

=

"1"

 

colorize

=

"255,255,255"

 

image

=

"IMAGE_SCENE_BLUSTERYDAY_LEAF1"

 

anim

=

"treeBlow_leaf3"

 

animspeed

=

"1"

 

animdelay

=

"1"

   

/>


		

<SceneLayer

 

name

=

"leaf1"

 

depth

=

"-16"

 

x

=

"-1160.94"

 

y

=

"691.5"

 

scalex

=

"1.076"

 

scaley

=

"1.076"

 

rotation

=

"-1.9"

 

alpha

=

"1"

 

colorize

=

"255,255,255"

 

image

=

"IMAGE_SCENE_BLUSTERYDAY_LEAF1"

 

anim

=

"treeBlow_leaf2"

 

animspeed

=

"1"

 

animdelay

=

"1"

   

/>


		

<SceneLayer

 

name

=

"leaf1"

 

depth

=

"-16"

 

x

=

"-1154.65"

 

y

=

"686.45"

 

scalex

=

"1.076"

 

scaley

=

"1.076"

 

rotation

=

"-1.9"

 

alpha

=

"1"

 

colorize

=

"255,255,255"

 

image

=

"IMAGE_SCENE_BLUSTERYDAY_LEAF1"

 

anim

=

"treeBlow_leaf1"

 

animspeed

=

"1"

 

animdelay

=

"1"

   

/>


		

<SceneLayer

 

name

=

"treeStick"

 

depth

=

"-80"

 

x

=

"-713.62"

 

y

=

"216.81"

 

scalex

=

"0.603"

 

scaley

=

"0.603"

 

rotation

=

"-1.9"

 

alpha

=

"1"

 

colorize

=

"255,255,255"

 

image

=

"IMAGE_SCENE_BLUSTERYDAY_TREESTICK"

 

anim

=

"treeBlow_trunk"

 

animspeed

=

"1"

 

animdelay

=

"0.75"

   

/>


		

<SceneLayer

 

name

=

"leaf1"

 

depth

=

"-80"

 

x

=

"-546.95"

 

y

=

"357.86"

 

scalex

=

"0.603"

 

scaley

=

"0.603"

 

rotation

=

"-1.9"

 

alpha

=

"1"

 

colorize

=

"255,255,255"

 

image

=

"IMAGE_SCENE_BLUSTERYDAY_LEAF1"

 

anim

=

"treeBlow_leaf3"

 

animspeed

=

"1"

 

animdelay

=

"0.75"

   

/>


		

<SceneLayer

 

name

=

"leaf1"

 

depth

=

"-80"

 

x

=

"-551.98"

 

y

=

"360.43"

 

scalex

=

"0.603"

 

scaley

=

"0.603"

 

rotation

=

"-1.9"

 

alpha

=

"1"

 

colorize

=

"255,255,255"

 

image

=

"IMAGE_SCENE_BLUSTERYDAY_LEAF1"

 

anim

=

"treeBlow_leaf2"

 

animspeed

=

"1"

 

animdelay

=

"0.75"

   

/>


		

<SceneLayer

 

name

=

"leaf1"

 

depth

=

"-80"

 

x

=

"-548.46"

 

y

=

"357.6"

 

scalex

=

"0.603"

 

scaley

=

"0.603"

 

rotation

=

"-1.9"

 

alpha

=

"1"

 

colorize

=

"255,255,255"

 

image

=

"IMAGE_SCENE_BLUSTERYDAY_LEAF1"

 

anim

=

"treeBlow_leaf1"

 

animspeed

=

"1"

 

animdelay

=

"0.75"

   

/>


		

<SceneLayer

 

name

=

"treeStick"

 

depth

=

"-16"

 

x

=

"-1132.12"

 

y

=

"349.91"

 

scalex

=

"0.819"

 

scaley

=

"0.819"

 

rotation

=

"-1.9"

 

alpha

=

"1"

 

colorize

=

"255,255,255"

 

image

=

"IMAGE_SCENE_BLUSTERYDAY_TREESTICK"

 

anim

=

"treeBlow_trunk"

 

animspeed

=

"1"

 

animdelay

=

"1.5"

   

/>


		

<SceneLayer

 

name

=

"leaf1"

 

depth

=

"-16"

 

x

=

"-905.68"

 

y

=

"541.55"

 

scalex

=

"0.819"

 

scaley

=

"0.819"

 

rotation

=

"-1.9"

 

alpha

=

"1"

 

colorize

=

"255,255,255"

 

image

=

"IMAGE_SCENE_BLUSTERYDAY_LEAF1"

 

anim

=

"treeBlow_leaf3"

 

animspeed

=

"1"

 

animdelay

=

"1.5"

   

/>


		

<SceneLayer

 

name

=

"leaf1"

 

depth

=

"-16"

 

x

=

"-912.52"

 

y

=

"545.04"

 

scalex

=

"0.819"

 

scaley

=

"0.819"

 

rotation

=

"-1.9"

 

alpha

=

"1"

 

colorize

=

"255,255,255"

 

image

=

"IMAGE_SCENE_BLUSTERYDAY_LEAF1"

 

anim

=

"treeBlow_leaf2"

 

animspeed

=

"1"

 

animdelay

=

"1.5"

   

/>


		

<SceneLayer

 

name

=

"leaf1"

 

depth

=

"-16"

 

x

=

"-907.73"

 

y

=

"541.2"

 

scalex

=

"0.819"

 

scaley

=

"0.819"

 

rotation

=

"-1.9"

 

alpha

=

"1"

 

colorize

=

"255,255,255"

 

image

=

"IMAGE_SCENE_BLUSTERYDAY_LEAF1"

 

anim

=

"treeBlow_leaf1"

 

animspeed

=

"1"

 

animdelay

=

"1.5"

   

/>


	

<SceneLayer

 

name

=

"bgHills"

 

depth

=

"-280"

 

x

=

"5.68"

 

y

=

"249.83"

 

scalex

=

"8.391"

 

scaley

=

"4.217"

 

rotation

=

"0"

 

alpha

=

"1"

 

colorize

=

"255,255,255"

 

image

=

"IMAGE_SCENE_BLUSTERYDAY_BGHILLS"

   

/>


	

<SceneLayer

 

name

=

"bg"

 

depth

=

"-600"

 

x

=

"0.04"

 

y

=

"825.53"

 

scalex

=

"8.595"

 

scaley

=

"4.841"

 

rotation

=

"0"

 

alpha

=

"1"

 

colorize

=

"255,255,255"

 

image

=

"IMAGE_SCENE_BLUSTERYDAY_BG"

   

/>


 
	

<!-- Buttons -->


 
	

<!-- Labels -->


 
	

<!-- Static Geometry -->


	

<line

 

id

=

"bottom"

 

static

=

"true"

 

tag

=

"deadly"

 

material

=

"rock"

 

anchor

=

"-147.0581,-34.499"

 

normal

=

"-0.0008,1"

 

/>


	

<circle

 

id

=

"propeller"

 

static

=

"true"

 

tag

=

"deadly"

 

material

=

"rock"

 

x

=

"145.833"

 

y

=

"766.738"

 

radius

=

"191.4999"

 

/>


	

<compositegeom

 

id

=

"ground"

 

x

=

"-553.1643"

 

y

=

"89.6812"

 

rotation

=

"0"

 

static

=

"true"

 

material

=

"grass"

 

>


		

<rectangle

 

id

=

"ground"

 

x

=

"-493.2715"

 

y

=

"-18.5723"

 

width

=

"506.4962"

 

height

=

"182.2723"

 

rotation

=

"-0.0685"

 

/>


		

<rectangle

 

id

=

"ground"

 

x

=

"-50.6196"

 

y

=

"-36.0933"

 

width

=

"362.0256"

 

height

=

"210.9983"

 

rotation

=

"0.0854"

 

/>


		

<rectangle

 

id

=

"ground"

 

x

=

"256.0864"

 

y

=

"-7.8462"

 

width

=

"224.5786"

 

height

=

"252.6514"

 

rotation

=

"0.2675"

 

/>


		

<rectangle

 

id

=

"ground"

 

x

=

"424.594"

 

y

=

"4.6899"

 

width

=

"161.9341"

 

height

=

"296.4316"

 

rotation

=

"0.0867"

 

/>


		

<rectangle

 

id

=

"ground"

 

x

=

"622.1643"

 

y

=

"23.0703"

 

width

=

"260"

 

height

=

"272.4971"

 

rotation

=

"0"

 

/>


	</compositegeom

>


	

<rectangle

 

id

=

"pole2"

 

static

=

"true"

 

material

=

"rock"

 

x

=

"106.9985"

 

y

=

"601.3574"

 

width

=

"59.0561"

 

height

=

"342.5764"

 

rotation

=

"-0.1955"

 

/>


	

<rectangle

 

id

=

"pole1"

 

static

=

"true"

 

material

=

"rock"

 

x

=

"91.4067"

 

y

=

"345.1025"

 

width

=

"93.3249"

 

height

=

"230.7823"

 

rotation

=

"0.0679"

 

/>


	

<line

 

id

=

"left"

 

static

=

"true"

 

tag

=

"detaching"

 

material

=

"rock"

 

anchor

=

"-1255.9988,809"

 

normal

=

"0.9995,0.0317"

 

/>


	

<line

 

id

=

"right"

 

static

=

"true"

 

tag

=

"detaching"

 

material

=

"rock"

 

anchor

=

"1277.0825,767.752"

 

normal

=

"-0.9996,0.03"

 

/>


	

<line

 

id

=

"top"

 

static

=

"true"

 

tag

=

"detaching"

 

material

=

"rock"

 

anchor

=

"-399.499,2128.4946"

 

normal

=

"0.0099,-1"

 

/>


 
	

<!-- Dynamic Geometry -->


 
	

<!-- Geometry Constraints -->


</scene

>