Volcanic Percolator Day Spa
Little Miss World of Goo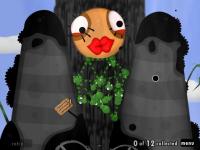 Normal: 12 balls
OCD: 30 moves
Previous level:
Beauty School
.
Next level:
Beauty and the Electric Tentacle
.
bubble up
Signposts
Everyone is welcome!
...they're legally obligated to say.
But she'll never get down there looking like this.
There's another pipe way up there she might enjoy.
-the Sign Painter
It's a very pretty flower.
I wonder what happens if you get a little closer...
-the Sign Painter
This pipe sure is sucking! It's probably best to stay away.
Don't forget to whistle!
-the Sign Painter
You need Flash player 8+ and JavaScript enabled to view this video.
There is 1 video.
<level

 

ballsrequired

=

"12"

 

letterboxed

=

"false"

 

visualdebug

=

"false"

 

autobounds

=

"false"

 

textcolor

=

"255,255,255"

 

texteffects

=

"true"

 

timebugprobability

=

"0.333"

 

strandgeom

=

"true"

 

allowskip

=

"true"

 

>


 
	

<!-- Camera -->


	

<camera

 

aspect

=

"normal"

 

endpos

=

"14,734"

 

endzoom

=

"0.686"

>


		

<poi

 

pos

=

"2.25,464.69"

 

traveltime

=

"0"

 

pause

=

"0.7"

 

zoom

=

"0.951"

 

/>


		

<poi

 

pos

=

"6,1025"

 

traveltime

=

"2"

 

pause

=

"0.7"

 

zoom

=

"0.889"

 

/>


	</camera

>


	

<camera

 

aspect

=

"widescreen"

 

endpos

=

"2.48,734"

 

endzoom

=

"0.686"

>


		

<poi

 

pos

=

"2.25,464.69"

 

traveltime

=

"0"

 

pause

=

"0.7"

 

zoom

=

"0.951"

 

/>


		

<poi

 

pos

=

"6,1025"

 

traveltime

=

"2"

 

pause

=

"0.7"

 

zoom

=

"0.889"

 

/>


	</camera

>


 
	

<!-- Music -->


	

<music

 

id

=

"SOUND_LEVEL_VOLCANICPERCOLATORDAYSPA_TEMP_DWTD2"

 

/>


 
	

<!-- Loop Sound -->


	

<loopsound

 

id

=

"SOUND_LEVEL_VOLCANICPERCOLATORDAYSPA_LOOP_BUBBLES"

 

/>


 
	

<!-- Fire -->


	

<fire

 

depth

=

"-24"

 

particles

=

"flowerDust"

 

x

=

"-451"

 

y

=

"1571"

 

radius

=

"68"

 

/>


 
	

<!-- Signposts -->


		

<signpost

 

name

=

"signpost_brown"

 

depth

=

"8"

 

x

=

"-153.19"

 

y

=

"977.57"

 

scalex

=

"0.885"

 

scaley

=

"0.885"

 

rotation

=

"43.31"

 

alpha

=

"1"

 

colorize

=

"255,255,255"

 

image

=

"IMAGE_SCENE_VOLCANICPERCOLATORDAYSPA_SIGNPOST_BROWN"

 

text

=

"SIGNPOST_VOLCANICPERCOLATORDAYSPA_1"

   

/>


		

<signpost

 

name

=

"signpost_brown"

 

depth

=

"-8"

 

x

=

"-293"

 

y

=

"1991.88"

 

scalex

=

"0.587"

 

scaley

=

"0.587"

 

rotation

=

"57.9"

 

alpha

=

"1"

 

colorize

=

"0,0,0"

 

image

=

"IMAGE_SCENE_VOLCANICPERCOLATORDAYSPA_SIGNPOST_BROWN"

 

text

=

"SIGNPOST_VOLCANICPERCOLATORDAYSPA_3"

   

/>


		

<signpost

 

name

=

"signpost_brown"

 

depth

=

"-16"

 

x

=

"-502.91"

 

y

=

"1706.58"

 

scalex

=

"0.821"

 

scaley

=

"0.821"

 

rotation

=

"-51.56"

 

alpha

=

"1"

 

colorize

=

"255,255,255"

 

image

=

"IMAGE_SCENE_VOLCANICPERCOLATORDAYSPA_SIGNPOST_BROWN"

 

text

=

"SIGNPOST_VOLCANICPERCOLATORDAYSPA_2"

   

/>


 
	

<!-- Pipes -->


	

<pipe

 

id

=

"0"

 

depth

=

"-8"

 

type

=

"BEAUTY"

 

>


		

<Vertex

 

x

=

"0"

 

y

=

"505"

 

/>


		

<Vertex

 

x

=

"0"

 

y

=

"575"

 

/>


		

<Vertex

 

x

=

"125"

 

y

=

"575"

 

/>


		

<Vertex

 

x

=

"125"

 

y

=

"350"

 

/>


		

<Vertex

 

x

=

"250"

 

y

=

"350"

 

/>


	</pipe

>


 
	

<!-- Balls -->


	

<BallInstance

 

type

=

"Ivy"

 

x

=

"-47"

 

y

=

"2042"

 

id

=

"0"

 

angle

=

"0"

 

/>


	

<BallInstance

 

type

=

"Ivy"

 

x

=

"-16"

 

y

=

"2121"

 

id

=

"1"

 

angle

=

"0"

 

/>


	

<BallInstance

 

type

=

"Ivy"

 

x

=

"81.88"

 

y

=

"972.93"

 

id

=

"2"

 

angle

=

"0"

 

/>


	

<BallInstance

 

type

=

"Ivy"

 

x

=

"35"

 

y

=

"1115"

 

id

=

"3"

 

angle

=

"0"

 

/>


	

<BallInstance

 

type

=

"Ivy"

 

x

=

"113.27"

 

y

=

"2146.9"

 

id

=

"4"

 

angle

=

"0"

 

/>


	

<BallInstance

 

type

=

"Ivy"

 

x

=

"74.27"

 

y

=

"1102.93"

 

id

=

"5"

 

angle

=

"0"

 

/>


	

<BallInstance

 

type

=

"Ivy"

 

x

=

"5"

 

y

=

"810"

 

id

=

"6"

 

angle

=

"0"

 

/>


	

<BallInstance

 

type

=

"Ivy"

 

x

=

"-61.24"

 

y

=

"1013.91"

 

id

=

"7"

 

angle

=

"0"

 

/>


	

<BallInstance

 

type

=

"Ivy"

 

x

=

"-74.74"

 

y

=

"1065.95"

 

id

=

"8"

 

angle

=

"0"

 

/>


	

<BallInstance

 

type

=

"Ivy"

 

x

=

"-84.24"

 

y

=

"1121.94"

 

id

=

"9"

 

angle

=

"0"

 

/>


	

<BallInstance

 

type

=

"Ivy"

 

x

=

"6.76"

 

y

=

"955.43"

 

id

=

"10"

 

angle

=

"0"

 

/>


	

<BallInstance

 

type

=

"Ivy"

 

x

=

"117.26"

 

y

=

"1778.41"

 

id

=

"11"

 

angle

=

"0"

 

/>


	

<BallInstance

 

type

=

"Ivy"

 

x

=

"-72.5"

 

y

=

"1968.01"

 

id

=

"12"

 

angle

=

"0"

 

/>


	

<BallInstance

 

type

=

"Ivy"

 

x

=

"-57.99"

 

y

=

"1774.54"

 

id

=

"13"

 

angle

=

"0"

 

/>


	

<BallInstance

 

type

=

"Ivy"

 

x

=

"133.5"

 

y

=

"2035.51"

 

id

=

"14"

 

angle

=

"0"

 

/>


	

<BallInstance

 

type

=

"Ivy"

 

x

=

"-29.5"

 

y

=

"1057.03"

 

id

=

"15"

 

angle

=

"0"

 

/>


	

<BallInstance

 

type

=

"Ivy"

 

x

=

"14.5"

 

y

=

"1040.53"

 

id

=

"16"

 

angle

=

"0"

 

/>


	

<BallInstance

 

type

=

"Ivy"

 

x

=

"95.49"

 

y

=

"1040.52"

 

id

=

"17"

 

angle

=

"0"

 

/>


	

<BallInstance

 

type

=

"Ivy"

 

x

=

"45.26"

 

y

=

"1043.96"

 

id

=

"18"

 

angle

=

"0"

 

/>


	

<BallInstance

 

type

=

"Ivy"

 

x

=

"28"

 

y

=

"2067"

 

id

=

"19"

 

angle

=

"0"

 

/>


	

<BallInstance

 

type

=

"Ivy"

 

x

=

"106.25"

 

y

=

"2097.91"

 

id

=

"20"

 

angle

=

"0"

 

/>


	

<BallInstance

 

type

=

"Ivy"

 

x

=

"76.75"

 

y

=

"1716.46"

 

id

=

"21"

 

angle

=

"0"

 

/>


	

<BallInstance

 

type

=

"Ivy"

 

x

=

"-72.11"

 

y

=

"975.93"

 

id

=

"22"

 

angle

=

"0"

 

/>


	

<BallInstance

 

type

=

"Ivy"

 

x

=

"61.39"

 

y

=

"886.46"

 

id

=

"23"

 

angle

=

"0"

 

/>


	

<BallInstance

 

type

=

"Ivy"

 

x

=

"-70.11"

 

y

=

"2108.44"

 

id

=

"24"

 

angle

=

"0"

 

/>


	

<BallInstance

 

type

=

"Ivy"

 

x

=

"48.89"

 

y

=

"1759.44"

 

id

=

"25"

 

angle

=

"0"

 

/>


	

<BallInstance

 

type

=

"Ivy"

 

x

=

"-82.01"

 

y

=

"1716.03"

 

id

=

"26"

 

angle

=

"0"

 

/>


	

<BallInstance

 

type

=

"Ivy"

 

x

=

"-102.6"

 

y

=

"1158.46"

 

id

=

"27"

 

angle

=

"0"

 

/>


	

<BallInstance

 

type

=

"Ivy"

 

x

=

"76.89"

 

y

=

"2129.43"

 

id

=

"28"

 

angle

=

"0"

 

/>


	

<BallInstance

 

type

=

"Ivy"

 

x

=

"-40"

 

y

=

"1090"

 

id

=

"29"

 

angle

=

"0"

 

/>


	

<BallInstance

 

type

=

"Ivy"

 

x

=

"115.88"

 

y

=

"1124.94"

 

id

=

"30"

 

angle

=

"0"

 

/>


	

<BallInstance

 

type

=

"Ivy"

 

x

=

"25.39"

 

y

=

"2001.46"

 

id

=

"31"

 

angle

=

"0"

 

/>


	

<BallInstance

 

type

=

"Ivy"

 

x

=

"34.39"

 

y

=

"2130.45"

 

id

=

"32"

 

angle

=

"0"

 

/>


	

<BallInstance

 

type

=

"Ivy"

 

x

=

"-51.11"

 

y

=

"885.43"

 

id

=

"33"

 

angle

=

"0"

 

/>


	

<BallInstance

 

type

=

"common"

 

x

=

"61.83"

 

y

=

"297.85"

 

id

=

"34"

 

discovered

=

"false"

 

angle

=

"0"

 

/>


	

<BallInstance

 

type

=

"common"

 

x

=

"30.14"

 

y

=

"326.4"

 

id

=

"35"

 

discovered

=

"false"

 

angle

=

"0"

 

/>


	

<BallInstance

 

type

=

"common"

 

x

=

"-17.86"

 

y

=

"358.4"

 

id

=

"36"

 

discovered

=

"false"

 

angle

=

"0"

 

/>


	

<BallInstance

 

type

=

"common"

 

x

=

"65.14"

 

y

=

"383.4"

 

id

=

"37"

 

discovered

=

"false"

 

angle

=

"0"

 

/>


	

<BallInstance

 

type

=

"common"

 

x

=

"-51.36"

 

y

=

"292.97"

 

id

=

"38"

 

discovered

=

"false"

 

angle

=

"0"

 

/>


	

<BallInstance

 

type

=

"common"

 

x

=

"-53.32"

 

y

=

"390"

 

id

=

"39"

 

discovered

=

"false"

 

angle

=

"0"

 

/>


	

<BallInstance

 

type

=

"Ugly"

 

x

=

"150.98"

 

y

=

"1483.91"

 

id

=

"40"

 

angle

=

"0"

 

/>


 
	

<!-- Arms -->


	

<Strand

 

gb1

=

"23"

 

gb2

=

"33"

 

/>


	

<Strand

 

gb1

=

"10"

 

gb2

=

"23"

 

/>


	

<Strand

 

gb1

=

"33"

 

gb2

=

"10"

 

/>


	

<Strand

 

gb1

=

"33"

 

gb2

=

"22"

 

/>


	

<Strand

 

gb1

=

"6"

 

gb2

=

"33"

 

/>


	

<Strand

 

gb1

=

"23"

 

gb2

=

"6"

 

/>


	

<Strand

 

gb1

=

"2"

 

gb2

=

"23"

 

/>


	

<Strand

 

gb1

=

"10"

 

gb2

=

"2"

 

/>


	

<Strand

 

gb1

=

"22"

 

gb2

=

"10"

 

/>


	

<Strand

 

gb1

=

"39"

 

gb2

=

"38"

 

/>


	

<Strand

 

gb1

=

"34"

 

gb2

=

"39"

 

/>


	

<Strand

 

gb1

=

"37"

 

gb2

=

"39"

 

/>


	

<Strand

 

gb1

=

"37"

 

gb2

=

"34"

 

/>


	

<Strand

 

gb1

=

"37"

 

gb2

=

"38"

 

/>


	

<Strand

 

gb1

=

"38"

 

gb2

=

"34"

 

/>


 
	

<!-- Level Exit -->


	

<levelexit

 

id

=

"theExit"

 

pos

=

"0,505"

 

radius

=

"75"

 

filter

=

"UglyProduct,BeautyProductEye"

 

>


	</levelexit

>


 
</level

>
<scene

 

minx

=

"-800"

 

miny

=

"0"

 

maxx

=

"800"

 

maxy

=

"2800"

 

backgroundcolor

=

"0,0,0"

 

>


 
	

<!-- ForceFields -->


	

<linearforcefield

 

id

=

"guide1"

 

type

=

"gravity"

 

center

=

"309.7334,1866.781"

 

width

=

"174.9863"

 

height

=

"134.8599"

 

force

=

"-2,0"

 

dampeningfactor

=

"0"

 

antigrav

=

"false"

 

geomonly

=

"false"

 

enabled

=

"true"

 

water

=

"false"

 

/>


	

<linearforcefield

 

id

=

"guide1"

 

type

=

"gravity"

 

center

=

"243.7339,2398.7542"

 

width

=

"345.9814"

 

height

=

"67.8628"

 

force

=

"8,2"

 

dampeningfactor

=

"0.3"

 

antigrav

=

"false"

 

geomonly

=

"false"

 

enabled

=

"true"

 

water

=

"false"

 

/>


	

<linearforcefield

 

id

=

"guide1"

 

type

=

"gravity"

 

center

=

"-2,2564.9036"

 

width

=

"377.4766"

 

height

=

"313.8462"

 

force

=

"4,6"

 

dampeningfactor

=

"0"

 

antigrav

=

"false"

 

geomonly

=

"false"

 

enabled

=

"true"

 

water

=

"false"

 

/>


	

<linearforcefield

 

id

=

"geyserHelper"

 

type

=

"gravity"

 

center

=

"5.5,1313.0308"

 

width

=

"377.4766"

 

height

=

"997.6748"

 

force

=

"0,5"

 

dampeningfactor

=

"0.6"

 

antigrav

=

"false"

 

geomonly

=

"false"

 

enabled

=

"true"

 

water

=

"false"

 

/>


	

<linearforcefield

 

id

=

"suction"

 

type

=

"gravity"

 

center

=

"5.5,2105.1685"

 

width

=

"377.4766"

 

height

=

"600.3369"

 

force

=

"-2,20"

 

dampeningfactor

=

"0.6"

 

antigrav

=

"false"

 

geomonly

=

"false"

 

enabled

=

"true"

 

water

=

"false"

 

/>


	

<linearforcefield

 

id

=

"wetness"

 

type

=

"gravity"

 

center

=

"2.5881,96.9673"

 

width

=

"441.9585"

 

height

=

"398.9736"

 

force

=

"0,20"

 

dampeningfactor

=

"1"

 

antigrav

=

"true"

 

geomonly

=

"false"

 

enabled

=

"true"

 

water

=

"true"

 

color

=

"255,0,0,0"

 

depth

=

"0"

 

/>


	

<linearforcefield

 

type

=

"gravity"

 

force

=

"0,-10"

 

dampeningfactor

=

"0.3"

 

antigrav

=

"false"

 

geomonly

=

"false"

 

/>


 
	

<!-- Particles -->


	

<particles

 

effect

=

"blackBallsRising"

 

depth

=

"-240"

 

pretick

=

"0"

 

/>


	

<particles

 

effect

=

"gooFallWide2"

 

depth

=

"-4"

 

pos

=

"6,-253"

 

pretick

=

"1000"

 

/>


	

<particles

 

effect

=

"breezeUpSlow"

 

depth

=

"80"

 

pos

=

"877.00244140625,2172.99755859375"

 

pretick

=

"0"

 

/>


 
	

<!-- SceneLayers -->


	

<SceneLayer

 

name

=

"gearDetach"

 

depth

=

"8"

 

x

=

"-0.33"

 

y

=

"2430.33"

 

scalex

=

"0.96"

 

scaley

=

"0.96"

 

rotation

=

"0"

 

alpha

=

"1"

 

colorize

=

"255,255,255"

 

image

=

"IMAGE_SCENE_VOLCANICPERCOLATORDAYSPA_GEARDETACH"

 

anim

=

"rot_1rps"

 

animspeed

=

"-0.3"

   

/>


	

<SceneLayer

 

name

=

"pipe"

 

depth

=

"0.8"

 

x

=

"90.2"

 

y

=

"2294.48"

 

scalex

=

"1.313"

 

scaley

=

"1.978"

 

rotation

=

"0"

 

alpha

=

"1"

 

colorize

=

"255,255,255"

 

image

=

"IMAGE_SCENE_VOLCANICPERCOLATORDAYSPA_PIPE"

   

/>


	

<SceneLayer

 

name

=

"miniPipeBg"

 

depth

=

"-8"

 

x

=

"271.69"

 

y

=

"2127.03"

 

scalex

=

"2.148"

 

scaley

=

"2.547"

 

rotation

=

"0"

 

alpha

=

"1"

 

colorize

=

"255,255,255"

 

image

=

"IMAGE_SCENE_VOLCANICPERCOLATORDAYSPA_MINIPIPEBG"

   

/>


		

<SceneLayer

 

name

=

"signpostPole_brown"

 

depth

=

"7.2"

 

x

=

"-134.33"

 

y

=

"957.91"

 

scalex

=

"0.776"

 

scaley

=

"1.208"

 

rotation

=

"53.19"

 

alpha

=

"1"

 

colorize

=

"0,0,0"

 

image

=

"IMAGE_SCENE_VOLCANICPERCOLATORDAYSPA_SIGNPOSTPOLE_BROWN"

   

/>


		

<SceneLayer

 

name

=

"main_r"

 

depth

=

"0"

 

x

=

"286.03"

 

y

=

"700.53"

 

scalex

=

"1.887"

 

scaley

=

"1.374"

 

rotation

=

"0"

 

alpha

=

"1"

 

colorize

=

"255,255,255"

 

image

=

"IMAGE_SCENE_VOLCANICPERCOLATORDAYSPA_MAIN_R"

   

/>


		

<SceneLayer

 

name

=

"main_l"

 

depth

=

"0"

 

x

=

"-280.75"

 

y

=

"705"

 

scalex

=

"1.885"

 

scaley

=

"1.381"

 

rotation

=

"0"

 

alpha

=

"1"

 

colorize

=

"255,255,255"

 

image

=

"IMAGE_SCENE_VOLCANICPERCOLATORDAYSPA_MAIN_L"

   

/>


	

<SceneLayer

 

name

=

"usefulBlackSquare"

 

depth

=

"-8"

 

x

=

"-1.79"

 

y

=

"2279.31"

 

scalex

=

"12.577"

 

scaley

=

"21.468"

 

rotation

=

"0"

 

alpha

=

"1"

 

colorize

=

"255,255,255"

 

image

=

"IMAGE_SCENE_VOLCANICPERCOLATORDAYSPA_USEFULBLACKSQUARE"

   

/>


		

<SceneLayer

 

name

=

"signpostPole_brown"

 

depth

=

"-7.2"

 

x

=

"-272.81"

 

y

=

"1978.39"

 

scalex

=

"0.602"

 

scaley

=

"0.938"

 

rotation

=

"62.4"

 

alpha

=

"1"

 

colorize

=

"0,0,0"

 

image

=

"IMAGE_SCENE_VOLCANICPERCOLATORDAYSPA_SIGNPOSTPOLE_BROWN"

   

/>


		

<SceneLayer

 

name

=

"signpostPole_brown"

 

depth

=

"-16.8"

 

x

=

"-514.9"

 

y

=

"1695.73"

 

scalex

=

"0.602"

 

scaley

=

"0.938"

 

rotation

=

"-47.07"

 

alpha

=

"1"

 

colorize

=

"255,255,255"

 

image

=

"IMAGE_SCENE_VOLCANICPERCOLATORDAYSPA_SIGNPOSTPOLE_BROWN"

   

/>


		

<SceneLayer

 

name

=

"bush_leafy_1b_black"

 

depth

=

"-8"

 

x

=

"433.52"

 

y

=

"723.03"

 

scalex

=

"1.313"

 

scaley

=

"1.313"

 

rotation

=

"-69.47"

 

alpha

=

"1"

 

colorize

=

"255,255,255"

 

image

=

"IMAGE_SCENE_VOLCANICPERCOLATORDAYSPA_BUSH_LEAFY_1B_BLACK"

   

/>


		

<SceneLayer

 

name

=

"bush_leafy_1b_black"

 

depth

=

"-8"

 

x

=

"349.52"

 

y

=

"1199.03"

 

scalex

=

"1.313"

 

scaley

=

"1.313"

 

rotation

=

"-69.47"

 

alpha

=

"1"

 

colorize

=

"255,255,255"

 

image

=

"IMAGE_SCENE_VOLCANICPERCOLATORDAYSPA_BUSH_LEAFY_1B_BLACK"

   

/>


		

<SceneLayer

 

name

=

"bush_leafy_1b_black"

 

depth

=

"-8"

 

x

=

"-446.52"

 

y

=

"471.01"

 

scalex

=

"1.313"

 

scaley

=

"1.313"

 

rotation

=

"99.95"

 

alpha

=

"1"

 

colorize

=

"255,255,255"

 

image

=

"IMAGE_SCENE_VOLCANICPERCOLATORDAYSPA_BUSH_LEAFY_1B_BLACK"

   

/>


		

<SceneLayer

 

name

=

"bush_leafy_1b_black"

 

depth

=

"-8"

 

x

=

"-352.52"

 

y

=

"1149.02"

 

scalex

=

"1.313"

 

scaley

=

"1.313"

 

rotation

=

"92.79"

 

alpha

=

"1"

 

colorize

=

"255,255,255"

 

image

=

"IMAGE_SCENE_VOLCANICPERCOLATORDAYSPA_BUSH_LEAFY_1B_BLACK"

   

/>


	

<SceneLayer

 

name

=

"MachineWheel1Small"

 

depth

=

"-3.2"

 

x

=

"114.53"

 

y

=

"729.87"

 

scalex

=

"0.809"

 

scaley

=

"0.809"

 

rotation

=

"0"

 

alpha

=

"1"

 

colorize

=

"255,255,255"

 

image

=

"IMAGE_SCENE_VOLCANICPERCOLATORDAYSPA_MACHINEWHEEL1SMALL"

 

anim

=

"rot_1rps"

 

animspeed

=

"0.25"

   

/>


	

<SceneLayer

 

name

=

"MachineWheel1Small"

 

depth

=

"-3.2"

 

x

=

"-116.5"

 

y

=

"736.94"

 

scalex

=

"0.921"

 

scaley

=

"0.921"

 

rotation

=

"0"

 

alpha

=

"1"

 

colorize

=

"255,255,255"

 

image

=

"IMAGE_SCENE_VOLCANICPERCOLATORDAYSPA_MACHINEWHEEL1SMALL"

 

anim

=

"rot_1rps"

 

animspeed

=

"-0.2"

   

/>


	

<SceneLayer

 

name

=

"prettyFlower"

 

depth

=

"-16"

 

x

=

"-450.54"

 

y

=

"1236.96"

 

scalex

=

"1.457"

 

scaley

=

"1.797"

 

rotation

=

"19.69"

 

alpha

=

"1"

 

colorize

=

"255,255,255"

 

image

=

"IMAGE_SCENE_VOLCANICPERCOLATORDAYSPA_PRETTYFLOWER"

   

/>


	

<SceneLayer

 

name

=

"weed"

 

depth

=

"-16"

 

x

=

"437.76"

 

y

=

"1099.17"

 

scalex

=

"1.033"

 

scaley

=

"1.167"

 

rotation

=

"-18.28"

 

alpha

=

"1"

 

colorize

=

"255,255,255"

 

image

=

"IMAGE_SCENE_VOLCANICPERCOLATORDAYSPA_WEED"

   

/>


	

<SceneLayer

 

name

=

"bgVeggies"

 

depth

=

"-240"

 

x

=

"-2.89"

 

y

=

"2551.88"

 

scalex

=

"4.211"

 

scaley

=

"2.125"

 

rotation

=

"-180"

 

alpha

=

"1"

 

colorize

=

"255,255,255"

 

image

=

"IMAGE_SCENE_VOLCANICPERCOLATORDAYSPA_BGVEGGIES"

   

/>


	

<SceneLayer

 

name

=

"bgVeggies"

 

depth

=

"-240"

 

x

=

"-88.87"

 

y

=

"227.96"

 

scalex

=

"4.211"

 

scaley

=

"2.125"

 

rotation

=

"0"

 

alpha

=

"1"

 

colorize

=

"255,255,255"

 

image

=

"IMAGE_SCENE_VOLCANICPERCOLATORDAYSPA_BGVEGGIES"

   

/>


	

<SceneLayer

 

name

=

"wogcCloud1"

 

depth

=

"-320"

 

x

=

"455.03"

 

y

=

"1017.04"

 

scalex

=

"2.391"

 

scaley

=

"1.688"

 

rotation

=

"0"

 

alpha

=

"1"

 

colorize

=

"255,255,255"

 

image

=

"IMAGE_SCENE_VOLCANICPERCOLATORDAYSPA_WOGCCLOUD1"

   

/>


	

<SceneLayer

 

name

=

"wogcCloud1"

 

depth

=

"-320"

 

x

=

"-537.97"

 

y

=

"1313.04"

 

scalex

=

"2.391"

 

scaley

=

"1.688"

 

rotation

=

"0"

 

alpha

=

"1"

 

colorize

=

"255,255,255"

 

image

=

"IMAGE_SCENE_VOLCANICPERCOLATORDAYSPA_WOGCCLOUD1"

   

/>


	

<SceneLayer

 

name

=

"wogcCloud1"

 

depth

=

"-320"

 

x

=

"395.03"

 

y

=

"1989.04"

 

scalex

=

"2.391"

 

scaley

=

"1.688"

 

rotation

=

"0"

 

alpha

=

"1"

 

colorize

=

"255,255,255"

 

image

=

"IMAGE_SCENE_VOLCANICPERCOLATORDAYSPA_WOGCCLOUD1"

   

/>


	

<SceneLayer

 

name

=

"wogcCloud1"

 

depth

=

"-320"

 

x

=

"-336.97"

 

y

=

"2157.04"

 

scalex

=

"2.391"

 

scaley

=

"1.688"

 

rotation

=

"0"

 

alpha

=

"1"

 

colorize

=

"255,255,255"

 

image

=

"IMAGE_SCENE_VOLCANICPERCOLATORDAYSPA_WOGCCLOUD1"

   

/>


	

<SceneLayer

 

name

=

"sky_blue2a"

 

depth

=

"-480"

 

x

=

"-0.01"

 

y

=

"1399.93"

 

scalex

=

"5.863"

 

scaley

=

"14.883"

 

rotation

=

"0"

 

alpha

=

"1"

 

colorize

=

"255,255,255"

 

image

=

"IMAGE_SCENE_VOLCANICPERCOLATORDAYSPA_SKY_BLUE2A"

   

/>


 
	

<!-- Buttons -->


 
	

<!-- Labels -->


 
	

<!-- Static Geometry -->


	

<circle

 

id

=

"invisiDetacher"

 

static

=

"true"

 

tag

=

"detaching"

 

material

=

"rock"

 

contacts

=

"false"

 

x

=

"4.4262"

 

y

=

"707.0654"

 

radius

=

"49.0215"

 

/>


	

<circle

 

id

=

""

 

static

=

"true"

 

tag

=

"detaching,ballbuster"

 

material

=

"machine"

 

nogeomcollisions

=

"true"

 

x

=

"0"

 

y

=

"2430"

 

radius

=

"75.5059"

 

/>


	

<circle

 

id

=

""

 

static

=

"true"

 

tag

=

"detaching"

 

material

=

"machine"

 

x

=

"113.5631"

 

y

=

"725.3977"

 

radius

=

"81.9568"

 

/>


	

<circle

 

id

=

""

 

static

=

"true"

 

tag

=

"detaching"

 

material

=

"machine"

 

x

=

"-105.8601"

 

y

=

"724.4332"

 

radius

=

"81.9566"

 

/>


	

<compositegeom

 

id

=

""

 

x

=

"289.751"

 

y

=

"2333.9705"

 

rotation

=

"0"

 

static

=

"true"

 

tag

=

"detaching"

 

material

=

"machine"

 

nogeomcollisions

=

"true"

 

>


		

<circle

 

id

=

""

 

x

=

"-13.751"

 

y

=

"-418.9705"

 

radius

=

"38.5"

 

/>


		

<circle

 

id

=

""

 

x

=

"3.249"

 

y

=

"-3.9705"

 

radius

=

"38.5"

 

/>


		

<circle

 

id

=

""

 

x

=

"-79.251"

 

y

=

"9.5295"

 

radius

=

"38.5"

 

/>


		

<circle

 

id

=

""

 

x

=

"-87.251"

 

y

=

"134.5295"

 

radius

=

"38.5"

 

/>


		

<rectangle

 

id

=

""

 

x

=

"-77.6289"

 

y

=

"-213.2524"

 

width

=

"58.337"

 

height

=

"447.5796"

 

rotation

=

"0.0495"

 

/>


		

<rectangle

 

id

=

""

 

x

=

"-38.5903"

 

y

=

"-327.8813"

 

width

=

"89.973"

 

height

=

"200.9724"

 

rotation

=

"0.2007"

 

/>


		

<rectangle

 

id

=

""

 

x

=

"-41.4917"

 

y

=

"-54.8362"

 

width

=

"77.4451"

 

height

=

"189.2136"

 

rotation

=

"-0.1449"

 

/>


		

<rectangle

 

id

=

""

 

x

=

"88.2695"

 

y

=

"-359.7424"

 

width

=

"25.2846"

 

height

=

"264.0085"

 

rotation

=

"0.1821"

 

/>


		

<rectangle

 

id

=

""

 

x

=

"108.2695"

 

y

=

"68.1772"

 

width

=

"25.2835"

 

height

=

"52.6537"

 

rotation

=

"0.6818"

 

/>


		

<rectangle

 

id

=

""

 

x

=

"93.2686"

 

y

=

"-469.8225"

 

width

=

"25.2836"

 

height

=

"52.6539"

 

rotation

=

"-0.5916"

 

/>


		

<rectangle

 

id

=

""

 

x

=

"-20.8047"

 

y

=

"-118.2053"

 

width

=

"71.2882"

 

height

=

"233.7134"

 

rotation

=

"-0.223"

 

/>


		

<rectangle

 

id

=

""

 

x

=

"98.8237"

 

y

=

"-73.7976"

 

width

=

"25.2836"

 

height

=

"331.7196"

 

rotation

=

"-0.2089"

 

/>


		

<rectangle

 

id

=

""

 

x

=

"-32.5059"

 

y

=

"-439.7126"

 

width

=

"59.1409"

 

height

=

"48.6749"

 

rotation

=

"0.3548"

 

/>


		

<rectangle

 

id

=

""

 

x

=

"48.7783"

 

y

=

"-503.9507"

 

width

=

"25.284"

 

height

=

"142.8072"

 

rotation

=

"-1.0987"

 

/>


		

<rectangle

 

id

=

""

 

x

=

"26.4028"

 

y

=

"96.0386"

 

width

=

"223.2479"

 

height

=

"25.2836"

 

rotation

=

"-0.11"

 

/>


		

<rectangle

 

id

=

""

 

x

=

"-106.2808"

 

y

=

"340.8613"

 

width

=

"58.337"

 

height

=

"411.2602"

 

rotation

=

"0.0495"

 

/>


	</compositegeom

>


	

<compositegeom

 

id

=

""

 

x

=

"-16.1348"

 

y

=

"2380.4255"

 

rotation

=

"0"

 

static

=

"true"

 

tag

=

"detaching"

 

material

=

"machine"

 

nogeomcollisions

=

"true"

 

>


		

<rectangle

 

id

=

""

 

x

=

"147.1328"

 

y

=

"210.3191"

 

width

=

"65.0553"

 

height

=

"151.623"

 

rotation

=

"0.8787"

 

/>


		

<rectangle

 

id

=

""

 

x

=

"-107.8267"

 

y

=

"214.4629"

 

width

=

"65.0544"

 

height

=

"158.0659"

 

rotation

=

"-0.9407"

 

/>


		

<rectangle

 

id

=

""

 

x

=

"13.1348"

 

y

=

"354.3235"

 

width

=

"365"

 

height

=

"245.4971"

 

rotation

=

"0"

 

/>


		

<rectangle

 

id

=

""

 

x

=

"-179.4338"

 

y

=

"0"

 

width

=

"58.3368"

 

height

=

"980.2282"

 

rotation

=

"-0.0361"

 

/>


	</compositegeom

>


	

<compositegeom

 

id

=

"rt"

 

x

=

"307.7549"

 

y

=

"490.1763"

 

rotation

=

"0"

 

static

=

"true"

 

tag

=

"walkable"

 

material

=

"volcanicPercolatorSides"

 

>


		

<rectangle

 

id

=

""

 

x

=

"-63.1401"

 

y

=

"299.1255"

 

width

=

"225.7144"

 

height

=

"324.7068"

 

rotation

=

"-0.2046"

 

/>


		

<circle

 

id

=

""

 

x

=

"-38.1609"

 

y

=

"823.4186"

 

radius

=

"82.9551"

 

/>


		

<rectangle

 

id

=

""

 

x

=

"-117.5215"

 

y

=

"529.1265"

 

width

=

"156.8088"

 

height

=

"609.5409"

 

rotation

=

"-0.2485"

 

/>


		

<rectangle

 

id

=

""

 

x

=

"74.3394"

 

y

=

"-32.3892"

 

width

=

"163.9136"

 

height

=

"1741.4522"

 

rotation

=

"0.13"

 

/>


	</compositegeom

>


	

<compositegeom

 

id

=

"lt"

 

x

=

"-299.1951"

 

y

=

"504.188"

 

rotation

=

"0"

 

static

=

"true"

 

tag

=

"walkable"

 

material

=

"volcanicPercolatorSides"

 

>


		

<circle

 

id

=

""

 

x

=

"49.2067"

 

y

=

"819.2599"

 

radius

=

"81.9566"

 

/>


		

<rectangle

 

id

=

""

 

x

=

"-66.8833"

 

y

=

"-34.6226"

 

width

=

"163.9132"

 

height

=

"1727.0215"

 

rotation

=

"-0.137"

 

/>


		

<rectangle

 

id

=

""

 

x

=

"116.6807"

 

y

=

"518.7549"

 

width

=

"163.9135"

 

height

=

"618.5865"

 

rotation

=

"0.2265"

 

/>


	</compositegeom

>


	

<rectangle

 

id

=

""

 

static

=

"true"

 

material

=

"rock"

 

x

=

"314.0791"

 

y

=

"147.9624"

 

width

=

"224.9902"

 

height

=

"1040.9619"

 

rotation

=

"0"

 

/>


	

<rectangle

 

id

=

""

 

static

=

"true"

 

material

=

"rock"

 

x

=

"-303.3918"

 

y

=

"149.4614"

 

width

=

"210.9907"

 

height

=

"1064.9619"

 

rotation

=

"0"

 

/>


	

<rectangle

 

id

=

""

 

static

=

"true"

 

material

=

"rock"

 

x

=

"-218.8381"

 

y

=

"761.708"

 

width

=

"206.0135"

 

height

=

"267.3201"

 

rotation

=

"0.2503"

 

/>


	

<line

 

id

=

"bound bottom"

 

static

=

"true"

 

tag

=

"deadly"

 

material

=

"rock"

 

anchor

=

"25,-345"

 

normal

=

"0,1"

 

/>


 
	

<!-- Dynamic Geometry -->


	

<rectangle

 

id

=

"buster"

 

mass

=

"2000"

 

static

=

"false"

 

tag

=

"detaching"

 

material

=

"machine"

 

nogeomcollisions

=

"true"

 

rotspeed

=

"-0.025"

 

image

=

"IMAGE_SCENE_VOLCANICPERCOLATORDAYSPA_MIXER"

 

imagepos

=

"0.6326,2428.8522"

 

imagerot

=

"0"

 

imagescale

=

"1.4896,1.2708"

 

x

=

"-0.0002"

 

y

=

"2429.7471"

 

width

=

"380.0005"

 

height

=

"36"

 

rotation

=

"0"

 

/>


 
	

<!-- Geometry Constraints -->


	

<hinge

 

body1

=

"buster"

 

anchor

=

"0.2529296875,2430"

/>


</scene

>