Drool
Little Miss World of Goo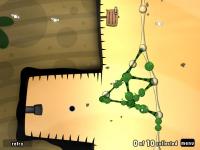 Normal: 10 balls
OCD: 24 balls
Previous level:
Regurgitation Pumping Station
.
Next level:
Fly Away Little Ones
.
welcome back
Signposts
I'm back! And just in time...
There's a drop of water dangling from that cliff...

And I think it might be alive.
Yuck. I'm not touching it.
-the long lost Sign Painter
You need Flash player 8+ and JavaScript enabled to view this video.
There are 2 videos.
<level

 

ballsrequired

=

"10"

 

letterboxed

=

"false"

 

visualdebug

=

"false"

 

autobounds

=

"false"

 

textcolor

=

"255,255,255"

 

texteffects

=

"true"

 

timebugprobability

=

"0.333"

 

strandgeom

=

"true"

 

allowskip

=

"true"

 

>


 
	

<!-- Camera -->


	

<camera

 

aspect

=

"normal"

>


		

<poi

 

pos

=

"90,412.33"

 

traveltime

=

"0"

 

pause

=

"1"

 

zoom

=

"1"

 

/>


		

<poi

 

pos

=

"-100,817.33"

 

traveltime

=

"1"

 

pause

=

"1"

 

zoom

=

"1"

 

/>


		

<poi

 

pos

=

"-74,1517.33"

 

traveltime

=

"2"

 

pause

=

"0.5"

 

zoom

=

"1"

 

/>


	</camera

>


	

<camera

 

aspect

=

"widescreen"

>


		

<poi

 

pos

=

"0,412.33"

 

traveltime

=

"0"

 

pause

=

"1"

 

zoom

=

"1.095"

 

/>


		

<poi

 

pos

=

"0,847.33"

 

traveltime

=

"1"

 

pause

=

"1"

 

zoom

=

"1.095"

 

/>


		

<poi

 

pos

=

"0,1507.33"

 

traveltime

=

"2"

 

pause

=

"0.5"

 

zoom

=

"1.095"

 

/>


	</camera

>


 
	

<!-- Music -->


	

<music

 

id

=

"SOUND_LEVEL_DROOL_TEMP_CARNIVALLOOP"

 

/>


 
	

<!-- Loop Sound -->


	

<loopsound

 

id

=

"SOUND_LEVEL_DROOL_LOOP_WATERPOND"

 

/>


 
	

<!-- Fire -->


 
	

<!-- Signposts -->


		

<signpost

 

name

=

"signpost_brown"

 

depth

=

"-8"

 

x

=

"-50.79"

 

y

=

"1200.88"

 

scalex

=

"0.89"

 

scaley

=

"0.987"

 

rotation

=

"-88.53"

 

alpha

=

"1"

 

colorize

=

"255,255,255"

 

image

=

"IMAGE_SCENE_DROOL_SIGNPOST_BROWN"

 

text

=

"SIGNPOST_DROOL_1"

   

/>


 
	

<!-- Pipes -->


	

<pipe

 

id

=

"0"

 

depth

=

"8"

 

>


		

<Vertex

 

x

=

"-333"

 

y

=

"831"

 

/>


		

<Vertex

 

x

=

"-614"

 

y

=

"831"

 

/>


		

<Vertex

 

x

=

"-614"

 

y

=

"781"

 

/>


	</pipe

>


 
	

<!-- Balls -->


	

<BallInstance

 

type

=

"common"

 

x

=

"-22.8"

 

y

=

"1477.23"

 

id

=

"0"

 

angle

=

"0"

 

/>


	

<BallInstance

 

type

=

"Ivy"

 

x

=

"92.44"

 

y

=

"544.06"

 

id

=

"1"

 

discovered

=

"false"

 

angle

=

"0"

 

/>


	

<BallInstance

 

type

=

"Ivy"

 

x

=

"410.86"

 

y

=

"430.12"

 

id

=

"2"

 

discovered

=

"false"

 

angle

=

"0"

 

/>


	

<BallInstance

 

type

=

"Ivy"

 

x

=

"356.86"

 

y

=

"388.12"

 

id

=

"3"

 

discovered

=

"false"

 

angle

=

"0"

 

/>


	

<BallInstance

 

type

=

"Ivy"

 

x

=

"236.84"

 

y

=

"397.12"

 

id

=

"4"

 

discovered

=

"false"

 

angle

=

"0"

 

/>


	

<BallInstance

 

type

=

"Ivy"

 

x

=

"218.84"

 

y

=

"454.13"

 

id

=

"5"

 

discovered

=

"false"

 

angle

=

"0"

 

/>


	

<BallInstance

 

type

=

"Ivy"

 

x

=

"155.83"

 

y

=

"406.12"

 

id

=

"6"

 

discovered

=

"false"

 

angle

=

"0"

 

/>


	

<BallInstance

 

type

=

"Ivy"

 

x

=

"365.86"

 

y

=

"487.13"

 

id

=

"7"

 

discovered

=

"false"

 

angle

=

"0"

 

/>


	

<BallInstance

 

type

=

"Ivy"

 

x

=

"326.85"

 

y

=

"586.14"

 

id

=

"8"

 

discovered

=

"false"

 

angle

=

"0"

 

/>


	

<BallInstance

 

type

=

"Ivy"

 

x

=

"194.84"

 

y

=

"559.14"

 

id

=

"9"

 

discovered

=

"false"

 

angle

=

"0"

 

/>


	

<BallInstance

 

type

=

"Ivy"

 

x

=

"281.85"

 

y

=

"511.13"

 

id

=

"10"

 

discovered

=

"false"

 

angle

=

"0"

 

/>


	

<BallInstance

 

type

=

"Ivy"

 

x

=

"293.85"

 

y

=

"436.12"

 

id

=

"11"

 

discovered

=

"false"

 

angle

=

"0"

 

/>


	

<BallInstance

 

type

=

"Ivy"

 

x

=

"50.44"

 

y

=

"490.06"

 

id

=

"12"

 

discovered

=

"false"

 

angle

=

"0"

 

/>


	

<BallInstance

 

type

=

"Ivy"

 

x

=

"38.44"

 

y

=

"545.56"

 

id

=

"13"

 

discovered

=

"false"

 

angle

=

"0"

 

/>


	

<BallInstance

 

type

=

"Ivy"

 

x

=

"-14.05"

 

y

=

"533.56"

 

id

=

"14"

 

discovered

=

"false"

 

angle

=

"0"

 

/>


	

<BallInstance

 

type

=

"Ivy"

 

x

=

"-44.05"

 

y

=

"481.06"

 

id

=

"15"

 

discovered

=

"false"

 

angle

=

"0"

 

/>


	

<BallInstance

 

type

=

"Ivy"

 

x

=

"-27.55"

 

y

=

"436.06"

 

id

=

"16"

 

discovered

=

"false"

 

angle

=

"0"

 

/>


	

<BallInstance

 

type

=

"Ivy"

 

x

=

"-51.52"

 

y

=

"385.07"

 

id

=

"17"

 

discovered

=

"false"

 

angle

=

"0"

 

/>


	

<BallInstance

 

type

=

"Ivy"

 

x

=

"0.95"

 

y

=

"386.57"

 

id

=

"18"

 

discovered

=

"false"

 

angle

=

"0"

 

/>


	

<BallInstance

 

type

=

"Ivy"

 

x

=

"75.94"

 

y

=

"452.56"

 

id

=

"19"

 

discovered

=

"false"

 

angle

=

"0"

 

/>


	

<BallInstance

 

type

=

"Ivy"

 

x

=

"15.95"

 

y

=

"503.56"

 

id

=

"20"

 

discovered

=

"false"

 

angle

=

"0"

 

/>


	

<BallInstance

 

type

=

"Ivy"

 

x

=

"18.94"

 

y

=

"431.56"

 

id

=

"21"

 

discovered

=

"false"

 

angle

=

"0"

 

/>


	

<BallInstance

 

type

=

"water"

 

x

=

"-282.04"

 

y

=

"1508.99"

 

id

=

"22"

 

angle

=

"0"

 

/>


	

<BallInstance

 

type

=

"water"

 

x

=

"-448.53"

 

y

=

"1492.49"

 

id

=

"23"

 

angle

=

"0"

 

/>


	

<BallInstance

 

type

=

"water"

 

x

=

"-409.53"

 

y

=

"1546.49"

 

id

=

"24"

 

angle

=

"0"

 

/>


	

<BallInstance

 

type

=

"water"

 

x

=

"116"

 

y

=

"1330"

 

id

=

"25"

 

angle

=

"0"

 

/>


	

<BallInstance

 

type

=

"water"

 

x

=

"-328.54"

 

y

=

"1459.5"

 

id

=

"26"

 

angle

=

"0"

 

/>


	

<BallInstance

 

type

=

"water"

 

x

=

"-429.03"

 

y

=

"1443"

 

id

=

"27"

 

angle

=

"0"

 

/>


	

<BallInstance

 

type

=

"water"

 

x

=

"-384.03"

 

y

=

"1456.5"

 

id

=

"28"

 

angle

=

"0"

 

/>


	

<BallInstance

 

type

=

"water"

 

x

=

"-333.04"

 

y

=

"1504.49"

 

id

=

"29"

 

angle

=

"0"

 

/>


	

<BallInstance

 

type

=

"water"

 

x

=

"-238.54"

 

y

=

"1493.99"

 

id

=

"30"

 

angle

=

"0"

 

/>


	

<BallInstance

 

type

=

"water"

 

x

=

"-274.54"

 

y

=

"1470"

 

id

=

"31"

 

angle

=

"0"

 

/>


	

<BallInstance

 

type

=

"water"

 

x

=

"-372.04"

 

y

=

"1510.49"

 

id

=

"32"

 

angle

=

"0"

 

/>


	

<BallInstance

 

type

=

"common"

 

x

=

"109.44"

 

y

=

"1453.5"

 

id

=

"33"

 

angle

=

"0"

 

/>


	

<BallInstance

 

type

=

"common"

 

x

=

"50.95"

 

y

=

"1565.99"

 

id

=

"34"

 

angle

=

"0"

 

/>


	

<BallInstance

 

type

=

"common"

 

x

=

"-79.55"

 

y

=

"1587.99"

 

id

=

"35"

 

angle

=

"0"

 

/>


	

<BallInstance

 

type

=

"common"

 

x

=

"-243.04"

 

y

=

"1465.49"

 

id

=

"36"

 

angle

=

"0"

 

/>


	

<BallInstance

 

type

=

"common"

 

x

=

"-202.54"

 

y

=

"1574.99"

 

id

=

"37"

 

angle

=

"0"

 

/>


	

<BallInstance

 

type

=

"common"

 

x

=

"-139.55"

 

y

=

"1475.99"

 

id

=

"38"

 

angle

=

"0"

 

/>


 
	

<!-- Arms -->


	

<Strand

 

gb1

=

"37"

 

gb2

=

"38"

 

/>


	

<Strand

 

gb1

=

"35"

 

gb2

=

"0"

 

/>


	

<Strand

 

gb1

=

"38"

 

gb2

=

"36"

 

/>


	

<Strand

 

gb1

=

"33"

 

gb2

=

"0"

 

/>


	

<Strand

 

gb1

=

"0"

 

gb2

=

"38"

 

/>


	

<Strand

 

gb1

=

"34"

 

gb2

=

"0"

 

/>


	

<Strand

 

gb1

=

"37"

 

gb2

=

"35"

 

/>


	

<Strand

 

gb1

=

"33"

 

gb2

=

"25"

 

/>


	

<Strand

 

gb1

=

"34"

 

gb2

=

"33"

 

/>


	

<Strand

 

gb1

=

"35"

 

gb2

=

"34"

 

/>


	

<Strand

 

gb1

=

"36"

 

gb2

=

"37"

 

/>


	

<Strand

 

gb1

=

"38"

 

gb2

=

"35"

 

/>


 
	

<!-- Level Exit -->


	

<levelexit

 

id

=

"theExit"

 

pos

=

"-332.51416015625,831.4248046875"

 

radius

=

"75"

 

filter

=

""

 

>


	</levelexit

>


 
</level

>
<scene

 

minx

=

"-500"

 

miny

=

"0"

 

maxx

=

"500"

 

maxy

=

"2000"

 

backgroundcolor

=

"0,0,0"

 

>


 
	

<!-- ForceFields -->


	

<linearforcefield

 

id

=

"helper"

 

type

=

"gravity"

 

center

=

"-274.334,831.666"

 

width

=

"306.667"

 

height

=

"280"

 

force

=

"0,4"

 

dampeningfactor

=

"0"

 

antigrav

=

"true"

 

geomonly

=

"false"

 

enabled

=

"true"

 

water

=

"false"

 

/>


	

<linearforcefield

 

id

=

"zewaterRepel"

 

type

=

"gravity"

 

center

=

"-41.7324,159.5645"

 

width

=

"357.5879"

 

height

=

"394.9785"

 

force

=

"2,0"

 

dampeningfactor

=

"0.3"

 

antigrav

=

"true"

 

geomonly

=

"false"

 

enabled

=

"true"

 

water

=

"false"

 

/>


	

<linearforcefield

 

id

=

"zewater"

 

type

=

"gravity"

 

center

=

"247.2144,159.5645"

 

width

=

"927.4814"

 

height

=

"394.9785"

 

force

=

"-1,20"

 

dampeningfactor

=

"0.3"

 

antigrav

=

"true"

 

geomonly

=

"false"

 

enabled

=

"true"

 

water

=

"true"

 

color

=

"255,0,0,0"

 

depth

=

"0"

 

/>


	

<linearforcefield

 

type

=

"gravity"

 

force

=

"0,-10"

 

dampeningfactor

=

"0.3"

 

antigrav

=

"true"

 

geomonly

=

"false"

 

/>


 
	

<!-- Particles -->


	

<particles

 

effect

=

"leavesRight"

 

depth

=

"-160"

 

pretick

=

"1000"

 

/>


	

<particles

 

effect

=

"breezeRight"

 

depth

=

"160"

 

pretick

=

"1000"

 

/>


 
	

<!-- SceneLayers -->


	

<SceneLayer

 

name

=

"bush_fg1a"

 

depth

=

"32"

 

x

=

"-463.48"

 

y

=

"35.54"

 

scalex

=

"1.459"

 

scaley

=

"1.459"

 

rotation

=

"-71.54"

 

alpha

=

"1"

 

colorize

=

"255,255,255"

 

image

=

"IMAGE_SCENE_DROOL_BUSH_FG1A"

   

/>


	

<SceneLayer

 

name

=

"bush_fg1a"

 

depth

=

"48"

 

x

=

"-509.47"

 

y

=

"1145.54"

 

scalex

=

"1.459"

 

scaley

=

"1.459"

 

rotation

=

"-87.14"

 

alpha

=

"1"

 

colorize

=

"255,255,255"

 

image

=

"IMAGE_SCENE_DROOL_BUSH_FG1A"

   

/>


	

<SceneLayer

 

name

=

"bush_fg1a"

 

depth

=

"48"

 

x

=

"-489.51"

 

y

=

"476.51"

 

scalex

=

"1.459"

 

scaley

=

"1.459"

 

rotation

=

"-78.98"

 

alpha

=

"1"

 

colorize

=

"255,255,255"

 

image

=

"IMAGE_SCENE_DROOL_BUSH_FG1A"

   

/>


		

<SceneLayer

 

name

=

"main_02"

 

depth

=

"0"

 

x

=

"-238.32"

 

y

=

"1250.87"

 

scalex

=

"1.03"

 

scaley

=

"0.997"

 

rotation

=

"0"

 

alpha

=

"1"

 

colorize

=

"255,255,255"

 

image

=

"IMAGE_SCENE_DROOL_MAIN_02"

   

/>


		

<SceneLayer

 

name

=

"main_04"

 

depth

=

"0"

 

x

=

"-293.5"

 

y

=

"823.36"

 

scalex

=

"1"

 

scaley

=

"1.005"

 

rotation

=

"0"

 

alpha

=

"1"

 

colorize

=

"255,255,255"

 

image

=

"IMAGE_SCENE_DROOL_MAIN_04"

   

/>


		

<SceneLayer

 

name

=

"main_06"

 

depth

=

"0"

 

x

=

"-311.01"

 

y

=

"308.99"

 

scalex

=

"1.483"

 

scaley

=

"1.215"

 

rotation

=

"0"

 

alpha

=

"1"

 

colorize

=

"255,255,255"

 

image

=

"IMAGE_SCENE_DROOL_MAIN_06"

   

/>


		

<SceneLayer

 

name

=

"spikeBlack_group"

 

depth

=

"-8"

 

x

=

"-188.73"

 

y

=

"708.78"

 

scalex

=

"0.526"

 

scaley

=

"0.672"

 

rotation

=

"-8.21"

 

alpha

=

"1"

 

colorize

=

"255,255,255"

 

image

=

"IMAGE_SCENE_DROOL_SPIKEBLACK_GROUP"

   

/>


		

<SceneLayer

 

name

=

"spikeBlack_group"

 

depth

=

"-8"

 

x

=

"-342.84"

 

y

=

"722.4"

 

scalex

=

"0.549"

 

scaley

=

"0.672"

 

rotation

=

"-7.41"

 

alpha

=

"1"

 

colorize

=

"255,255,255"

 

image

=

"IMAGE_SCENE_DROOL_SPIKEBLACK_GROUP"

   

/>


		

<SceneLayer

 

name

=

"spikeBlack_group"

 

depth

=

"-8"

 

x

=

"-139.69"

 

y

=

"522.01"

 

scalex

=

"0.466"

 

scaley

=

"0.672"

 

rotation

=

"-97.91"

 

alpha

=

"1"

 

colorize

=

"255,255,255"

 

image

=

"IMAGE_SCENE_DROOL_SPIKEBLACK_GROUP"

   

/>


		

<SceneLayer

 

name

=

"spikeBlack_group"

 

depth

=

"-8"

 

x

=

"-130.69"

 

y

=

"632.02"

 

scalex

=

"0.466"

 

scaley

=

"0.672"

 

rotation

=

"-95.75"

 

alpha

=

"1"

 

colorize

=

"255,255,255"

 

image

=

"IMAGE_SCENE_DROOL_SPIKEBLACK_GROUP"

   

/>


		

<SceneLayer

 

name

=

"spikeBlack_group"

 

depth

=

"-8"

 

x

=

"-177.69"

 

y

=

"971.51"

 

scalex

=

"0.46"

 

scaley

=

"0.672"

 

rotation

=

"-178.8"

 

alpha

=

"1"

 

colorize

=

"255,255,255"

 

image

=

"IMAGE_SCENE_DROOL_SPIKEBLACK_GROUP"

   

/>


		

<SceneLayer

 

name

=

"spikeBlack_group"

 

depth

=

"-8"

 

x

=

"-312.17"

 

y

=

"965.61"

 

scalex

=

"0.495"

 

scaley

=

"0.672"

 

rotation

=

"-178.8"

 

alpha

=

"1"

 

colorize

=

"255,255,255"

 

image

=

"IMAGE_SCENE_DROOL_SPIKEBLACK_GROUP"

   

/>


		

<SceneLayer

 

name

=

"spikeBlack_group"

 

depth

=

"-8"

 

x

=

"-94.42"

 

y

=

"1072.89"

 

scalex

=

"0.516"

 

scaley

=

"0.672"

 

rotation

=

"-88.27"

 

alpha

=

"1"

 

colorize

=

"255,255,255"

 

image

=

"IMAGE_SCENE_DROOL_SPIKEBLACK_GROUP"

   

/>


		

<SceneLayer

 

name

=

"spikeBlack_group"

 

depth

=

"-8"

 

x

=

"-100.42"

 

y

=

"1221.89"

 

scalex

=

"0.516"

 

scaley

=

"0.672"

 

rotation

=

"-88.27"

 

alpha

=

"1"

 

colorize

=

"255,255,255"

 

image

=

"IMAGE_SCENE_DROOL_SPIKEBLACK_GROUP"

   

/>


		

<SceneLayer

 

name

=

"signpostPole_brown"

 

depth

=

"-8.8"

 

x

=

"-67.98"

 

y

=

"1204.5"

 

scalex

=

"1"

 

scaley

=

"1"

 

rotation

=

"-86.42"

 

alpha

=

"1"

 

colorize

=

"255,255,255"

 

image

=

"IMAGE_SCENE_DROOL_SIGNPOSTPOLE_BROWN"

   

/>


	

<SceneLayer

 

name

=

"blackBogTree"

 

depth

=

"-40"

 

x

=

"-327.24"

 

y

=

"1500.59"

 

scalex

=

"0.354"

 

scaley

=

"0.354"

 

rotation

=

"-17.41"

 

alpha

=

"1"

 

colorize

=

"255,255,255"

 

image

=

"IMAGE_SCENE_DROOL_BLACKBOGTREE"

   

/>


	

<SceneLayer

 

name

=

"blackBogTree"

 

depth

=

"-64"

 

x

=

"-411.01"

 

y

=

"1577"

 

scalex

=

"0.656"

 

scaley

=

"0.656"

 

rotation

=

"14.21"

 

alpha

=

"1"

 

colorize

=

"255,255,255"

 

image

=

"IMAGE_SCENE_DROOL_BLACKBOGTREE"

   

/>


	

<SceneLayer

 

name

=

"bg"

 

depth

=

"-560"

 

x

=

"0.04"

 

y

=

"1006.92"

 

scalex

=

"1.953"

 

scaley

=

"3.575"

 

rotation

=

"0"

 

alpha

=

"1"

 

colorize

=

"255,255,255"

 

image

=

"IMAGE_SCENE_DROOL_BG"

   

/>


 
	

<!-- Buttons -->


 
	

<!-- Labels -->


 
	

<!-- Static Geometry -->


	

<rectangle

 

id

=

""

 

static

=

"true"

 

material

=

"rock"

 

x

=

"-437.6621"

 

y

=

"208.7515"

 

width

=

"535.473"

 

height

=

"577.6059"

 

rotation

=

"-0.0763"

 

/>


	

<circle

 

id

=

"stopper"

 

static

=

"true"

 

tag

=

"stopsign"

 

material

=

"rock"

 

x

=

"-12.0527"

 

y

=

"1493.9932"

 

radius

=

"38.998"

 

/>


	

<rectangle

 

id

=

"platform"

 

static

=

"true"

 

material

=

"verysticky"

 

x

=

"-340.9299"

 

y

=

"1367.4951"

 

width

=

"568.9567"

 

height

=

"117.2535"

 

rotation

=

"0.1487"

 

/>


	

<circle

 

id

=

""

 

static

=

"true"

 

material

=

"rock"

 

x

=

"-60.7983"

 

y

=

"1390.2527"

 

radius

=

"77.2465"

 

/>


	

<rectangle

 

id

=

""

 

static

=

"true"

 

tag

=

"deadly"

 

material

=

"rock"

 

x

=

"-399.635"

 

y

=

"610.1548"

 

width

=

"544.526"

 

height

=

"248.6692"

 

rotation

=

"-0.0888"

 

/>


	

<compositegeom

 

id

=

""

 

x

=

"-330.2871"

 

y

=

"1152.1421"

 

rotation

=

"0"

 

static

=

"true"

 

tag

=

"deadly"

 

material

=

"rock"

 

>


		

<rectangle

 

id

=

""

 

x

=

"0.0325"

 

y

=

"-80.5286"

 

width

=

"480.8816"

 

height

=

"232.6816"

 

rotation

=

"0.0428"

 

/>


		

<rectangle

 

id

=

""

 

x

=

"-3.0432"

 

y

=

"107.8335"

 

width

=

"480.9742"

 

height

=

"189.6366"

 

rotation

=

"-0.0183"

 

/>


	</compositegeom

>


	

<rectangle

 

id

=

""

 

static

=

"true"

 

material

=

"rock"

 

x

=

"-487.0154"

 

y

=

"854.2129"

 

width

=

"170.73"

 

height

=

"302.341"

 

rotation

=

"-0.0666"

 

/>


	

<line

 

id

=

""

 

static

=

"true"

 

material

=

"rock"

 

anchor

=

"-31.6838,8.6074"

 

normal

=

"0.0018,1"

 

/>


	

<line

 

id

=

""

 

static

=

"true"

 

material

=

"rock"

 

anchor

=

"-509.5273,741.7839"

 

normal

=

"1,0.0015"

 

/>


	

<line

 

id

=

""

 

static

=

"true"

 

tag

=

"detaching"

 

material

=

"rock"

 

anchor

=

"660.5352,770.8064"

 

normal

=

"-1,0.0006"

 

/>


 
	

<!-- Dynamic Geometry -->


 
	

<!-- Geometry Constraints -->


</scene

>