Regurgitation Pumping Station
The Goo Filled Hills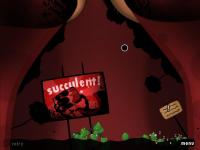 OCD: 42 moves
Previous level:
Ode to the Bridge Builder
.
Next level:
Drool
.
it's a secret
Signposts
The last of the Goo Balls didn't seem to know that they were extremely delicious
or about the nature of the smelly pit in which they found themselves.
They said something about this being the last level of the first chapter...
...whatever that means.
-the Sign Painter
You might be on to something...
It will be a tight fit, you might have to leave some behind...
but that's probably ok, we're all in it together
-the signpainter was here too
They say this is the highest point on the entire island...
As the sun rises, you can almost see forever...
...but I wonder what you might see if you floated a little higher...
-we'll meet again, the Sign Painter
You need Flash player 8+ and JavaScript enabled to view this video.
There is 1 video.
<level

 

ballsrequired

=

"1"

 

letterboxed

=

"false"

 

visualdebug

=

"false"

 

autobounds

=

"true"

 

textcolor

=

"255,255,255"

 

texteffects

=

"false"

 

timebugprobability

=

"0"

 

strandgeom

=

"true"

 

allowskip

=

"false"

 

>


 
	

<!-- Camera -->


	

<camera

 

aspect

=

"normal"

>


		

<poi

 

pos

=

"0,632.26"

 

traveltime

=

"0"

 

pause

=

"0"

 

zoom

=

"0.889"

 

/>


	</camera

>


	

<camera

 

aspect

=

"widescreen"

>


		

<poi

 

pos

=

"0,632.26"

 

traveltime

=

"0"

 

pause

=

"0"

 

zoom

=

"1.217"

 

/>


	</camera

>


 
	

<!-- Music -->


	

<music

 

id

=

"SOUND_LEVEL_REGURGITATIONPUMPINGSTATION_TEMP_DWTD1"

 

/>


 
	

<!-- Fire -->


 
	

<!-- Signposts -->


	

<signpost

 

name

=

"signpost_brown"

 

depth

=

"16"

 

x

=

"328.8"

 

y

=

"3455.57"

 

scalex

=

"1"

 

scaley

=

"1"

 

rotation

=

"-22.3"

 

alpha

=

"1"

 

colorize

=

"255,255,255"

 

image

=

"IMAGE_SCENE_REGURGITATIONPUMPINGSTATION_SIGNPOST_BROWN"

 

text

=

"SIGNPOST_REGURGITATIONPUMPINGSTATION_3"

   

/>


	

<signpost

 

name

=

"signpost_brown"

 

depth

=

"16"

 

x

=

"-201.44"

 

y

=

"1468.69"

 

scalex

=

"1.205"

 

scaley

=

"1.205"

 

rotation

=

"39.23"

 

alpha

=

"1"

 

colorize

=

"255,255,255"

 

image

=

"IMAGE_SCENE_REGURGITATIONPUMPINGSTATION_SIGNPOST_BROWN"

 

text

=

"SIGNPOST_REGURGITATIONPUMPINGSTATION_2"

   

/>


	

<signpost

 

name

=

"signpost_brown"

 

depth

=

"-8"

 

x

=

"324.97"

 

y

=

"709.49"

 

scalex

=

"1"

 

scaley

=

"1"

 

rotation

=

"30.4"

 

alpha

=

"1"

 

colorize

=

"255,255,255"

 

image

=

"IMAGE_SCENE_REGURGITATIONPUMPINGSTATION_SIGNPOST_BROWN"

 

text

=

"SIGNPOST_REGURGITATIONPUMPINGSTATION_1"

   

/>


 
	

<!-- Pipes -->


 
	

<!-- Balls -->


	

<BallInstance

 

type

=

"Anchor"

 

x

=

"270.08"

 

y

=

"3120.9"

 

id

=

"0"

 

angle

=

"0"

 

/>


	

<BallInstance

 

type

=

"Anchor"

 

x

=

"-265.42"

 

y

=

"3120.45"

 

id

=

"1"

 

angle

=

"0"

 

/>


	

<BallInstance

 

type

=

"EvilEye"

 

x

=

"369.9"

 

y

=

"3309.62"

 

id

=

"2"

 

angle

=

"0"

 

/>


	

<BallInstance

 

type

=

"EvilEye"

 

x

=

"-396.1"

 

y

=

"3250.62"

 

id

=

"3"

 

angle

=

"0"

 

/>


	

<BallInstance

 

type

=

"EvilEye"

 

x

=

"-305.1"

 

y

=

"3168.62"

 

id

=

"4"

 

angle

=

"0"

 

/>


	

<BallInstance

 

type

=

"EvilEye"

 

x

=

"-357.1"

 

y

=

"3105.62"

 

id

=

"5"

 

angle

=

"0"

 

/>


	

<BallInstance

 

type

=

"EvilEye"

 

x

=

"393.9"

 

y

=

"3239.62"

 

id

=

"6"

 

angle

=

"0"

 

/>


	

<BallInstance

 

type

=

"EvilEye"

 

x

=

"387.9"

 

y

=

"3101.62"

 

id

=

"7"

 

angle

=

"0"

 

/>


	

<BallInstance

 

type

=

"EvilEye"

 

x

=

"391.9"

 

y

=

"3176.62"

 

id

=

"8"

 

angle

=

"0"

 

/>


	

<BallInstance

 

type

=

"EvilEye"

 

x

=

"321.09"

 

y

=

"3229.38"

 

id

=

"9"

 

angle

=

"0"

 

/>


	

<BallInstance

 

type

=

"EvilEye"

 

x

=

"-378.94"

 

y

=

"3171.92"

 

id

=

"10"

 

angle

=

"0"

 

/>


	

<BallInstance

 

type

=

"EvilEye"

 

x

=

"-326.93"

 

y

=

"3241.92"

 

id

=

"11"

 

angle

=

"0"

 

/>


	

<BallInstance

 

type

=

"common"

 

x

=

"-240.53"

 

y

=

"523.61"

 

id

=

"12"

 

angle

=

"0"

 

/>


	

<BallInstance

 

type

=

"common"

 

x

=

"-242.53"

 

y

=

"403.61"

 

id

=

"13"

 

angle

=

"0"

 

/>


	

<BallInstance

 

type

=

"common"

 

x

=

"-360.53"

 

y

=

"523.61"

 

id

=

"14"

 

angle

=

"0"

 

/>


	

<BallInstance

 

type

=

"common"

 

x

=

"-362.53"

 

y

=

"403.61"

 

id

=

"15"

 

angle

=

"0"

 

/>


	

<BallInstance

 

type

=

"Ivy"

 

x

=

"20.59"

 

y

=

"877.46"

 

id

=

"16"

 

discovered

=

"false"

 

angle

=

"0"

 

/>


	

<BallInstance

 

type

=

"Ivy"

 

x

=

"61.07"

 

y

=

"888.62"

 

id

=

"17"

 

discovered

=

"false"

 

angle

=

"0"

 

/>


	

<BallInstance

 

type

=

"Ivy"

 

x

=

"-2.25"

 

y

=

"905.29"

 

id

=

"18"

 

discovered

=

"false"

 

angle

=

"0"

 

/>


	

<BallInstance

 

type

=

"Ivy"

 

x

=

"-40.08"

 

y

=

"927.13"

 

id

=

"19"

 

discovered

=

"false"

 

angle

=

"0"

 

/>


	

<BallInstance

 

type

=

"Ivy"

 

x

=

"267.94"

 

y

=

"729.1"

 

id

=

"20"

 

discovered

=

"false"

 

angle

=

"0"

 

/>


	

<BallInstance

 

type

=

"Ivy"

 

x

=

"32.59"

 

y

=

"919.46"

 

id

=

"21"

 

discovered

=

"false"

 

angle

=

"0"

 

/>


	

<BallInstance

 

type

=

"Ivy"

 

x

=

"-69.58"

 

y

=

"876.62"

 

id

=

"22"

 

discovered

=

"false"

 

angle

=

"0"

 

/>


	

<BallInstance

 

type

=

"Ivy"

 

x

=

"-34.92"

 

y

=

"885.29"

 

id

=

"23"

 

discovered

=

"false"

 

angle

=

"0"

 

/>


	

<BallInstance

 

type

=

"Ivy"

 

x

=

"39.92"

 

y

=

"839.13"

 

id

=

"24"

 

discovered

=

"false"

 

angle

=

"0"

 

/>


	

<BallInstance

 

type

=

"Ivy"

 

x

=

"-11.08"

 

y

=

"848.13"

 

id

=

"25"

 

discovered

=

"false"

 

angle

=

"0"

 

/>


	

<BallInstance

 

type

=

"Ivy"

 

x

=

"-38"

 

y

=

"471"

 

id

=

"26"

 

discovered

=

"false"

 

angle

=

"0"

 

/>


	

<BallInstance

 

type

=

"Ivy"

 

x

=

"31.17"

 

y

=

"1144.17"

 

id

=

"27"

 

discovered

=

"false"

 

angle

=

"0"

 

/>


	

<BallInstance

 

type

=

"Ivy"

 

x

=

"31"

 

y

=

"1106"

 

id

=

"28"

 

discovered

=

"false"

 

angle

=

"0"

 

/>


	

<BallInstance

 

type

=

"Ivy"

 

x

=

"-19.5"

 

y

=

"1077.83"

 

id

=

"29"

 

discovered

=

"false"

 

angle

=

"0"

 

/>


	

<BallInstance

 

type

=

"Ivy"

 

x

=

"-14"

 

y

=

"1168.99"

 

id

=

"30"

 

discovered

=

"false"

 

angle

=

"0"

 

/>


	

<BallInstance

 

type

=

"Ivy"

 

x

=

"-45"

 

y

=

"613"

 

id

=

"31"

 

discovered

=

"false"

 

angle

=

"0"

 

/>


	

<BallInstance

 

type

=

"Ivy"

 

x

=

"31.34"

 

y

=

"506.67"

 

id

=

"32"

 

discovered

=

"false"

 

angle

=

"0"

 

/>


	

<BallInstance

 

type

=

"Ivy"

 

x

=

"-14"

 

y

=

"742"

 

id

=

"33"

 

discovered

=

"false"

 

angle

=

"0"

 

/>


	

<BallInstance

 

type

=

"Ivy"

 

x

=

"-35.01"

 

y

=

"1126"

 

id

=

"34"

 

discovered

=

"false"

 

angle

=

"0"

 

/>


	

<BallInstance

 

type

=

"Ivy"

 

x

=

"53.25"

 

y

=

"1020.79"

 

id

=

"35"

 

discovered

=

"false"

 

angle

=

"0"

 

/>


	

<BallInstance

 

type

=

"Ivy"

 

x

=

"13.08"

 

y

=

"584.95"

 

id

=

"36"

 

discovered

=

"false"

 

angle

=

"0"

 

/>


	

<BallInstance

 

type

=

"Ivy"

 

x

=

"-28.91"

 

y

=

"818.96"

 

id

=

"37"

 

discovered

=

"false"

 

angle

=

"0"

 

/>


	

<BallInstance

 

type

=

"Ivy"

 

x

=

"-66.41"

 

y

=

"829.46"

 

id

=

"38"

 

discovered

=

"false"

 

angle

=

"0"

 

/>


	

<BallInstance

 

type

=

"Ivy"

 

x

=

"23"

 

y

=

"716"

 

id

=

"39"

 

discovered

=

"false"

 

angle

=

"0"

 

/>


	

<BallInstance

 

type

=

"Ivy"

 

x

=

"33"

 

y

=

"784"

 

id

=

"40"

 

discovered

=

"false"

 

angle

=

"0"

 

/>


	

<BallInstance

 

type

=

"Ivy"

 

x

=

"-43.41"

 

y

=

"551.04"

 

id

=

"41"

 

discovered

=

"false"

 

angle

=

"0"

 

/>


	

<BallInstance

 

type

=

"Ivy"

 

x

=

"90.08"

 

y

=

"534.54"

 

id

=

"42"

 

discovered

=

"false"

 

angle

=

"0"

 

/>


	

<BallInstance

 

type

=

"Ivy"

 

x

=

"-53"

 

y

=

"1026"

 

id

=

"43"

 

discovered

=

"false"

 

angle

=

"0"

 

/>


	

<BallInstance

 

type

=

"Ivy"

 

x

=

"85"

 

y

=

"808"

 

id

=

"44"

 

discovered

=

"false"

 

angle

=

"0"

 

/>


	

<BallInstance

 

type

=

"Ivy"

 

x

=

"-79"

 

y

=

"742"

 

id

=

"45"

 

discovered

=

"false"

 

angle

=

"0"

 

/>


	

<BallInstance

 

type

=

"Ivy"

 

x

=

"-71"

 

y

=

"690"

 

id

=

"46"

 

discovered

=

"false"

 

angle

=

"0"

 

/>


	

<BallInstance

 

type

=

"Ivy"

 

x

=

"-17"

 

y

=

"1036"

 

id

=

"47"

 

discovered

=

"false"

 

angle

=

"0"

 

/>


	

<BallInstance

 

type

=

"Ivy"

 

x

=

"-50.9"

 

y

=

"782.05"

 

id

=

"48"

 

discovered

=

"false"

 

angle

=

"0"

 

/>


	

<BallInstance

 

type

=

"Ivy"

 

x

=

"65"

 

y

=

"668"

 

id

=

"49"

 

discovered

=

"false"

 

angle

=

"0"

 

/>


	

<BallInstance

 

type

=

"Ivy"

 

x

=

"65"

 

y

=

"744"

 

id

=

"50"

 

discovered

=

"false"

 

angle

=

"0"

 

/>


	

<BallInstance

 

type

=

"Ivy"

 

x

=

"-5"

 

y

=

"626"

 

id

=

"51"

 

discovered

=

"false"

 

angle

=

"0"

 

/>


	

<BallInstance

 

type

=

"Ivy"

 

x

=

"17"

 

y

=

"1060"

 

id

=

"52"

 

discovered

=

"false"

 

angle

=

"0"

 

/>


	

<BallInstance

 

type

=

"Ivy"

 

x

=

"27"

 

y

=

"656"

 

id

=

"53"

 

discovered

=

"false"

 

angle

=

"0"

 

/>


	

<BallInstance

 

type

=

"Ivy"

 

x

=

"-19"

 

y

=

"674"

 

id

=

"54"

 

discovered

=

"false"

 

angle

=

"0"

 

/>


	

<BallInstance

 

type

=

"Ivy"

 

x

=

"1"

 

y

=

"962"

 

id

=

"55"

 

discovered

=

"false"

 

angle

=

"0"

 

/>


	

<BallInstance

 

type

=

"Ivy"

 

x

=

"74"

 

y

=

"596"

 

id

=

"56"

 

discovered

=

"false"

 

angle

=

"0"

 

/>


	

<BallInstance

 

type

=

"Ivy"

 

x

=

"-46.91"

 

y

=

"970.46"

 

id

=

"57"

 

discovered

=

"false"

 

angle

=

"0"

 

/>


	

<BallInstance

 

type

=

"Ivy"

 

x

=

"-14.08"

 

y

=

"992.12"

 

id

=

"58"

 

discovered

=

"false"

 

angle

=

"0"

 

/>


	

<BallInstance

 

type

=

"Ivy"

 

x

=

"20.58"

 

y

=

"1000.78"

 

id

=

"59"

 

discovered

=

"false"

 

angle

=

"0"

 

/>


	

<BallInstance

 

type

=

"Ivy"

 

x

=

"315.94"

 

y

=

"651.1"

 

id

=

"60"

 

discovered

=

"false"

 

angle

=

"0"

 

/>


	

<BallInstance

 

type

=

"Ivy"

 

x

=

"200.45"

 

y

=

"643.6"

 

id

=

"61"

 

discovered

=

"false"

 

angle

=

"0"

 

/>


	

<BallInstance

 

type

=

"Ivy"

 

x

=

"195.95"

 

y

=

"778.59"

 

id

=

"62"

 

discovered

=

"false"

 

angle

=

"0"

 

/>


	

<BallInstance

 

type

=

"Ivy"

 

x

=

"246.94"

 

y

=

"832.59"

 

id

=

"63"

 

discovered

=

"false"

 

angle

=

"0"

 

/>


	

<BallInstance

 

type

=

"Ivy"

 

x

=

"174.95"

 

y

=

"898.59"

 

id

=

"64"

 

discovered

=

"false"

 

angle

=

"0"

 

/>


	

<BallInstance

 

type

=

"Ivy"

 

x

=

"252.94"

 

y

=

"913.59"

 

id

=

"65"

 

discovered

=

"false"

 

angle

=

"0"

 

/>


	

<BallInstance

 

type

=

"Ivy"

 

x

=

"141.95"

 

y

=

"997.58"

 

id

=

"66"

 

discovered

=

"false"

 

angle

=

"0"

 

/>


	

<BallInstance

 

type

=

"Ivy"

 

x

=

"-242.03"

 

y

=

"786.09"

 

id

=

"67"

 

discovered

=

"false"

 

angle

=

"0"

 

/>


	

<BallInstance

 

type

=

"Ivy"

 

x

=

"-233.03"

 

y

=

"714.1"

 

id

=

"68"

 

discovered

=

"false"

 

angle

=

"0"

 

/>


	

<BallInstance

 

type

=

"Ivy"

 

x

=

"-161.04"

 

y

=

"831.09"

 

id

=

"69"

 

discovered

=

"false"

 

angle

=

"0"

 

/>


	

<BallInstance

 

type

=

"Ivy"

 

x

=

"-161.04"

 

y

=

"688.6"

 

id

=

"70"

 

discovered

=

"false"

 

angle

=

"0"

 

/>


	

<BallInstance

 

type

=

"Ivy"

 

x

=

"-227.03"

 

y

=

"870.09"

 

id

=

"71"

 

discovered

=

"false"

 

angle

=

"0"

 

/>


	

<BallInstance

 

type

=

"Ivy"

 

x

=

"-327.53"

 

y

=

"700.6"

 

id

=

"72"

 

discovered

=

"false"

 

angle

=

"0"

 

/>


	

<BallInstance

 

type

=

"Ivy"

 

x

=

"93"

 

y

=

"715"

 

id

=

"73"

 

discovered

=

"false"

 

angle

=

"0"

 

/>


	

<BallInstance

 

type

=

"Ivy"

 

x

=

"44.42"

 

y

=

"963.62"

 

id

=

"74"

 

discovered

=

"false"

 

angle

=

"0"

 

/>


 
	

<!-- Arms -->


	

<Strand

 

gb1

=

"2"

 

gb2

=

"0"

 

/>


	

<Strand

 

gb1

=

"6"

 

gb2

=

"0"

 

/>


	

<Strand

 

gb1

=

"7"

 

gb2

=

"0"

 

/>


	

<Strand

 

gb1

=

"5"

 

gb2

=

"1"

 

/>


	

<Strand

 

gb1

=

"4"

 

gb2

=

"1"

 

/>


	

<Strand

 

gb1

=

"3"

 

gb2

=

"1"

 

/>


	

<Strand

 

gb1

=

"9"

 

gb2

=

"0"

 

/>


	

<Strand

 

gb1

=

"8"

 

gb2

=

"0"

 

/>


	

<Strand

 

gb1

=

"11"

 

gb2

=

"1"

 

/>


	

<Strand

 

gb1

=

"10"

 

gb2

=

"1"

 

/>


	

<Strand

 

gb1

=

"14"

 

gb2

=

"13"

 

/>


	

<Strand

 

gb1

=

"15"

 

gb2

=

"12"

 

/>


	

<Strand

 

gb1

=

"13"

 

gb2

=

"15"

 

/>


	

<Strand

 

gb1

=

"14"

 

gb2

=

"12"

 

/>


	

<Strand

 

gb1

=

"12"

 

gb2

=

"13"

 

/>


	

<Strand

 

gb1

=

"14"

 

gb2

=

"15"

 

/>


 
	

<!-- Level Exit -->


	

<targetheight

 

y

=

"6200"

 

/>


 
</level

>
<scene

 

minx

=

"-450"

 

miny

=

"0"

 

maxx

=

"450"

 

maxy

=

"5100"

 

backgroundcolor

=

"0,0,0"

 

>


 
	

<!-- ForceFields -->


	

<linearforcefield

 

id

=

"bileMain"

 

type

=

"gravity"

 

center

=

"0.9558,279.3037"

 

width

=

"935.9536"

 

height

=

"596.6074"

 

force

=

"0,20"

 

dampeningfactor

=

"1"

 

antigrav

=

"true"

 

geomonly

=

"false"

 

enabled

=

"true"

 

water

=

"true"

 

color

=

"230,0,0,0"

 

/>


	

<linearforcefield

 

id

=

"windRight"

 

type

=

"gravity"

 

center

=

"427.2007,4560.2527"

 

width

=

"545.4443"

 

height

=

"3770.4722"

 

force

=

"-5,0"

 

dampeningfactor

=

"0"

 

antigrav

=

"false"

 

geomonly

=

"false"

 

enabled

=

"true"

 

water

=

"false"

 

/>


	

<linearforcefield

 

id

=

"windLeft"

 

type

=

"gravity"

 

center

=

"-417.2424,4560.2527"

 

width

=

"525.5317"

 

height

=

"3770.4722"

 

force

=

"5,0"

 

dampeningfactor

=

"0"

 

antigrav

=

"false"

 

geomonly

=

"false"

 

enabled

=

"true"

 

water

=

"false"

 

/>


	

<linearforcefield

 

type

=

"gravity"

 

force

=

"0,-10"

 

dampeningfactor

=

"0"

 

antigrav

=

"true"

 

geomonly

=

"false"

 

/>


 
	

<!-- Particles -->


	

<particles

 

effect

=

"distantSmokestack"

 

depth

=

"-17.6"

 

pos

=

"-359.141357421875,2832.6728515625"

 

pretick

=

"0"

 

/>


	

<particles

 

effect

=

"distantSmokestack"

 

depth

=

"-17.6"

 

pos

=

"-277.3955078125,2803.4248046875"

 

pretick

=

"0"

 

/>


	

<particles

 

effect

=

"distantSmokestack"

 

depth

=

"-17.6"

 

pos

=

"363.072265625,2774.92578125"

 

pretick

=

"0"

 

/>


	

<particles

 

effect

=

"distantSmokestack"

 

depth

=

"-17.6"

 

pos

=

"283.576171875,2840.921875"

 

pretick

=

"0"

 

/>


	

<particles

 

effect

=

"blackBallsRising"

 

depth

=

"160"

 

pretick

=

"0"

 

/>


 
	

<!-- SceneLayers -->


	

<SceneLayer

 

name

=

"lf1"

 

depth

=

"88"

 

x

=

"-303.5"

 

y

=

"2835.51"

 

scalex

=

"3.273"

 

scaley

=

"3.273"

 

rotation

=

"0"

 

alpha

=

"0.26999998092651"

 

colorize

=

"255,255,255"

 

image

=

"IMAGE_SCENE_REGURGITATIONPUMPINGSTATION_LF1"

   

/>


	

<SceneLayer

 

name

=

"lf1"

 

depth

=

"88"

 

x

=

"335"

 

y

=

"2919"

 

scalex

=

"3.828"

 

scaley

=

"3.828"

 

rotation

=

"0"

 

alpha

=

"0.5"

 

colorize

=

"255,255,255"

 

image

=

"IMAGE_SCENE_REGURGITATIONPUMPINGSTATION_LF1"

   

/>


	

<SceneLayer

 

name

=

"lf1"

 

depth

=

"80"

 

x

=

"-93"

 

y

=

"3446"

 

scalex

=

"5"

 

scaley

=

"5"

 

rotation

=

"0"

 

alpha

=

"0.64999997615814"

 

colorize

=

"255,255,255"

 

image

=

"IMAGE_SCENE_REGURGITATIONPUMPINGSTATION_LF1"

   

/>


	

<SceneLayer

 

name

=

"rafter_bg"

 

depth

=

"240"

 

x

=

"17.97"

 

y

=

"1319.65"

 

scalex

=

"2.303"

 

scaley

=

"1.851"

 

rotation

=

"4.97"

 

alpha

=

"1"

 

colorize

=

"255,255,255"

 

image

=

"IMAGE_SCENE_REGURGITATIONPUMPINGSTATION_RAFTER_BG"

   

/>


	

<SceneLayer

 

name

=

"rafter_bg"

 

depth

=

"240"

 

x

=

"-12.03"

 

y

=

"2315.65"

 

scalex

=

"2.303"

 

scaley

=

"1.851"

 

rotation

=

"4.97"

 

alpha

=

"1"

 

colorize

=

"255,255,255"

 

image

=

"IMAGE_SCENE_REGURGITATIONPUMPINGSTATION_RAFTER_BG"

   

/>


	

<SceneLayer

 

name

=

"rafter_bg"

 

depth

=

"320"

 

x

=

"-2.03"

 

y

=

"1841.62"

 

scalex

=

"2.303"

 

scaley

=

"1.851"

 

rotation

=

"-6.74"

 

alpha

=

"1"

 

colorize

=

"255,255,255"

 

image

=

"IMAGE_SCENE_REGURGITATIONPUMPINGSTATION_RAFTER_BG"

   

/>


	

<SceneLayer

 

name

=

"rafter_bg"

 

depth

=

"112"

 

x

=

"0.56"

 

y

=

"3060.88"

 

scalex

=

"0.777"

 

scaley

=

"0.804"

 

rotation

=

"-8.99"

 

alpha

=

"1"

 

colorize

=

"255,255,255"

 

image

=

"IMAGE_SCENE_REGURGITATIONPUMPINGSTATION_RAFTER_BG"

   

/>


	

<SceneLayer

 

name

=

"rafter_bg"

 

depth

=

"80"

 

x

=

"2.26"

 

y

=

"2791.04"

 

scalex

=

"0.675"

 

scaley

=

"0.804"

 

rotation

=

"-8.99"

 

alpha

=

"1"

 

colorize

=

"255,255,255"

 

image

=

"IMAGE_SCENE_REGURGITATIONPUMPINGSTATION_RAFTER_BG"

   

/>


	

<SceneLayer

 

name

=

"rafter_bg"

 

depth

=

"80"

 

x

=

"-15.82"

 

y

=

"2688.94"

 

scalex

=

"0.759"

 

scaley

=

"0.804"

 

rotation

=

"4.97"

 

alpha

=

"1"

 

colorize

=

"255,255,255"

 

image

=

"IMAGE_SCENE_REGURGITATIONPUMPINGSTATION_RAFTER_BG"

   

/>


	

<SceneLayer

 

name

=

"rafter_bg"

 

depth

=

"80"

 

x

=

"-7.82"

 

y

=

"2942.94"

 

scalex

=

"0.759"

 

scaley

=

"0.804"

 

rotation

=

"4.97"

 

alpha

=

"1"

 

colorize

=

"255,255,255"

 

image

=

"IMAGE_SCENE_REGURGITATIONPUMPINGSTATION_RAFTER_BG"

   

/>


	

<SceneLayer

 

name

=

"signpostPole_brown"

 

depth

=

"15.2"

 

x

=

"316.36"

 

y

=

"3437.99"

 

scalex

=

"1"

 

scaley

=

"1.166"

 

rotation

=

"-28.35"

 

alpha

=

"1"

 

colorize

=

"0,0,0"

 

image

=

"IMAGE_SCENE_REGURGITATIONPUMPINGSTATION_SIGNPOSTPOLE_BROWN"

   

/>


	

<SceneLayer

 

name

=

"signpostPole_brown"

 

depth

=

"15.2"

 

x

=

"-177.25"

 

y

=

"1435.47"

 

scalex

=

"1"

 

scaley

=

"1.829"

 

rotation

=

"41.85"

 

alpha

=

"1"

 

colorize

=

"0,0,0"

 

image

=

"IMAGE_SCENE_REGURGITATIONPUMPINGSTATION_SIGNPOSTPOLE_BROWN"

   

/>


	

<SceneLayer

 

name

=

"main_r"

 

depth

=

"0.88"

 

x

=

"267.05"

 

y

=

"1912.99"

 

scalex

=

"1"

 

scaley

=

"3.159"

 

rotation

=

"0"

 

alpha

=

"1"

 

colorize

=

"255,255,255"

 

image

=

"IMAGE_SCENE_REGURGITATIONPUMPINGSTATION_MAIN_R"

   

/>


	

<SceneLayer

 

name

=

"main_l"

 

depth

=

"0.88"

 

x

=

"-233.98"

 

y

=

"1922.1"

 

scalex

=

"1.001"

 

scaley

=

"3.307"

 

rotation

=

"0"

 

alpha

=

"1"

 

colorize

=

"255,255,255"

 

image

=

"IMAGE_SCENE_REGURGITATIONPUMPINGSTATION_MAIN_L"

   

/>


	

<SceneLayer

 

name

=

"bush_leafy_1b_black"

 

depth

=

"8"

 

x

=

"120.88"

 

y

=

"2980.83"

 

scalex

=

"0.72"

 

scaley

=

"0.756"

 

rotation

=

"100.97"

 

alpha

=

"1"

 

colorize

=

"255,255,255"

 

image

=

"IMAGE_SCENE_REGURGITATIONPUMPINGSTATION_BUSH_LEAFY_1B_BLACK"

   

/>


	

<SceneLayer

 

name

=

"bush_leafy_1b_black"

 

depth

=

"8"

 

x

=

"-125.1"

 

y

=

"2994.83"

 

scalex

=

"0.72"

 

scaley

=

"0.756"

 

rotation

=

"-75.99"

 

alpha

=

"1"

 

colorize

=

"255,255,255"

 

image

=

"IMAGE_SCENE_REGURGITATIONPUMPINGSTATION_BUSH_LEAFY_1B_BLACK"

   

/>


	

<SceneLayer

 

name

=

"lip_r"

 

depth

=

"0"

 

x

=

"224.04"

 

y

=

"3068.97"

 

scalex

=

"1"

 

scaley

=

"1.383"

 

rotation

=

"0"

 

alpha

=

"1"

 

colorize

=

"255,255,255"

 

image

=

"IMAGE_SCENE_REGURGITATIONPUMPINGSTATION_LIP_R"

   

/>


	

<SceneLayer

 

name

=

"lip_l"

 

depth

=

"0"

 

x

=

"-218.15"

 

y

=

"3101.19"

 

scalex

=

"1"

 

scaley

=

"1.324"

 

rotation

=

"0"

 

alpha

=

"1"

 

colorize

=

"255,255,255"

 

image

=

"IMAGE_SCENE_REGURGITATIONPUMPINGSTATION_LIP_L"

   

/>


	

<SceneLayer

 

name

=

"stomach_right"

 

depth

=

"0.8"

 

x

=

"293.04"

 

y

=

"675.04"

 

scalex

=

"1.227"

 

scaley

=

"1.961"

 

rotation

=

"0"

 

alpha

=

"1"

 

colorize

=

"255,255,255"

 

image

=

"IMAGE_SCENE_REGURGITATIONPUMPINGSTATION_STOMACH_RIGHT"

   

/>


	

<SceneLayer

 

name

=

"stomach_left"

 

depth

=

"0.8"

 

x

=

"-295.52"

 

y

=

"649.49"

 

scalex

=

"1.207"

 

scaley

=

"1.865"

 

rotation

=

"0"

 

alpha

=

"1"

 

colorize

=

"255,255,255"

 

image

=

"IMAGE_SCENE_REGURGITATIONPUMPINGSTATION_STOMACH_LEFT"

   

/>


	

<SceneLayer

 

name

=

"stomach_bottom"

 

depth

=

"0.8"

 

x

=

"-0.04"

 

y

=

"88.01"

 

scalex

=

"1.77"

 

scaley

=

"1.391"

 

rotation

=

"0"

 

alpha

=

"1"

 

colorize

=

"255,255,255"

 

image

=

"IMAGE_SCENE_REGURGITATIONPUMPINGSTATION_STOMACH_BOTTOM"

   

/>


	

<SceneLayer

 

name

=

"bush_leafy_1b_black"

 

depth

=

"-16"

 

x

=

"65.41"

 

y

=

"1254.74"

 

scalex

=

"1"

 

scaley

=

"1"

 

rotation

=

"100.95"

 

alpha

=

"1"

 

colorize

=

"255,255,255"

 

image

=

"IMAGE_SCENE_REGURGITATIONPUMPINGSTATION_BUSH_LEAFY_1B_BLACK"

   

/>


	

<SceneLayer

 

name

=

"bush_leafy_1b_black"

 

depth

=

"-16"

 

x

=

"235.41"

 

y

=

"1042.75"

 

scalex

=

"1"

 

scaley

=

"1"

 

rotation

=

"155.15"

 

alpha

=

"1"

 

colorize

=

"255,255,255"

 

image

=

"IMAGE_SCENE_REGURGITATIONPUMPINGSTATION_BUSH_LEAFY_1B_BLACK"

   

/>


	

<SceneLayer

 

name

=

"bush_leafy_1b_black"

 

depth

=

"-16"

 

x

=

"305.84"

 

y

=

"953.09"

 

scalex

=

"1"

 

scaley

=

"1"

 

rotation

=

"142.5"

 

alpha

=

"1"

 

colorize

=

"255,255,255"

 

image

=

"IMAGE_SCENE_REGURGITATIONPUMPINGSTATION_BUSH_LEAFY_1B_BLACK"

   

/>


	

<SceneLayer

 

name

=

"bush_leafy_1b_black"

 

depth

=

"-16"

 

x

=

"-338.5"

 

y

=

"910"

 

scalex

=

"1"

 

scaley

=

"1"

 

rotation

=

"-100.88"

 

alpha

=

"1"

 

colorize

=

"255,255,255"

 

image

=

"IMAGE_SCENE_REGURGITATIONPUMPINGSTATION_BUSH_LEAFY_1B_BLACK"

   

/>


	

<SceneLayer

 

name

=

"bush_leafy_1b_black"

 

depth

=

"-16"

 

x

=

"-268.5"

 

y

=

"1000"

 

scalex

=

"1"

 

scaley

=

"1"

 

rotation

=

"-113.52"

 

alpha

=

"1"

 

colorize

=

"255,255,255"

 

image

=

"IMAGE_SCENE_REGURGITATIONPUMPINGSTATION_BUSH_LEAFY_1B_BLACK"

   

/>


	

<SceneLayer

 

name

=

"blackBogTree"

 

depth

=

"-16"

 

x

=

"284.97"

 

y

=

"854.99"

 

scalex

=

"0.325"

 

scaley

=

"0.325"

 

rotation

=

"125.61"

 

alpha

=

"1"

 

colorize

=

"255,255,255"

 

image

=

"IMAGE_SCENE_REGURGITATIONPUMPINGSTATION_BLACKBOGTREE"

   

/>


	

<SceneLayer

 

name

=

"blackBogTree"

 

depth

=

"-16"

 

x

=

"-335.17"

 

y

=

"659.88"

 

scalex

=

"0.431"

 

scaley

=

"0.431"

 

rotation

=

"-58.53"

 

alpha

=

"1"

 

colorize

=

"255,255,255"

 

image

=

"IMAGE_SCENE_REGURGITATIONPUMPINGSTATION_BLACKBOGTREE"

   

/>


	

<SceneLayer

 

name

=

"signpostPole_brown"

 

depth

=

"-8.8"

 

x

=

"360.66"

 

y

=

"641.05"

 

scalex

=

"1"

 

scaley

=

"2.528"

 

rotation

=

"32.14"

 

alpha

=

"1"

 

colorize

=

"0,0,0"

 

image

=

"IMAGE_SCENE_REGURGITATIONPUMPINGSTATION_SIGNPOSTPOLE_BROWN"

   

/>


	

<SceneLayer

 

name

=

"distantStack"

 

depth

=

"-16.8"

 

x

=

"339.04"

 

y

=

"2730.74"

 

scalex

=

"0.579"

 

scaley

=

"0.579"

 

rotation

=

"-23.24"

 

alpha

=

"1"

 

colorize

=

"255,255,255"

 

image

=

"IMAGE_SCENE_REGURGITATIONPUMPINGSTATION_DISTANTSTACK"

   

/>


	

<SceneLayer

 

name

=

"distantStack"

 

depth

=

"-16.8"

 

x

=

"-276.96"

 

y

=

"2772.88"

 

scalex

=

"0.365"

 

scaley

=

"0.365"

 

rotation

=

"-0.1"

 

alpha

=

"1"

 

colorize

=

"255,255,255"

 

image

=

"IMAGE_SCENE_REGURGITATIONPUMPINGSTATION_DISTANTSTACK"

   

/>


	

<SceneLayer

 

name

=

"distantStack"

 

depth

=

"-16.8"

 

x

=

"-341.13"

 

y

=

"2782.85"

 

scalex

=

"0.58"

 

scaley

=

"0.58"

 

rotation

=

"16.68"

 

alpha

=

"1"

 

colorize

=

"255,255,255"

 

image

=

"IMAGE_SCENE_REGURGITATIONPUMPINGSTATION_DISTANTSTACK"

   

/>


	

<SceneLayer

 

name

=

"distantStack"

 

depth

=

"-16.8"

 

x

=

"264.44"

 

y

=

"2760.2"

 

scalex

=

"0.825"

 

scaley

=

"0.825"

 

rotation

=

"-14.45"

 

alpha

=

"1"

 

colorize

=

"255,255,255"

 

image

=

"IMAGE_SCENE_REGURGITATIONPUMPINGSTATION_DISTANTSTACK"

   

/>


	

<SceneLayer

 

name

=

"gearDetach"

 

depth

=

"-8"

 

x

=

"280.02"

 

y

=

"1080.98"

 

scalex

=

"1.657"

 

scaley

=

"1.657"

 

rotation

=

"0"

 

alpha

=

"1"

 

colorize

=

"0,0,0"

 

image

=

"IMAGE_SCENE_REGURGITATIONPUMPINGSTATION_GEARDETACH"

 

anim

=

"rot_1rps"

 

animspeed

=

"-0.5"

   

/>


	

<SceneLayer

 

name

=

"gearDetach"

 

depth

=

"-8"

 

x

=

"-399.98"

 

y

=

"940.98"

 

scalex

=

"1.657"

 

scaley

=

"1.657"

 

rotation

=

"0"

 

alpha

=

"1"

 

colorize

=

"0,0,0"

 

image

=

"IMAGE_SCENE_REGURGITATIONPUMPINGSTATION_GEARDETACH"

 

anim

=

"rot_1rps"

 

animspeed

=

"0.5"

   

/>


	

<SceneLayer

 

name

=

"gearDetach"

 

depth

=

"-8"

 

x

=

"388.02"

 

y

=

"938.97"

 

scalex

=

"1.269"

 

scaley

=

"1.269"

 

rotation

=

"0"

 

alpha

=

"1"

 

colorize

=

"0,0,0"

 

image

=

"IMAGE_SCENE_REGURGITATIONPUMPINGSTATION_GEARDETACH"

 

anim

=

"rot_1rps"

 

animspeed

=

"-0.5"

   

/>


	

<SceneLayer

 

name

=

"gearDetach"

 

depth

=

"-8"

 

x

=

"-259.98"

 

y

=

"1081.97"

 

scalex

=

"1.269"

 

scaley

=

"1.269"

 

rotation

=

"0"

 

alpha

=

"1"

 

colorize

=

"0,0,0"

 

image

=

"IMAGE_SCENE_REGURGITATIONPUMPINGSTATION_GEARDETACH"

 

anim

=

"rot_1rps"

 

animspeed

=

"0.5"

   

/>


	

<SceneLayer

 

name

=

"billboard1"

 

depth

=

"-80"

 

x

=

"-123.99"

 

y

=

"759.5"

 

scalex

=

"1"

 

scaley

=

"1"

 

rotation

=

"8.24"

 

alpha

=

"1"

 

colorize

=

"255,255,255"

 

image

=

"IMAGE_SCENE_REGURGITATIONPUMPINGSTATION_BILLBOARD1"

   

/>


	

<SceneLayer

 

name

=

"signpostPole_brown"

 

depth

=

"-88"

 

x

=

"-22.28"

 

y

=

"431.51"

 

scalex

=

"1"

 

scaley

=

"10.015"

 

rotation

=

"8.13"

 

alpha

=

"1"

 

colorize

=

"0,0,0"

 

image

=

"IMAGE_SCENE_REGURGITATIONPUMPINGSTATION_SIGNPOSTPOLE_BROWN"

   

/>


	

<SceneLayer

 

name

=

"signpostPole_brown"

 

depth

=

"-88"

 

x

=

"-137.66"

 

y

=

"429.06"

 

scalex

=

"1"

 

scaley

=

"9.707"

 

rotation

=

"6.55"

 

alpha

=

"1"

 

colorize

=

"0,0,0"

 

image

=

"IMAGE_SCENE_REGURGITATIONPUMPINGSTATION_SIGNPOSTPOLE_BROWN"

   

/>


	

<SceneLayer

 

name

=

"throatTop"

 

depth

=

"-40"

 

x

=

"-3.24"

 

y

=

"2600.27"

 

scalex

=

"2.982"

 

scaley

=

"1.593"

 

rotation

=

"1.92"

 

alpha

=

"1"

 

colorize

=

"255,255,255"

 

image

=

"IMAGE_SCENE_REGURGITATIONPUMPINGSTATION_THROATTOP"

   

/>


	

<SceneLayer

 

name

=

"throatSeg"

 

depth

=

"-32"

 

x

=

"31.04"

 

y

=

"2190.89"

 

scalex

=

"5.106"

 

scaley

=

"12.708"

 

rotation

=

"2.83"

 

alpha

=

"1"

 

colorize

=

"255,255,255"

 

image

=

"IMAGE_SCENE_REGURGITATIONPUMPINGSTATION_THROATSEG"

   

/>


	

<SceneLayer

 

name

=

"throatSeg"

 

depth

=

"-32"

 

x

=

"28.73"

 

y

=

"1537.62"

 

scalex

=

"4.889"

 

scaley

=

"10.605"

 

rotation

=

"-8.03"

 

alpha

=

"1"

 

colorize

=

"255,255,255"

 

image

=

"IMAGE_SCENE_REGURGITATIONPUMPINGSTATION_THROATSEG"

   

/>


	

<SceneLayer

 

name

=

"stomachBg"

 

depth

=

"-320"

 

x

=

"0.01"

 

y

=

"665.52"

 

scalex

=

"7.079"

 

scaley

=

"9.478"

 

rotation

=

"0"

 

alpha

=

"1"

 

colorize

=

"255,255,255"

 

image

=

"IMAGE_SCENE_REGURGITATIONPUMPINGSTATION_STOMACHBG"

   

/>


	

<SceneLayer

 

name

=

"ssBg"

 

depth

=

"-48"

 

x

=

"-7.04"

 

y

=

"2967.03"

 

scalex

=

"2"

 

scaley

=

"3.133"

 

rotation

=

"0"

 

alpha

=

"1"

 

colorize

=

"255,255,255"

 

image

=

"IMAGE_SCENE_REGURGITATIONPUMPINGSTATION_SSBG"

   

/>


	

<SceneLayer

 

name

=

"bush_leafy_1b_black"

 

depth

=

"-40"

 

x

=

"-337.33"

 

y

=

"2730.72"

 

scalex

=

"0.818"

 

scaley

=

"0.756"

 

rotation

=

"29.81"

 

alpha

=

"1"

 

colorize

=

"255,255,255"

 

image

=

"IMAGE_SCENE_REGURGITATIONPUMPINGSTATION_BUSH_LEAFY_1B_BLACK"

   

/>


	

<SceneLayer

 

name

=

"bush_leafy_1b_black"

 

depth

=

"-40"

 

x

=

"330.25"

 

y

=

"2694.12"

 

scalex

=

"0.938"

 

scaley

=

"0.756"

 

rotation

=

"-8.9"

 

alpha

=

"1"

 

colorize

=

"255,255,255"

 

image

=

"IMAGE_SCENE_REGURGITATIONPUMPINGSTATION_BUSH_LEAFY_1B_BLACK"

   

/>


	

<SceneLayer

 

name

=

"blackBogTree"

 

depth

=

"-80"

 

x

=

"-388.8"

 

y

=

"2753.12"

 

scalex

=

"0.247"

 

scaley

=

"0.247"

 

rotation

=

"33.24"

 

alpha

=

"1"

 

colorize

=

"255,255,255"

 

image

=

"IMAGE_SCENE_REGURGITATIONPUMPINGSTATION_BLACKBOGTREE"

   

/>


	

<SceneLayer

 

name

=

"blackBogTree"

 

depth

=

"-80"

 

x

=

"409.48"

 

y

=

"2700.11"

 

scalex

=

"0.247"

 

scaley

=

"0.247"

 

rotation

=

"-8.35"

 

alpha

=

"1"

 

colorize

=

"255,255,255"

 

image

=

"IMAGE_SCENE_REGURGITATIONPUMPINGSTATION_BLACKBOGTREE"

   

/>


	

<SceneLayer

 

name

=

"blackBogTree"

 

depth

=

"-120"

 

x

=

"-240.24"

 

y

=

"2846.77"

 

scalex

=

"0.381"

 

scaley

=

"0.381"

 

rotation

=

"34.8"

 

alpha

=

"1"

 

colorize

=

"255,255,255"

 

image

=

"IMAGE_SCENE_REGURGITATIONPUMPINGSTATION_BLACKBOGTREE"

   

/>


	

<SceneLayer

 

name

=

"blackBogTree"

 

depth

=

"-120"

 

x

=

"250.27"

 

y

=

"2939.27"

 

scalex

=

"0.381"

 

scaley

=

"0.381"

 

rotation

=

"-33.41"

 

alpha

=

"1"

 

colorize

=

"255,255,255"

 

image

=

"IMAGE_SCENE_REGURGITATIONPUMPINGSTATION_BLACKBOGTREE"

   

/>


	

<SceneLayer

 

name

=

"sky"

 

depth

=

"-560"

 

x

=

"-0.01"

 

y

=

"3600.82"

 

scalex

=

"1.758"

 

scaley

=

"4.351"

 

rotation

=

"0"

 

alpha

=

"1"

 

colorize

=

"255,255,255"

 

image

=

"IMAGE_SCENE_REGURGITATIONPUMPINGSTATION_SKY"

   

/>


 
	

<!-- Buttons -->


 
	

<!-- Labels -->


 
	

<!-- Static Geometry -->


	

<rectangle

 

id

=

"upperGrndR"

 

static

=

"true"

 

tag

=

"deadly"

 

material

=

"rock"

 

nogeomcollisions

=

"true"

 

x

=

"363.8242"

 

y

=

"2625.2031"

 

width

=

"417.703"

 

height

=

"103.1684"

 

rotation

=

"-0.2246"

 

/>


	

<rectangle

 

id

=

"upperGrndL"

 

static

=

"true"

 

tag

=

"deadly"

 

material

=

"rock"

 

nogeomcollisions

=

"true"

 

x

=

"-347.3354"

 

y

=

"2631.4766"

 

width

=

"146.0864"

 

height

=

"405.9049"

 

rotation

=

"-1.1859"

 

/>


	

<rectangle

 

id

=

"throatside"

 

static

=

"true"

 

material

=

"machine"

 

nogeomcollisions

=

"true"

 

x

=

"-157.4392"

 

y

=

"2159.9502"

 

width

=

"111.2334"

 

height

=

"741.9569"

 

rotation

=

"0.1469"

 

/>


	

<rectangle

 

id

=

"throatside"

 

static

=

"true"

 

material

=

"machine"

 

nogeomcollisions

=

"true"

 

x

=

"174.0435"

 

y

=

"2198.9463"

 

width

=

"111.2333"

 

height

=

"741.957"

 

rotation

=

"0.1065"

 

/>


	

<rectangle

 

id

=

"throatside"

 

static

=

"true"

 

material

=

"machine"

 

nogeomcollisions

=

"true"

 

x

=

"183.0405"

 

y

=

"1538.9707"

 

width

=

"111.233"

 

height

=

"741.957"

 

rotation

=

"-0.0805"

 

/>


	

<rectangle

 

id

=

"throatside"

 

static

=

"true"

 

material

=

"machine"

 

nogeomcollisions

=

"true"

 

x

=

"-139.2083"

 

y

=

"1536.5005"

 

width

=

"111.2327"

 

height

=

"600.2232"

 

rotation

=

"-0.195"

 

/>


	

<compositegeom

 

id

=

"lipLeft"

 

x

=

"-217.4662"

 

y

=

"2984.6034"

 

rotation

=

"0"

 

static

=

"true"

 

material

=

"slosh"

 

nogeomcollisions

=

"true"

 

>


		

<circle

 

id

=

""

 

x

=

"-32.7384"

 

y

=

"374.9525"

 

radius

=

"82.4999"

 

/>


		

<rectangle

 

id

=

""

 

x

=

"53.1197"

 

y

=

"-304.8729"

 

width

=

"116.9122"

 

height

=

"302.4252"

 

rotation

=

"0.0243"

 

/>


		

<rectangle

 

id

=

""

 

x

=

"20.1493"

 

y

=

"105.464"

 

width

=

"116.9118"

 

height

=

"536.5246"

 

rotation

=

"0.1109"

 

/>


	</compositegeom

>


	

<compositegeom

 

id

=

"lipRight"

 

x

=

"222.2949"

 

y

=

"3011.6987"

 

rotation

=

"0"

 

static

=

"true"

 

material

=

"slosh"

 

nogeomcollisions

=

"true"

 

>


		

<circle

 

id

=

""

 

x

=

"24.7383"

 

y

=

"326.3359"

 

radius

=

"88.5"

 

/>


		

<rectangle

 

id

=

""

 

x

=

"-55.1088"

 

y

=

"-276.573"

 

width

=

"109.914"

 

height

=

"274.2337"

 

rotation

=

"0.0215"

 

/>


		

<rectangle

 

id

=

""

 

x

=

"-31.2568"

 

y

=

"96.7393"

 

width

=

"111.6068"

 

height

=

"490.4443"

 

rotation

=

"-0.1084"

 

/>


	</compositegeom

>


	

<line

 

id

=

""

 

static

=

"true"

 

tag

=

"detaching"

 

material

=

"rock"

 

anchor

=

"-478.9995,2143.4998"

 

normal

=

"1,-0.0019"

 

/>


	

<line

 

id

=

""

 

static

=

"true"

 

tag

=

"detaching"

 

material

=

"rock"

 

anchor

=

"487.5684,2185.999"

 

normal

=

"-1,0.0019"

 

/>


	

<rectangle

 

id

=

""

 

static

=

"true"

 

material

=

"rock"

 

x

=

"-454.0398"

 

y

=

"539.0898"

 

width

=

"110.9924"

 

height

=

"663.4869"

 

rotation

=

"0.0028"

 

/>


	

<rectangle

 

id

=

""

 

static

=

"true"

 

material

=

"rock"

 

x

=

"451.0547"

 

y

=

"535.3359"

 

width

=

"110.9921"

 

height

=

"766.9898"

 

rotation

=

"0.0028"

 

/>


	

<rectangle

 

id

=

""

 

static

=

"true"

 

tag

=

"walkable"

 

material

=

"rock"

 

x

=

"-364.822"

 

y

=

"127.1372"

 

width

=

"110.9928"

 

height

=

"406.0881"

 

rotation

=

"0.7373"

 

/>


	

<rectangle

 

id

=

""

 

static

=

"true"

 

tag

=

"walkable"

 

material

=

"rock"

 

x

=

"389.1367"

 

y

=

"123.8223"

 

width

=

"110.9916"

 

height

=

"403.6539"

 

rotation

=

"-0.7878"

 

/>


	

<compositegeom

 

id

=

""

 

x

=

"403.1084"

 

y

=

"1006.3149"

 

rotation

=

"0"

 

static

=

"true"

 

tag

=

"detaching"

 

material

=

"slosh"

 

nogeomcollisions

=

"true"

 

>


		

<circle

 

id

=

""

 

x

=

"-129.6084"

 

y

=

"68.1851"

 

radius

=

"127.5"

 

/>


		

<circle

 

id

=

""

 

x

=

"-15.1084"

 

y

=

"-65.3149"

 

radius

=

"104"

 

/>


		

<rectangle

 

id

=

""

 

x

=

"0"

 

y

=

"0"

 

width

=

"257.2043"

 

height

=

"594.6915"

 

rotation

=

"0.7283"

 

/>


	</compositegeom

>


	

<compositegeom

 

id

=

""

 

x

=

"-370.5291"

 

y

=

"990.4839"

 

rotation

=

"0"

 

static

=

"true"

 

tag

=

"detaching"

 

material

=

"slosh"

 

nogeomcollisions

=

"true"

 

>


		

<circle

 

id

=

""

 

x

=

"108.5291"

 

y

=

"92.5161"

 

radius

=

"104"

 

/>


		

<circle

 

id

=

""

 

x

=

"-24.9709"

 

y

=

"-52.9839"

 

radius

=

"132.5"

 

/>


		

<rectangle

 

id

=

""

 

x

=

"0"

 

y

=

"0"

 

width

=

"208.3619"

 

height

=

"538.8815"

 

rotation

=

"-0.6791"

 

/>


	</compositegeom

>


	

<line

 

id

=

"bottom"

 

static

=

"true"

 

tag

=

"walkable"

 

material

=

"machine"

 

anchor

=

"-3,74"

 

normal

=

"0.0048,1"

 

/>


 
	

<!-- Dynamic Geometry -->


	

<circle

 

id

=

"c10"

 

mass

=

"500"

 

static

=

"false"

 

tag

=

"unwalkable"

 

material

=

"throat"

 

rotspeed

=

"0.035"

 

image

=

"IMAGE_SCENE_REGURGITATIONPUMPINGSTATION_WHEEL"

 

imagepos

=

"-227.128,2498.2405"

 

imagerot

=

"0"

 

imagescale

=

"1.5471,1.5471"

 

x

=

"-226.5011"

 

y

=

"2497.9818"

 

radius

=

"179.954"

 

/>


	

<circle

 

id

=

"c9"

 

mass

=

"500"

 

static

=

"false"

 

tag

=

"unwalkable"

 

material

=

"throat"

 

rotspeed

=

"0.035"

 

image

=

"IMAGE_SCENE_REGURGITATIONPUMPINGSTATION_WHEEL"

 

imagepos

=

"-221.6174,2123.1519"

 

imagerot

=

"2.6187"

 

imagescale

=

"1.5252,1.5252"

 

x

=

"-221"

 

y

=

"2122.9998"

 

radius

=

"179.9538"

 

/>


	

<circle

 

id

=

"c8"

 

mass

=

"500"

 

static

=

"false"

 

tag

=

"unwalkable"

 

material

=

"throat"

 

rotspeed

=

"0.035"

 

image

=

"IMAGE_SCENE_REGURGITATIONPUMPINGSTATION_WHEEL"

 

imagepos

=

"-99.303,1826.5823"

 

imagerot

=

"-1.5843"

 

imagescale

=

"1.0676,1.0676"

 

x

=

"-99.0001"

 

y

=

"1826.0004"

 

radius

=

"124.9619"

 

/>


	

<circle

 

id

=

"c7"

 

mass

=

"500"

 

static

=

"false"

 

tag

=

"unwalkable"

 

material

=

"throat"

 

rotspeed

=

"0.035"

 

image

=

"IMAGE_SCENE_REGURGITATIONPUMPINGSTATION_WHEEL"

 

imagepos

=

"-194.4783,1526.374"

 

imagerot

=

"0"

 

imagescale

=

"1.5063,1.5063"

 

x

=

"-193"

 

y

=

"1526.0001"

 

radius

=

"176.9542"

 

/>


	

<circle

 

id

=

"c6"

 

mass

=

"500"

 

static

=

"false"

 

tag

=

"unwalkable"

 

material

=

"throat"

 

rotspeed

=

"0.035"

 

image

=

"IMAGE_SCENE_REGURGITATIONPUMPINGSTATION_WHEEL"

 

imagepos

=

"-184.0881,1217.8394"

 

imagerot

=

"-1.6647"

 

imagescale

=

"1.007,1.007"

 

x

=

"-184"

 

y

=

"1216.9996"

 

radius

=

"117.4697"

 

/>


	

<circle

 

id

=

"c5"

 

mass

=

"500"

 

static

=

"false"

 

tag

=

"unwalkable"

 

material

=

"throat"

 

rotspeed

=

"-0.035"

 

image

=

"IMAGE_SCENE_REGURGITATIONPUMPINGSTATION_WHEEL"

 

imagepos

=

"213.7046,2514.6482"

 

imagerot

=

"2.0268"

 

imagescale

=

"1.3804,1.3804"

 

x

=

"215.3107"

 

y

=

"2513.8127"

 

radius

=

"163.8648"

 

/>


	

<circle

 

id

=

"c4"

 

mass

=

"500"

 

static

=

"false"

 

tag

=

"unwalkable"

 

material

=

"throat"

 

rotspeed

=

"-0.035"

 

image

=

"IMAGE_SCENE_REGURGITATIONPUMPINGSTATION_WHEEL"

 

imagepos

=

"167.3696,2212.0732"

 

imagerot

=

"2.7993"

 

imagescale

=

"1.0659,1.0659"

 

x

=

"168"

 

y

=

"2211.9999"

 

radius

=

"124.9623"

 

/>


	

<circle

 

id

=

"c3"

 

mass

=

"500"

 

static

=

"false"

 

tag

=

"unwalkable"

 

material

=

"throat"

 

rotspeed

=

"-0.035"

 

image

=

"IMAGE_SCENE_REGURGITATIONPUMPINGSTATION_WHEEL"

 

imagepos

=

"293.9829,1914.6349"

 

imagerot

=

"-1.586"

 

imagescale

=

"1.4955,1.4955"

 

x

=

"291.0003"

 

y

=

"1915.0004"

 

radius

=

"179.9543"

 

/>


	

<circle

 

id

=

"c2"

 

mass

=

"500"

 

static

=

"false"

 

tag

=

"unwalkable"

 

material

=

"throat"

 

rotspeed

=

"-0.035"

 

image

=

"IMAGE_SCENE_REGURGITATIONPUMPINGSTATION_WHEEL"

 

imagepos

=

"194.7264,1611.8662"

 

imagerot

=

"2.8787"

 

imagescale

=

"1.0379,1.0379"

 

x

=

"195"

 

y

=

"1614.0002"

 

radius

=

"122.4635"

 

/>


	

<circle

 

id

=

"c1"

 

mass

=

"500"

 

static

=

"false"

 

tag

=

"unwalkable"

 

material

=

"throat"

 

rotspeed

=

"-0.035"

 

image

=

"IMAGE_SCENE_REGURGITATIONPUMPINGSTATION_WHEEL"

 

imagepos

=

"214.3667,1293.8981"

 

imagerot

=

"0.7769"

 

imagescale

=

"1.5916,1.5916"

 

x

=

"216.0001"

 

y

=

"1289"

 

radius

=

"186.4436"

 

/>


 
	

<!-- Geometry Constraints -->


	

<hinge

 

body1

=

"c5"

 

anchor

=

"215.3115234375,2513.8125"

/>


	

<hinge

 

body1

=

"c10"

 

anchor

=

"-226.5009765625,2497.982421875"

/>


	

<hinge

 

body1

=

"c9"

 

anchor

=

"-221,2123"

/>


	

<hinge

 

body1

=

"c4"

 

anchor

=

"168,2212"

/>


	

<hinge

 

body1

=

"c8"

 

anchor

=

"-99,1826"

/>


	

<hinge

 

body1

=

"c3"

 

anchor

=

"291,1915"

/>


	

<hinge

 

body1

=

"c7"

 

anchor

=

"-193,1526"

/>


	

<hinge

 

body1

=

"c2"

 

anchor

=

"195,1614"

/>


	

<hinge

 

body1

=

"c1"

 

anchor

=

"216,1289"

/>


	

<hinge

 

body1

=

"c6"

 

anchor

=

"-184,1217"

/>


</scene

>