Flying Machine
The Goo Filled Hills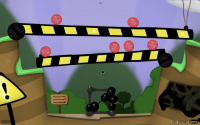 Normal: 4 balls
OCD: 16 seconds
Previous level:
Impale Sticky
.
Next level:
Fisty's Bog
.
some balls are lighter than other balls
Use the Balloon Goo's to lift the bars, but leave enough to lift the block of Goo's to the pipe
Signposts
Open the gates and fly, monkeys, fly!
But don't forget about me, ok?
-sincerely, the Sign Painter
You need Flash player 8+ and JavaScript enabled to view this video.
There is 1 video.
<level

 

ballsrequired

=

"4"

 

letterboxed

=

"false"

 

visualdebug

=

"false"

 

autobounds

=

"false"

 

textcolor

=

"255,255,255"

 

texteffects

=

"true"

 

timebugprobability

=

"0"

 

strandgeom

=

"true"

 

allowskip

=

"true"

 

>


 
	

<!-- Camera -->


	

<camera

 

aspect

=

"normal"

 

endpos

=

"3.92,977.21"

 

endzoom

=

"0.815"

>


		

<poi

 

pos

=

"17,1736.63"

 

traveltime

=

"0"

 

pause

=

"0"

 

zoom

=

"1.176"

 

/>


		

<poi

 

pos

=

"4.9,403.67"

 

traveltime

=

"3"

 

pause

=

"0"

 

zoom

=

"0.859"

 

/>


	</camera

>


	

<camera

 

aspect

=

"widescreen"

 

endpos

=

"0,977.21"

 

endzoom

=

"1.095"

>


		

<poi

 

pos

=

"17,1736.63"

 

traveltime

=

"0"

 

pause

=

"0"

 

zoom

=

"1.176"

 

/>


		

<poi

 

pos

=

"0,281.16"

 

traveltime

=

"3"

 

pause

=

"0"

 

zoom

=

"1.095"

 

/>


	</camera

>


 
	

<!-- Music -->


	

<music

 

id

=

"SOUND_LEVEL_FLYINGMACHINE_TEMP_JELLY"

 

/>


 
	

<!-- Fire -->


 
	

<!-- Signposts -->


	

<signpost

 

name

=

"signpost_brown"

 

depth

=

"-8"

 

x

=

"-183.54"

 

y

=

"179.05"

 

scalex

=

"1"

 

scaley

=

"1"

 

rotation

=

"4.1"

 

alpha

=

"1"

 

colorize

=

"255,255,255"

 

image

=

"IMAGE_SCENE_FLYINGMACHINE_SIGNPOST_BROWN"

 

text

=

"SIGNPOST_FLYINGMACHINE_1"

   

/>


 
	

<!-- Pipes -->


	

<pipe

 

id

=

"0"

 

depth

=

"8"

 

>


		

<Vertex

 

x

=

"0"

 

y

=

"1720"

 

/>


		

<Vertex

 

x

=

"0"

 

y

=

"1820"

 

/>


		

<Vertex

 

x

=

"100"

 

y

=

"1820"

 

/>


		

<Vertex

 

x

=

"100"

 

y

=

"2065"

 

/>


	</pipe

>


 
	

<!-- Balls -->


	

<BallInstance

 

type

=

"AnchorSticky"

 

x

=

"-262.4"

 

y

=

"359.44"

 

id

=

"0"

 

angle

=

"0"

 

/>


	

<BallInstance

 

type

=

"AnchorSticky"

 

x

=

"371.5"

 

y

=

"482"

 

id

=

"1"

 

angle

=

"0"

 

/>


	

<BallInstance

 

type

=

"balloon"

 

x

=

"326.59"

 

y

=

"598.91"

 

id

=

"2"

 

angle

=

"0"

 

/>


	

<BallInstance

 

type

=

"balloon"

 

x

=

"125"

 

y

=

"417"

 

id

=

"3"

 

angle

=

"0"

 

/>


	

<BallInstance

 

type

=

"balloon"

 

x

=

"71.01"

 

y

=

"414.5"

 

id

=

"4"

 

angle

=

"0"

 

/>


	

<BallInstance

 

type

=

"balloon"

 

x

=

"-58"

 

y

=

"407"

 

id

=

"5"

 

angle

=

"0"

 

/>


	

<BallInstance

 

type

=

"balloon"

 

x

=

"389"

 

y

=

"608"

 

id

=

"6"

 

angle

=

"0"

 

/>


	

<BallInstance

 

type

=

"balloon"

 

x

=

"-67.4"

 

y

=

"543.4"

 

id

=

"7"

 

angle

=

"0"

 

/>


	

<BallInstance

 

type

=

"balloon"

 

x

=

"44.6"

 

y

=

"536.4"

 

id

=

"8"

 

angle

=

"0"

 

/>


	

<BallInstance

 

type

=

"balloon"

 

x

=

"3.29"

 

y

=

"410.73"

 

id

=

"9"

 

angle

=

"0"

 

/>


	

<BallInstance

 

type

=

"GooProduct"

 

x

=

"162.5"

 

y

=

"187.5"

 

id

=

"10"

 

angle

=

"0"

 

/>


	

<BallInstance

 

type

=

"GooProduct"

 

x

=

"187.5"

 

y

=

"237.5"

 

id

=

"11"

 

angle

=

"0"

 

/>


	

<BallInstance

 

type

=

"GooProduct"

 

x

=

"162.5"

 

y

=

"287.5"

 

id

=

"12"

 

angle

=

"0"

 

/>


	

<BallInstance

 

type

=

"GooProduct"

 

x

=

"-187.5"

 

y

=

"237.5"

 

id

=

"13"

 

angle

=

"0"

 

/>


	

<BallInstance

 

type

=

"GooProduct"

 

x

=

"-137.5"

 

y

=

"187.5"

 

id

=

"14"

 

angle

=

"0"

 

/>


	

<BallInstance

 

type

=

"GooProduct"

 

x

=

"-137.5"

 

y

=

"262.5"

 

id

=

"15"

 

angle

=

"0"

 

/>


	

<BallInstance

 

type

=

"common"

 

x

=

"48.5"

 

y

=

"235.5"

 

id

=

"16"

 

angle

=

"0"

 

/>


	

<BallInstance

 

type

=

"common"

 

x

=

"-51.5"

 

y

=

"235.5"

 

id

=

"17"

 

angle

=

"0"

 

/>


	

<BallInstance

 

type

=

"common"

 

x

=

"48.5"

 

y

=

"135.5"

 

id

=

"18"

 

angle

=

"0"

 

/>


	

<BallInstance

 

type

=

"common"

 

x

=

"-51.5"

 

y

=

"135.5"

 

id

=

"19"

 

angle

=

"0"

 

/>


 
	

<!-- Arms -->


	

<Strand

 

gb1

=

"1"

 

gb2

=

"6"

 

/>


	

<Strand

 

gb1

=

"1"

 

gb2

=

"2"

 

/>


	

<Strand

 

gb1

=

"17"

 

gb2

=

"16"

 

/>


	

<Strand

 

gb1

=

"19"

 

gb2

=

"17"

 

/>


	

<Strand

 

gb1

=

"18"

 

gb2

=

"19"

 

/>


	

<Strand

 

gb1

=

"16"

 

gb2

=

"18"

 

/>


	

<Strand

 

gb1

=

"19"

 

gb2

=

"16"

 

/>


 
	

<!-- Level Exit -->


	

<levelexit

 

id

=

"theExit"

 

pos

=

"0,1720"

 

radius

=

"75"

 

filter

=

""

 

>


	</levelexit

>


 
</level

>
<scene

 

minx

=

"-500"

 

miny

=

"0"

 

maxx

=

"500"

 

maxy

=

"2000"

 

backgroundcolor

=

"0,0,0"

 

>


 
	

<!-- ForceFields -->


	

<linearforcefield

 

id

=

"balloonRepeller"

 

type

=

"gravity"

 

center

=

"14,1927"

 

width

=

"1146"

 

height

=

"172"

 

force

=

"0,-10"

 

dampeningfactor

=

"0"

 

antigrav

=

"false"

 

geomonly

=

"false"

 

enabled

=

"true"

 

water

=

"false"

 

/>


	

<linearforcefield

 

type

=

"gravity"

 

force

=

"0,-10"

 

dampeningfactor

=

"0.5"

 

antigrav

=

"true"

 

geomonly

=

"false"

 

/>


 
	

<!-- Particles -->


	

<particles

 

effect

=

"blackBallsRising"

 

depth

=

"800"

/>


 
 
	

<!-- SceneLayers -->


	

<SceneLayer

 

name

=

"sign_yield"

 

depth

=

"120"

 

x

=

"-347.49"

 

y

=

"125.99"

 

scalex

=

"1.33"

 

scaley

=

"1.33"

 

rotation

=

"0"

 

alpha

=

"1"

 

colorize

=

"255,255,255"

 

image

=

"IMAGE_SCENE_FLYINGMACHINE_SIGN_YIELD"

   

/>


	

<SceneLayer

 

name

=

"screw1"

 

depth

=

"8"

 

x

=

"278.87"

 

y

=

"352.95"

 

scalex

=

"0.94"

 

scaley

=

"0.94"

 

rotation

=

"125.27"

 

alpha

=

"1"

 

colorize

=

"255,255,255"

 

image

=

"IMAGE_SCENE_FLYINGMACHINE_SCREW1"

   

/>


	

<SceneLayer

 

name

=

"screw1"

 

depth

=

"8"

 

x

=

"-368.19"

 

y

=

"477.77"

 

scalex

=

"1.114"

 

scaley

=

"1.114"

 

rotation

=

"53.37"

 

alpha

=

"1"

 

colorize

=

"255,255,255"

 

image

=

"IMAGE_SCENE_FLYINGMACHINE_SCREW1"

   

/>


	

<SceneLayer

 

name

=

"main"

 

depth

=

"0"

 

x

=

"0"

 

y

=

"324"

 

scalex

=

"1"

 

scaley

=

"1"

 

rotation

=

"0"

 

alpha

=

"1"

 

colorize

=

"255,255,255"

 

image

=

"IMAGE_SCENE_FLYINGMACHINE_MAIN"

   

/>


	

<SceneLayer

 

name

=

"signpostPole_brown"

 

depth

=

"-8.8"

 

x

=

"-184.63"

 

y

=

"162.09"

 

scalex

=

"1"

 

scaley

=

"1.14"

 

rotation

=

"3.71"

 

alpha

=

"1"

 

colorize

=

"255,255,255"

 

image

=

"IMAGE_SCENE_FLYINGMACHINE_SIGNPOSTPOLE_BROWN"

   

/>


	

<SceneLayer

 

name

=

"gear1blur"

 

depth

=

"-40"

 

x

=

"296.5"

 

y

=

"155.5"

 

scalex

=

"0.365"

 

scaley

=

"0.365"

 

rotation

=

"0"

 

alpha

=

"1"

 

colorize

=

"128,128,128"

 

image

=

"IMAGE_SCENE_FLYINGMACHINE_GEAR1BLUR"

 

anim

=

"rot_1rps"

 

animspeed

=

"4"

   

/>


	

<SceneLayer

 

name

=

"gear1blur"

 

depth

=

"-40"

 

x

=

"383"

 

y

=

"243"

 

scalex

=

"0.568"

 

scaley

=

"0.568"

 

rotation

=

"0"

 

alpha

=

"1"

 

colorize

=

"128,128,128"

 

image

=

"IMAGE_SCENE_FLYINGMACHINE_GEAR1BLUR"

 

anim

=

"rot_1rps"

 

animspeed

=

"-3"

   

/>


	

<SceneLayer

 

name

=

"gear1blur"

 

depth

=

"-40"

 

x

=

"480"

 

y

=

"119"

 

scalex

=

"1"

 

scaley

=

"1"

 

rotation

=

"0"

 

alpha

=

"1"

 

colorize

=

"128,128,128"

 

image

=

"IMAGE_SCENE_FLYINGMACHINE_GEAR1BLUR"

 

anim

=

"rot_1rps"

 

animspeed

=

"2"

   

/>


	

<SceneLayer

 

name

=

"usefulBlackSquare"

 

depth

=

"-48"

 

x

=

"418.93"

 

y

=

"180.22"

 

scalex

=

"9.005"

 

scaley

=

"5.721"

 

rotation

=

"-12.55"

 

alpha

=

"1"

 

colorize

=

"255,255,255"

 

image

=

"IMAGE_SCENE_FLYINGMACHINE_USEFULBLACKSQUARE"

   

/>


	

<SceneLayer

 

name

=

"bush_leafy_1"

 

depth

=

"-88"

 

x

=

"232.56"

 

y

=

"169.66"

 

scalex

=

"0.999"

 

scaley

=

"0.999"

 

rotation

=

"81.04"

 

alpha

=

"1"

 

colorize

=

"255,255,255"

 

image

=

"IMAGE_SCENE_FLYINGMACHINE_BUSH_LEAFY_1"

   

/>


	

<SceneLayer

 

name

=

"bush_leafy_1"

 

depth

=

"-80"

 

x

=

"-127.44"

 

y

=

"145.65"

 

scalex

=

"0.999"

 

scaley

=

"0.999"

 

rotation

=

"1.53"

 

alpha

=

"1"

 

colorize

=

"255,255,255"

 

image

=

"IMAGE_SCENE_FLYINGMACHINE_BUSH_LEAFY_1"

   

/>


	

<SceneLayer

 

name

=

"bush_leafy_1b"

 

depth

=

"-120"

 

x

=

"56.48"

 

y

=

"100.01"

 

scalex

=

"1"

 

scaley

=

"1"

 

rotation

=

"22.28"

 

alpha

=

"1"

 

colorize

=

"255,255,255"

 

image

=

"IMAGE_SCENE_FLYINGMACHINE_BUSH_LEAFY_1B"

   

/>


	

<SceneLayer

 

name

=

"tree_sil_1"

 

depth

=

"-120"

 

x

=

"112.84"

 

y

=

"150.73"

 

scalex

=

"0.531"

 

scaley

=

"0.514"

 

rotation

=

"-6.27"

 

alpha

=

"1"

 

colorize

=

"255,255,255"

 

image

=

"IMAGE_SCENE_FLYINGMACHINE_TREE_SIL_1"

   

/>


	

<SceneLayer

 

name

=

"wogcCloud1"

 

depth

=

"-160"

 

x

=

"513.01"

 

y

=

"1345.21"

 

scalex

=

"1.89"

 

scaley

=

"1.442"

 

rotation

=

"-15.38"

 

alpha

=

"1"

 

colorize

=

"255,255,255"

 

image

=

"IMAGE_SCENE_FLYINGMACHINE_WOGCCLOUD1"

   

/>


	

<SceneLayer

 

name

=

"wogcCloud1"

 

depth

=

"-160"

 

x

=

"545.32"

 

y

=

"633.71"

 

scalex

=

"1.354"

 

scaley

=

"1.125"

 

rotation

=

"-13.77"

 

alpha

=

"1"

 

colorize

=

"255,255,255"

 

image

=

"IMAGE_SCENE_FLYINGMACHINE_WOGCCLOUD1"

   

/>


	

<SceneLayer

 

name

=

"wogcCloud1"

 

depth

=

"-160"

 

x

=

"-537.18"

 

y

=

"957.99"

 

scalex

=

"1.809"

 

scaley

=

"1.383"

 

rotation

=

"9.81"

 

alpha

=

"1"

 

colorize

=

"255,255,255"

 

image

=

"IMAGE_SCENE_FLYINGMACHINE_WOGCCLOUD1"

   

/>


	

<SceneLayer

 

name

=

"bg"

 

depth

=

"-640"

 

x

=

"0.04"

 

y

=

"1013.01"

 

scalex

=

"1.953"

 

scaley

=

"3.215"

 

rotation

=

"0"

 

alpha

=

"1"

 

colorize

=

"255,255,255"

 

image

=

"IMAGE_SCENE_FLYINGMACHINE_BG"

   

/>


 
	

<!-- Buttons -->


 
	

<!-- Labels -->


 
	

<!-- Static Geometry -->


	

<rectangle

 

id

=

"stop"

 

static

=

"true"

 

tag

=

"stopsign"

 

material

=

"rock"

 

x

=

"278.4785"

 

y

=

"394.5"

 

width

=

"16.957"

 

height

=

"89"

 

rotation

=

"0"

 

/>


	

<rectangle

 

id

=

"stop"

 

static

=

"true"

 

tag

=

"stopsign"

 

material

=

"rock"

 

x

=

"435.4785"

 

y

=

"477.5"

 

width

=

"16.957"

 

height

=

"89"

 

rotation

=

"0"

 

/>


	

<rectangle

 

id

=

"stop"

 

static

=

"true"

 

tag

=

"stopsign"

 

material

=

"rock"

 

x

=

"-287.5217"

 

y

=

"359.5"

 

width

=

"16.9565"

 

height

=

"89"

 

rotation

=

"0"

 

/>


	

<rectangle

 

id

=

"stop"

 

static

=

"true"

 

tag

=

"stopsign"

 

material

=

"rock"

 

x

=

"-360.5217"

 

y

=

"523.5"

 

width

=

"16.9565"

 

height

=

"89"

 

rotation

=

"0"

 

/>


	

<rectangle

 

id

=

""

 

static

=

"true"

 

material

=

"rock"

 

x

=

"587.5283"

 

y

=

"582.3164"

 

width

=

"133.4666"

 

height

=

"434.6393"

 

rotation

=

"-0.174"

 

/>


	

<rectangle

 

id

=

""

 

static

=

"true"

 

material

=

"rock"

 

x

=

"471.1709"

 

y

=

"327.8872"

 

width

=

"224.9999"

 

height

=

"190.8896"

 

rotation

=

"-0.2093"

 

/>


	

<rectangle

 

id

=

""

 

static

=

"true"

 

material

=

"rock"

 

x

=

"-569.5461"

 

y

=

"576.9888"

 

width

=

"127.4362"

 

height

=

"393.857"

 

rotation

=

"0.2117"

 

/>


	

<rectangle

 

id

=

""

 

static

=

"true"

 

material

=

"rock"

 

x

=

"-471.137"

 

y

=

"352.4863"

 

width

=

"225.0003"

 

height

=

"186.0571"

 

rotation

=

"0.1273"

 

/>


	

<rectangle

 

id

=

""

 

static

=

"true"

 

material

=

"rock"

 

x

=

"399.9736"

 

y

=

"111.5215"

 

width

=

"347.9457"

 

height

=

"400.0015"

 

rotation

=

"-0.2346"

 

/>


	

<rectangle

 

id

=

""

 

static

=

"true"

 

material

=

"rock"

 

x

=

"-399.4385"

 

y

=

"127.019"

 

width

=

"319.659"

 

height

=

"361.0431"

 

rotation

=

"0.1076"

 

/>


	

<line

 

id

=

""

 

static

=

"true"

 

tag

=

"unwalkable"

 

material

=

"rock"

 

anchor

=

"545,800"

 

normal

=

"-1,0"

 

/>


	

<line

 

id

=

""

 

static

=

"true"

 

tag

=

"unwalkable"

 

material

=

"rock"

 

anchor

=

"46.7053,2007.9922"

 

normal

=

"0,-1"

 

/>


	

<line

 

id

=

""

 

static

=

"true"

 

tag

=

"unwalkable"

 

material

=

"rock"

 

anchor

=

"-535,800"

 

normal

=

"1,0"

 

/>


	

<line

 

id

=

""

 

static

=

"true"

 

material

=

"rock"

 

anchor

=

"6,111"

 

normal

=

"0,1"

 

/>


 
	

<!-- Dynamic Geometry -->


	

<rectangle

 

id

=

"doorLittle"

 

mass

=

"350"

 

static

=

"false"

 

tag

=

"walkable"

 

material

=

"ice"

 

image

=

"IMAGE_SCENE_FLYINGMACHINE_BARLITTLE"

 

imagepos

=

"-0.929,359.6595"

 

imagerot

=

"0.0744"

 

imagescale

=

"0.8999,1"

 

x

=

"-1.8511"

 

y

=

"360.0562"

 

width

=

"566.9276"

 

height

=

"43.1781"

 

rotation

=

"0.0702"

 

/>


	

<rectangle

 

id

=

"doorBig"

 

mass

=

"450"

 

static

=

"false"

 

tag

=

"walkable"

 

material

=

"ice"

 

image

=

"IMAGE_SCENE_FLYINGMACHINE_BARBIG"

 

imagepos

=

"6.5031,481.999"

 

imagerot

=

"-0.0251"

 

imagescale

=

"1,1"

 

x

=

"5.4761"

 

y

=

"483.2231"

 

width

=

"786.9778"

 

height

=

"45.9532"

 

rotation

=

"-0.0232"

 

/>


 
	

<!-- Geometry Constraints -->


	

<hinge

 

body1

=

"doorLittle"

 

anchor

=

"289,357"

/>


	

<hinge

 

body1

=

"doorBig"

 

anchor

=

"-383.2158203125,466.6357421875"

/>


</scene

>