Impale Sticky
The Goo Filled Hills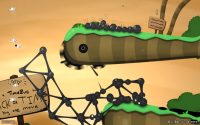 Normal: 26 balls
OCD: 42 balls
Previous level:
Hang Low
.
Next levels:
Ivy Towers
,
Flying Machine
.
if you get in trouble, just go back in time
Build up and left around to the top, while avoiding the blades.
If you do something wrong click a time bug to go back in time.
Signposts
The Goo Balls were excited to explore the mysterious pipe system...
...even if it meant traversing ridiculously contrived terrain.
One of the goo balls seemed to say he felt like an armadillo. Moo!
-love, the mysterious Sign Painter
You need Flash player 8+ and JavaScript enabled to view this video.
There is 1 video.
Balls Used
61 common (10 sleeping, 4 attached)
<level

 

ballsrequired

=

"26"

 

letterboxed

=

"false"

 

visualdebug

=

"false"

 

autobounds

=

"false"

 

textcolor

=

"255,255,255"

 

texteffects

=

"true"

 

timebugprobability

=

"0.7"

 

strandgeom

=

"true"

 

allowskip

=

"true"

 

>


 
	

<!-- Camera -->


	

<camera

 

aspect

=

"normal"

 

endpos

=

"-6,542.75"

 

endzoom

=

"0.593"

>


		

<poi

 

pos

=

"178.33,844"

 

traveltime

=

"0"

 

pause

=

"0"

 

zoom

=

"1.235"

 

/>


		

<poi

 

pos

=

"190.67,590.25"

 

traveltime

=

"2"

 

pause

=

"0"

 

zoom

=

"0.796"

 

/>


		

<poi

 

pos

=

"284.33,435"

 

traveltime

=

"2"

 

pause

=

"0"

 

zoom

=

"1"

 

/>


	</camera

>


	

<camera

 

aspect

=

"widescreen"

 

endpos

=

"0,542.75"

 

endzoom

=

"0.782"

>


		

<poi

 

pos

=

"97.73,693.15"

 

traveltime

=

"0"

 

pause

=

"0"

 

zoom

=

"1.479"

 

/>


		

<poi

 

pos

=

"26,578.01"

 

traveltime

=

"2"

 

pause

=

"0"

 

zoom

=

"0.843"

 

/>


		

<poi

 

pos

=

"126.5,375"

 

traveltime

=

"2"

 

pause

=

"0"

 

zoom

=

"1"

 

/>


	</camera

>


 
	

<!-- Music -->


	

<music

 

id

=

"SOUND_LEVEL_IMPALESTICKY_TEMP_MINIOTTBB"

 

/>


 
	

<!-- Fire -->


 
	

<!-- Signposts -->


	

<signpost

 

name

=

"signpost_brown"

 

depth

=

"-0.72"

 

x

=

"299"

 

y

=

"692.73"

 

scalex

=

"0.89"

 

scaley

=

"0.987"

 

rotation

=

"-11.09"

 

alpha

=

"1"

 

colorize

=

"255,255,255"

 

image

=

"IMAGE_SCENE_IMPALESTICKY_SIGNPOST_BROWN"

 

text

=

"SIGNPOST_IMPALESTICKY_1"

   

/>


 
	

<!-- Pipes -->


	

<pipe

 

id

=

"0"

 

depth

=

"0"

 

>


		

<Vertex

 

x

=

"177"

 

y

=

"880"

 

/>


		

<Vertex

 

x

=

"177"

 

y

=

"970"

 

/>


		

<Vertex

 

x

=

"263"

 

y

=

"970"

 

/>


		

<Vertex

 

x

=

"263"

 

y

=

"1195"

 

/>


	</pipe

>


 
	

<!-- Balls -->


	

<BallInstance

 

type

=

"common"

 

x

=

"-11"

 

y

=

"752"

 

id

=

"0"

 

discovered

=

"false"

 

angle

=

"0"

 

/>


	

<BallInstance

 

type

=

"common"

 

x

=

"-44"

 

y

=

"706"

 

id

=

"1"

 

discovered

=

"false"

 

angle

=

"0"

 

/>


	

<BallInstance

 

type

=

"common"

 

x

=

"8"

 

y

=

"706"

 

id

=

"2"

 

discovered

=

"false"

 

angle

=

"0"

 

/>


	

<BallInstance

 

type

=

"common"

 

x

=

"87.67"

 

y

=

"787.33"

 

id

=

"3"

 

discovered

=

"false"

 

angle

=

"0"

 

/>


	

<BallInstance

 

type

=

"common"

 

x

=

"49"

 

y

=

"749"

 

id

=

"4"

 

discovered

=

"false"

 

angle

=

"0"

 

/>


	

<BallInstance

 

type

=

"common"

 

x

=

"107"

 

y

=

"744"

 

id

=

"5"

 

discovered

=

"false"

 

angle

=

"0"

 

/>


	

<BallInstance

 

type

=

"common"

 

x

=

"20"

 

y

=

"792"

 

id

=

"6"

 

discovered

=

"false"

 

angle

=

"0"

 

/>


	

<BallInstance

 

type

=

"common"

 

x

=

"119"

 

y

=

"692"

 

id

=

"7"

 

discovered

=

"false"

 

angle

=

"0"

 

/>


	

<BallInstance

 

type

=

"common"

 

x

=

"70"

 

y

=

"703"

 

id

=

"8"

 

discovered

=

"false"

 

angle

=

"0"

 

/>


	

<BallInstance

 

type

=

"common"

 

x

=

"172"

 

y

=

"701"

 

id

=

"9"

 

discovered

=

"false"

 

angle

=

"0"

 

/>


	

<BallInstance

 

type

=

"common"

 

x

=

"428"

 

y

=

"304.33"

 

id

=

"10"

 

angle

=

"0"

 

/>


	

<BallInstance

 

type

=

"common"

 

x

=

"538.67"

 

y

=

"314"

 

id

=

"11"

 

angle

=

"0"

 

/>


	

<BallInstance

 

type

=

"common"

 

x

=

"421.67"

 

y

=

"499.67"

 

id

=

"12"

 

angle

=

"0"

 

/>


	

<BallInstance

 

type

=

"common"

 

x

=

"282.33"

 

y

=

"489"

 

id

=

"13"

 

angle

=

"0"

 

/>


	

<BallInstance

 

type

=

"common"

 

x

=

"469.33"

 

y

=

"468.33"

 

id

=

"14"

 

angle

=

"0"

 

/>


	

<BallInstance

 

type

=

"common"

 

x

=

"483.67"

 

y

=

"385"

 

id

=

"15"

 

angle

=

"0"

 

/>


	

<BallInstance

 

type

=

"common"

 

x

=

"481"

 

y

=

"350.33"

 

id

=

"16"

 

angle

=

"0"

 

/>


	

<BallInstance

 

type

=

"common"

 

x

=

"228.33"

 

y

=

"470.33"

 

id

=

"17"

 

angle

=

"0"

 

/>


	

<BallInstance

 

type

=

"common"

 

x

=

"347.33"

 

y

=

"324"

 

id

=

"18"

 

angle

=

"0"

 

/>


	

<BallInstance

 

type

=

"common"

 

x

=

"442"

 

y

=

"342"

 

id

=

"19"

 

angle

=

"0"

 

/>


	

<BallInstance

 

type

=

"common"

 

x

=

"390"

 

y

=

"375"

 

id

=

"20"

 

angle

=

"0"

 

/>


	

<BallInstance

 

type

=

"common"

 

x

=

"471"

 

y

=

"429"

 

id

=

"21"

 

angle

=

"0"

 

/>


	

<BallInstance

 

type

=

"common"

 

x

=

"433"

 

y

=

"453"

 

id

=

"22"

 

angle

=

"0"

 

/>


	

<BallInstance

 

type

=

"common"

 

x

=

"190.33"

 

y

=

"451"

 

id

=

"23"

 

angle

=

"0"

 

/>


	

<BallInstance

 

type

=

"common"

 

x

=

"174"

 

y

=

"410"

 

id

=

"24"

 

angle

=

"0"

 

/>


	

<BallInstance

 

type

=

"common"

 

x

=

"144"

 

y

=

"386"

 

id

=

"25"

 

angle

=

"0"

 

/>


	

<BallInstance

 

type

=

"common"

 

x

=

"258"

 

y

=

"457"

 

id

=

"26"

 

angle

=

"0"

 

/>


	

<BallInstance

 

type

=

"common"

 

x

=

"147"

 

y

=

"480"

 

id

=

"27"

 

angle

=

"0"

 

/>


	

<BallInstance

 

type

=

"common"

 

x

=

"318"

 

y

=

"370"

 

id

=

"28"

 

angle

=

"0"

 

/>


	

<BallInstance

 

type

=

"common"

 

x

=

"314"

 

y

=

"313"

 

id

=

"29"

 

angle

=

"0"

 

/>


	

<BallInstance

 

type

=

"common"

 

x

=

"274"

 

y

=

"312"

 

id

=

"30"

 

angle

=

"0"

 

/>


	

<BallInstance

 

type

=

"common"

 

x

=

"257"

 

y

=

"378"

 

id

=

"31"

 

angle

=

"0"

 

/>


	

<BallInstance

 

type

=

"common"

 

x

=

"351"

 

y

=

"367"

 

id

=

"32"

 

angle

=

"0"

 

/>


	

<BallInstance

 

type

=

"common"

 

x

=

"290"

 

y

=

"419"

 

id

=

"33"

 

angle

=

"0"

 

/>


	

<BallInstance

 

type

=

"common"

 

x

=

"289"

 

y

=

"348"

 

id

=

"34"

 

angle

=

"0"

 

/>


	

<BallInstance

 

type

=

"common"

 

x

=

"331"

 

y

=

"404"

 

id

=

"35"

 

angle

=

"0"

 

/>


	

<BallInstance

 

type

=

"common"

 

x

=

"310"

 

y

=

"453"

 

id

=

"36"

 

angle

=

"0"

 

/>


	

<BallInstance

 

type

=

"common"

 

x

=

"350.33"

 

y

=

"449.67"

 

id

=

"37"

 

angle

=

"0"

 

/>


	

<BallInstance

 

type

=

"common"

 

x

=

"344"

 

y

=

"491"

 

id

=

"38"

 

angle

=

"0"

 

/>


	

<BallInstance

 

type

=

"common"

 

x

=

"515.33"

 

y

=

"427"

 

id

=

"39"

 

angle

=

"0"

 

/>


	

<BallInstance

 

type

=

"common"

 

x

=

"414.67"

 

y

=

"419.67"

 

id

=

"40"

 

angle

=

"0"

 

/>


	

<BallInstance

 

type

=

"common"

 

x

=

"529.67"

 

y

=

"395.33"

 

id

=

"41"

 

angle

=

"0"

 

/>


	

<BallInstance

 

type

=

"common"

 

x

=

"549.67"

 

y

=

"457.67"

 

id

=

"42"

 

angle

=

"0"

 

/>


	

<BallInstance

 

type

=

"common"

 

x

=

"563.33"

 

y

=

"363.33"

 

id

=

"43"

 

angle

=

"0"

 

/>


	

<BallInstance

 

type

=

"common"

 

x

=

"476"

 

y

=

"312.33"

 

id

=

"44"

 

angle

=

"0"

 

/>


	

<BallInstance

 

type

=

"common"

 

x

=

"558.33"

 

y

=

"417.67"

 

id

=

"45"

 

angle

=

"0"

 

/>


	

<BallInstance

 

type

=

"common"

 

x

=

"511.67"

 

y

=

"473"

 

id

=

"46"

 

angle

=

"0"

 

/>


	

<BallInstance

 

type

=

"common"

 

x

=

"470.33"

 

y

=

"500.33"

 

id

=

"47"

 

angle

=

"0"

 

/>


	

<BallInstance

 

type

=

"common"

 

x

=

"519.67"

 

y

=

"359"

 

id

=

"48"

 

angle

=

"0"

 

/>


	

<BallInstance

 

type

=

"common"

 

x

=

"386"

 

y

=

"474"

 

id

=

"49"

 

angle

=

"0"

 

/>


	

<BallInstance

 

type

=

"common"

 

x

=

"376"

 

y

=

"306"

 

id

=

"50"

 

angle

=

"0"

 

/>


	

<BallInstance

 

type

=

"common"

 

x

=

"438"

 

y

=

"387"

 

id

=

"51"

 

angle

=

"0"

 

/>


	

<BallInstance

 

type

=

"common"

 

x

=

"394"

 

y

=

"331"

 

id

=

"52"

 

angle

=

"0"

 

/>


	

<BallInstance

 

type

=

"common"

 

x

=

"174.67"

 

y

=

"354.33"

 

id

=

"53"

 

angle

=

"0"

 

/>


	

<BallInstance

 

type

=

"common"

 

x

=

"375"

 

y

=

"416"

 

id

=

"54"

 

angle

=

"0"

 

/>


	

<BallInstance

 

type

=

"common"

 

x

=

"208.33"

 

y

=

"396"

 

id

=

"55"

 

angle

=

"0"

 

/>


	

<BallInstance

 

type

=

"common"

 

x

=

"508.67"

 

y

=

"294.67"

 

id

=

"56"

 

angle

=

"0"

 

/>


	

<BallInstance

 

type

=

"common"

 

x

=

"251.98"

 

y

=

"416.96"

 

id

=

"57"

 

angle

=

"0"

 

/>


	

<BallInstance

 

type

=

"common"

 

x

=

"136.34"

 

y

=

"429.77"

 

id

=

"58"

 

angle

=

"0"

 

/>


	

<BallInstance

 

type

=

"common"

 

x

=

"228.78"

 

y

=

"321.62"

 

id

=

"59"

 

angle

=

"0"

 

/>


	

<BallInstance

 

type

=

"common"

 

x

=

"129.18"

 

y

=

"338.5"

 

id

=

"60"

 

angle

=

"0"

 

/>


 
	

<!-- Arms -->


	

<Strand

 

gb1

=

"57"

 

gb2

=

"59"

 

/>


	

<Strand

 

gb1

=

"58"

 

gb2

=

"57"

 

/>


	

<Strand

 

gb1

=

"59"

 

gb2

=

"60"

 

/>


	

<Strand

 

gb1

=

"58"

 

gb2

=

"59"

 

/>


	

<Strand

 

gb1

=

"60"

 

gb2

=

"58"

 

/>


 
	

<!-- Level Exit -->


	

<levelexit

 

id

=

"theExit"

 

pos

=

"176.9970703125,880"

 

radius

=

"75"

 

filter

=

""

 

>


	</levelexit

>


 
</level

>
<scene

 

minx

=

"-700"

 

miny

=

"0"

 

maxx

=

"700"

 

maxy

=

"1100"

 

backgroundcolor

=

"0,0,0"

 

>


 
	

<!-- ForceFields -->


	

<linearforcefield

 

id

=

"helperForce"

 

type

=

"gravity"

 

center

=

"-487,587"

 

width

=

"744"

 

height

=

"1440"

 

force

=

"2,2"

 

dampeningfactor

=

"0"

 

antigrav

=

"true"

 

geomonly

=

"false"

 

enabled

=

"true"

 

water

=

"false"

 

/>


	

<linearforcefield

 

id

=

"goop"

 

type

=

"gravity"

 

center

=

"-292.3948,35.6846"

 

width

=

"857.9575"

 

height

=

"159.4922"

 

force

=

"0,28"

 

dampeningfactor

=

"0.5"

 

antigrav

=

"true"

 

geomonly

=

"false"

 

enabled

=

"true"

 

water

=

"true"

 

color

=

"219,0,0,0"

 

/>


	

<linearforcefield

 

type

=

"gravity"

 

force

=

"1.5,-10"

 

dampeningfactor

=

"0"

 

antigrav

=

"true"

 

geomonly

=

"false"

 

/>


 
	

<!-- Particles -->


	

<particles

 

effect

=

"breezeRight"

 

depth

=

"160"

 

pretick

=

"0"

 

/>


	

<particles

 

effect

=

"gooSplatter"

 

depth

=

"-8"

 

pos

=

"-85.40625,525.91015625"

 

pretick

=

"0"

 

/>


 
	

<!-- SceneLayers -->


	

<SceneLayer

 

name

=

"bush_fg1a"

 

depth

=

"160"

 

x

=

"-248.49"

 

y

=

"42.79"

 

scalex

=

"2.189"

 

scaley

=

"2.083"

 

rotation

=

"-1.74"

 

alpha

=

"1"

 

colorize

=

"255,255,255"

 

image

=

"IMAGE_SCENE_IMPALESTICKY_BUSH_FG1A"

   

/>


	

<SceneLayer

 

name

=

"bush_fg1a"

 

depth

=

"0.8"

 

x

=

"-683.6"

 

y

=

"89.34"

 

scalex

=

"1.65"

 

scaley

=

"1.571"

 

rotation

=

"-78.35"

 

alpha

=

"1"

 

colorize

=

"255,255,255"

 

image

=

"IMAGE_SCENE_IMPALESTICKY_BUSH_FG1A"

   

/>


	

<SceneLayer

 

name

=

"bush_fg1a"

 

depth

=

"0.8"

 

x

=

"139.93"

 

y

=

"20.25"

 

scalex

=

"1.65"

 

scaley

=

"1.571"

 

rotation

=

"-12.25"

 

alpha

=

"1"

 

colorize

=

"255,255,255"

 

image

=

"IMAGE_SCENE_IMPALESTICKY_BUSH_FG1A"

   

/>


	

<SceneLayer

 

name

=

"bush_fg1a"

 

depth

=

"80"

 

x

=

"357.41"

 

y

=

"18.75"

 

scalex

=

"1.863"

 

scaley

=

"1.863"

 

rotation

=

"-1.26"

 

alpha

=

"1"

 

colorize

=

"255,255,255"

 

image

=

"IMAGE_SCENE_IMPALESTICKY_BUSH_FG1A"

   

/>


	

<SceneLayer

 

name

=

"bush_fg1a"

 

depth

=

"80"

 

x

=

"624.45"

 

y

=

"54.68"

 

scalex

=

"1.863"

 

scaley

=

"1.863"

 

rotation

=

"26.86"

 

alpha

=

"1"

 

colorize

=

"255,255,255"

 

image

=

"IMAGE_SCENE_IMPALESTICKY_BUSH_FG1A"

   

/>


	

<SceneLayer

 

name

=

"tree_stripe1"

 

depth

=

"80"

 

x

=

"-589.01"

 

y

=

"907.72"

 

scalex

=

"1.02"

 

scaley

=

"1.38"

 

rotation

=

"145.13"

 

alpha

=

"1"

 

colorize

=

"255,255,255"

 

image

=

"IMAGE_SCENE_IMPALESTICKY_TREE_STRIPE1"

   

/>


	

<SceneLayer

 

name

=

"tree_stripe1"

 

depth

=

"80"

 

x

=

"-623.52"

 

y

=

"220.83"

 

scalex

=

"1.02"

 

scaley

=

"1.38"

 

rotation

=

"-153.26"

 

alpha

=

"1"

 

colorize

=

"255,255,255"

 

image

=

"IMAGE_SCENE_IMPALESTICKY_TREE_STRIPE1"

   

/>


	

<SceneLayer

 

name

=

"screw1"

 

depth

=

"8"

 

x

=

"-53.97"

 

y

=

"573.92"

 

scalex

=

"0.636"

 

scaley

=

"0.636"

 

rotation

=

"0"

 

alpha

=

"1"

 

colorize

=

"255,255,255"

 

image

=

"IMAGE_SCENE_IMPALESTICKY_SCREW1"

 

anim

=

"rot_1rps"

 

animspeed

=

"0.1"

   

/>


	

<SceneLayer

 

name

=

"main_top"

 

depth

=

"0"

 

x

=

"564.04"

 

y

=

"895.93"

 

scalex

=

"1"

 

scaley

=

"1.005"

 

rotation

=

"0"

 

alpha

=

"1"

 

colorize

=

"255,255,255"

 

image

=

"IMAGE_SCENE_IMPALESTICKY_MAIN_TOP"

   

/>


	

<SceneLayer

 

name

=

"main_mid"

 

depth

=

"0"

 

x

=

"275.54"

 

y

=

"592.94"

 

scalex

=

"1"

 

scaley

=

"1.005"

 

rotation

=

"0"

 

alpha

=

"1"

 

colorize

=

"255,255,255"

 

image

=

"IMAGE_SCENE_IMPALESTICKY_MAIN_MID"

   

/>


	

<SceneLayer

 

name

=

"main_bottom"

 

depth

=

"0"

 

x

=

"360.04"

 

y

=

"246.43"

 

scalex

=

"1.002"

 

scaley

=

"1.004"

 

rotation

=

"0"

 

alpha

=

"1"

 

colorize

=

"255,255,255"

 

image

=

"IMAGE_SCENE_IMPALESTICKY_MAIN_BOTTOM"

   

/>


	

<SceneLayer

 

name

=

"signpostPole_brown"

 

depth

=

"-0.8"

 

x

=

"296.47"

 

y

=

"670.48"

 

scalex

=

"1"

 

scaley

=

"1.105"

 

rotation

=

"-8.97"

 

alpha

=

"1"

 

colorize

=

"255,255,255"

 

image

=

"IMAGE_SCENE_IMPALESTICKY_SIGNPOSTPOLE_BROWN"

   

/>


	

<SceneLayer

 

name

=

"gear1blur"

 

depth

=

"-8"

 

x

=

"14"

 

y

=

"533"

 

scalex

=

"0.523"

 

scaley

=

"0.523"

 

rotation

=

"0"

 

alpha

=

"1"

 

colorize

=

"0,0,0"

 

image

=

"IMAGE_SCENE_IMPALESTICKY_GEAR1BLUR"

 

anim

=

"rot_1rps"

 

animspeed

=

"-1"

   

/>


	

<SceneLayer

 

name

=

"gear1blur"

 

depth

=

"-8"

 

x

=

"-84.5"

 

y

=

"557.5"

 

scalex

=

"0.779"

 

scaley

=

"0.779"

 

rotation

=

"0"

 

alpha

=

"1"

 

colorize

=

"0,0,0"

 

image

=

"IMAGE_SCENE_IMPALESTICKY_GEAR1BLUR"

 

anim

=

"rot_1rps"

 

animspeed

=

"0.7"

   

/>


	

<SceneLayer

 

name

=

"bush_fg1a"

 

depth

=

"-40"

 

x

=

"-310.79"

 

y

=

"47.07"

 

scalex

=

"1.605"

 

scaley

=

"1.527"

 

rotation

=

"7.08"

 

alpha

=

"1"

 

colorize

=

"255,255,255"

 

image

=

"IMAGE_SCENE_IMPALESTICKY_BUSH_FG1A"

   

/>


	

<SceneLayer

 

name

=

"bush_fg1a"

 

depth

=

"-80"

 

x

=

"-377.25"

 

y

=

"107.75"

 

scalex

=

"1.138"

 

scaley

=

"1.083"

 

rotation

=

"42.47"

 

alpha

=

"1"

 

colorize

=

"255,255,255"

 

image

=

"IMAGE_SCENE_IMPALESTICKY_BUSH_FG1A"

   

/>


	

<SceneLayer

 

name

=

"tutorialSign"

 

depth

=

"-88"

 

x

=

"-391.53"

 

y

=

"244.51"

 

scalex

=

"1"

 

scaley

=

"1"

 

rotation

=

"15.06"

 

alpha

=

"1"

 

colorize

=

"255,255,255"

 

image

=

"IMAGE_SCENE_IMPALESTICKY_TUTORIALSIGN"

   

/>


	

<SceneLayer

 

name

=

"tree_stripe1"

 

depth

=

"-80"

 

x

=

"493.54"

 

y

=

"800.82"

 

scalex

=

"1.02"

 

scaley

=

"1.023"

 

rotation

=

"-37.36"

 

alpha

=

"1"

 

colorize

=

"255,255,255"

 

image

=

"IMAGE_SCENE_IMPALESTICKY_TREE_STRIPE1"

   

/>


	

<SceneLayer

 

name

=

"tree_stripe1"

 

depth

=

"-80"

 

x

=

"417.54"

 

y

=

"866.3"

 

scalex

=

"1.02"

 

scaley

=

"1.219"

 

rotation

=

"-21.14"

 

alpha

=

"1"

 

colorize

=

"255,255,255"

 

image

=

"IMAGE_SCENE_IMPALESTICKY_TREE_STRIPE1"

   

/>


	

<SceneLayer

 

name

=

"bush_leafy_1"

 

depth

=

"-88"

 

x

=

"35.01"

 

y

=

"658.73"

 

scalex

=

"1.002"

 

scaley

=

"1.018"

 

rotation

=

"6.08"

 

alpha

=

"1"

 

colorize

=

"255,255,255"

 

image

=

"IMAGE_SCENE_IMPALESTICKY_BUSH_LEAFY_1"

   

/>


	

<SceneLayer

 

name

=

"bush_leafy_1"

 

depth

=

"-88"

 

x

=

"526.79"

 

y

=

"301.68"

 

scalex

=

"0.913"

 

scaley

=

"0.928"

 

rotation

=

"26.94"

 

alpha

=

"1"

 

colorize

=

"255,255,255"

 

image

=

"IMAGE_SCENE_IMPALESTICKY_BUSH_LEAFY_1"

   

/>


	

<SceneLayer

 

name

=

"bush_leafy_1"

 

depth

=

"-88"

 

x

=

"585.8"

 

y

=

"722.85"

 

scalex

=

"1.023"

 

scaley

=

"1.061"

 

rotation

=

"59.92"

 

alpha

=

"1"

 

colorize

=

"255,255,255"

 

image

=

"IMAGE_SCENE_IMPALESTICKY_BUSH_LEAFY_1"

   

/>


	

<SceneLayer

 

name

=

"bg_hills_bleeding"

 

depth

=

"-400"

 

x

=

"-131.95"

 

y

=

"76.52"

 

scalex

=

"2.559"

 

scaley

=

"2.414"

 

rotation

=

"0"

 

alpha

=

"1"

 

colorize

=

"255,255,255"

 

image

=

"IMAGE_SCENE_IMPALESTICKY_BG_HILLS_BLEEDING"

   

/>


	

<SceneLayer

 

name

=

"sky_pissyellowstripes"

 

depth

=

"-560"

 

x

=

"-115.96"

 

y

=

"550.96"

 

scalex

=

"6.131"

 

scaley

=

"4.152"

 

rotation

=

"0"

 

alpha

=

"1"

 

colorize

=

"255,255,255"

 

image

=

"IMAGE_SCENE_IMPALESTICKY_SKY_PISSYELLOWSTRIPES"

   

/>


 
	

<!-- Buttons -->


 
	

<!-- Labels -->


 
	

<!-- Static Geometry -->


	

<circle

 

id

=

"killgear2"

 

static

=

"true"

 

tag

=

"deadly"

 

material

=

"rock"

 

x

=

"13"

 

y

=

"533"

 

radius

=

"50"

 

/>


	

<circle

 

id

=

"killgear1"

 

static

=

"true"

 

tag

=

"deadly"

 

material

=

"rock"

 

x

=

"-87"

 

y

=

"555"

 

radius

=

"74"

 

/>


	

<compositegeom

 

id

=

"pltfrm2"

 

x

=

"194.198"

 

y

=

"585.0007"

 

rotation

=

"0"

 

static

=

"true"

 

tag

=

"walkable"

 

material

=

"verysticky"

 

>


		

<circle

 

id

=

""

 

x

=

"-255.1987"

 

y

=

"0"

 

radius

=

"87.9998"

 

/>


		

<rectangle

 

id

=

""

 

x

=

"20.3672"

 

y

=

"-28.6985"

 

width

=

"577.6624"

 

height

=

"79.5486"

 

rotation

=

"0.0602"

 

/>


		

<rectangle

 

id

=

""

 

x

=

"42.603"

 

y

=

"19.1956"

 

width

=

"596.1883"

 

height

=

"82.6815"

 

rotation

=

"-0.0894"

 

/>


	</compositegeom

>


	

<compositegeom

 

id

=

"pltfrm1"

 

x

=

"397.4556"

 

y

=

"117.2837"

 

rotation

=

"0"

 

static

=

"true"

 

tag

=

"walkable"

 

material

=

"verysticky"

 

>


		

<circle

 

id

=

""

 

x

=

"-270.123"

 

y

=

"113.7168"

 

radius

=

"90.6665"

 

/>


		

<rectangle

 

id

=

""

 

x

=

"-258.6426"

 

y

=

"15.3809"

 

width

=

"59.7103"

 

height

=

"96.1929"

 

rotation

=

"0.4569"

 

/>


		

<rectangle

 

id

=

""

 

x

=

"24.0142"

 

y

=

"-81.8809"

 

width

=

"604.2948"

 

height

=

"214.6793"

 

rotation

=

"-0.0507"

 

/>


		

<rectangle

 

id

=

""

 

x

=

"47.2671"

 

y

=

"65.6343"

 

width

=

"607.9517"

 

height

=

"167.9258"

 

rotation

=

"-0.1615"

 

/>


	</compositegeom

>


	

<rectangle

 

id

=

"stopsign"

 

static

=

"true"

 

tag

=

"stopsign"

 

material

=

"rock"

 

x

=

"-121.1665"

 

y

=

"755.3335"

 

width

=

"47"

 

height

=

"296"

 

rotation

=

"0"

 

/>


	

<rectangle

 

id

=

"stopsign"

 

static

=

"true"

 

tag

=

"stopsign"

 

material

=

"rock"

 

x

=

"61.834"

 

y

=

"395.333"

 

width

=

"47"

 

height

=

"296"

 

rotation

=

"0"

 

/>


	

<rectangle

 

id

=

""

 

static

=

"true"

 

material

=

"rock"

 

x

=

"584.4458"

 

y

=

"523.0435"

 

width

=

"98.9996"

 

height

=

"189.2668"

 

rotation

=

"0.8684"

 

/>


	

<rectangle

 

id

=

""

 

static

=

"true"

 

material

=

"rock"

 

x

=

"598.0508"

 

y

=

"266.7871"

 

width

=

"98.9997"

 

height

=

"134.5638"

 

rotation

=

"-0.7818"

 

/>


	

<rectangle

 

id

=

""

 

static

=

"true"

 

material

=

"rock"

 

x

=

"634.5811"

 

y

=

"723.0562"

 

width

=

"57.7504"

 

height

=

"144.8383"

 

rotation

=

"-0.4851"

 

/>


	

<rectangle

 

id

=

""

 

static

=

"true"

 

material

=

"rock"

 

x

=

"608.6299"

 

y

=

"649.833"

 

width

=

"98.9991"

 

height

=

"248.2897"

 

rotation

=

"-0.9352"

 

/>


	

<rectangle

 

id

=

""

 

static

=

"true"

 

material

=

"rock"

 

x

=

"558.4102"

 

y

=

"1028.4448"

 

width

=

"120.9997"

 

height

=

"833.2956"

 

rotation

=

"0.5559"

 

/>


	

<rectangle

 

id

=

""

 

static

=

"true"

 

material

=

"rock"

 

x

=

"656.4902"

 

y

=

"441.4968"

 

width

=

"121"

 

height

=

"442.3335"

 

rotation

=

"0"

 

/>


	

<line

 

id

=

"bound bottom"

 

static

=

"true"

 

tag

=

"detaching"

 

material

=

"rock"

 

anchor

=

"-25.4092,-31.0635"

 

normal

=

"-0.0018,1"

 

/>


	

<line

 

id

=

"bound right"

 

static

=

"true"

 

tag

=

"detaching"

 

material

=

"rock"

 

anchor

=

"626.9453,672.0483"

 

normal

=

"-0.9885,-0.151"

 

/>


	

<line

 

id

=

"bound left"

 

static

=

"true"

 

tag

=

"detaching"

 

material

=

"rock"

 

anchor

=

"-712.377,580.9084"

 

normal

=

"1,0"

 

/>


 
	

<!-- Dynamic Geometry -->


 
	

<!-- Geometry Constraints -->


</scene

>