Small Divide
The Goo Filled Hills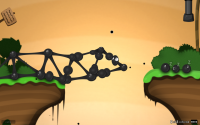 Normal: 8 balls
OCD: 16 balls
Previous level:
Going Up
.
Next level:
Hang Low
.
easier than it looks
Build a bridge across a ravine. If you have lived long enough to realize that air will not support objects with any significant weight, this level should be a piece of cake.
Signposts
From across a small divide, another mysterious pipe appeared up in the sky.
Its opening looked warm and inviting...
The Goo Balls seemed to wonder where it might lead.
-the Sign Painter
How did I get up here?!
-the adventurous Sign Painter
You need Flash player 8+ and JavaScript enabled to view this video.
There is 1 video.
Balls Used
29 common (3 sleeping, 5 attached)
<level

 

ballsrequired

=

"8"

 

letterboxed

=

"false"

 

visualdebug

=

"false"

 

autobounds

=

"false"

 

textcolor

=

"255,255,255"

 

texteffects

=

"true"

 

timebugprobability

=

"0"

 

strandgeom

=

"true"

 

allowskip

=

"true"

 

>


 
	

<!-- Camera -->


	

<camera

 

aspect

=

"normal"

 

endpos

=

"3.34,428.79"

 

endzoom

=

"0.705"

>


		

<poi

 

pos

=

"255.5,437.54"

 

traveltime

=

"0"

 

pause

=

"0.7"

 

zoom

=

"1.185"

 

/>


		

<poi

 

pos

=

"-7.08,376.91"

 

traveltime

=

"2"

 

pause

=

"0"

 

zoom

=

"0.812"

 

/>


		

<poi

 

pos

=

"-193,363"

 

traveltime

=

"2"

 

pause

=

"0"

 

zoom

=

"1"

 

/>


	</camera

>


	

<camera

 

aspect

=

"widescreen"

 

endpos

=

"-1.41,431.46"

 

endzoom

=

"0.926"

>


		

<poi

 

pos

=

"292.94,325.67"

 

traveltime

=

"0"

 

pause

=

"0.7"

 

zoom

=

"1.783"

 

/>


		

<poi

 

pos

=

"10.99,420.78"

 

traveltime

=

"2"

 

pause

=

"0"

 

zoom

=

"0.934"

 

/>


		

<poi

 

pos

=

"-129.43,375.15"

 

traveltime

=

"2"

 

pause

=

"0"

 

zoom

=

"1.163"

 

/>


	</camera

>


 
	

<!-- Music -->


	

<music

 

id

=

"SOUND_LEVEL_ECONOMICDIVIDE_TEMP_DWTD2"

 

/>


 
	

<!-- Fire -->


 
	

<!-- Signposts -->


	

<signpost

 

name

=

"signpost_brown"

 

depth

=

"-63.2"

 

x

=

"462.81"

 

y

=

"917.91"

 

scalex

=

"0.748"

 

scaley

=

"0.748"

 

rotation

=

"50.94"

 

alpha

=

"1"

 

colorize

=

"255,255,255"

 

image

=

"IMAGE_SCENE_ECONOMICDIVIDE_SIGNPOST_BROWN"

 

text

=

"SIGNPOST_ECONOMICDIVIDE_2"

   

/>


	

<signpost

 

name

=

"signpost_brown"

 

depth

=

"-63.2"

 

x

=

"-395.3"

 

y

=

"534.44"

 

scalex

=

"0.89"

 

scaley

=

"0.987"

 

rotation

=

"-58.57"

 

alpha

=

"1"

 

colorize

=

"255,255,255"

 

image

=

"IMAGE_SCENE_ECONOMICDIVIDE_SIGNPOST_BROWN"

 

text

=

"SIGNPOST_ECONOMICDIVIDE_1"

   

/>


 
	

<!-- Pipes -->


	

<pipe

 

id

=

"0"

 

depth

=

"0"

 

>


		

<Vertex

 

x

=

"376"

 

y

=

"502"

 

/>


		

<Vertex

 

x

=

"376"

 

y

=

"610"

 

/>


		

<Vertex

 

x

=

"502"

 

y

=

"610"

 

/>


		

<Vertex

 

x

=

"502"

 

y

=

"542"

 

/>


		

<Vertex

 

x

=

"607"

 

y

=

"542"

 

/>


	</pipe

>


 
	

<!-- Balls -->


	

<BallInstance

 

type

=

"common"

 

x

=

"322.26"

 

y

=

"320.84"

 

id

=

"0"

 

discovered

=

"false"

 

angle

=

"0"

 

/>


	

<BallInstance

 

type

=

"common"

 

x

=

"279.26"

 

y

=

"320.84"

 

id

=

"1"

 

discovered

=

"false"

 

angle

=

"0"

 

/>


	

<BallInstance

 

type

=

"common"

 

x

=

"366.26"

 

y

=

"316.84"

 

id

=

"2"

 

discovered

=

"false"

 

angle

=

"0"

 

/>


	

<BallInstance

 

type

=

"common"

 

x

=

"-232.63"

 

y

=

"284.03"

 

id

=

"3"

 

angle

=

"0"

 

/>


	

<BallInstance

 

type

=

"common"

 

x

=

"-341.64"

 

y

=

"279.34"

 

id

=

"4"

 

angle

=

"0"

 

/>


	

<BallInstance

 

type

=

"common"

 

x

=

"-354.38"

 

y

=

"372.38"

 

id

=

"5"

 

angle

=

"0"

 

/>


	

<BallInstance

 

type

=

"common"

 

x

=

"-217.39"

 

y

=

"368.99"

 

id

=

"6"

 

angle

=

"0"

 

/>


	

<BallInstance

 

type

=

"common"

 

x

=

"-459.69"

 

y

=

"262.68"

 

id

=

"7"

 

angle

=

"0"

 

/>


	

<BallInstance

 

type

=

"common"

 

x

=

"-507"

 

y

=

"286"

 

id

=

"8"

 

angle

=

"0"

 

/>


	

<BallInstance

 

type

=

"common"

 

x

=

"-571"

 

y

=

"314"

 

id

=

"9"

 

angle

=

"0"

 

/>


	

<BallInstance

 

type

=

"common"

 

x

=

"-512"

 

y

=

"330"

 

id

=

"10"

 

angle

=

"0"

 

/>


	

<BallInstance

 

type

=

"common"

 

x

=

"-501"

 

y

=

"456"

 

id

=

"11"

 

angle

=

"0"

 

/>


	

<BallInstance

 

type

=

"common"

 

x

=

"-566"

 

y

=

"267"

 

id

=

"12"

 

angle

=

"0"

 

/>


	

<BallInstance

 

type

=

"common"

 

x

=

"-540"

 

y

=

"434"

 

id

=

"13"

 

angle

=

"0"

 

/>


	

<BallInstance

 

type

=

"common"

 

x

=

"-385.65"

 

y

=

"304.33"

 

id

=

"14"

 

angle

=

"0"

 

/>


	

<BallInstance

 

type

=

"common"

 

x

=

"-479.73"

 

y

=

"339.28"

 

id

=

"15"

 

angle

=

"0"

 

/>


	

<BallInstance

 

type

=

"common"

 

x

=

"-417.3"

 

y

=

"400.56"

 

id

=

"16"

 

angle

=

"0"

 

/>


	

<BallInstance

 

type

=

"common"

 

x

=

"-438.74"

 

y

=

"636.84"

 

id

=

"17"

 

angle

=

"0"

 

/>


	

<BallInstance

 

type

=

"common"

 

x

=

"-489.74"

 

y

=

"605.84"

 

id

=

"18"

 

angle

=

"0"

 

/>


	

<BallInstance

 

type

=

"common"

 

x

=

"-530.74"

 

y

=

"535.84"

 

id

=

"19"

 

angle

=

"0"

 

/>


	

<BallInstance

 

type

=

"common"

 

x

=

"-329.74"

 

y

=

"411.84"

 

id

=

"20"

 

angle

=

"0"

 

/>


	

<BallInstance

 

type

=

"common"

 

x

=

"-545"

 

y

=

"337"

 

id

=

"21"

 

angle

=

"0"

 

/>


	

<BallInstance

 

type

=

"common"

 

x

=

"-444"

 

y

=

"447"

 

id

=

"22"

 

angle

=

"0"

 

/>


	

<BallInstance

 

type

=

"common"

 

x

=

"-413.88"

 

y

=

"361.78"

 

id

=

"23"

 

angle

=

"0"

 

/>


	

<BallInstance

 

type

=

"common"

 

x

=

"-459"

 

y

=

"394.01"

 

id

=

"24"

 

angle

=

"0"

 

/>


	

<BallInstance

 

type

=

"common"

 

x

=

"-511.5"

 

y

=

"392.51"

 

id

=

"25"

 

angle

=

"0"

 

/>


	

<BallInstance

 

type

=

"common"

 

x

=

"-376.94"

 

y

=

"421.05"

 

id

=

"26"

 

angle

=

"0"

 

/>


	

<BallInstance

 

type

=

"common"

 

x

=

"-276.45"

 

y

=

"346.16"

 

id

=

"27"

 

angle

=

"0"

 

/>


	

<BallInstance

 

type

=

"common"

 

x

=

"-568"

 

y

=

"375"

 

id

=

"28"

 

angle

=

"0"

 

/>


 
	

<!-- Arms -->


	

<Strand

 

gb1

=

"5"

 

gb2

=

"3"

 

/>


	

<Strand

 

gb1

=

"5"

 

gb2

=

"6"

 

/>


	

<Strand

 

gb1

=

"6"

 

gb2

=

"3"

 

/>


	

<Strand

 

gb1

=

"5"

 

gb2

=

"4"

 

/>


	

<Strand

 

gb1

=

"5"

 

gb2

=

"7"

 

/>


	

<Strand

 

gb1

=

"7"

 

gb2

=

"4"

 

/>


	

<Strand

 

gb1

=

"4"

 

gb2

=

"3"

 

/>


 
	

<!-- Level Exit -->


	

<levelexit

 

id

=

"theExit"

 

pos

=

"375.98828125,502.00048828125"

 

radius

=

"75"

 

filter

=

""

 

>


	</levelexit

>


 
</level

>
<scene

 

minx

=

"-600"

 

miny

=

"0"

 

maxx

=

"600"

 

maxy

=

"1000"

 

backgroundcolor

=

"0,0,0"

 

>


 
	

<!-- ForceFields -->


	

<linearforcefield

 

type

=

"gravity"

 

force

=

"0,-10"

 

dampeningfactor

=

"0"

 

antigrav

=

"true"

 

geomonly

=

"false"

 

/>


 
	

<!-- Particles -->


	

<particles

 

effect

=

"blackBallsRising"

 

depth

=

"400"

 

pos

=

"123.94580078125,1118.494140625"

 

pretick

=

"0"

 

/>


 
	

<!-- SceneLayers -->


	

<SceneLayer

 

name

=

"bush_fg1a"

 

depth

=

"200"

 

x

=

"468"

 

y

=

"116.9"

 

scalex

=

"1.432"

 

scaley

=

"1.432"

 

rotation

=

"0"

 

alpha

=

"1"

 

colorize

=

"255,255,255"

 

image

=

"IMAGE_SCENE_ECONOMICDIVIDE_BUSH_FG1A"

   

/>


	

<SceneLayer

 

name

=

"bush_fg1a"

 

depth

=

"200"

 

x

=

"-444.65"

 

y

=

"107.75"

 

scalex

=

"1.432"

 

scaley

=

"1.432"

 

rotation

=

"0"

 

alpha

=

"1"

 

colorize

=

"255,255,255"

 

image

=

"IMAGE_SCENE_ECONOMICDIVIDE_BUSH_FG1A"

   

/>


	

<SceneLayer

 

name

=

"tree_stripe1"

 

depth

=

"80"

 

x

=

"485.55"

 

y

=

"155.96"

 

scalex

=

"0.615"

 

scaley

=

"1.02"

 

rotation

=

"-32.98"

 

alpha

=

"1"

 

colorize

=

"255,255,255"

 

image

=

"IMAGE_SCENE_ECONOMICDIVIDE_TREE_STRIPE1"

   

/>


	

<SceneLayer

 

name

=

"tree_stripe1"

 

depth

=

"80"

 

x

=

"-466.43"

 

y

=

"150.96"

 

scalex

=

"0.615"

 

scaley

=

"1.02"

 

rotation

=

"-142.78"

 

alpha

=

"1"

 

colorize

=

"255,255,255"

 

image

=

"IMAGE_SCENE_ECONOMICDIVIDE_TREE_STRIPE1"

   

/>


	

<SceneLayer

 

name

=

"bush_fg1a"

 

depth

=

"80"

 

x

=

"381.35"

 

y

=

"27.75"

 

scalex

=

"1.432"

 

scaley

=

"1.432"

 

rotation

=

"0"

 

alpha

=

"1"

 

colorize

=

"255,255,255"

 

image

=

"IMAGE_SCENE_ECONOMICDIVIDE_BUSH_FG1A"

   

/>


	

<SceneLayer

 

name

=

"bush_fg1a"

 

depth

=

"80"

 

x

=

"560.22"

 

y

=

"261.25"

 

scalex

=

"1.008"

 

scaley

=

"1.008"

 

rotation

=

"85.76"

 

alpha

=

"1"

 

colorize

=

"255,255,255"

 

image

=

"IMAGE_SCENE_ECONOMICDIVIDE_BUSH_FG1A"

   

/>


	

<SceneLayer

 

name

=

"bush_fg1a"

 

depth

=

"80"

 

x

=

"-589.79"

 

y

=

"171.23"

 

scalex

=

"1.008"

 

scaley

=

"1.008"

 

rotation

=

"-71.65"

 

alpha

=

"1"

 

colorize

=

"255,255,255"

 

image

=

"IMAGE_SCENE_ECONOMICDIVIDE_BUSH_FG1A"

   

/>


	

<SceneLayer

 

name

=

"bush_fg1a"

 

depth

=

"80"

 

x

=

"-315.65"

 

y

=

"39.75"

 

scalex

=

"1.432"

 

scaley

=

"1.432"

 

rotation

=

"0"

 

alpha

=

"1"

 

colorize

=

"255,255,255"

 

image

=

"IMAGE_SCENE_ECONOMICDIVIDE_BUSH_FG1A"

   

/>


	

<SceneLayer

 

name

=

"cliff_left"

 

depth

=

"0"

 

x

=

"-366.46"

 

y

=

"138.96"

 

scalex

=

"1"

 

scaley

=

"1"

 

rotation

=

"0"

 

alpha

=

"1"

 

colorize

=

"255,255,255"

 

image

=

"IMAGE_SCENE_ECONOMICDIVIDE_CLIFF_LEFT"

   

/>


	

<SceneLayer

 

name

=

"cliff_right"

 

depth

=

"0"

 

x

=

"394.04"

 

y

=

"153.46"

 

scalex

=

"1"

 

scaley

=

"1"

 

rotation

=

"0"

 

alpha

=

"1"

 

colorize

=

"255,255,255"

 

image

=

"IMAGE_SCENE_ECONOMICDIVIDE_CLIFF_RIGHT"

   

/>


	

<SceneLayer

 

name

=

"bush_leafy_1"

 

depth

=

"-48"

 

x

=

"446.68"

 

y

=

"300.92"

 

scalex

=

"1.247"

 

scaley

=

"1.254"

 

rotation

=

"-7.44"

 

alpha

=

"1"

 

colorize

=

"255,255,255"

 

image

=

"IMAGE_SCENE_ECONOMICDIVIDE_BUSH_LEAFY_1"

   

/>


	

<SceneLayer

 

name

=

"bush_leafy_1"

 

depth

=

"-48"

 

x

=

"-460.11"

 

y

=

"284.79"

 

scalex

=

"1.25"

 

scaley

=

"1.248"

 

rotation

=

"7.48"

 

alpha

=

"1"

 

colorize

=

"255,255,255"

 

image

=

"IMAGE_SCENE_ECONOMICDIVIDE_BUSH_LEAFY_1"

   

/>


	

<SceneLayer

 

name

=

"signpostPole_brown"

 

depth

=

"-63.28"

 

x

=

"472.88"

 

y

=

"913.7"

 

scalex

=

"0.904"

 

scaley

=

"0.723"

 

rotation

=

"53.52"

 

alpha

=

"1"

 

colorize

=

"255,255,255"

 

image

=

"IMAGE_SCENE_ECONOMICDIVIDE_SIGNPOSTPOLE_BROWN"

   

/>


	

<SceneLayer

 

name

=

"signpostPole_brown"

 

depth

=

"-63.28"

 

x

=

"-412"

 

y

=

"528.99"

 

scalex

=

"1"

 

scaley

=

"1"

 

rotation

=

"-56.46"

 

alpha

=

"1"

 

colorize

=

"255,255,255"

 

image

=

"IMAGE_SCENE_ECONOMICDIVIDE_SIGNPOSTPOLE_BROWN"

   

/>


	

<SceneLayer

 

name

=

"tree_stripe1"

 

depth

=

"-64"

 

x

=

"523.88"

 

y

=

"565.46"

 

scalex

=

"0.615"

 

scaley

=

"1.385"

 

rotation

=

"-17.21"

 

alpha

=

"1"

 

colorize

=

"255,255,255"

 

image

=

"IMAGE_SCENE_ECONOMICDIVIDE_TREE_STRIPE1"

   

/>


	

<SceneLayer

 

name

=

"tree_stripe1"

 

depth

=

"-64"

 

x

=

"469.09"

 

y

=

"617.48"

 

scalex

=

"0.615"

 

scaley

=

"1.595"

 

rotation

=

"-5.48"

 

alpha

=

"1"

 

colorize

=

"255,255,255"

 

image

=

"IMAGE_SCENE_ECONOMICDIVIDE_TREE_STRIPE1"

   

/>


	

<SceneLayer

 

name

=

"tree_stripe1"

 

depth

=

"-64"

 

x

=

"-426.4"

 

y

=

"626.21"

 

scalex

=

"0.615"

 

scaley

=

"1.592"

 

rotation

=

"-3.93"

 

alpha

=

"1"

 

colorize

=

"255,255,255"

 

image

=

"IMAGE_SCENE_ECONOMICDIVIDE_TREE_STRIPE1"

   

/>


	

<SceneLayer

 

name

=

"tree_stripe1"

 

depth

=

"-64"

 

x

=

"-492.17"

 

y

=

"615.2"

 

scalex

=

"0.615"

 

scaley

=

"1.592"

 

rotation

=

"3.42"

 

alpha

=

"1"

 

colorize

=

"255,255,255"

 

image

=

"IMAGE_SCENE_ECONOMICDIVIDE_TREE_STRIPE1"

   

/>


	

<SceneLayer

 

name

=

"bush_leafy_1b"

 

depth

=

"-80"

 

x

=

"504.83"

 

y

=

"329.76"

 

scalex

=

"0.992"

 

scaley

=

"1.002"

 

rotation

=

"-12.09"

 

alpha

=

"1"

 

colorize

=

"255,255,255"

 

image

=

"IMAGE_SCENE_ECONOMICDIVIDE_BUSH_LEAFY_1B"

   

/>


	

<SceneLayer

 

name

=

"bush_leafy_1b"

 

depth

=

"-80"

 

x

=

"-472.83"

 

y

=

"328.29"

 

scalex

=

"1.069"

 

scaley

=

"1.069"

 

rotation

=

"3.83"

 

alpha

=

"1"

 

colorize

=

"255,255,255"

 

image

=

"IMAGE_SCENE_ECONOMICDIVIDE_BUSH_LEAFY_1B"

   

/>


	

<SceneLayer

 

name

=

"tree_sil_1"

 

depth

=

"-144"

 

x

=

"646.6"

 

y

=

"368.91"

 

scalex

=

"1.014"

 

scaley

=

"1.016"

 

rotation

=

"-17.74"

 

alpha

=

"1"

 

colorize

=

"255,255,255"

 

image

=

"IMAGE_SCENE_ECONOMICDIVIDE_TREE_SIL_1"

   

/>


	

<SceneLayer

 

name

=

"tree_sil_1"

 

depth

=

"-136"

 

x

=

"-432.94"

 

y

=

"375.12"

 

scalex

=

"0.823"

 

scaley

=

"0.816"

 

rotation

=

"-7.81"

 

alpha

=

"1"

 

colorize

=

"255,255,255"

 

image

=

"IMAGE_SCENE_ECONOMICDIVIDE_TREE_SIL_1"

   

/>


	

<SceneLayer

 

name

=

"tree_sil_1"

 

depth

=

"-120"

 

x

=

"-609.51"

 

y

=

"434.78"

 

scalex

=

"1.173"

 

scaley

=

"1.173"

 

rotation

=

"6.06"

 

alpha

=

"1"

 

colorize

=

"255,255,255"

 

image

=

"IMAGE_SCENE_ECONOMICDIVIDE_TREE_SIL_1"

   

/>


	

<SceneLayer

 

name

=

"sky_pissyellowstripes"

 

depth

=

"-480"

 

x

=

"0"

 

y

=

"489.02"

 

scalex

=

"4.688"

 

scaley

=

"3.743"

 

rotation

=

"0"

 

alpha

=

"1"

 

colorize

=

"255,255,255"

 

image

=

"IMAGE_SCENE_ECONOMICDIVIDE_SKY_PISSYELLOWSTRIPES"

   

/>


 
	

<!-- Buttons -->


 
	

<!-- Labels -->


 
	

<!-- Static Geometry -->


	

<compositegeom

 

id

=

"platform right"

 

x

=

"450.1484"

 

y

=

"103.4844"

 

rotation

=

"0"

 

static

=

"true"

 

tag

=

"walkable"

 

material

=

"verysticky"

 

>


		

<circle

 

id

=

""

 

x

=

"-196.9819"

 

y

=

"131.3491"

 

radius

=

"60.1665"

 

/>


		

<rectangle

 

id

=

""

 

x

=

"61.4868"

 

y

=

"-21.3501"

 

width

=

"341.6905"

 

height

=

"275.5755"

 

rotation

=

"0.2085"

 

/>


		

<rectangle

 

id

=

""

 

x

=

"-140.1641"

 

y

=

"90.7422"

 

width

=

"89.6629"

 

height

=

"148.7237"

 

rotation

=

"0.9414"

 

/>


		

<rectangle

 

id

=

""

 

x

=

"17.3223"

 

y

=

"108.1758"

 

width

=

"145.9848"

 

height

=

"134.6969"

 

rotation

=

"-0.1387"

 

/>


		

<rectangle

 

id

=

""

 

x

=

"146.5063"

 

y

=

"85.6099"

 

width

=

"130.9527"

 

height

=

"129.0303"

 

rotation

=

"-0.2573"

 

/>


		

<rectangle

 

id

=

""

 

x

=

"-125.3105"

 

y

=

"137.5405"

 

width

=

"158.0097"

 

height

=

"99.3153"

 

rotation

=

"-0.035"

 

/>


	</compositegeom

>


	

<circle

 

id

=

""

 

static

=

"true"

 

tag

=

"stopsign"

 

material

=

"rock"

 

x

=

"-148.312"

 

y

=

"263.7896"

 

radius

=

"18.7485"

 

/>


	

<circle

 

id

=

""

 

static

=

"true"

 

tag

=

"stopsign"

 

material

=

"rock"

 

x

=

"200.688"

 

y

=

"290.7896"

 

radius

=

"18.7485"

 

/>


	

<line

 

id

=

"bound bottom"

 

static

=

"true"

 

tag

=

"deadly"

 

material

=

"rock"

 

anchor

=

"-42.1584,-23.0723"

 

normal

=

"-0.0023,1"

 

/>


	

<line

 

id

=

"bound right"

 

static

=

"true"

 

tag

=

"detaching"

 

material

=

"rock"

 

anchor

=

"602.8115,361.9094"

 

normal

=

"-1,-0.0018"

 

/>


	

<line

 

id

=

"bound left"

 

static

=

"true"

 

tag

=

"detaching"

 

material

=

"rock"

 

anchor

=

"-603.3828,387.4084"

 

normal

=

"1,0"

 

/>


	

<compositegeom

 

id

=

"platform left"

 

x

=

"-382.593"

 

y

=

"94.5176"

 

rotation

=

"0"

 

static

=

"true"

 

tag

=

"walkable"

 

material

=

"verysticky"

 

>


		

<circle

 

id

=

""

 

x

=

"191.093"

 

y

=

"117.9824"

 

radius

=

"53.5"

 

/>


		

<rectangle

 

id

=

""

 

x

=

"-60.5947"

 

y

=

"-32.3721"

 

width

=

"341.6905"

 

height

=

"238.7556"

 

rotation

=

"-0.1209"

 

/>


		

<rectangle

 

id

=

""

 

x

=

"129.6848"

 

y

=

"75.9116"

 

width

=

"124.2451"

 

height

=

"89.6633"

 

rotation

=

"0.621"

 

/>


		

<rectangle

 

id

=

""

 

x

=

"-28.936"

 

y

=

"89.1426"

 

width

=

"145.9849"

 

height

=

"134.6972"

 

rotation

=

"0.1498"

 

/>


		

<rectangle

 

id

=

""

 

x

=

"-151.7527"

 

y

=

"64.5767"

 

width

=

"130.9527"

 

height

=

"129.0297"

 

rotation

=

"0.3218"

 

/>


		

<rectangle

 

id

=

""

 

x

=

"113.4307"

 

y

=

"118.5078"

 

width

=

"158.0102"

 

height

=

"99.3151"

 

rotation

=

"0.0317"

 

/>


	</compositegeom

>


 
	

<!-- Dynamic Geometry -->


 
	

<!-- Geometry Constraints -->


</scene

>