Fisty's Bog
The Goo Filled Hills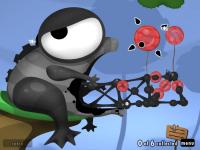 Normal: 6 balls
OCD: 14 moves
Previous level:
Flying Machine
.
Next level:
Tower of Goo
.
not too high, not too low
Signposts
Fisty swore he would never be like those tadpoles that grow up and shoot colored gems out of their mouths.
But he wondered what it might be like.
-the Sign Painter
You need Flash player 8+ and JavaScript enabled to view this video.
There is 1 video.
<level

 

ballsrequired

=

"6"

 

letterboxed

=

"false"

 

visualdebug

=

"false"

 

autobounds

=

"false"

 

textcolor

=

"255,255,255"

 

timebugprobability

=

"0.333"

 

strandgeom

=

"false"

 

allowskip

=

"true"

 

>


 
	

<!-- Camera -->


	

<camera

 

aspect

=

"normal"

 

endpos

=

"-104.89,401.28"

 

endzoom

=

"0.764"

>


		

<poi

 

pos

=

"500.7,402.03"

 

traveltime

=

"0"

 

pause

=

"0.4"

 

zoom

=

"1.017"

 

/>


		

<poi

 

pos

=

"-372.38,399.78"

 

traveltime

=

"4"

 

pause

=

"0.8"

 

zoom

=

"0.764"

 

/>


		

<poi

 

pos

=

"-357.49,425.5"

 

traveltime

=

"1"

 

pause

=

"0"

 

zoom

=

"1"

 

/>


	</camera

>


	

<camera

 

aspect

=

"widescreen"

 

endpos

=

"-104.89,401.28"

 

endzoom

=

"0.764"

>


		

<poi

 

pos

=

"404.37,425.42"

 

traveltime

=

"0"

 

pause

=

"0.4"

 

zoom

=

"1.105"

 

/>


		

<poi

 

pos

=

"-183.28,399.78"

 

traveltime

=

"4"

 

pause

=

"0.8"

 

zoom

=

"0.764"

 

/>


		

<poi

 

pos

=

"-352.5,425.5"

 

traveltime

=

"1"

 

pause

=

"0"

 

zoom

=

"1"

 

/>


	</camera

>


 
	

<!-- Music -->


	

<music

 

id

=

"SOUND_LEVEL_FISTYREACHESOUT_RAINRAINWINDYWINDY"

 

/>


 
	

<!-- Fire -->


 
	

<!-- Signposts -->


	

<signpost

 

name

=

"signpost_brown"

 

depth

=

"-7.2"

 

x

=

"-17.35"

 

y

=

"171.54"

 

scalex

=

"1"

 

scaley

=

"1"

 

rotation

=

"-7.91"

 

alpha

=

"1"

 

colorize

=

"255,255,255"

 

image

=

"IMAGE_SCENE_FISTYREACHESOUT_SIGNPOST_BROWN"

 

text

=

"SIGNPOST_FISTYREACHESOUT_1"

   

/>


 
	

<!-- Pipes -->


	

<pipe

 

id

=

"0"

 

depth

=

"8"

 

>


		

<Vertex

 

x

=

"675"

 

y

=

"450"

 

/>


		

<Vertex

 

x

=

"800"

 

y

=

"450"

 

/>


		

<Vertex

 

x

=

"800"

 

y

=

"350"

 

/>


		

<Vertex

 

x

=

"1000"

 

y

=

"350"

 

/>


	</pipe

>


 
	

<!-- Balls -->


	

<BallInstance

 

type

=

"balloon"

 

x

=

"-682"

 

y

=

"604"

 

id

=

"0"

 

angle

=

"0"

 

/>


	

<BallInstance

 

type

=

"balloon"

 

x

=

"-680.88"

 

y

=

"480.91"

 

id

=

"1"

 

angle

=

"0"

 

/>


	

<BallInstance

 

type

=

"balloon"

 

x

=

"-617.02"

 

y

=

"678.02"

 

id

=

"2"

 

angle

=

"0"

 

/>


	

<BallInstance

 

type

=

"balloon"

 

x

=

"-539.01"

 

y

=

"387"

 

id

=

"3"

 

angle

=

"0"

 

/>


	

<BallInstance

 

type

=

"balloon"

 

x

=

"-503.01"

 

y

=

"587.5"

 

id

=

"4"

 

angle

=

"0"

 

/>


	

<BallInstance

 

type

=

"balloon"

 

x

=

"-779"

 

y

=

"529"

 

id

=

"5"

 

angle

=

"0"

 

/>


	

<BallInstance

 

type

=

"balloon"

 

x

=

"-559"

 

y

=

"706"

 

id

=

"6"

 

angle

=

"0"

 

/>


	

<BallInstance

 

type

=

"common"

 

x

=

"-244.93"

 

y

=

"289.76"

 

id

=

"7"

 

angle

=

"0"

 

/>


	

<BallInstance

 

type

=

"common"

 

x

=

"-113.95"

 

y

=

"297.47"

 

id

=

"8"

 

angle

=

"0"

 

/>


	

<BallInstance

 

type

=

"common"

 

x

=

"-766.37"

 

y

=

"656.4"

 

id

=

"9"

 

angle

=

"0"

 

/>


	

<BallInstance

 

type

=

"common"

 

x

=

"-581.88"

 

y

=

"628.39"

 

id

=

"10"

 

angle

=

"0"

 

/>


	

<BallInstance

 

type

=

"common"

 

x

=

"-744.37"

 

y

=

"619.73"

 

id

=

"11"

 

angle

=

"0"

 

/>


	

<BallInstance

 

type

=

"common"

 

x

=

"-700"

 

y

=

"716"

 

id

=

"12"

 

angle

=

"0"

 

/>


	

<BallInstance

 

type

=

"common"

 

x

=

"-475.39"

 

y

=

"687.9"

 

id

=

"13"

 

angle

=

"0"

 

/>


	

<BallInstance

 

type

=

"common"

 

x

=

"-525.01"

 

y

=

"436.5"

 

id

=

"14"

 

angle

=

"0"

 

/>


	

<BallInstance

 

type

=

"common"

 

x

=

"-775.37"

 

y

=

"432.91"

 

id

=

"15"

 

angle

=

"0"

 

/>


	

<BallInstance

 

type

=

"common"

 

x

=

"-634.38"

 

y

=

"614.4"

 

id

=

"16"

 

angle

=

"0"

 

/>


	

<BallInstance

 

type

=

"common"

 

x

=

"-355.01"

 

y

=

"608.5"

 

id

=

"17"

 

angle

=

"0"

 

/>


	

<BallInstance

 

type

=

"common"

 

x

=

"-518"

 

y

=

"307"

 

id

=

"18"

 

angle

=

"0"

 

/>


	

<BallInstance

 

type

=

"common"

 

x

=

"-582"

 

y

=

"557"

 

id

=

"19"

 

angle

=

"0"

 

/>


	

<BallInstance

 

type

=

"common"

 

x

=

"-730.89"

 

y

=

"556.39"

 

id

=

"20"

 

angle

=

"0"

 

/>


	

<BallInstance

 

type

=

"common"

 

x

=

"-724.39"

 

y

=

"504.39"

 

id

=

"21"

 

angle

=

"0"

 

/>


	

<BallInstance

 

type

=

"common"

 

x

=

"-538.5"

 

y

=

"644"

 

id

=

"22"

 

angle

=

"0"

 

/>


	

<BallInstance

 

type

=

"common"

 

x

=

"-680.5"

 

y

=

"673.5"

 

id

=

"23"

 

angle

=

"0"

 

/>


	

<BallInstance

 

type

=

"common"

 

x

=

"-395.51"

 

y

=

"604"

 

id

=

"24"

 

angle

=

"0"

 

/>


	

<BallInstance

 

type

=

"common"

 

x

=

"-578.88"

 

y

=

"450.91"

 

id

=

"25"

 

angle

=

"0"

 

/>


	

<BallInstance

 

type

=

"common"

 

x

=

"-636.5"

 

y

=

"431.5"

 

id

=

"26"

 

angle

=

"0"

 

/>


	

<BallInstance

 

type

=

"common"

 

x

=

"-582.01"

 

y

=

"351.01"

 

id

=

"27"

 

angle

=

"0"

 

/>


	

<BallInstance

 

type

=

"common"

 

x

=

"-782.5"

 

y

=

"484"

 

id

=

"28"

 

angle

=

"0"

 

/>


	

<BallInstance

 

type

=

"common"

 

x

=

"-668.88"

 

y

=

"543.9"

 

id

=

"29"

 

angle

=

"0"

 

/>


	

<BallInstance

 

type

=

"common"

 

x

=

"-718"

 

y

=

"432"

 

id

=

"30"

 

angle

=

"0"

 

/>


	

<BallInstance

 

type

=

"common"

 

x

=

"-357"

 

y

=

"382"

 

id

=

"31"

 

angle

=

"0"

 

/>


	

<BallInstance

 

type

=

"common"

 

x

=

"-131.45"

 

y

=

"402.39"

 

id

=

"32"

 

angle

=

"0"

 

/>


	

<BallInstance

 

type

=

"common"

 

x

=

"-261.38"

 

y

=

"383.69"

 

id

=

"33"

 

angle

=

"0"

 

/>


	

<BallInstance

 

type

=

"Anchor"

 

x

=

"-362.5"

 

y

=

"282.68"

 

id

=

"34"

 

angle

=

"0"

 

/>


	

<BallInstance

 

type

=

"Anchor"

 

x

=

"-462.5"

 

y

=

"387.5"

 

id

=

"35"

 

angle

=

"0"

 

/>


 
	

<!-- Arms -->


	

<Strand

 

gb1

=

"18"

 

gb2

=

"34"

 

/>


	

<Strand

 

gb1

=

"7"

 

gb2

=

"31"

 

/>


	

<Strand

 

gb1

=

"33"

 

gb2

=

"34"

 

/>


	

<Strand

 

gb1

=

"7"

 

gb2

=

"34"

 

/>


	

<Strand

 

gb1

=

"31"

 

gb2

=

"35"

 

/>


	

<Strand

 

gb1

=

"33"

 

gb2

=

"31"

 

/>


	

<Strand

 

gb1

=

"33"

 

gb2

=

"8"

 

/>


	

<Strand

 

gb1

=

"33"

 

gb2

=

"7"

 

/>


	

<Strand

 

gb1

=

"8"

 

gb2

=

"7"

 

/>


	

<Strand

 

gb1

=

"32"

 

gb2

=

"8"

 

/>


	

<Strand

 

gb1

=

"33"

 

gb2

=

"32"

 

/>


	

<Strand

 

gb1

=

"7"

 

gb2

=

"32"

 

/>


 
	

<!-- Level Exit -->


	

<levelexit

 

id

=

"theExit"

 

pos

=

"675,450"

 

radius

=

"75"

 

filter

=

""

 

>


	</levelexit

>


 
</level

>
<scene

 

minx

=

"-900"

 

miny

=

"0"

 

maxx

=

"900"

 

maxy

=

"800"

 

backgroundcolor

=

"0,0,0"

 

>


 
	

<!-- ForceFields -->


	

<linearforcefield

 

id

=

"water"

 

type

=

"gravity"

 

center

=

"140,15.2515"

 

width

=

"1598"

 

height

=

"62.5029"

 

force

=

"0,10"

 

dampeningfactor

=

"0"

 

antigrav

=

"true"

 

geomonly

=

"false"

 

enabled

=

"true"

 

water

=

"true"

 

color

=

"217,0,0,0"

 

/>


	

<linearforcefield

 

type

=

"gravity"

 

force

=

"0,-10"

 

dampeningfactor

=

"0.5"

 

antigrav

=

"true"

 

geomonly

=

"false"

 

/>


 
	

<!-- Particles -->


	

<particles

 

effect

=

"smallleaves1"

 

depth

=

"-40"

 

pretick

=

"0"

 

/>


	

<particles

 

effect

=

"bigleaves1"

 

depth

=

"40"

 

pretick

=

"0"

 

/>


 
	

<!-- SceneLayers -->


		

<SceneLayer

 

id

=

"Fisty_arm"

 

name

=

"Fisty_arm"

 

depth

=

"16"

 

x

=

"-434.66"

 

y

=

"412.86"

 

scalex

=

"0.843"

 

scaley

=

"0.843"

 

rotation

=

"0"

 

alpha

=

"1"

 

colorize

=

"255,255,255"

 

image

=

"IMAGE_SCENE_FISTYREACHESOUT_FISTY_ARM"

   

/>


		

<SceneLayer

 

id

=

"Fisty_leg"

 

name

=

"Fisty_leg"

 

depth

=

"16"

 

x

=

"-534.95"

 

y

=

"259.04"

 

scalex

=

"0.843"

 

scaley

=

"0.843"

 

rotation

=

"0"

 

alpha

=

"1"

 

colorize

=

"255,255,255"

 

image

=

"IMAGE_SCENE_FISTYREACHESOUT_FISTY_LEG"

   

/>


		

<SceneLayer

 

id

=

"Fisty_eye"

 

name

=

"Fisty_eye"

 

depth

=

"16"

 

x

=

"-436.35"

 

y

=

"570.88"

 

scalex

=

"0.843"

 

scaley

=

"0.843"

 

rotation

=

"0"

 

alpha

=

"1"

 

colorize

=

"255,255,255"

 

image

=

"IMAGE_SCENE_FISTYREACHESOUT_FISTY_EYE"

   

/>


		

<SceneLayer

 

id

=

"Fisty_body"

 

name

=

"Fisty_body"

 

depth

=

"8"

 

x

=

"-463.29"

 

y

=

"406.13"

 

scalex

=

"0.843"

 

scaley

=

"0.843"

 

rotation

=

"0"

 

alpha

=

"1"

 

colorize

=

"255,255,255"

 

image

=

"IMAGE_SCENE_FISTYREACHESOUT_FISTY_BODY"

   

/>


		

<SceneLayer

 

name

=

"bush_fg1a"

 

depth

=

"120"

 

x

=

"-827.51"

 

y

=

"733.99"

 

scalex

=

"1.432"

 

scaley

=

"1.432"

 

rotation

=

"-124.28"

 

alpha

=

"1"

 

colorize

=

"255,255,255"

 

image

=

"IMAGE_SCENE_FISTYREACHESOUT_BUSH_FG1A"

   

/>


		

<SceneLayer

 

name

=

"bush_fg1a"

 

depth

=

"280"

 

x

=

"322.93"

 

y

=

"805.49"

 

scalex

=

"1.432"

 

scaley

=

"1.432"

 

rotation

=

"176.22"

 

alpha

=

"1"

 

colorize

=

"255,255,255"

 

image

=

"IMAGE_SCENE_FISTYREACHESOUT_BUSH_FG1A"

   

/>


		

<SceneLayer

 

name

=

"bush_fg1a"

 

depth

=

"280"

 

x

=

"123.44"

 

y

=

"56.03"

 

scalex

=

"1.432"

 

scaley

=

"1.432"

 

rotation

=

"5.01"

 

alpha

=

"1"

 

colorize

=

"255,255,255"

 

image

=

"IMAGE_SCENE_FISTYREACHESOUT_BUSH_FG1A"

   

/>


		

<SceneLayer

 

name

=

"bush_fg1a"

 

depth

=

"120"

 

x

=

"-648.46"

 

y

=

"45.26"

 

scalex

=

"1.432"

 

scaley

=

"1.432"

 

rotation

=

"-1.73"

 

alpha

=

"1"

 

colorize

=

"255,255,255"

 

image

=

"IMAGE_SCENE_FISTYREACHESOUT_BUSH_FG1A"

   

/>


	

<SceneLayer

 

name

=

"signpostPole_brown"

 

depth

=

"-8"

 

x

=

"-25.95"

 

y

=

"79.27"

 

scalex

=

"1"

 

scaley

=

"2.714"

 

rotation

=

"-4.52"

 

alpha

=

"1"

 

colorize

=

"255,255,255"

 

image

=

"IMAGE_SCENE_FISTYREACHESOUT_SIGNPOSTPOLE_BROWN"

   

/>


	

<SceneLayer

 

name

=

"platform"

 

depth

=

"0"

 

x

=

"-635.04"

 

y

=

"400.04"

 

scalex

=

"1"

 

scaley

=

"1"

 

rotation

=

"0"

 

alpha

=

"1"

 

colorize

=

"255,255,255"

 

image

=

"IMAGE_SCENE_FISTYREACHESOUT_PLATFORM"

   

/>


	

<SceneLayer

 

name

=

"spikeBlack_group"

 

depth

=

"-40"

 

x

=

"-505.72"

 

y

=

"804.01"

 

scalex

=

"1.275"

 

scaley

=

"2.078"

 

rotation

=

"179.77"

 

alpha

=

"1"

 

colorize

=

"255,255,255"

 

image

=

"IMAGE_SCENE_FISTYREACHESOUT_SPIKEBLACK_GROUP"

   

/>


	

<SceneLayer

 

name

=

"spikeBlack_group"

 

depth

=

"-40"

 

x

=

"-37.78"

 

y

=

"801.98"

 

scalex

=

"1.275"

 

scaley

=

"2.078"

 

rotation

=

"178.94"

 

alpha

=

"1"

 

colorize

=

"255,255,255"

 

image

=

"IMAGE_SCENE_FISTYREACHESOUT_SPIKEBLACK_GROUP"

   

/>


	

<SceneLayer

 

name

=

"spikeBlack_group"

 

depth

=

"-40"

 

x

=

"341.72"

 

y

=

"807.51"

 

scalex

=

"1.275"

 

scaley

=

"2.078"

 

rotation

=

"177.05"

 

alpha

=

"1"

 

colorize

=

"255,255,255"

 

image

=

"IMAGE_SCENE_FISTYREACHESOUT_SPIKEBLACK_GROUP"

   

/>


	

<SceneLayer

 

name

=

"spikeBlack_group"

 

depth

=

"-40"

 

x

=

"724.63"

 

y

=

"807.48"

 

scalex

=

"1.275"

 

scaley

=

"2.078"

 

rotation

=

"178.08"

 

alpha

=

"1"

 

colorize

=

"255,255,255"

 

image

=

"IMAGE_SCENE_FISTYREACHESOUT_SPIKEBLACK_GROUP"

   

/>


	

<SceneLayer

 

name

=

"spikeBlack_group"

 

depth

=

"-40"

 

x

=

"696.2"

 

y

=

"18.51"

 

scalex

=

"1.275"

 

scaley

=

"2.078"

 

rotation

=

"0"

 

alpha

=

"1"

 

colorize

=

"255,255,255"

 

image

=

"IMAGE_SCENE_FISTYREACHESOUT_SPIKEBLACK_GROUP"

   

/>


	

<SceneLayer

 

name

=

"spikeBlack_group"

 

depth

=

"-40"

 

x

=

"322.72"

 

y

=

"17.01"

 

scalex

=

"1.275"

 

scaley

=

"2.078"

 

rotation

=

"0"

 

alpha

=

"1"

 

colorize

=

"255,255,255"

 

image

=

"IMAGE_SCENE_FISTYREACHESOUT_SPIKEBLACK_GROUP"

   

/>


	

<SceneLayer

 

name

=

"spikeBlack_group"

 

depth

=

"-40"

 

x

=

"-55.26"

 

y

=

"12.52"

 

scalex

=

"1.275"

 

scaley

=

"2.078"

 

rotation

=

"0"

 

alpha

=

"1"

 

colorize

=

"255,255,255"

 

image

=

"IMAGE_SCENE_FISTYREACHESOUT_SPIKEBLACK_GROUP"

   

/>


	

<SceneLayer

 

name

=

"spikeBlack_group"

 

depth

=

"-40"

 

x

=

"-437.74"

 

y

=

"13.51"

 

scalex

=

"1.275"

 

scaley

=

"2.078"

 

rotation

=

"0"

 

alpha

=

"1"

 

colorize

=

"255,255,255"

 

image

=

"IMAGE_SCENE_FISTYREACHESOUT_SPIKEBLACK_GROUP"

   

/>


		

<SceneLayer

 

id

=

"Fisty_body_bg"

 

name

=

"Fisty_body_bg"

 

depth

=

"-8"

 

x

=

"-332.68"

 

y

=

"385.45"

 

scalex

=

"0.843"

 

scaley

=

"0.843"

 

rotation

=

"0"

 

alpha

=

"1"

 

colorize

=

"255,255,255"

 

image

=

"IMAGE_SCENE_FISTYREACHESOUT_FISTY_BODY_BG"

   

/>


		

<SceneLayer

 

id

=

"Fisty_eye_bg"

 

name

=

"Fisty_eye_bg"

 

depth

=

"-24"

 

x

=

"-503.76"

 

y

=

"563.71"

 

scalex

=

"0.843"

 

scaley

=

"0.843"

 

rotation

=

"0"

 

alpha

=

"1"

 

colorize

=

"255,255,255"

 

image

=

"IMAGE_SCENE_FISTYREACHESOUT_FISTY_EYE_BG"

   

/>


		

<SceneLayer

 

id

=

"Fisty_leg_bg"

 

name

=

"Fisty_leg_bg"

 

depth

=

"-24"

 

x

=

"-402.64"

 

y

=

"245.14"

 

scalex

=

"0.843"

 

scaley

=

"0.843"

 

rotation

=

"0"

 

alpha

=

"1"

 

colorize

=

"255,255,255"

 

image

=

"IMAGE_SCENE_FISTYREACHESOUT_FISTY_LEG_BG"

   

/>


		

<SceneLayer

 

id

=

"Fisty_arm_bg"

 

name

=

"Fisty_arm_bg"

 

depth

=

"-24"

 

x

=

"-374.4"

 

y

=

"351.75"

 

scalex

=

"0.843"

 

scaley

=

"0.843"

 

rotation

=

"0"

 

alpha

=

"1"

 

colorize

=

"255,255,255"

 

image

=

"IMAGE_SCENE_FISTYREACHESOUT_FISTY_ARM_BG"

   

/>


		

<SceneLayer

 

name

=

"gear2_256"

 

depth

=

"-8"

 

x

=

"-657.18"

 

y

=

"391.74"

 

scalex

=

"0.405"

 

scaley

=

"0.405"

 

rotation

=

"0"

 

alpha

=

"1"

 

colorize

=

"255,255,255"

 

image

=

"IMAGE_SCENE_FISTYREACHESOUT_GEAR2_256"

 

anim

=

"rot_1rps"

 

animspeed

=

"-0.9"

   

/>


		

<SceneLayer

 

name

=

"gear2_256"

 

depth

=

"-8"

 

x

=

"-587.9"

 

y

=

"447.96"

 

scalex

=

"0.7"

 

scaley

=

"0.7"

 

rotation

=

"0"

 

alpha

=

"1"

 

colorize

=

"255,255,255"

 

image

=

"IMAGE_SCENE_FISTYREACHESOUT_GEAR2_256"

 

anim

=

"rot_1rps"

 

animspeed

=

"0.45"

   

/>


		

<SceneLayer

 

name

=

"bush_leafy_1"

 

depth

=

"-80"

 

x

=

"-148.53"

 

y

=

"786.49"

 

scalex

=

"1.25"

 

scaley

=

"1.25"

 

rotation

=

"178.54"

 

alpha

=

"1"

 

colorize

=

"255,255,255"

 

image

=

"IMAGE_SCENE_FISTYREACHESOUT_BUSH_LEAFY_1"

   

/>


		

<SceneLayer

 

name

=

"bush_leafy_1"

 

depth

=

"-80"

 

x

=

"752.92"

 

y

=

"781.99"

 

scalex

=

"1.25"

 

scaley

=

"1.25"

 

rotation

=

"178.54"

 

alpha

=

"1"

 

colorize

=

"255,255,255"

 

image

=

"IMAGE_SCENE_FISTYREACHESOUT_BUSH_LEAFY_1"

   

/>


		

<SceneLayer

 

name

=

"bush_leafy_1"

 

depth

=

"-16"

 

x

=

"857.92"

 

y

=

"116.03"

 

scalex

=

"1.25"

 

scaley

=

"1.25"

 

rotation

=

"91.08"

 

alpha

=

"1"

 

colorize

=

"255,255,255"

 

image

=

"IMAGE_SCENE_FISTYREACHESOUT_BUSH_LEAFY_1"

   

/>


		

<SceneLayer

 

name

=

"bush_leafy_1"

 

depth

=

"-80"

 

x

=

"341.94"

 

y

=

"-9.47"

 

scalex

=

"1.25"

 

scaley

=

"1.25"

 

rotation

=

"10.7"

 

alpha

=

"1"

 

colorize

=

"255,255,255"

 

image

=

"IMAGE_SCENE_FISTYREACHESOUT_BUSH_LEAFY_1"

   

/>


		

<SceneLayer

 

name

=

"bush_leafy_1"

 

depth

=

"-80"

 

x

=

"-415.52"

 

y

=

"-15.46"

 

scalex

=

"1.25"

 

scaley

=

"1.25"

 

rotation

=

"10.7"

 

alpha

=

"1"

 

colorize

=

"255,255,255"

 

image

=

"IMAGE_SCENE_FISTYREACHESOUT_BUSH_LEAFY_1"

   

/>


		

<SceneLayer

 

name

=

"blueBogTree"

 

depth

=

"-208"

 

x

=

"742.23"

 

y

=

"42.34"

 

scalex

=

"0.405"

 

scaley

=

"0.405"

 

rotation

=

"13.74"

 

alpha

=

"1"

 

colorize

=

"255,255,255"

 

image

=

"IMAGE_SCENE_FISTYREACHESOUT_BLUEBOGTREE"

   

/>


		

<SceneLayer

 

name

=

"blueBogTree"

 

depth

=

"-168"

 

x

=

"432.9"

 

y

=

"154.52"

 

scalex

=

"0.636"

 

scaley

=

"0.636"

 

rotation

=

"-10.7"

 

alpha

=

"1"

 

colorize

=

"255,255,255"

 

image

=

"IMAGE_SCENE_FISTYREACHESOUT_BLUEBOGTREE"

   

/>


		

<SceneLayer

 

name

=

"blueBogTree"

 

depth

=

"-128"

 

x

=

"131.74"

 

y

=

"262.19"

 

scalex

=

"0.938"

 

scaley

=

"0.938"

 

rotation

=

"-9.4"

 

alpha

=

"1"

 

colorize

=

"255,255,255"

 

image

=

"IMAGE_SCENE_FISTYREACHESOUT_BLUEBOGTREE"

   

/>


		

<SceneLayer

 

name

=

"blueBogTree"

 

depth

=

"-88"

 

x

=

"-237.51"

 

y

=

"316"

 

scalex

=

"1.536"

 

scaley

=

"1.536"

 

rotation

=

"0"

 

alpha

=

"1"

 

colorize

=

"255,255,255"

 

image

=

"IMAGE_SCENE_FISTYREACHESOUT_BLUEBOGTREE"

   

/>


	

<SceneLayer

 

name

=

"bg"

 

depth

=

"-400"

 

x

=

"12.97"

 

y

=

"403.99"

 

scalex

=

"3.412"

 

scaley

=

"1.596"

 

rotation

=

"0"

 

alpha

=

"1"

 

colorize

=

"255,255,255"

 

image

=

"IMAGE_SCENE_FISTYREACHESOUT_BG"

   

/>


 
	

<!-- Buttons -->


 
	

<!-- Labels -->


 
	

<!-- Static Geometry -->


	

<rectangle

 

id

=

"mouthBottom"

 

static

=

"true"

 

tag

=

"walkable"

 

material

=

"verysticky"

 

x

=

"-324.2231"

 

y

=

"252.0034"

 

width

=

"194.2249"

 

height

=

"31.5647"

 

rotation

=

"0.0066"

 

/>


	

<circle

 

id

=

"stop"

 

static

=

"true"

 

tag

=

"stopsign"

 

material

=

"rock"

 

x

=

"-272.3289"

 

y

=

"590"

 

radius

=

"33.3334"

 

/>


	

<circle

 

id

=

"stop"

 

static

=

"true"

 

tag

=

"stopsign"

 

material

=

"rock"

 

x

=

"-230.3293"

 

y

=

"266.4985"

 

radius

=

"33.3334"

 

/>


	

<rectangle

 

id

=

""

 

static

=

"true"

 

material

=

"rock"

 

x

=

"-417.9246"

 

y

=

"518.2383"

 

width

=

"304.9106"

 

height

=

"48.4349"

 

rotation

=

"0.1312"

 

/>


	

<rectangle

 

id

=

""

 

static

=

"true"

 

material

=

"rock"

 

x

=

"-549.668"

 

y

=

"205.3926"

 

width

=

"252.3789"

 

height

=

"62.585"

 

rotation

=

"0.2026"

 

/>


	

<rectangle

 

id

=

""

 

static

=

"true"

 

material

=

"rock"

 

x

=

"-695.4126"

 

y

=

"36.7529"

 

width

=

"166.492"

 

height

=

"244.0653"

 

rotation

=

"0.1173"

 

/>


	

<rectangle

 

id

=

""

 

static

=

"true"

 

material

=

"rock"

 

x

=

"-531.895"

 

y

=

"240.104"

 

width

=

"255.5587"

 

height

=

"83.1039"

 

rotation

=

"-0.1089"

 

/>


	

<rectangle

 

id

=

""

 

static

=

"true"

 

material

=

"rock"

 

x

=

"-851.2114"

 

y

=

"170.022"

 

width

=

"343.4822"

 

height

=

"383.5945"

 

rotation

=

"-0.357"

 

/>


	

<rectangle

 

id

=

""

 

static

=

"true"

 

material

=

"rock"

 

x

=

"-797.1218"

 

y

=

"780.8911"

 

width

=

"116.9942"

 

height

=

"343.4828"

 

rotation

=

"-0.8223"

 

/>


	

<line

 

id

=

"bottom"

 

static

=

"true"

 

tag

=

"deadly"

 

material

=

"rock"

 

anchor

=

"-22.4998,3.5049"

 

normal

=

"0,1"

 

/>


	

<line

 

id

=

""

 

static

=

"true"

 

tag

=

"deadly"

 

material

=

"rock"

 

anchor

=

"-3.5,768.501"

 

normal

=

"0,-1"

 

/>


	

<line

 

id

=

""

 

static

=

"true"

 

material

=

"rock"

 

anchor

=

"-857.1194,443.4072"

 

normal

=

"0.9948,-0.1023"

 

/>


	

<line

 

id

=

""

 

static

=

"true"

 

tag

=

"detaching"

 

material

=

"rock"

 

anchor

=

"1173.8867,446.5"

 

normal

=

"-1,0"

 

/>


 
	

<!-- Dynamic Geometry -->


 
	

<!-- Geometry Constraints -->


</scene

>