Fly Away Little Ones
Little Miss World of Goo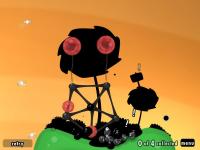 Normal: 4 balls
OCD: 12 balls
Previous level:
Drool
.
Next level:
Blustery Day
.
multi-terrain hover mobile
Signposts
For miles around, there were reports of a giant spinning wheel in the sky!
Everyone is crazy but me.
-the Sign Painter
Somewhere on this Island is a power source.
And it generates electricity for the entire World.
Lately, its output has been less than satisfactory.
...
It looks like it's going to rain tomorrow!
-the Sign Painter
You need Flash player 8+ and JavaScript enabled to view this video.
There is 1 video.
<level

 

ballsrequired

=

"4"

 

letterboxed

=

"false"

 

visualdebug

=

"false"

 

autobounds

=

"false"

 

textcolor

=

"255,255,255"

 

texteffects

=

"true"

 

timebugprobability

=

"0.333"

 

strandgeom

=

"false"

 

allowskip

=

"true"

 

>


 
	

<!-- Camera -->


	

<camera

 

aspect

=

"normal"

 

endpos

=

"-10.67,876.5"

 

endzoom

=

"0.408"

>


		

<poi

 

pos

=

"574.47,736.85"

 

traveltime

=

"0"

 

pause

=

"0.7"

 

zoom

=

"0.987"

 

/>


		

<poi

 

pos

=

"-0.93,1007"

 

traveltime

=

"3"

 

pause

=

"0.7"

 

zoom

=

"0.432"

 

/>


		

<poi

 

pos

=

"-568,842.05"

 

traveltime

=

"3"

 

pause

=

"0"

 

zoom

=

"1"

 

/>


	</camera

>


	

<camera

 

aspect

=

"widescreen"

 

endpos

=

"0,876.5"

 

endzoom

=

"0.547"

>


		

<poi

 

pos

=

"445.02,739.85"

 

traveltime

=

"0"

 

pause

=

"0.7"

 

zoom

=

"0.987"

 

/>


		

<poi

 

pos

=

"0,1007"

 

traveltime

=

"3"

 

pause

=

"0.7"

 

zoom

=

"0.547"

 

/>


		

<poi

 

pos

=

"-452.5,842.05"

 

traveltime

=

"3"

 

pause

=

"0"

 

zoom

=

"1"

 

/>


	</camera

>


 
	

<!-- Music -->


	

<music

 

id

=

"SOUND_LEVEL_FLYAWAYLITTLEONES_RAINRAINWINDYWINDY"

 

/>


 
	

<!-- Fire -->


 
	

<!-- Signposts -->


		

<signpost

 

name

=

"signpost_brown"

 

depth

=

"-8"

 

x

=

"719.77"

 

y

=

"927.27"

 

scalex

=

"0.593"

 

scaley

=

"0.657"

 

rotation

=

"21.96"

 

alpha

=

"1"

 

colorize

=

"0,0,0"

 

image

=

"IMAGE_SCENE_FLYAWAYLITTLEONES_SIGNPOST_BROWN"

 

text

=

"SIGNPOST_FLYAWAYLITTLEONES_2"

   

/>


		

<signpost

 

name

=

"signpost_brown"

 

depth

=

"-8"

 

x

=

"-438.81"

 

y

=

"729.02"

 

scalex

=

"0.89"

 

scaley

=

"0.987"

 

rotation

=

"-43.59"

 

alpha

=

"1"

 

colorize

=

"255,255,255"

 

image

=

"IMAGE_SCENE_FLYAWAYLITTLEONES_SIGNPOST_BROWN"

 

text

=

"SIGNPOST_FLYAWAYLITTLEONES_1"

   

/>


 
	

<!-- Pipes -->


	

<pipe

 

id

=

"0"

 

depth

=

"0"

 

>


		

<Vertex

 

x

=

"-86"

 

y

=

"184"

 

/>


		

<Vertex

 

x

=

"-86"

 

y

=

"-41"

 

/>


		

<Vertex

 

x

=

"14"

 

y

=

"-41"

 

/>


	</pipe

>


 
	

<!-- Balls -->


	

<BallInstance

 

type

=

"balloon"

 

x

=

"601"

 

y

=

"806"

 

id

=

"0"

 

discovered

=

"false"

 

angle

=

"0"

 

/>


	

<BallInstance

 

type

=

"balloon"

 

x

=

"-683.62"

 

y

=

"784.59"

 

id

=

"1"

 

angle

=

"0"

 

/>


	

<BallInstance

 

type

=

"balloon"

 

x

=

"-592"

 

y

=

"911"

 

id

=

"2"

 

angle

=

"0"

 

/>


	

<BallInstance

 

type

=

"balloon"

 

x

=

"-701.62"

 

y

=

"900.59"

 

id

=

"3"

 

angle

=

"0"

 

/>


	

<BallInstance

 

type

=

"water"

 

x

=

"455"

 

y

=

"725"

 

id

=

"4"

 

discovered

=

"false"

 

angle

=

"0"

 

/>


	

<BallInstance

 

type

=

"water"

 

x

=

"685"

 

y

=

"701"

 

id

=

"5"

 

discovered

=

"false"

 

angle

=

"0"

 

/>


	

<BallInstance

 

type

=

"water"

 

x

=

"723"

 

y

=

"721"

 

id

=

"6"

 

discovered

=

"false"

 

angle

=

"0"

 

/>


	

<BallInstance

 

type

=

"water"

 

x

=

"603"

 

y

=

"709"

 

id

=

"7"

 

discovered

=

"false"

 

angle

=

"0"

 

/>


	

<BallInstance

 

type

=

"water"

 

x

=

"573"

 

y

=

"739"

 

id

=

"8"

 

discovered

=

"false"

 

angle

=

"0"

 

/>


	

<BallInstance

 

type

=

"water"

 

x

=

"653"

 

y

=

"685"

 

id

=

"9"

 

discovered

=

"false"

 

angle

=

"0"

 

/>


	

<BallInstance

 

type

=

"GooProduct"

 

x

=

"557"

 

y

=

"687"

 

id

=

"10"

 

discovered

=

"false"

 

angle

=

"0"

 

/>


	

<BallInstance

 

type

=

"GooProduct"

 

x

=

"647"

 

y

=

"719"

 

id

=

"11"

 

discovered

=

"false"

 

angle

=

"0"

 

/>


	

<BallInstance

 

type

=

"GooProduct"

 

x

=

"619"

 

y

=

"667"

 

id

=

"12"

 

discovered

=

"false"

 

angle

=

"0"

 

/>


	

<BallInstance

 

type

=

"GooProduct"

 

x

=

"533.5"

 

y

=

"718.5"

 

id

=

"13"

 

discovered

=

"false"

 

angle

=

"0"

 

/>


	

<BallInstance

 

type

=

"GooProduct"

 

x

=

"487"

 

y

=

"705"

 

id

=

"14"

 

discovered

=

"false"

 

angle

=

"0"

 

/>


	

<BallInstance

 

type

=

"GooProduct"

 

x

=

"621"

 

y

=

"747"

 

id

=

"15"

 

discovered

=

"false"

 

angle

=

"0"

 

/>


	

<BallInstance

 

type

=

"common"

 

x

=

"-652.63"

 

y

=

"939.18"

 

id

=

"16"

 

angle

=

"0"

 

/>


	

<BallInstance

 

type

=

"common"

 

x

=

"-752.78"

 

y

=

"865.21"

 

id

=

"17"

 

angle

=

"0"

 

/>


	

<BallInstance

 

type

=

"common"

 

x

=

"-546.65"

 

y

=

"882.95"

 

id

=

"18"

 

angle

=

"0"

 

/>


	

<BallInstance

 

type

=

"common"

 

x

=

"-648.78"

 

y

=

"828.61"

 

id

=

"19"

 

angle

=

"0"

 

/>


	

<BallInstance

 

type

=

"common"

 

x

=

"-580.94"

 

y

=

"750.1"

 

id

=

"20"

 

angle

=

"0"

 

/>


	

<BallInstance

 

type

=

"common"

 

x

=

"-717.96"

 

y

=

"748.7"

 

id

=

"21"

 

angle

=

"0"

 

/>


 
	

<!-- Arms -->


	

<Strand

 

gb1

=

"19"

 

gb2

=

"18"

 

/>


	

<Strand

 

gb1

=

"19"

 

gb2

=

"20"

 

/>


	

<Strand

 

gb1

=

"19"

 

gb2

=

"21"

 

/>


	

<Strand

 

gb1

=

"17"

 

gb2

=

"19"

 

/>


	

<Strand

 

gb1

=

"16"

 

gb2

=

"17"

 

/>


	

<Strand

 

gb1

=

"17"

 

gb2

=

"21"

 

/>


	

<Strand

 

gb1

=

"20"

 

gb2

=

"18"

 

/>


	

<Strand

 

gb1

=

"18"

 

gb2

=

"16"

 

/>


	

<Strand

 

gb1

=

"16"

 

gb2

=

"19"

 

/>


	

<Strand

 

gb1

=

"21"

 

gb2

=

"20"

 

/>


 
	

<!-- Level Exit -->


	

<levelexit

 

id

=

"theExit"

 

pos

=

"-85.99951171875,184"

 

radius

=

"75"

 

filter

=

""

 

>


	</levelexit

>


 
</level

>
<scene

 

minx

=

"-1000"

 

miny

=

"0"

 

maxx

=

"1000"

 

maxy

=

"1800"

 

backgroundcolor

=

"0,0,0"

 

>


 
	

<!-- ForceFields -->


	

<linearforcefield

 

id

=

"upperDownWind"

 

type

=

"gravity"

 

center

=

"-4,1655"

 

width

=

"2194"

 

height

=

"476"

 

force

=

"0,-10"

 

dampeningfactor

=

"0"

 

antigrav

=

"false"

 

geomonly

=

"false"

 

enabled

=

"true"

 

water

=

"false"

 

/>


	

<linearforcefield

 

type

=

"gravity"

 

force

=

"0,-10"

 

dampeningfactor

=

"0.4"

 

antigrav

=

"true"

 

geomonly

=

"false"

 

/>


 
	

<!-- Particles -->


	

<particles

 

effect

=

"blackBallsRising"

 

depth

=

"400"

 

pos

=

"585.92333984375,1929.9609375"

 

pretick

=

"0"

 

/>


 
	

<!-- SceneLayers -->


		

<SceneLayer

 

name

=

"bush_fg1a"

 

depth

=

"80"

 

x

=

"825.24"

 

y

=

"108.11"

 

scalex

=

"2.661"

 

scaley

=

"2.661"

 

rotation

=

"39.02"

 

alpha

=

"1"

 

colorize

=

"255,255,255"

 

image

=

"IMAGE_SCENE_FLYAWAYLITTLEONES_BUSH_FG1A"

   

/>


		

<SceneLayer

 

name

=

"bush_fg1a"

 

depth

=

"80"

 

x

=

"-905.67"

 

y

=

"145.71"

 

scalex

=

"2.661"

 

scaley

=

"2.661"

 

rotation

=

"-43.12"

 

alpha

=

"1"

 

colorize

=

"255,255,255"

 

image

=

"IMAGE_SCENE_FLYAWAYLITTLEONES_BUSH_FG1A"

   

/>


		

<SceneLayer

 

name

=

"main_03"

 

depth

=

"0"

 

x

=

"-505.23"

 

y

=

"371"

 

scalex

=

"1.399"

 

scaley

=

"1.469"

 

rotation

=

"0"

 

alpha

=

"1"

 

colorize

=

"255,255,255"

 

image

=

"IMAGE_SCENE_FLYAWAYLITTLEONES_MAIN_03"

   

/>


		

<SceneLayer

 

name

=

"main_06"

 

depth

=

"0"

 

x

=

"438.62"

 

y

=

"360.96"

 

scalex

=

"1.778"

 

scaley

=

"1.442"

 

rotation

=

"0"

 

alpha

=

"1"

 

colorize

=

"255,255,255"

 

image

=

"IMAGE_SCENE_FLYAWAYLITTLEONES_MAIN_06"

   

/>


		

<SceneLayer

 

name

=

"signpostPole_brown"

 

depth

=

"-8.8"

 

x

=

"723.86"

 

y

=

"912.08"

 

scalex

=

"0.666"

 

scaley

=

"0.805"

 

rotation

=

"17.3"

 

alpha

=

"1"

 

colorize

=

"0,0,0"

 

image

=

"IMAGE_SCENE_FLYAWAYLITTLEONES_SIGNPOSTPOLE_BROWN"

   

/>


		

<SceneLayer

 

name

=

"signpostPole_brown"

 

depth

=

"-8.8"

 

x

=

"-456.16"

 

y

=

"713.64"

 

scalex

=

"1"

 

scaley

=

"1.209"

 

rotation

=

"-41.48"

 

alpha

=

"1"

 

colorize

=

"255,255,255"

 

image

=

"IMAGE_SCENE_FLYAWAYLITTLEONES_SIGNPOSTPOLE_BROWN"

   

/>


		

<SceneLayer

 

name

=

"bush_fg1a"

 

depth

=

"-8"

 

x

=

"-36.67"

 

y

=

"110.1"

 

scalex

=

"2.661"

 

scaley

=

"2.661"

 

rotation

=

"25.52"

 

alpha

=

"1"

 

colorize

=

"0,0,0"

 

image

=

"IMAGE_SCENE_FLYAWAYLITTLEONES_BUSH_FG1A"

   

/>


		

<SceneLayer

 

name

=

"bush_leafy_1b_black"

 

depth

=

"-6.4"

 

x

=

"-330.94"

 

y

=

"465.53"

 

scalex

=

"1"

 

scaley

=

"1"

 

rotation

=

"-5.94"

 

alpha

=

"1"

 

colorize

=

"255,255,255"

 

image

=

"IMAGE_SCENE_FLYAWAYLITTLEONES_BUSH_LEAFY_1B_BLACK"

   

/>


		

<SceneLayer

 

name

=

"bush_leafy_1b_black"

 

depth

=

"-6.4"

 

x

=

"686.01"

 

y

=

"713.02"

 

scalex

=

"1"

 

scaley

=

"1"

 

rotation

=

"11.26"

 

alpha

=

"1"

 

colorize

=

"255,255,255"

 

image

=

"IMAGE_SCENE_FLYAWAYLITTLEONES_BUSH_LEAFY_1B_BLACK"

   

/>


		

<SceneLayer

 

name

=

"bush_leafy_1b_black"

 

depth

=

"-6.4"

 

x

=

"503.02"

 

y

=

"695.01"

 

scalex

=

"1"

 

scaley

=

"1"

 

rotation

=

"-9.17"

 

alpha

=

"1"

 

colorize

=

"255,255,255"

 

image

=

"IMAGE_SCENE_FLYAWAYLITTLEONES_BUSH_LEAFY_1B_BLACK"

   

/>


		

<SceneLayer

 

name

=

"bush_leafy_1b_black"

 

depth

=

"-6.4"

 

x

=

"-12.95"

 

y

=

"257.04"

 

scalex

=

"1"

 

scaley

=

"1"

 

rotation

=

"100.18"

 

alpha

=

"1"

 

colorize

=

"255,255,255"

 

image

=

"IMAGE_SCENE_FLYAWAYLITTLEONES_BUSH_LEAFY_1B_BLACK"

   

/>


		

<SceneLayer

 

name

=

"bush_leafy_1b_black"

 

depth

=

"-6.4"

 

x

=

"-174.94"

 

y

=

"206.05"

 

scalex

=

"1"

 

scaley

=

"1"

 

rotation

=

"-75.11"

 

alpha

=

"1"

 

colorize

=

"255,255,255"

 

image

=

"IMAGE_SCENE_FLYAWAYLITTLEONES_BUSH_LEAFY_1B_BLACK"

   

/>


		

<SceneLayer

 

name

=

"bush_leafy_1b_black"

 

depth

=

"-6.4"

 

x

=

"152.03"

 

y

=

"456.53"

 

scalex

=

"1"

 

scaley

=

"1"

 

rotation

=

"19.96"

 

alpha

=

"1"

 

colorize

=

"255,255,255"

 

image

=

"IMAGE_SCENE_FLYAWAYLITTLEONES_BUSH_LEAFY_1B_BLACK"

   

/>


		

<SceneLayer

 

name

=

"bush_leafy_1b_black"

 

depth

=

"-6.4"

 

x

=

"893.06"

 

y

=

"394.54"

 

scalex

=

"1"

 

scaley

=

"1"

 

rotation

=

"-77.28"

 

alpha

=

"1"

 

colorize

=

"255,255,255"

 

image

=

"IMAGE_SCENE_FLYAWAYLITTLEONES_BUSH_LEAFY_1B_BLACK"

   

/>


		

<SceneLayer

 

name

=

"bush_leafy_1b_black"

 

depth

=

"-6.4"

 

x

=

"-870.93"

 

y

=

"428.53"

 

scalex

=

"1"

 

scaley

=

"1"

 

rotation

=

"94.12"

 

alpha

=

"1"

 

colorize

=

"255,255,255"

 

image

=

"IMAGE_SCENE_FLYAWAYLITTLEONES_BUSH_LEAFY_1B_BLACK"

   

/>


		

<SceneLayer

 

name

=

"bush_leafy_1b_black"

 

depth

=

"-6.4"

 

x

=

"-486.94"

 

y

=

"582.53"

 

scalex

=

"1"

 

scaley

=

"1"

 

rotation

=

"-71.64"

 

alpha

=

"1"

 

colorize

=

"255,255,255"

 

image

=

"IMAGE_SCENE_FLYAWAYLITTLEONES_BUSH_LEAFY_1B_BLACK"

   

/>


		

<SceneLayer

 

name

=

"bush_leafy_1b_black"

 

depth

=

"-6.4"

 

x

=

"-657.92"

 

y

=

"732.51"

 

scalex

=

"1"

 

scaley

=

"1"

 

rotation

=

"8.58"

 

alpha

=

"1"

 

colorize

=

"255,255,255"

 

image

=

"IMAGE_SCENE_FLYAWAYLITTLEONES_BUSH_LEAFY_1B_BLACK"

   

/>


		

<SceneLayer

 

name

=

"blackBogTree"

 

depth

=

"-8"

 

x

=

"727.91"

 

y

=

"767.43"

 

scalex

=

"0.478"

 

scaley

=

"0.478"

 

rotation

=

"-12.64"

 

alpha

=

"1"

 

colorize

=

"255,255,255"

 

image

=

"IMAGE_SCENE_FLYAWAYLITTLEONES_BLACKBOGTREE"

   

/>


		

<SceneLayer

 

name

=

"blackBogTree"

 

depth

=

"-8"

 

x

=

"549.51"

 

y

=

"875.01"

 

scalex

=

"1"

 

scaley

=

"1"

 

rotation

=

"8.12"

 

alpha

=

"1"

 

colorize

=

"255,255,255"

 

image

=

"IMAGE_SCENE_FLYAWAYLITTLEONES_BLACKBOGTREE"

   

/>


		

<SceneLayer

 

name

=

"blackBogTree"

 

depth

=

"-8"

 

x

=

"-590.51"

 

y

=

"839.44"

 

scalex

=

"0.478"

 

scaley

=

"0.478"

 

rotation

=

"-19.85"

 

alpha

=

"1"

 

colorize

=

"255,255,255"

 

image

=

"IMAGE_SCENE_FLYAWAYLITTLEONES_BLACKBOGTREE"

   

/>


		

<SceneLayer

 

name

=

"blackBogTree"

 

depth

=

"-8"

 

x

=

"-738.93"

 

y

=

"959"

 

scalex

=

"1"

 

scaley

=

"1"

 

rotation

=

"13.57"

 

alpha

=

"1"

 

colorize

=

"255,255,255"

 

image

=

"IMAGE_SCENE_FLYAWAYLITTLEONES_BLACKBOGTREE"

   

/>


	

<SceneLayer

 

name

=

"tongue"

 

depth

=

"-120"

 

x

=

"-83.91"

 

y

=

"723.5"

 

scalex

=

"1.188"

 

scaley

=

"1.431"

 

rotation

=

"0"

 

alpha

=

"1"

 

colorize

=

"255,255,255"

 

image

=

"IMAGE_SCENE_FLYAWAYLITTLEONES_TONGUE"

   

/>


	

<SceneLayer

 

name

=

"bg"

 

depth

=

"-480"

 

x

=

"1.49"

 

y

=

"906.05"

 

scalex

=

"3.902"

 

scaley

=

"3.234"

 

rotation

=

"0"

 

alpha

=

"1"

 

colorize

=

"255,255,255"

 

image

=

"IMAGE_SCENE_FLYAWAYLITTLEONES_BG"

   

/>


 
	

<!-- Buttons -->


 
	

<!-- Labels -->


 
	

<!-- Static Geometry -->


	

<circle

 

id

=

"stopR"

 

static

=

"true"

 

tag

=

"stopsign"

 

material

=

"rock"

 

x

=

"807"

 

y

=

"735"

 

radius

=

"39"

 

/>


	

<circle

 

id

=

"stopL"

 

static

=

"true"

 

tag

=

"stopsign"

 

material

=

"rock"

 

x

=

"372"

 

y

=

"732"

 

radius

=

"39"

 

/>


	

<circle

 

id

=

""

 

static

=

"true"

 

material

=

"rock"

 

x

=

"54"

 

y

=

"344"

 

radius

=

"67"

 

/>


	

<circle

 

id

=

""

 

static

=

"true"

 

material

=

"rock"

 

x

=

"-226"

 

y

=

"345"

 

radius

=

"67"

 

/>


	

<line

 

id

=

""

 

static

=

"true"

 

material

=

"rock"

 

anchor

=

"29,1863"

 

normal

=

"0,-1"

 

/>


	

<compositegeom

 

id

=

"platformRight"

 

x

=

"587.0566"

 

y

=

"287.9858"

 

rotation

=

"0"

 

static

=

"true"

 

tag

=

"walkable"

 

material

=

"rock"

 

>


		

<circle

 

id

=

""

 

x

=

"194.9434"

 

y

=

"332.0142"

 

radius

=

"89"

 

/>


		

<circle

 

id

=

""

 

x

=

"-185.0566"

 

y

=

"330.0142"

 

radius

=

"89"

 

/>


		

<rectangle

 

id

=

""

 

x

=

"42.9043"

 

y

=

"-40.6436"

 

width

=

"524.9869"

 

height

=

"725.8493"

 

rotation

=

"0.0699"

 

/>


		

<rectangle

 

id

=

""

 

x

=

"103.8115"

 

y

=

"321.4512"

 

width

=

"202.2704"

 

height

=

"114.5785"

 

rotation

=

"0.4409"

 

/>


		

<rectangle

 

id

=

""

 

x

=

"-57.3101"

 

y

=

"319.0972"

 

width

=

"259.2026"

 

height

=

"114.5782"

 

rotation

=

"-0.3159"

 

/>


		

<rectangle

 

id

=

""

 

x

=

"-214.7856"

 

y

=

"-14.2876"

 

width

=

"171.6049"

 

height

=

"699.8505"

 

rotation

=

"-0.0853"

 

/>


	</compositegeom

>


	

<compositegeom

 

id

=

"platformLeft"

 

x

=

"-653.4548"

 

y

=

"304.8687"

 

rotation

=

"0"

 

static

=

"true"

 

material

=

"rock"

 

>


		

<rectangle

 

id

=

""

 

x

=

"1.4548"

 

y

=

"370.1313"

 

width

=

"166"

 

height

=

"104"

 

rotation

=

"0"

 

/>


		

<circle

 

id

=

""

 

x

=

"-70.5452"

 

y

=

"335.1313"

 

radius

=

"89"

 

/>


		

<circle

 

id

=

""

 

x

=

"79.4548"

 

y

=

"334.1313"

 

radius

=

"89"

 

/>


		

<rectangle

 

id

=

""

 

x

=

"-74.5977"

 

y

=

"-42.5469"

 

width

=

"261.4777"

 

height

=

"736.8521"

 

rotation

=

"-0.1218"

 

/>


		

<rectangle

 

id

=

""

 

x

=

"75.4746"

 

y

=

"-32.5454"

 

width

=

"265.5109"

 

height

=

"736.8528"

 

rotation

=

"0.1136"

 

/>


	</compositegeom

>


	

<rectangle

 

id

=

""

 

static

=

"true"

 

material

=

"rock"

 

x

=

"63.5879"

 

y

=

"87.9512"

 

width

=

"147.125"

 

height

=

"530.9727"

 

rotation

=

"0"

 

/>


	

<rectangle

 

id

=

""

 

static

=

"true"

 

material

=

"rock"

 

x

=

"-252.9038"

 

y

=

"84.9512"

 

width

=

"187.5"

 

height

=

"530.9727"

 

rotation

=

"0"

 

/>


	

<compositegeom

 

id

=

"teeth"

 

x

=

"-94.825"

 

y

=

"239.2344"

 

rotation

=

"0"

 

static

=

"true"

 

tag

=

"deadly"

 

material

=

"rock"

 

>


		

<rectangle

 

id

=

""

 

x

=

"132.8503"

 

y

=

"190.96"

 

width

=

"15.6583"

 

height

=

"72.6926"

 

rotation

=

"0.4096"

 

/>


		

<rectangle

 

id

=

""

 

x

=

"205.262"

 

y

=

"188.9214"

 

width

=

"15.6583"

 

height

=

"59.6944"

 

rotation

=

"0.4096"

 

/>


		

<rectangle

 

id

=

""

 

x

=

"272.262"

 

y

=

"213.9214"

 

width

=

"15.6583"

 

height

=

"59.6944"

 

rotation

=

"0.4096"

 

/>


		

<rectangle

 

id

=

""

 

x

=

"-107.3743"

 

y

=

"181.5957"

 

width

=

"15.6595"

 

height

=

"83.871"

 

rotation

=

"-0.5586"

 

/>


		

<rectangle

 

id

=

""

 

x

=

"-184.3743"

 

y

=

"179.5957"

 

width

=

"15.6595"

 

height

=

"83.871"

 

rotation

=

"-0.5586"

 

/>


		

<rectangle

 

id

=

""

 

x

=

"-246.3743"

 

y

=

"208.5957"

 

width

=

"15.6595"

 

height

=

"83.871"

 

rotation

=

"-0.5586"

 

/>


		

<rectangle

 

id

=

""

 

x

=

"-313.3743"

 

y

=

"252.5957"

 

width

=

"15.6595"

 

height

=

"83.871"

 

rotation

=

"-0.5586"

 

/>


		

<rectangle

 

id

=

""

 

x

=

"347.6262"

 

y

=

"245.5972"

 

width

=

"15.6595"

 

height

=

"83.8711"

 

rotation

=

"0.5533"

 

/>


		

<rectangle

 

id

=

""

 

x

=

"314.6145"

 

y

=

"-34.2441"

 

width

=

"278.1996"

 

height

=

"467.7509"

 

rotation

=

"0.2138"

 

/>


		

<rectangle

 

id

=

""

 

x

=

"-301.4736"

 

y

=

"-27.1299"

 

width

=

"286.3858"

 

height

=

"460.3382"

 

rotation

=

"-0.2662"

 

/>


	</compositegeom

>


	

<line

 

id

=

"bound bottom"

 

static

=

"true"

 

tag

=

"deadly"

 

material

=

"rock"

 

anchor

=

"-66.1572,-62.0635"

 

normal

=

"-0.0023,1"

 

/>


	

<line

 

id

=

"bound right"

 

static

=

"true"

 

tag

=

"unwalkable"

 

material

=

"machine"

 

anchor

=

"1044.3018,687.9097"

 

normal

=

"-1,-0.0018"

 

/>


	

<line

 

id

=

"bound left"

 

static

=

"true"

 

tag

=

"unwalkable"

 

material

=

"machine"

 

anchor

=

"-1044.8721,840.9045"

 

normal

=

"1,0"

 

/>


 
	

<!-- Dynamic Geometry -->


 
	

<!-- Geometry Constraints -->


</scene

>