Welcoming Unit
Little Miss World of Goo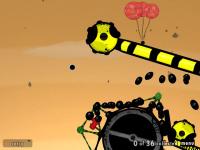 Normal: 36 balls
OCD: 61 balls
Previous level:
Blustery Day
.
Next level:
Beauty School
.
please wipe your feet
Signposts
It allows only meticulously screened Goo Balls onto the main island.
You can't be too careful these days!
Especially since the power source for the entire world is located somewhere on this Island.
But...
Try not to snap the fragile worker cable, it appears to be made from heavily processed Goo.
-the free Sign Painter
These should be used for legally acceptable fun and recreation.
Not for circumventing security systems.
It's for our own good.
-the Sign Painter
A secret disposal hole down this way!
It's good for quietly disposing of unwanted visitors...
-the visiting Sign Painter
You need Flash player 8+ and JavaScript enabled to view this video.
There is 1 video.
<level

 

ballsrequired

=

"36"

 

letterboxed

=

"false"

 

visualdebug

=

"false"

 

autobounds

=

"false"

 

textcolor

=

"255,255,255"

 

texteffects

=

"false"

 

timebugprobability

=

"0"

 

strandgeom

=

"true"

 

allowskip

=

"true"

 

>


 
	

<!-- Camera -->


	

<camera

 

aspect

=

"normal"

 

endpos

=

"373.36,901.57"

 

endzoom

=

"0.369"

>


		

<poi

 

pos

=

"-1132.25,315.4"

 

traveltime

=

"0"

 

pause

=

"0"

 

zoom

=

"1"

 

/>


		

<poi

 

pos

=

"-137.29,312.4"

 

traveltime

=

"3.6"

 

pause

=

"0"

 

zoom

=

"1"

 

/>


		

<poi

 

pos

=

"73.69,363.89"

 

traveltime

=

"2"

 

pause

=

"0"

 

zoom

=

"0.824"

 

/>


	</camera

>


	

<camera

 

aspect

=

"widescreen"

 

endpos

=

"353.04,837.1"

 

endzoom

=

"0.477"

>


		

<poi

 

pos

=

"-952.5,315.4"

 

traveltime

=

"0"

 

pause

=

"0"

 

zoom

=

"1"

 

/>


		

<poi

 

pos

=

"-137.29,312.4"

 

traveltime

=

"3.6"

 

pause

=

"0"

 

zoom

=

"1"

 

/>


		

<poi

 

pos

=

"73.69,363.89"

 

traveltime

=

"2"

 

pause

=

"0"

 

zoom

=

"0.824"

 

/>


	</camera

>


 
	

<!-- Music -->


	

<music

 

id

=

"SOUND_LEVEL_IMMIGRATIONNATURALIZATIONUNIT_TEMP_MINIOTTBB"

 

/>


 
	

<!-- Loop Sound -->


	

<loopsound

 

id

=

"SOUND_LEVEL_IMMIGRATIONNATURALIZATIONUNIT_LOOP_SHORE"

 

/>


 
	

<!-- Fire -->


 
	

<!-- Signposts -->


		

<signpost

 

name

=

"signpost_brown"

 

depth

=

"-8"

 

x

=

"-404.53"

 

y

=

"322.92"

 

scalex

=

"0.89"

 

scaley

=

"0.987"

 

rotation

=

"-8.29"

 

alpha

=

"1"

 

colorize

=

"255,255,255"

 

image

=

"IMAGE_SCENE_IMMIGRATIONNATURALIZATIONUNIT_SIGNPOST_BROWN"

 

text

=

"SIGNPOST_IMMIGRATIONNATURALIZATIONUNIT_1"

   

/>


		

<signpost

 

name

=

"signpost_brown"

 

depth

=

"8.8"

 

x

=

"1297.02"

 

y

=

"296.68"

 

scalex

=

"0.757"

 

scaley

=

"0.839"

 

rotation

=

"-2.84"

 

alpha

=

"1"

 

colorize

=

"0,0,0"

 

image

=

"IMAGE_SCENE_IMMIGRATIONNATURALIZATIONUNIT_SIGNPOST_BROWN"

 

text

=

"SIGNPOST_IMMIGRATIONNATURALIZATIONUNIT_3"

   

/>


		

<signpost

 

name

=

"signpost_brown"

 

depth

=

"-8"

 

x

=

"-528.34"

 

y

=

"950.21"

 

scalex

=

"0.89"

 

scaley

=

"0.987"

 

rotation

=

"24.3"

 

alpha

=

"1"

 

colorize

=

"255,255,255"

 

image

=

"IMAGE_SCENE_IMMIGRATIONNATURALIZATIONUNIT_SIGNPOST_BROWN"

 

text

=

"SIGNPOST_IMMIGRATIONNATURALIZATIONUNIT_2"

   

/>


 
	

<!-- Pipes -->


	

<pipe

 

id

=

"0"

 

depth

=

"-8"

 

>


		

<Vertex

 

x

=

"1151"

 

y

=

"1457"

 

/>


		

<Vertex

 

x

=

"1151"

 

y

=

"1585"

 

/>


		

<Vertex

 

x

=

"1277"

 

y

=

"1585"

 

/>


		

<Vertex

 

x

=

"1277"

 

y

=

"1497"

 

/>


		

<Vertex

 

x

=

"1332"

 

y

=

"1497"

 

/>


	</pipe

>


 
	

<!-- Balls -->


	

<BallInstance

 

type

=

"common"

 

x

=

"1159.79"

 

y

=

"620.17"

 

id

=

"0"

 

angle

=

"0"

 

/>


	

<BallInstance

 

type

=

"common"

 

x

=

"1232.28"

 

y

=

"551.17"

 

id

=

"1"

 

angle

=

"0"

 

/>


	

<BallInstance

 

type

=

"common"

 

x

=

"1073"

 

y

=

"572"

 

id

=

"2"

 

angle

=

"0"

 

/>


	

<BallInstance

 

type

=

"common"

 

x

=

"1189"

 

y

=

"466"

 

id

=

"3"

 

angle

=

"0"

 

/>


	

<BallInstance

 

type

=

"common"

 

x

=

"1087.54"

 

y

=

"479.42"

 

id

=

"4"

 

angle

=

"0"

 

/>


	

<BallInstance

 

type

=

"balloon"

 

x

=

"1044.59"

 

y

=

"668.4"

 

id

=

"5"

 

angle

=

"0"

 

/>


	

<BallInstance

 

type

=

"balloon"

 

x

=

"-247.41"

 

y

=

"859.4"

 

id

=

"6"

 

angle

=

"0"

 

/>


	

<BallInstance

 

type

=

"balloon"

 

x

=

"-447.41"

 

y

=

"882.4"

 

id

=

"7"

 

angle

=

"0"

 

/>


	

<BallInstance

 

type

=

"balloon"

 

x

=

"-506.9"

 

y

=

"855.4"

 

id

=

"8"

 

angle

=

"0"

 

/>


	

<BallInstance

 

type

=

"balloon"

 

x

=

"-578.9"

 

y

=

"858.9"

 

id

=

"9"

 

angle

=

"0"

 

/>


	

<BallInstance

 

type

=

"balloon"

 

x

=

"-383"

 

y

=

"855"

 

id

=

"10"

 

angle

=

"0"

 

/>


	

<BallInstance

 

type

=

"balloon"

 

x

=

"-318.91"

 

y

=

"876.9"

 

id

=

"11"

 

angle

=

"0"

 

/>


	

<BallInstance

 

type

=

"balloon"

 

x

=

"220.06"

 

y

=

"1493.87"

 

id

=

"12"

 

angle

=

"0"

 

/>


	

<BallInstance

 

type

=

"AnchorSticky"

 

x

=

"211.11"

 

y

=

"1390.37"

 

id

=

"13"

 

angle

=

"0"

 

/>


	

<BallInstance

 

type

=

"GooProduct"

 

x

=

"-1205"

 

y

=

"177"

 

id

=

"14"

 

angle

=

"0"

 

/>


	

<BallInstance

 

type

=

"GooProduct"

 

x

=

"-912.04"

 

y

=

"1229.54"

 

id

=

"15"

 

angle

=

"0"

 

/>


	

<BallInstance

 

type

=

"GooProduct"

 

x

=

"-838.04"

 

y

=

"1301.54"

 

id

=

"16"

 

angle

=

"0"

 

/>


	

<BallInstance

 

type

=

"GooProduct"

 

x

=

"-718.05"

 

y

=

"1395.04"

 

id

=

"17"

 

angle

=

"0"

 

/>


	

<BallInstance

 

type

=

"GooProduct"

 

x

=

"-790.05"

 

y

=

"1417.04"

 

id

=

"18"

 

angle

=

"0"

 

/>


	

<BallInstance

 

type

=

"GooProduct"

 

x

=

"-702.05"

 

y

=

"1453.04"

 

id

=

"19"

 

angle

=

"0"

 

/>


	

<BallInstance

 

type

=

"GooProduct"

 

x

=

"-751.05"

 

y

=

"1486.04"

 

id

=

"20"

 

angle

=

"0"

 

/>


	

<BallInstance

 

type

=

"GooProduct"

 

x

=

"-920.04"

 

y

=

"1303.54"

 

id

=

"21"

 

angle

=

"0"

 

/>


	

<BallInstance

 

type

=

"GooProduct"

 

x

=

"-992.04"

 

y

=

"1325.54"

 

id

=

"22"

 

angle

=

"0"

 

/>


	

<BallInstance

 

type

=

"GooProduct"

 

x

=

"-904.04"

 

y

=

"1361.54"

 

id

=

"23"

 

angle

=

"0"

 

/>


	

<BallInstance

 

type

=

"GooProduct"

 

x

=

"-953.04"

 

y

=

"1394.54"

 

id

=

"24"

 

angle

=

"0"

 

/>


	

<BallInstance

 

type

=

"GooProduct"

 

x

=

"-906.04"

 

y

=

"1147.54"

 

id

=

"25"

 

angle

=

"0"

 

/>


	

<BallInstance

 

type

=

"GooProduct"

 

x

=

"-968.04"

 

y

=

"1229.54"

 

id

=

"26"

 

angle

=

"0"

 

/>


	

<BallInstance

 

type

=

"GooProduct"

 

x

=

"-1101.29"

 

y

=

"1426.22"

 

id

=

"27"

 

angle

=

"0"

 

/>


	

<BallInstance

 

type

=

"GooProduct"

 

x

=

"-1027.29"

 

y

=

"1498.22"

 

id

=

"28"

 

angle

=

"0"

 

/>


	

<BallInstance

 

type

=

"GooProduct"

 

x

=

"-1109.29"

 

y

=

"1500.22"

 

id

=

"29"

 

angle

=

"0"

 

/>


	

<BallInstance

 

type

=

"GooProduct"

 

x

=

"-1181.29"

 

y

=

"1522.22"

 

id

=

"30"

 

angle

=

"0"

 

/>


	

<BallInstance

 

type

=

"GooProduct"

 

x

=

"-1093.29"

 

y

=

"1558.22"

 

id

=

"31"

 

angle

=

"0"

 

/>


	

<BallInstance

 

type

=

"GooProduct"

 

x

=

"-1142.29"

 

y

=

"1591.22"

 

id

=

"32"

 

angle

=

"0"

 

/>


	

<BallInstance

 

type

=

"GooProduct"

 

x

=

"-1095.29"

 

y

=

"1344.22"

 

id

=

"33"

 

angle

=

"0"

 

/>


	

<BallInstance

 

type

=

"GooProduct"

 

x

=

"-1157.29"

 

y

=

"1426.22"

 

id

=

"34"

 

angle

=

"0"

 

/>


	

<BallInstance

 

type

=

"GooProduct"

 

x

=

"-1245.3"

 

y

=

"838.17"

 

id

=

"35"

 

angle

=

"0"

 

/>


	

<BallInstance

 

type

=

"GooProduct"

 

x

=

"-1171.3"

 

y

=

"910.17"

 

id

=

"36"

 

angle

=

"0"

 

/>


	

<BallInstance

 

type

=

"GooProduct"

 

x

=

"-1253.3"

 

y

=

"912.17"

 

id

=

"37"

 

angle

=

"0"

 

/>


	

<BallInstance

 

type

=

"GooProduct"

 

x

=

"-1325.3"

 

y

=

"934.17"

 

id

=

"38"

 

angle

=

"0"

 

/>


	

<BallInstance

 

type

=

"GooProduct"

 

x

=

"-1237.3"

 

y

=

"970.17"

 

id

=

"39"

 

angle

=

"0"

 

/>


	

<BallInstance

 

type

=

"GooProduct"

 

x

=

"-1286.3"

 

y

=

"1003.17"

 

id

=

"40"

 

angle

=

"0"

 

/>


	

<BallInstance

 

type

=

"GooProduct"

 

x

=

"-1239.3"

 

y

=

"756.17"

 

id

=

"41"

 

angle

=

"0"

 

/>


	

<BallInstance

 

type

=

"GooProduct"

 

x

=

"-1301.3"

 

y

=

"838.17"

 

id

=

"42"

 

angle

=

"0"

 

/>


	

<BallInstance

 

type

=

"GooProduct"

 

x

=

"-942.27"

 

y

=

"796.16"

 

id

=

"43"

 

angle

=

"0"

 

/>


	

<BallInstance

 

type

=

"GooProduct"

 

x

=

"-868.27"

 

y

=

"868.16"

 

id

=

"44"

 

angle

=

"0"

 

/>


	

<BallInstance

 

type

=

"GooProduct"

 

x

=

"-950.27"

 

y

=

"870.16"

 

id

=

"45"

 

angle

=

"0"

 

/>


	

<BallInstance

 

type

=

"GooProduct"

 

x

=

"-1022.27"

 

y

=

"892.16"

 

id

=

"46"

 

angle

=

"0"

 

/>


	

<BallInstance

 

type

=

"GooProduct"

 

x

=

"-934.27"

 

y

=

"928.16"

 

id

=

"47"

 

angle

=

"0"

 

/>


	

<BallInstance

 

type

=

"GooProduct"

 

x

=

"-983.27"

 

y

=

"961.16"

 

id

=

"48"

 

angle

=

"0"

 

/>


	

<BallInstance

 

type

=

"GooProduct"

 

x

=

"-936.27"

 

y

=

"714.16"

 

id

=

"49"

 

angle

=

"0"

 

/>


	

<BallInstance

 

type

=

"GooProduct"

 

x

=

"-998.27"

 

y

=

"796.16"

 

id

=

"50"

 

angle

=

"0"

 

/>


	

<BallInstance

 

type

=

"GooProduct"

 

x

=

"-961.86"

 

y

=

"212.94"

 

id

=

"51"

 

angle

=

"0"

 

/>


	

<BallInstance

 

type

=

"GooProduct"

 

x

=

"-1052.76"

 

y

=

"833.66"

 

id

=

"52"

 

angle

=

"0"

 

/>


	

<BallInstance

 

type

=

"GooProduct"

 

x

=

"-969.86"

 

y

=

"286.94"

 

id

=

"53"

 

angle

=

"0"

 

/>


	

<BallInstance

 

type

=

"GooProduct"

 

x

=

"-1041.86"

 

y

=

"308.94"

 

id

=

"54"

 

angle

=

"0"

 

/>


	

<BallInstance

 

type

=

"GooProduct"

 

x

=

"-953.86"

 

y

=

"344.94"

 

id

=

"55"

 

angle

=

"0"

 

/>


	

<BallInstance

 

type

=

"GooProduct"

 

x

=

"-1002.86"

 

y

=

"377.94"

 

id

=

"56"

 

angle

=

"0"

 

/>


	

<BallInstance

 

type

=

"GooProduct"

 

x

=

"-955.86"

 

y

=

"130.94"

 

id

=

"57"

 

angle

=

"0"

 

/>


	

<BallInstance

 

type

=

"GooProduct"

 

x

=

"-1017.86"

 

y

=

"212.94"

 

id

=

"58"

 

angle

=

"0"

 

/>


	

<BallInstance

 

type

=

"GooProduct"

 

x

=

"-1131"

 

y

=

"249"

 

id

=

"59"

 

angle

=

"0"

 

/>


	

<BallInstance

 

type

=

"GooProduct"

 

x

=

"-1213"

 

y

=

"251"

 

id

=

"60"

 

angle

=

"0"

 

/>


	

<BallInstance

 

type

=

"GooProduct"

 

x

=

"-1285"

 

y

=

"273"

 

id

=

"61"

 

angle

=

"0"

 

/>


	

<BallInstance

 

type

=

"GooProduct"

 

x

=

"-1197"

 

y

=

"309"

 

id

=

"62"

 

angle

=

"0"

 

/>


	

<BallInstance

 

type

=

"GooProduct"

 

x

=

"-1246"

 

y

=

"342"

 

id

=

"63"

 

angle

=

"0"

 

/>


	

<BallInstance

 

type

=

"GooProduct"

 

x

=

"-1199"

 

y

=

"95"

 

id

=

"64"

 

angle

=

"0"

 

/>


	

<BallInstance

 

type

=

"GooProduct"

 

x

=

"-1261"

 

y

=

"177"

 

id

=

"65"

 

angle

=

"0"

 

/>


	

<BallInstance

 

type

=

"Ivy"

 

x

=

"-1195"

 

y

=

"493"

 

id

=

"66"

 

angle

=

"0"

 

/>


	

<BallInstance

 

type

=

"Ivy"

 

x

=

"-1121"

 

y

=

"565"

 

id

=

"67"

 

angle

=

"0"

 

/>


	

<BallInstance

 

type

=

"Ivy"

 

x

=

"-1203"

 

y

=

"567"

 

id

=

"68"

 

angle

=

"0"

 

/>


	

<BallInstance

 

type

=

"Ivy"

 

x

=

"-1275"

 

y

=

"589"

 

id

=

"69"

 

angle

=

"0"

 

/>


	

<BallInstance

 

type

=

"Ivy"

 

x

=

"-1187"

 

y

=

"625"

 

id

=

"70"

 

angle

=

"0"

 

/>


	

<BallInstance

 

type

=

"Ivy"

 

x

=

"-1236"

 

y

=

"658"

 

id

=

"71"

 

angle

=

"0"

 

/>


	

<BallInstance

 

type

=

"Ivy"

 

x

=

"-1189"

 

y

=

"411"

 

id

=

"72"

 

angle

=

"0"

 

/>


	

<BallInstance

 

type

=

"Ivy"

 

x

=

"-1251"

 

y

=

"493"

 

id

=

"73"

 

angle

=

"0"

 

/>


	

<BallInstance

 

type

=

"UtilAttachUnwalkable"

 

x

=

"-4"

 

y

=

"757"

 

id

=

"74"

 

angle

=

"0"

 

/>


	

<BallInstance

 

type

=

"UtilAttachUnwalkable"

 

x

=

"-16"

 

y

=

"648"

 

id

=

"75"

 

angle

=

"0"

 

/>


	

<BallInstance

 

type

=

"UtilAttachUnwalkable"

 

x

=

"-34"

 

y

=

"529"

 

id

=

"76"

 

angle

=

"0"

 

/>


	

<BallInstance

 

type

=

"UtilAttachUnwalkable"

 

x

=

"-41"

 

y

=

"422"

 

id

=

"77"

 

angle

=

"0"

 

/>


	

<BallInstance

 

type

=

"UtilAttachUnwalkable"

 

x

=

"-9"

 

y

=

"312"

 

id

=

"78"

 

angle

=

"0"

 

/>


	

<BallInstance

 

type

=

"UtilAttachUnwalkable"

 

x

=

"52"

 

y

=

"215"

 

id

=

"79"

 

angle

=

"0"

 

/>


	

<BallInstance

 

type

=

"UtilAttachUnwalkable"

 

x

=

"153"

 

y

=

"151"

 

id

=

"80"

 

angle

=

"0"

 

/>


	

<BallInstance

 

type

=

"UtilAttachUnwalkable"

 

x

=

"262"

 

y

=

"122"

 

id

=

"81"

 

angle

=

"0"

 

/>


	

<BallInstance

 

type

=

"UtilAttachUnwalkable"

 

x

=

"375"

 

y

=

"133"

 

id

=

"82"

 

angle

=

"0"

 

/>


	

<BallInstance

 

type

=

"UtilAttachUnwalkable"

 

x

=

"475"

 

y

=

"173"

 

id

=

"83"

 

angle

=

"0"

 

/>


	

<BallInstance

 

type

=

"UtilAttachUnwalkable"

 

x

=

"549"

 

y

=

"246"

 

id

=

"84"

 

angle

=

"0"

 

/>


	

<BallInstance

 

type

=

"UtilAttachUnwalkable"

 

x

=

"605.59"

 

y

=

"351.94"

 

id

=

"85"

 

angle

=

"0"

 

/>


	

<BallInstance

 

type

=

"UtilAttachUnwalkable"

 

x

=

"622.08"

 

y

=

"449.43"

 

id

=

"86"

 

angle

=

"0"

 

/>


	

<BallInstance

 

type

=

"UtilAttachUnwalkable"

 

x

=

"597.59"

 

y

=

"568.93"

 

id

=

"87"

 

angle

=

"0"

 

/>


	

<BallInstance

 

type

=

"UtilAttachUnwalkable"

 

x

=

"529.09"

 

y

=

"680.92"

 

id

=

"88"

 

angle

=

"0"

 

/>


	

<BallInstance

 

type

=

"UtilAttachUnwalkable"

 

x

=

"316.5"

 

y

=

"771"

 

id

=

"89"

 

angle

=

"0"

 

/>


	

<BallInstance

 

type

=

"UtilAttachUnwalkable"

 

x

=

"441.5"

 

y

=

"765"

 

id

=

"90"

 

angle

=

"0"

 

/>


	

<BallInstance

 

type

=

"UtilAttachUnwalkable"

 

x

=

"299.6"

 

y

=

"883.41"

 

id

=

"91"

 

angle

=

"0"

 

/>


	

<BallInstance

 

type

=

"UtilAttachUnwalkable"

 

x

=

"349"

 

y

=

"999"

 

id

=

"92"

 

angle

=

"0"

 

/>


	

<BallInstance

 

type

=

"UtilAttachUnwalkable"

 

x

=

"368"

 

y

=

"1118"

 

id

=

"93"

 

angle

=

"0"

 

/>


	

<BallInstance

 

type

=

"UtilAttachUnwalkable"

 

x

=

"341"

 

y

=

"1220"

 

id

=

"94"

 

angle

=

"0"

 

/>


	

<BallInstance

 

type

=

"UtilAttachUnwalkable"

 

x

=

"270"

 

y

=

"1277"

 

id

=

"95"

 

angle

=

"0"

 

/>


	

<BallInstance

 

type

=

"UtilAttachUnwalkable"

 

x

=

"160"

 

y

=

"1285"

 

id

=

"96"

 

angle

=

"0"

 

/>


	

<BallInstance

 

type

=

"UtilAttachUnwalkable"

 

x

=

"76"

 

y

=

"1227"

 

id

=

"97"

 

angle

=

"0"

 

/>


	

<BallInstance

 

type

=

"UtilAttachUnwalkable"

 

x

=

"45.5"

 

y

=

"1119.5"

 

id

=

"98"

 

angle

=

"0"

 

/>


	

<BallInstance

 

type

=

"UtilAttachUnwalkable"

 

x

=

"26"

 

y

=

"993"

 

id

=

"99"

 

angle

=

"0"

 

/>


	

<BallInstance

 

type

=

"UtilAttachUnwalkable"

 

x

=

"12"

 

y

=

"876"

 

id

=

"100"

 

angle

=

"0"

 

/>


 
	

<!-- Arms -->


	

<Strand

 

gb1

=

"1"

 

gb2

=

"4"

 

/>


	

<Strand

 

gb1

=

"4"

 

gb2

=

"0"

 

/>


	

<Strand

 

gb1

=

"0"

 

gb2

=

"3"

 

/>


	

<Strand

 

gb1

=

"2"

 

gb2

=

"5"

 

/>


	

<Strand

 

gb1

=

"4"

 

gb2

=

"2"

 

/>


	

<Strand

 

gb1

=

"3"

 

gb2

=

"4"

 

/>


	

<Strand

 

gb1

=

"1"

 

gb2

=

"0"

 

/>


	

<Strand

 

gb1

=

"1"

 

gb2

=

"3"

 

/>


	

<Strand

 

gb1

=

"2"

 

gb2

=

"0"

 

/>


	

<Strand

 

gb1

=

"12"

 

gb2

=

"13"

 

/>


	

<Strand

 

gb1

=

"74"

 

gb2

=

"100"

 

/>


	

<Strand

 

gb1

=

"75"

 

gb2

=

"74"

 

/>


	

<Strand

 

gb1

=

"76"

 

gb2

=

"75"

 

/>


	

<Strand

 

gb1

=

"77"

 

gb2

=

"76"

 

/>


	

<Strand

 

gb1

=

"78"

 

gb2

=

"77"

 

/>


	

<Strand

 

gb1

=

"79"

 

gb2

=

"78"

 

/>


	

<Strand

 

gb1

=

"80"

 

gb2

=

"79"

 

/>


	

<Strand

 

gb1

=

"81"

 

gb2

=

"80"

 

/>


	

<Strand

 

gb1

=

"82"

 

gb2

=

"81"

 

/>


	

<Strand

 

gb1

=

"83"

 

gb2

=

"82"

 

/>


	

<Strand

 

gb1

=

"84"

 

gb2

=

"83"

 

/>


	

<Strand

 

gb1

=

"85"

 

gb2

=

"84"

 

/>


	

<Strand

 

gb1

=

"86"

 

gb2

=

"85"

 

/>


	

<Strand

 

gb1

=

"88"

 

gb2

=

"87"

 

/>


	

<Strand

 

gb1

=

"87"

 

gb2

=

"86"

 

/>


	

<Strand

 

gb1

=

"91"

 

gb2

=

"89"

 

/>


	

<Strand

 

gb1

=

"89"

 

gb2

=

"90"

 

/>


	

<Strand

 

gb1

=

"90"

 

gb2

=

"88"

 

/>


	

<Strand

 

gb1

=

"92"

 

gb2

=

"91"

 

/>


	

<Strand

 

gb1

=

"93"

 

gb2

=

"92"

 

/>


	

<Strand

 

gb1

=

"94"

 

gb2

=

"93"

 

/>


	

<Strand

 

gb1

=

"95"

 

gb2

=

"94"

 

/>


	

<Strand

 

gb1

=

"96"

 

gb2

=

"95"

 

/>


	

<Strand

 

gb1

=

"97"

 

gb2

=

"96"

 

/>


	

<Strand

 

gb1

=

"98"

 

gb2

=

"97"

 

/>


	

<Strand

 

gb1

=

"99"

 

gb2

=

"98"

 

/>


	

<Strand

 

gb1

=

"100"

 

gb2

=

"99"

 

/>


 
	

<!-- Level Exit -->


	

<levelexit

 

id

=

"theExit"

 

pos

=

"1151.478515625,1457.470703125"

 

radius

=

"75"

 

filter

=

""

 

>


	</levelexit

>


 
</level

>
<scene

 

minx

=

"-1500"

 

miny

=

"0"

 

maxx

=

"1500"

 

maxy

=

"1800"

 

backgroundcolor

=

"0,0,0"

 

>


 
	

<!-- ForceFields -->


	

<linearforcefield

 

id

=

"cloudRight"

 

type

=

"gravity"

 

center

=

"-294.0718,835.3252"

 

width

=

"174.9932"

 

height

=

"40.498"

 

force

=

"-1,0"

 

dampeningfactor

=

"0"

 

antigrav

=

"false"

 

geomonly

=

"false"

 

enabled

=

"true"

 

water

=

"false"

 

/>


	

<linearforcefield

 

id

=

"cloudMain"

 

type

=

"gravity"

 

center

=

"-418.0667,835.3252"

 

width

=

"422.9829"

 

height

=

"40.498"

 

force

=

"0.5,18"

 

dampeningfactor

=

"0"

 

antigrav

=

"false"

 

geomonly

=

"false"

 

enabled

=

"true"

 

water

=

"false"

 

/>


	

<linearforcefield

 

id

=

"Water2"

 

type

=

"gravity"

 

center

=

"1130.9487,383.2305"

 

width

=

"463.04"

 

height

=

"276.5117"

 

force

=

"0,22"

 

dampeningfactor

=

"0"

 

antigrav

=

"false"

 

geomonly

=

"false"

 

enabled

=

"true"

 

water

=

"true"

 

color

=

"227,0,0,0"

 

depth

=

"0"

 

/>


	

<linearforcefield

 

id

=

"WaterCurrent"

 

type

=

"gravity"

 

center

=

"782.4111,117.5049"

 

width

=

"1461.1777"

 

height

=

"282.9902"

 

force

=

"-6,-8"

 

dampeningfactor

=

"0"

 

antigrav

=

"false"

 

geomonly

=

"false"

 

enabled

=

"true"

 

water

=

"false"

 

/>


	

<linearforcefield

 

id

=

"Water"

 

type

=

"gravity"

 

center

=

"-25.3022,110.0049"

 

width

=

"3073.6006"

 

height

=

"271.9902"

 

force

=

"2,18"

 

dampeningfactor

=

"0"

 

antigrav

=

"false"

 

geomonly

=

"false"

 

enabled

=

"true"

 

water

=

"true"

 

color

=

"227,0,0,0"

 

/>


	

<linearforcefield

 

type

=

"gravity"

 

force

=

"0,-10"

 

dampeningfactor

=

"0"

 

antigrav

=

"true"

 

geomonly

=

"false"

 

/>


 
	

<!-- Particles -->


	

<particles

 

effect

=

"leavesRight"

 

depth

=

"-160"

 

pos

=

"-1078.9599609375,1918.34814453125"

 

pretick

=

"0"

 

/>


 
	

<!-- SceneLayers -->


		

<SceneLayer

 

name

=

"signpostPole_brown"

 

depth

=

"-8.8"

 

x

=

"-427.55"

 

y

=

"166.34"

 

scalex

=

"1"

 

scaley

=

"4.039"

 

rotation

=

"-7.33"

 

alpha

=

"1"

 

colorize

=

"255,255,255"

 

image

=

"IMAGE_SCENE_IMMIGRATIONNATURALIZATIONUNIT_SIGNPOSTPOLE_BROWN"

   

/>


		

<SceneLayer

 

name

=

"signpostPole_brown"

 

depth

=

"8"

 

x

=

"1293.55"

 

y

=

"282.65"

 

scalex

=

"0.85"

 

scaley

=

"0.866"

 

rotation

=

"-5.36"

 

alpha

=

"1"

 

colorize

=

"0,0,0"

 

image

=

"IMAGE_SCENE_IMMIGRATIONNATURALIZATIONUNIT_SIGNPOSTPOLE_BROWN"

   

/>


		

<SceneLayer

 

name

=

"signpostPole_brown"

 

depth

=

"-8.8"

 

x

=

"-516.39"

 

y

=

"907.62"

 

scalex

=

"1"

 

scaley

=

"1.821"

 

rotation

=

"21.79"

 

alpha

=

"1"

 

colorize

=

"255,255,255"

 

image

=

"IMAGE_SCENE_IMMIGRATIONNATURALIZATIONUNIT_SIGNPOSTPOLE_BROWN"

   

/>


	

<SceneLayer

 

name

=

"bush_fg1a"

 

depth

=

"80"

 

x

=

"850.22"

 

y

=

"24.91"

 

scalex

=

"2.489"

 

scaley

=

"2.489"

 

rotation

=

"11.28"

 

alpha

=

"1"

 

colorize

=

"255,255,255"

 

image

=

"IMAGE_SCENE_IMMIGRATIONNATURALIZATIONUNIT_BUSH_FG1A"

   

/>


	

<SceneLayer

 

name

=

"bush_fg1a"

 

depth

=

"80"

 

x

=

"1417.21"

 

y

=

"74.92"

 

scalex

=

"2.489"

 

scaley

=

"2.489"

 

rotation

=

"8.01"

 

alpha

=

"1"

 

colorize

=

"255,255,255"

 

image

=

"IMAGE_SCENE_IMMIGRATIONNATURALIZATIONUNIT_BUSH_FG1A"

   

/>


	

<SceneLayer

 

name

=

"bush_fg1a"

 

depth

=

"80"

 

x

=

"1529.19"

 

y

=

"366.78"

 

scalex

=

"1.73"

 

scaley

=

"1.73"

 

rotation

=

"82.59"

 

alpha

=

"1"

 

colorize

=

"255,255,255"

 

image

=

"IMAGE_SCENE_IMMIGRATIONNATURALIZATIONUNIT_BUSH_FG1A"

   

/>


	

<SceneLayer

 

name

=

"bush_fg1a"

 

depth

=

"80"

 

x

=

"963.67"

 

y

=

"1711.88"

 

scalex

=

"1.829"

 

scaley

=

"1.829"

 

rotation

=

"177.69"

 

alpha

=

"1"

 

colorize

=

"255,255,255"

 

image

=

"IMAGE_SCENE_IMMIGRATIONNATURALIZATIONUNIT_BUSH_FG1A"

   

/>


	

<SceneLayer

 

name

=

"bush_fg1a"

 

depth

=

"80"

 

x

=

"1305.79"

 

y

=

"1717.03"

 

scalex

=

"1.679"

 

scaley

=

"1.679"

 

rotation

=

"-170.9"

 

alpha

=

"1"

 

colorize

=

"255,255,255"

 

image

=

"IMAGE_SCENE_IMMIGRATIONNATURALIZATIONUNIT_BUSH_FG1A"

   

/>


	

<SceneLayer

 

name

=

"screw1"

 

depth

=

"8"

 

x

=

"702.4"

 

y

=

"757.86"

 

scalex

=

"0.925"

 

scaley

=

"0.925"

 

rotation

=

"-53.87"

 

alpha

=

"1"

 

colorize

=

"255,255,255"

 

image

=

"IMAGE_SCENE_IMMIGRATIONNATURALIZATIONUNIT_SCREW1"

   

/>


	

<SceneLayer

 

name

=

"screw1"

 

depth

=

"8"

 

x

=

"771.21"

 

y

=

"967.82"

 

scalex

=

"0.851"

 

scaley

=

"0.851"

 

rotation

=

"-134.63"

 

alpha

=

"1"

 

colorize

=

"255,255,255"

 

image

=

"IMAGE_SCENE_IMMIGRATIONNATURALIZATIONUNIT_SCREW1"

   

/>


	

<SceneLayer

 

name

=

"screw1"

 

depth

=

"8"

 

x

=

"936.19"

 

y

=

"1339.8"

 

scalex

=

"0.851"

 

scaley

=

"0.851"

 

rotation

=

"0"

 

alpha

=

"1"

 

colorize

=

"255,255,255"

 

image

=

"IMAGE_SCENE_IMMIGRATIONNATURALIZATIONUNIT_SCREW1"

   

/>


		

<SceneLayer

 

name

=

"wogcCloud1"

 

depth

=

"8"

 

x

=

"-399.25"

 

y

=

"839"

 

scalex

=

"1.481"

 

scaley

=

"1.252"

 

rotation

=

"0"

 

alpha

=

"0.5"

 

colorize

=

"255,255,255"

 

image

=

"IMAGE_SCENE_IMMIGRATIONNATURALIZATIONUNIT_WOGCCLOUD1"

   

/>


		

<SceneLayer

 

name

=

"wogcCloud1"

 

depth

=

"-8"

 

x

=

"-420.25"

 

y

=

"840.5"

 

scalex

=

"1.692"

 

scaley

=

"1.252"

 

rotation

=

"0"

 

alpha

=

"0.61000001430511"

 

colorize

=

"255,255,255"

 

image

=

"IMAGE_SCENE_IMMIGRATIONNATURALIZATIONUNIT_WOGCCLOUD1"

   

/>


		

<SceneLayer

 

name

=

"main4_03"

 

depth

=

"0"

 

x

=

"1223.01"

 

y

=

"320.86"

 

scalex

=

"1.509"

 

scaley

=

"1.449"

 

rotation

=

"0"

 

alpha

=

"1"

 

colorize

=

"255,255,255"

 

image

=

"IMAGE_SCENE_IMMIGRATIONNATURALIZATIONUNIT_MAIN4_03"

   

/>


		

<SceneLayer

 

name

=

"main5"

 

depth

=

"0"

 

x

=

"796.81"

 

y

=

"619.27"

 

scalex

=

"1.234"

 

scaley

=

"1.499"

 

rotation

=

"0"

 

alpha

=

"1"

 

colorize

=

"255,255,255"

 

image

=

"IMAGE_SCENE_IMMIGRATIONNATURALIZATIONUNIT_MAIN5"

   

/>


		

<SceneLayer

 

name

=

"main2"

 

depth

=

"0"

 

x

=

"1154.7"

 

y

=

"1705.11"

 

scalex

=

"1.287"

 

scaley

=

"1.498"

 

rotation

=

"0"

 

alpha

=

"1"

 

colorize

=

"255,255,255"

 

image

=

"IMAGE_SCENE_IMMIGRATIONNATURALIZATIONUNIT_MAIN2"

   

/>


		

<SceneLayer

 

name

=

"main3"

 

depth

=

"0"

 

x

=

"1410.5"

 

y

=

"1018.11"

 

scalex

=

"1.44"

 

scaley

=

"1.529"

 

rotation

=

"0"

 

alpha

=

"1"

 

colorize

=

"255,255,255"

 

image

=

"IMAGE_SCENE_IMMIGRATIONNATURALIZATIONUNIT_MAIN3"

   

/>


		

<SceneLayer

 

name

=

"main1"

 

depth

=

"0"

 

x

=

"895.91"

 

y

=

"1551"

 

scalex

=

"1.482"

 

scaley

=

"1.008"

 

rotation

=

"0"

 

alpha

=

"1"

 

colorize

=

"255,255,255"

 

image

=

"IMAGE_SCENE_IMMIGRATIONNATURALIZATIONUNIT_MAIN1"

   

/>


		

<SceneLayer

 

name

=

"main4_01"

 

depth

=

"0"

 

x

=

"1005"

 

y

=

"323.34"

 

scalex

=

"0.868"

 

scaley

=

"1.461"

 

rotation

=

"0"

 

alpha

=

"1"

 

colorize

=

"255,255,255"

 

image

=

"IMAGE_SCENE_IMMIGRATIONNATURALIZATIONUNIT_MAIN4_01"

   

/>


		

<SceneLayer

 

name

=

"dirArrow1"

 

depth

=

"-8"

 

x

=

"21.69"

 

y

=

"1200.9"

 

scalex

=

"0.503"

 

scaley

=

"0.503"

 

rotation

=

"57.61"

 

alpha

=

"1"

 

colorize

=

"255,255,255"

 

image

=

"IMAGE_SCENE_IMMIGRATIONNATURALIZATIONUNIT_DIRARROW1"

   

/>


		

<SceneLayer

 

name

=

"signpostPole_brown"

 

depth

=

"-8.8"

 

x

=

"34.9"

 

y

=

"1171.48"

 

scalex

=

"1"

 

scaley

=

"0.977"

 

rotation

=

"57.94"

 

alpha

=

"1"

 

colorize

=

"255,255,255"

 

image

=

"IMAGE_SCENE_IMMIGRATIONNATURALIZATIONUNIT_SIGNPOSTPOLE_BROWN"

   

/>


		

<SceneLayer

 

name

=

"dirArrow1"

 

depth

=

"-8"

 

x

=

"866.22"

 

y

=

"1054.13"

 

scalex

=

"0.574"

 

scaley

=

"0.574"

 

rotation

=

"-5.01"

 

alpha

=

"1"

 

colorize

=

"255,255,255"

 

image

=

"IMAGE_SCENE_IMMIGRATIONNATURALIZATIONUNIT_DIRARROW1"

   

/>


		

<SceneLayer

 

name

=

"signpostPole_brown"

 

depth

=

"-8.8"

 

x

=

"851.04"

 

y

=

"1034.83"

 

scalex

=

"1"

 

scaley

=

"0.905"

 

rotation

=

"5.74"

 

alpha

=

"1"

 

colorize

=

"255,255,255"

 

image

=

"IMAGE_SCENE_IMMIGRATIONNATURALIZATIONUNIT_SIGNPOSTPOLE_BROWN"

   

/>


	

<SceneLayer

 

name

=

"bush_leafy_1"

 

depth

=

"-40"

 

x

=

"830.31"

 

y

=

"1589.94"

 

scalex

=

"1.25"

 

scaley

=

"1.25"

 

rotation

=

"104.5"

 

alpha

=

"1"

 

colorize

=

"255,255,255"

 

image

=

"IMAGE_SCENE_IMMIGRATIONNATURALIZATIONUNIT_BUSH_LEAFY_1"

   

/>


	

<SceneLayer

 

name

=

"bush_leafy_1"

 

depth

=

"-40"

 

x

=

"1141.37"

 

y

=

"1621.94"

 

scalex

=

"1.25"

 

scaley

=

"1.25"

 

rotation

=

"177.47"

 

alpha

=

"1"

 

colorize

=

"255,255,255"

 

image

=

"IMAGE_SCENE_IMMIGRATIONNATURALIZATIONUNIT_BUSH_LEAFY_1"

   

/>


	

<SceneLayer

 

name

=

"bush_leafy_1"

 

depth

=

"-40"

 

x

=

"1354.39"

 

y

=

"784.91"

 

scalex

=

"1.25"

 

scaley

=

"1.25"

 

rotation

=

"105.36"

 

alpha

=

"1"

 

colorize

=

"255,255,255"

 

image

=

"IMAGE_SCENE_IMMIGRATIONNATURALIZATIONUNIT_BUSH_LEAFY_1"

   

/>


	

<SceneLayer

 

name

=

"bush_leafy_1"

 

depth

=

"-40"

 

x

=

"919.33"

 

y

=

"730.88"

 

scalex

=

"1.25"

 

scaley

=

"1.25"

 

rotation

=

"-85.4"

 

alpha

=

"1"

 

colorize

=

"255,255,255"

 

image

=

"IMAGE_SCENE_IMMIGRATIONNATURALIZATIONUNIT_BUSH_LEAFY_1"

   

/>


	

<SceneLayer

 

name

=

"groundBelow"

 

depth

=

"-8"

 

x

=

"844.03"

 

y

=

"152.98"

 

scalex

=

"2.606"

 

scaley

=

"2.485"

 

rotation

=

"0"

 

alpha

=

"1"

 

colorize

=

"255,255,255"

 

image

=

"IMAGE_SCENE_IMMIGRATIONNATURALIZATIONUNIT_GROUNDBELOW"

   

/>


	

<SceneLayer

 

name

=

"wheelHolder"

 

depth

=

"-8"

 

x

=

"167"

 

y

=

"855.66"

 

scalex

=

"1"

 

scaley

=

"1.12"

 

rotation

=

"-0.56"

 

alpha

=

"1"

 

colorize

=

"255,255,255"

 

image

=

"IMAGE_SCENE_IMMIGRATIONNATURALIZATIONUNIT_WHEELHOLDER"

   

/>


	

<SceneLayer

 

name

=

"machineBg"

 

depth

=

"-80"

 

x

=

"438.52"

 

y

=

"574.48"

 

scalex

=

"1.223"

 

scaley

=

"4.226"

 

rotation

=

"0"

 

alpha

=

"1"

 

colorize

=

"255,255,255"

 

image

=

"IMAGE_SCENE_IMMIGRATIONNATURALIZATIONUNIT_MACHINEBG"

   

/>


	

<SceneLayer

 

name

=

"wogcCloud1"

 

depth

=

"-240"

 

x

=

"-1054.67"

 

y

=

"1150.4"

 

scalex

=

"2.4"

 

scaley

=

"1.776"

 

rotation

=

"1.85"

 

alpha

=

"0.25"

 

colorize

=

"255,255,255"

 

image

=

"IMAGE_SCENE_IMMIGRATIONNATURALIZATIONUNIT_WOGCCLOUD1"

   

/>


	

<SceneLayer

 

name

=

"bgVeggies"

 

depth

=

"-40"

 

x

=

"1375.92"

 

y

=

"1576.33"

 

scalex

=

"1.999"

 

scaley

=

"1.716"

 

rotation

=

"163.21"

 

alpha

=

"1"

 

colorize

=

"255,255,255"

 

image

=

"IMAGE_SCENE_IMMIGRATIONNATURALIZATIONUNIT_BGVEGGIES"

   

/>


	

<SceneLayer

 

name

=

"bgVeggies"

 

depth

=

"-240"

 

x

=

"711.01"

 

y

=

"327.23"

 

scalex

=

"4.035"

 

scaley

=

"2.796"

 

rotation

=

"15.7"

 

alpha

=

"1"

 

colorize

=

"255,255,255"

 

image

=

"IMAGE_SCENE_IMMIGRATIONNATURALIZATIONUNIT_BGVEGGIES"

   

/>


	

<SceneLayer

 

name

=

"wogcCloud1"

 

depth

=

"-320"

 

x

=

"-724.03"

 

y

=

"524.43"

 

scalex

=

"1.174"

 

scaley

=

"0.662"

 

rotation

=

"0"

 

alpha

=

"0.20999999344349"

 

colorize

=

"255,255,255"

 

image

=

"IMAGE_SCENE_IMMIGRATIONNATURALIZATIONUNIT_WOGCCLOUD1"

   

/>


	

<SceneLayer

 

name

=

"wogcCloud1"

 

depth

=

"-320"

 

x

=

"1239.37"

 

y

=

"1152.15"

 

scalex

=

"1.174"

 

scaley

=

"0.868"

 

rotation

=

"0"

 

alpha

=

"0.20999999344349"

 

colorize

=

"255,255,255"

 

image

=

"IMAGE_SCENE_IMMIGRATIONNATURALIZATIONUNIT_WOGCCLOUD1"

   

/>


	

<SceneLayer

 

name

=

"wogcCloud1"

 

depth

=

"-320"

 

x

=

"-60.27"

 

y

=

"1618.3"

 

scalex

=

"2.4"

 

scaley

=

"1.776"

 

rotation

=

"0"

 

alpha

=

"0.23999999463558"

 

colorize

=

"255,255,255"

 

image

=

"IMAGE_SCENE_IMMIGRATIONNATURALIZATIONUNIT_WOGCCLOUD1"

   

/>


	

<SceneLayer

 

name

=

"sky_pissyellowstripes"

 

depth

=

"-480"

 

x

=

"0.15"

 

y

=

"900.04"

 

scalex

=

"11.166"

 

scaley

=

"6.649"

 

rotation

=

"0"

 

alpha

=

"1"

 

colorize

=

"255,255,255"

 

image

=

"IMAGE_SCENE_IMMIGRATIONNATURALIZATIONUNIT_SKY_PISSYELLOWSTRIPES"

   

/>


 
	

<!-- Buttons -->


 
	

<!-- Labels -->


 
	

<!-- Static Geometry -->


	

<line

 

id

=

"top"

 

static

=

"true"

 

tag

=

"detaching"

 

material

=

"rock"

 

anchor

=

"-12.5002,2000"

 

normal

=

"0,-1"

 

/>


	

<line

 

id

=

""

 

static

=

"true"

 

material

=

"rock"

 

anchor

=

"1500,900"

 

normal

=

"-1,0"

 

/>


	

<rectangle

 

id

=

""

 

static

=

"true"

 

material

=

"rock"

 

x

=

"1188.2085"

 

y

=

"1839.9685"

 

width

=

"726.8735"

 

height

=

"421.938"

 

rotation

=

"-0.0999"

 

/>


	

<rectangle

 

id

=

""

 

static

=

"true"

 

material

=

"rock"

 

x

=

"869.2466"

 

y

=

"1543.6125"

 

width

=

"128.4932"

 

height

=

"251.4868"

 

rotation

=

"0"

 

/>


	

<rectangle

 

id

=

"rightCeil"

 

static

=

"true"

 

tag

=

"unwalkable"

 

material

=

"machine"

 

nogeomcollisions

=

"true"

 

x

=

"945.3188"

 

y

=

"1520.1233"

 

width

=

"70.4962"

 

height

=

"418.4785"

 

rotation

=

"-0.0598"

 

/>


	

<rectangle

 

id

=

"rightWall"

 

static

=

"true"

 

tag

=

"unwalkable"

 

material

=

"machine"

 

nogeomcollisions

=

"true"

 

x

=

"1472.1563"

 

y

=

"998.8674"

 

width

=

"255.0262"

 

height

=

"1452.6947"

 

rotation

=

"0.0325"

 

/>


	

<rectangle

 

id

=

""

 

static

=

"true"

 

material

=

"rock"

 

x

=

"1263.687"

 

y

=

"329.1177"

 

width

=

"228.2033"

 

height

=

"137.4888"

 

rotation

=

"0.0603"

 

/>


	

<rectangle

 

id

=

""

 

static

=

"true"

 

material

=

"rock"

 

x

=

"965.1826"

 

y

=

"332.7139"

 

width

=

"161.0226"

 

height

=

"137.4879"

 

rotation

=

"-0.1563"

 

/>


	

<line

 

id

=

""

 

static

=

"true"

 

material

=

"rock"

 

anchor

=

"-1550,825"

 

normal

=

"1,0"

 

/>


	

<rectangle

 

id

=

"edgeBar"

 

static

=

"true"

 

tag

=

"unwalkable"

 

material

=

"machine"

 

nogeomcollisions

=

"true"

 

x

=

"791.0537"

 

y

=

"639.4695"

 

width

=

"258.0266"

 

height

=

"710.562"

 

rotation

=

"-0.0669"

 

/>


	

<rectangle

 

id

=

"centerBar"

 

static

=

"true"

 

tag

=

"unwalkable"

 

material

=

"machine"

 

nogeomcollisions

=

"true"

 

x

=

"161.3047"

 

y

=

"802.1521"

 

width

=

"194.8011"

 

height

=

"599.4973"

 

rotation

=

"-0.1172"

 

/>


	

<line

 

id

=

""

 

static

=

"true"

 

material

=

"rock"

 

anchor

=

"137.5002,0"

 

normal

=

"0,1"

 

/>


 
	

<!-- Dynamic Geometry -->


	

<rectangle

 

id

=

"GateArm"

 

mass

=

"150"

 

static

=

"false"

 

tag

=

"unwalkable"

 

material

=

"machine"

 

image

=

"IMAGE_SCENE_IMMIGRATIONNATURALIZATIONUNIT_GATEARM"

 

imagepos

=

"511.213,1352.0381"

 

imagerot

=

"-0.0188"

 

imagescale

=

"1.7649,1.0878"

 

x

=

"518.9409"

 

y

=

"1352.1545"

 

width

=

"877.946"

 

height

=

"65.9192"

 

rotation

=

"-0.0257"

 

/>


	

<circle

 

id

=

"GateWheel"

 

mass

=

"105"

 

static

=

"false"

 

tag

=

"detaching"

 

material

=

"rock"

 

rotspeed

=

"-0.02"

 

image

=

"IMAGE_SCENE_IMMIGRATIONNATURALIZATIONUNIT_GEARDETACH"

 

imagepos

=

"20.142,1371.1921"

 

imagerot

=

"0"

 

imagescale

=

"1.0001,1.0001"

 

x

=

"19.9998"

 

y

=

"1370"

 

radius

=

"78.7462"

 

/>


	

<circle

 

id

=

"DetachWheel"

 

mass

=

"100"

 

static

=

"false"

 

tag

=

"detaching"

 

material

=

"rock"

 

rotspeed

=

"-0.034"

 

image

=

"IMAGE_SCENE_IMMIGRATIONNATURALIZATIONUNIT_GEARDETACH"

 

imagepos

=

"447.6914,1156.0381"

 

imagerot

=

"-0.0451"

 

imagescale

=

"0.7791,0.7791"

 

x

=

"447.8101"

 

y

=

"1155.2017"

 

radius

=

"62.9972"

 

/>


	

<compositegeom

 

id

=

"DetachArm"

 

x

=

"549.3369"

 

y

=

"1113.1023"

 

rotation

=

"0"

 

static

=

"false"

 

tag

=

"unwalkable"

 

material

=

"machine"

 

image

=

"IMAGE_SCENE_IMMIGRATIONNATURALIZATIONUNIT_DETACHARM"

 

imagepos

=

"562.5483,1109.9751"

 

imagerot

=

"-0.0451"

 

imagescale

=

"1.0001,1.0001"

 

>


		

<rectangle

 

id

=

""

 

mass

=

"162.122386364696"

 

x

=

"13.4658"

 

y

=

"-65.0747"

 

width

=

"44.0577"

 

height

=

"371.0282"

 

rotation

=

"1.1708"

 

/>


		

<rectangle

 

id

=

""

 

mass

=

"37.8776136353045"

 

x

=

"-167.7095"

 

y

=

"72.0537"

 

width

=

"22.4984"

 

height

=

"169.7524"

 

rotation

=

"0.167"

 

/>


	</compositegeom

>


	

<rectangle

 

id

=

"Wheel3Arm"

 

mass

=

"200"

 

static

=

"false"

 

tag

=

"unwalkable"

 

material

=

"machine"

 

image

=

"IMAGE_SCENE_IMMIGRATIONNATURALIZATIONUNIT_WHEEL3ARM"

 

imagepos

=

"609.6111,813.4421"

 

imagerot

=

"-0.5518"

 

imagescale

=

"1.037,0.8794"

 

x

=

"518.0513"

 

y

=

"869.5015"

 

width

=

"50.9974"

 

height

=

"238.3419"

 

rotation

=

"1.0192"

 

/>


	

<circle

 

id

=

"Wheel1"

 

mass

=

"2000"

 

static

=

"false"

 

tag

=

"unwalkable"

 

material

=

"rock"

 

rotspeed

=

"-0.004"

 

image

=

"IMAGE_SCENE_IMMIGRATIONNATURALIZATIONUNIT_MACHINEWHEEL1"

 

imagepos

=

"289.8259,448.8452"

 

imagerot

=

"0"

 

imagescale

=

"1.2142,1.2142"

 

x

=

"289.9998"

 

y

=

"449"

 

radius

=

"310.5314"

 

/>


	

<circle

 

id

=

"Wheel2"

 

mass

=

"1000"

 

static

=

"false"

 

tag

=

"unwalkable"

 

material

=

"rock"

 

rotspeed

=

"-0.008"

 

image

=

"IMAGE_SCENE_IMMIGRATIONNATURALIZATIONUNIT_MACHINEWHEEL1"

 

imagepos

=

"205.8345,1132.4992"

 

imagerot

=

"0"

 

imagescale

=

"0.5762,0.5762"

 

x

=

"206"

 

y

=

"1130"

 

radius

=

"145.5151"

 

/>


	

<circle

 

id

=

"Wheel3"

 

mass

=

"500"

 

static

=

"false"

 

tag

=

"unwalkable"

 

material

=

"rock"

 

rotspeed

=

"0.016"

 

image

=

"IMAGE_SCENE_IMMIGRATIONNATURALIZATIONUNIT_MACHINEWHEEL1"

 

imagepos

=

"429.8328,920.5005"

 

imagerot

=

"0"

 

imagescale

=

"0.39,0.39"

 

x

=

"430"

 

y

=

"920"

 

radius

=

"99.3867"

 

/>


 
	

<!-- Geometry Constraints -->


	

<hinge

 

body1

=

"GateArm"

 

body2

=

"GateWheel"

 

anchor

=

"20,1370"

/>


	

<hinge

 

body1

=

"GateArm"

 

anchor

=

"941.80859375,1339.08984375"

/>


	

<hinge

 

body1

=

"DetachArm"

 

body2

=

"DetachWheel"

 

anchor

=

"447.810546875,1155.20166015625"

/>


	

<hinge

 

body1

=

"DetachArm"

 

anchor

=

"721.658203125,977.58349609375"

/>


	

<hinge

 

body1

=

"Wheel3Arm"

 

anchor

=

"692.5810546875,758.9150390625"

/>


	

<hinge

 

body1

=

"Wheel3"

 

body2

=

"Wheel3Arm"

 

anchor

=

"430,920"

/>


	

<hinge

 

body1

=

"Wheel2"

 

anchor

=

"206,1130"

/>


	

<hinge

 

body1

=

"Wheel1"

 

anchor

=

"290,449"

/>


</scene

>