Beauty School
Little Miss World of Goo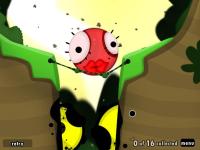 Normal: 16 balls
OCD: 21 seconds
Previous level:
Welcoming Unit
.
Next levels:
Volcanic Percolator Day Spa
,
Leap Hole
.
it's time to work!
Signposts
Of all the goo, and of all the balls...
...who's the prettiest of them all?
-the Sign Painter
A red pipe!
It appears to be very exclusive.
Only certain types of Goo are allowed to enter.
-the Sign Painter
You need Flash player 8+ and JavaScript enabled to view this video.
There is 1 video.
<level

 

ballsrequired

=

"16"

 

letterboxed

=

"false"

 

visualdebug

=

"false"

 

autobounds

=

"false"

 

textcolor

=

"255,255,255"

 

texteffects

=

"true"

 

timebugprobability

=

"0"

 

strandgeom

=

"false"

 

allowskip

=

"false"

 

>


 
	

<!-- Camera -->


	

<camera

 

aspect

=

"normal"

 

endpos

=

"1.7,459.11"

 

endzoom

=

"0.672"

>


		

<poi

 

pos

=

"318.07,227.21"

 

traveltime

=

"0"

 

pause

=

"0"

 

zoom

=

"1.465"

 

/>


		

<poi

 

pos

=

"-25.41,553.44"

 

traveltime

=

"2"

 

pause

=

"0"

 

zoom

=

"0.877"

 

/>


		

<poi

 

pos

=

"-1.79,1311.56"

 

traveltime

=

"2"

 

pause

=

"0"

 

zoom

=

"0.672"

 

/>


		

<poi

 

pos

=

"-100.75,1893.19"

 

traveltime

=

"2"

 

pause

=

"0"

 

zoom

=

"0.813"

 

/>


	</camera

>


	

<camera

 

aspect

=

"widescreen"

 

endpos

=

"0,379.11"

 

endzoom

=

"0.913"

>


		

<poi

 

pos

=

"226.35,227.21"

 

traveltime

=

"0"

 

pause

=

"0"

 

zoom

=

"1.465"

 

/>


		

<poi

 

pos

=

"0,553.44"

 

traveltime

=

"2"

 

pause

=

"0"

 

zoom

=

"0.913"

 

/>


		

<poi

 

pos

=

"0,1311.56"

 

traveltime

=

"2"

 

pause

=

"0"

 

zoom

=

"0.913"

 

/>


		

<poi

 

pos

=

"0,1893.19"

 

traveltime

=

"2"

 

pause

=

"0"

 

zoom

=

"0.913"

 

/>


	</camera

>


 
	

<!-- Music -->


	

<music

 

id

=

"SOUND_LEVEL_BEAUTYSCHOOL_TEMP_CARNIVALLOOP"

 

/>


 
	

<!-- Fire -->


 
	

<!-- Signposts -->


		

<signpost

 

name

=

"signpost_brown"

 

depth

=

"-8"

 

x

=

"20.15"

 

y

=

"1774.93"

 

scalex

=

"0.89"

 

scaley

=

"0.987"

 

rotation

=

"-5.65"

 

alpha

=

"1"

 

colorize

=

"255,255,255"

 

image

=

"IMAGE_SCENE_BEAUTYSCHOOL_SIGNPOST_BROWN"

 

text

=

"SIGNPOST_BEAUTYSCHOOL_1"

   

/>


		

<signpost

 

name

=

"signpost_brown"

 

depth

=

"-8"

 

x

=

"-65.24"

 

y

=

"254.25"

 

scalex

=

"0.89"

 

scaley

=

"0.987"

 

rotation

=

"-95.94"

 

alpha

=

"1"

 

colorize

=

"255,255,255"

 

image

=

"IMAGE_SCENE_BEAUTYSCHOOL_SIGNPOST_BROWN"

 

text

=

"SIGNPOST_BEAUTYSCHOOL_2"

   

/>


 
	

<!-- Pipes -->


	

<pipe

 

id

=

"0"

 

depth

=

"-8"

 

type

=

"BEAUTY"

 

>


		

<Vertex

 

x

=

"336"

 

y

=

"219"

 

/>


		

<Vertex

 

x

=

"471"

 

y

=

"219"

 

/>


		

<Vertex

 

x

=

"471"

 

y

=

"160"

 

/>


	</pipe

>


 
	

<!-- Balls -->


	

<BallInstance

 

type

=

"Anchor"

 

x

=

"186"

 

y

=

"856"

 

id

=

"0"

 

discovered

=

"false"

 

angle

=

"0"

 

/>


	

<BallInstance

 

type

=

"Anchor"

 

x

=

"-196"

 

y

=

"859"

 

id

=

"1"

 

discovered

=

"false"

 

angle

=

"0"

 

/>


	

<BallInstance

 

type

=

"balloon"

 

x

=

"364.58"

 

y

=

"2038.54"

 

id

=

"2"

 

angle

=

"0"

 

/>


	

<BallInstance

 

type

=

"balloon"

 

x

=

"270.08"

 

y

=

"2062.54"

 

id

=

"3"

 

angle

=

"0"

 

/>


	

<BallInstance

 

type

=

"Anchor"

 

x

=

"347"

 

y

=

"1274"

 

id

=

"4"

 

angle

=

"0"

 

/>


	

<BallInstance

 

type

=

"Anchor"

 

x

=

"0"

 

y

=

"1205"

 

id

=

"5"

 

angle

=

"0"

 

/>


	

<BallInstance

 

type

=

"Anchor"

 

x

=

"329.02"

 

y

=

"1950.08"

 

id

=

"6"

 

angle

=

"0"

 

/>


	

<BallInstance

 

type

=

"Anchor"

 

x

=

"523.67"

 

y

=

"1639"

 

id

=

"7"

 

angle

=

"0"

 

/>


	

<BallInstance

 

type

=

"Ivy"

 

x

=

"-64.1"

 

y

=

"827.58"

 

id

=

"8"

 

discovered

=

"false"

 

angle

=

"0"

 

/>


	

<BallInstance

 

type

=

"Ivy"

 

x

=

"63.9"

 

y

=

"835.58"

 

id

=

"9"

 

discovered

=

"false"

 

angle

=

"0"

 

/>


	

<BallInstance

 

type

=

"UtilNoAttachUnwalkable"

 

x

=

"135.96"

 

y

=

"1201.82"

 

id

=

"10"

 

angle

=

"0"

 

/>


	

<BallInstance

 

type

=

"UtilNoAttachUnwalkable"

 

x

=

"254.92"

 

y

=

"1243.92"

 

id

=

"11"

 

angle

=

"0"

 

/>


	

<BallInstance

 

type

=

"UtilNoAttachUnwalkable"

 

x

=

"424.08"

 

y

=

"1332.77"

 

id

=

"12"

 

angle

=

"0"

 

/>


	

<BallInstance

 

type

=

"UtilNoAttachUnwalkable"

 

x

=

"491.19"

 

y

=

"1405.13"

 

id

=

"13"

 

angle

=

"0"

 

/>


	

<BallInstance

 

type

=

"UtilNoAttachUnwalkable"

 

x

=

"538.17"

 

y

=

"1496.29"

 

id

=

"14"

 

angle

=

"0"

 

/>


	

<BallInstance

 

type

=

"UtilNoAttachUnwalkable"

 

x

=

"443.74"

 

y

=

"1529.28"

 

id

=

"15"

 

angle

=

"0"

 

/>


	

<BallInstance

 

type

=

"UtilNoAttachUnwalkable"

 

x

=

"404.51"

 

y

=

"1450.23"

 

id

=

"16"

 

angle

=

"0"

 

/>


	

<BallInstance

 

type

=

"UtilNoAttachUnwalkable"

 

x

=

"338.75"

 

y

=

"1386.42"

 

id

=

"17"

 

angle

=

"0"

 

/>


	

<BallInstance

 

type

=

"UtilNoAttachUnwalkable"

 

x

=

"271.08"

 

y

=

"1338.73"

 

id

=

"18"

 

angle

=

"0"

 

/>


	

<BallInstance

 

type

=

"UtilNoAttachUnwalkable"

 

x

=

"191.56"

 

y

=

"1305.47"

 

id

=

"19"

 

angle

=

"0"

 

/>


	

<BallInstance

 

type

=

"UtilNoAttachUnwalkable"

 

x

=

"74.59"

 

y

=

"1285.85"

 

id

=

"20"

 

angle

=

"0"

 

/>


	

<BallInstance

 

type

=

"UtilNoAttachUnwalkable"

 

x

=

"-34.46"

 

y

=

"1285.23"

 

id

=

"21"

 

angle

=

"0"

 

/>


	

<BallInstance

 

type

=

"common"

 

x

=

"-121.51"

 

y

=

"1867.67"

 

id

=

"22"

 

angle

=

"0"

 

/>


	

<BallInstance

 

type

=

"common"

 

x

=

"-238.51"

 

y

=

"1885.67"

 

id

=

"23"

 

angle

=

"0"

 

/>


	

<BallInstance

 

type

=

"common"

 

x

=

"-256.51"

 

y

=

"1780.68"

 

id

=

"24"

 

angle

=

"0"

 

/>


	

<BallInstance

 

type

=

"common"

 

x

=

"-133.51"

 

y

=

"1764.18"

 

id

=

"25"

 

angle

=

"0"

 

/>


	

<BallInstance

 

type

=

"common"

 

x

=

"209.54"

 

y

=

"255"

 

id

=

"26"

 

angle

=

"0"

 

/>


	

<BallInstance

 

type

=

"common"

 

x

=

"209.54"

 

y

=

"155"

 

id

=

"27"

 

angle

=

"0"

 

/>


	

<BallInstance

 

type

=

"common"

 

x

=

"105"

 

y

=

"151.51"

 

id

=

"28"

 

angle

=

"0"

 

/>


	

<BallInstance

 

type

=

"common"

 

x

=

"105"

 

y

=

"251.51"

 

id

=

"29"

 

angle

=

"0"

 

/>


	

<BallInstance

 

type

=

"Beauty"

 

x

=

"-389.49"

 

y

=

"1904.51"

 

id

=

"30"

 

angle

=

"0"

 

/>


 
	

<!-- Arms -->


	

<Strand

 

gb1

=

"2"

 

gb2

=

"6"

 

/>


	

<Strand

 

gb1

=

"3"

 

gb2

=

"6"

 

/>


	

<Strand

 

gb1

=

"4"

 

gb2

=

"11"

 

/>


	

<Strand

 

gb1

=

"10"

 

gb2

=

"5"

 

/>


	

<Strand

 

gb1

=

"11"

 

gb2

=

"10"

 

/>


	

<Strand

 

gb1

=

"10"

 

gb2

=

"19"

 

/>


	

<Strand

 

gb1

=

"20"

 

gb2

=

"10"

 

/>


	

<Strand

 

gb1

=

"5"

 

gb2

=

"20"

 

/>


	

<Strand

 

gb1

=

"5"

 

gb2

=

"21"

 

/>


	

<Strand

 

gb1

=

"15"

 

gb2

=

"14"

 

/>


	

<Strand

 

gb1

=

"13"

 

gb2

=

"15"

 

/>


	

<Strand

 

gb1

=

"16"

 

gb2

=

"13"

 

/>


	

<Strand

 

gb1

=

"12"

 

gb2

=

"16"

 

/>


	

<Strand

 

gb1

=

"17"

 

gb2

=

"12"

 

/>


	

<Strand

 

gb1

=

"4"

 

gb2

=

"17"

 

/>


	

<Strand

 

gb1

=

"18"

 

gb2

=

"4"

 

/>


	

<Strand

 

gb1

=

"11"

 

gb2

=

"18"

 

/>


	

<Strand

 

gb1

=

"19"

 

gb2

=

"11"

 

/>


	

<Strand

 

gb1

=

"12"

 

gb2

=

"4"

 

/>


	

<Strand

 

gb1

=

"13"

 

gb2

=

"12"

 

/>


	

<Strand

 

gb1

=

"14"

 

gb2

=

"13"

 

/>


	

<Strand

 

gb1

=

"14"

 

gb2

=

"7"

 

/>


	

<Strand

 

gb1

=

"20"

 

gb2

=

"21"

 

/>


	

<Strand

 

gb1

=

"19"

 

gb2

=

"20"

 

/>


	

<Strand

 

gb1

=

"17"

 

gb2

=

"18"

 

/>


	

<Strand

 

gb1

=

"18"

 

gb2

=

"19"

 

/>


	

<Strand

 

gb1

=

"15"

 

gb2

=

"16"

 

/>


	

<Strand

 

gb1

=

"16"

 

gb2

=

"17"

 

/>


	

<Strand

 

gb1

=

"15"

 

gb2

=

"7"

 

/>


	

<Strand

 

gb1

=

"9"

 

gb2

=

"0"

 

/>


	

<Strand

 

gb1

=

"8"

 

gb2

=

"9"

 

/>


	

<Strand

 

gb1

=

"8"

 

gb2

=

"1"

 

/>


	

<Strand

 

gb1

=

"22"

 

gb2

=

"24"

 

/>


	

<Strand

 

gb1

=

"23"

 

gb2

=

"24"

 

/>


	

<Strand

 

gb1

=

"22"

 

gb2

=

"25"

 

/>


	

<Strand

 

gb1

=

"25"

 

gb2

=

"24"

 

/>


	

<Strand

 

gb1

=

"22"

 

gb2

=

"23"

 

/>


	

<Strand

 

gb1

=

"25"

 

gb2

=

"23"

 

/>


	

<Strand

 

gb1

=

"26"

 

gb2

=

"27"

 

/>


	

<Strand

 

gb1

=

"26"

 

gb2

=

"29"

 

/>


	

<Strand

 

gb1

=

"27"

 

gb2

=

"29"

 

/>


	

<Strand

 

gb1

=

"28"

 

gb2

=

"27"

 

/>


	

<Strand

 

gb1

=

"29"

 

gb2

=

"28"

 

/>


 
	

<!-- Level Exit -->


	

<levelexit

 

id

=

"theExit"

 

pos

=

"336,219"

 

radius

=

"75"

 

filter

=

"BeautyProduct,BeautyProductEye"

 

>


	</levelexit

>


 
</level

>
<scene

 

minx

=

"-600"

 

miny

=

"0"

 

maxx

=

"600"

 

maxy

=

"2400"

 

backgroundcolor

=

"0,0,0"

 

>


 
	

<!-- ForceFields -->


	

<linearforcefield

 

id

=

"helper"

 

type

=

"gravity"

 

center

=

"-35,225"

 

width

=

"244"

 

height

=

"258"

 

force

=

"10,0"

 

dampeningfactor

=

"0"

 

antigrav

=

"true"

 

geomonly

=

"false"

 

enabled

=

"true"

 

water

=

"false"

 

/>


	

<linearforcefield

 

type

=

"gravity"

 

force

=

"0,-10"

 

dampeningfactor

=

"0.15"

 

antigrav

=

"true"

 

geomonly

=

"false"

 

/>


 
	

<!-- Particles -->


	

<particles

 

effect

=

"rainingleaves"

 

depth

=

"-160"

 

pos

=

"735.99755859375,1894.99755859375"

 

pretick

=

"0"

 

/>


 
	

<!-- SceneLayers -->


	

<SceneLayer

 

name

=

"bush_fg1a"

 

depth

=

"16"

 

x

=

"-116.84"

 

y

=

"56.14"

 

scalex

=

"1.566"

 

scaley

=

"1.566"

 

rotation

=

"12.1"

 

alpha

=

"1"

 

colorize

=

"255,255,255"

 

image

=

"IMAGE_SCENE_BEAUTYSCHOOL_BUSH_FG1A"

   

/>


	

<SceneLayer

 

name

=

"bush_fg1a"

 

depth

=

"16"

 

x

=

"-544.01"

 

y

=

"329.55"

 

scalex

=

"1.459"

 

scaley

=

"1.459"

 

rotation

=

"-85.82"

 

alpha

=

"1"

 

colorize

=

"255,255,255"

 

image

=

"IMAGE_SCENE_BEAUTYSCHOOL_BUSH_FG1A"

   

/>


	

<SceneLayer

 

name

=

"bush_fg1a"

 

depth

=

"16"

 

x

=

"528.46"

 

y

=

"845.53"

 

scalex

=

"1.459"

 

scaley

=

"1.459"

 

rotation

=

"89.79"

 

alpha

=

"1"

 

colorize

=

"255,255,255"

 

image

=

"IMAGE_SCENE_BEAUTYSCHOOL_BUSH_FG1A"

   

/>


	

<SceneLayer

 

name

=

"bush_fg1a"

 

depth

=

"16"

 

x

=

"526.96"

 

y

=

"1415.5"

 

scalex

=

"1.459"

 

scaley

=

"1.459"

 

rotation

=

"89.79"

 

alpha

=

"1"

 

colorize

=

"255,255,255"

 

image

=

"IMAGE_SCENE_BEAUTYSCHOOL_BUSH_FG1A"

   

/>


	

<SceneLayer

 

name

=

"bush_fg1a"

 

depth

=

"16"

 

x

=

"-575.54"

 

y

=

"1118.49"

 

scalex

=

"1.459"

 

scaley

=

"1.459"

 

rotation

=

"-77.57"

 

alpha

=

"1"

 

colorize

=

"255,255,255"

 

image

=

"IMAGE_SCENE_BEAUTYSCHOOL_BUSH_FG1A"

   

/>


	

<SceneLayer

 

name

=

"bush_leafy_1"

 

depth

=

"8"

 

x

=

"-593.6"

 

y

=

"1232.8"

 

scalex

=

"1.25"

 

scaley

=

"1.25"

 

rotation

=

"-97.24"

 

alpha

=

"1"

 

colorize

=

"255,255,255"

 

image

=

"IMAGE_SCENE_BEAUTYSCHOOL_BUSH_LEAFY_1"

   

/>


		

<SceneLayer

 

name

=

"main_14"

 

depth

=

"0"

 

x

=

"244.48"

 

y

=

"89.38"

 

scalex

=

"1.393"

 

scaley

=

"1.413"

 

rotation

=

"0"

 

alpha

=

"1"

 

colorize

=

"255,255,255"

 

image

=

"IMAGE_SCENE_BEAUTYSCHOOL_MAIN_14"

   

/>


		

<SceneLayer

 

name

=

"main_12"

 

depth

=

"0"

 

x

=

"-355.86"

 

y

=

"236.59"

 

scalex

=

"1.907"

 

scaley

=

"1.849"

 

rotation

=

"0"

 

alpha

=

"1"

 

colorize

=

"255,255,255"

 

image

=

"IMAGE_SCENE_BEAUTYSCHOOL_MAIN_12"

   

/>


		

<SceneLayer

 

name

=

"main_10"

 

depth

=

"0"

 

x

=

"-356.73"

 

y

=

"717.5"

 

scalex

=

"1.908"

 

scaley

=

"0.963"

 

rotation

=

"0"

 

alpha

=

"1"

 

colorize

=

"255,255,255"

 

image

=

"IMAGE_SCENE_BEAUTYSCHOOL_MAIN_10"

   

/>


		

<SceneLayer

 

name

=

"main_09"

 

depth

=

"0"

 

x

=

"358.47"

 

y

=

"650.96"

 

scalex

=

"1.887"

 

scaley

=

"1.455"

 

rotation

=

"0"

 

alpha

=

"1"

 

colorize

=

"255,255,255"

 

image

=

"IMAGE_SCENE_BEAUTYSCHOOL_MAIN_09"

   

/>


		

<SceneLayer

 

name

=

"main_06"

 

depth

=

"0"

 

x

=

"-484.57"

 

y

=

"1296.47"

 

scalex

=

"1.867"

 

scaley

=

"1.304"

 

rotation

=

"0"

 

alpha

=

"1"

 

colorize

=

"255,255,255"

 

image

=

"IMAGE_SCENE_BEAUTYSCHOOL_MAIN_06"

   

/>


		

<SceneLayer

 

name

=

"main_04"

 

depth

=

"0"

 

x

=

"-256.47"

 

y

=

"1715.47"

 

scalex

=

"1.354"

 

scaley

=

"1.354"

 

rotation

=

"0"

 

alpha

=

"1"

 

colorize

=

"255,255,255"

 

image

=

"IMAGE_SCENE_BEAUTYSCHOOL_MAIN_04"

   

/>


		

<SceneLayer

 

name

=

"main_03"

 

depth

=

"0"

 

x

=

"453.48"

 

y

=

"1523.51"

 

scalex

=

"1.14"

 

scaley

=

"1.968"

 

rotation

=

"0"

 

alpha

=

"1"

 

colorize

=

"255,255,255"

 

image

=

"IMAGE_SCENE_BEAUTYSCHOOL_MAIN_03"

   

/>


		

<SceneLayer

 

name

=

"signpostPole_brown"

 

depth

=

"-8.8"

 

x

=

"14.44"

 

y

=

"1758.33"

 

scalex

=

"1"

 

scaley

=

"1"

 

rotation

=

"-3.53"

 

alpha

=

"1"

 

colorize

=

"255,255,255"

 

image

=

"IMAGE_SCENE_BEAUTYSCHOOL_SIGNPOSTPOLE_BROWN"

   

/>


		

<SceneLayer

 

name

=

"signpostPole_brown"

 

depth

=

"-8.8"

 

x

=

"-81.82"

 

y

=

"260.04"

 

scalex

=

"1"

 

scaley

=

"1"

 

rotation

=

"-93.83"

 

alpha

=

"1"

 

colorize

=

"255,255,255"

 

image

=

"IMAGE_SCENE_BEAUTYSCHOOL_SIGNPOSTPOLE_BROWN"

   

/>


	

<SceneLayer

 

name

=

"gearDetach"

 

depth

=

"-0.8"

 

x

=

"179.04"

 

y

=

"504.96"

 

scalex

=

"2.023"

 

scaley

=

"2.023"

 

rotation

=

"0"

 

alpha

=

"1"

 

colorize

=

"255,255,255"

 

image

=

"IMAGE_SCENE_BEAUTYSCHOOL_GEARDETACH"

 

anim

=

"rot_1rps"

 

animspeed

=

"0.5"

   

/>


	

<SceneLayer

 

name

=

"gearDetach"

 

depth

=

"-0.8"

 

x

=

"-158.03"

 

y

=

"516.03"

 

scalex

=

"1.68"

 

scaley

=

"1.68"

 

rotation

=

"23.1"

 

alpha

=

"1"

 

colorize

=

"255,255,255"

 

image

=

"IMAGE_SCENE_BEAUTYSCHOOL_GEARDETACH"

 

anim

=

"rot_1rps"

 

animspeed

=

"-0.5"

   

/>


	

<SceneLayer

 

name

=

"bush_leafy_1"

 

depth

=

"-16"

 

x

=

"351.35"

 

y

=

"309.78"

 

scalex

=

"1.25"

 

scaley

=

"1.25"

 

rotation

=

"-175.64"

 

alpha

=

"1"

 

colorize

=

"255,255,255"

 

image

=

"IMAGE_SCENE_BEAUTYSCHOOL_BUSH_LEAFY_1"

   

/>


	

<SceneLayer

 

name

=

"bush_leafy_1"

 

depth

=

"-16"

 

x

=

"45.34"

 

y

=

"161.81"

 

scalex

=

"1.25"

 

scaley

=

"1.25"

 

rotation

=

"-1.25"

 

alpha

=

"1"

 

colorize

=

"255,255,255"

 

image

=

"IMAGE_SCENE_BEAUTYSCHOOL_BUSH_LEAFY_1"

   

/>


	

<SceneLayer

 

name

=

"bush_leafy_1"

 

depth

=

"-16"

 

x

=

"537.36"

 

y

=

"2023.79"

 

scalex

=

"1.25"

 

scaley

=

"1.25"

 

rotation

=

"4.56"

 

alpha

=

"1"

 

colorize

=

"255,255,255"

 

image

=

"IMAGE_SCENE_BEAUTYSCHOOL_BUSH_LEAFY_1"

   

/>


	

<SceneLayer

 

name

=

"bush_leafy_1"

 

depth

=

"-16"

 

x

=

"-486.67"

 

y

=

"1083.82"

 

scalex

=

"1.25"

 

scaley

=

"1.25"

 

rotation

=

"-29.85"

 

alpha

=

"1"

 

colorize

=

"255,255,255"

 

image

=

"IMAGE_SCENE_BEAUTYSCHOOL_BUSH_LEAFY_1"

   

/>


	

<SceneLayer

 

name

=

"bush_leafy_1"

 

depth

=

"-16"

 

x

=

"-418.62"

 

y

=

"1801.75"

 

scalex

=

"1.25"

 

scaley

=

"1.25"

 

rotation

=

"-5"

 

alpha

=

"1"

 

colorize

=

"255,255,255"

 

image

=

"IMAGE_SCENE_BEAUTYSCHOOL_BUSH_LEAFY_1"

   

/>


	

<SceneLayer

 

name

=

"bgVeggies"

 

depth

=

"-80"

 

x

=

"527.04"

 

y

=

"1240.06"

 

scalex

=

"1.678"

 

scaley

=

"1.041"

 

rotation

=

"71.34"

 

alpha

=

"1"

 

colorize

=

"255,255,255"

 

image

=

"IMAGE_SCENE_BEAUTYSCHOOL_BGVEGGIES"

   

/>


	

<SceneLayer

 

name

=

"bgVeggies"

 

depth

=

"-80"

 

x

=

"-539.91"

 

y

=

"1225.91"

 

scalex

=

"2.325"

 

scaley

=

"0.933"

 

rotation

=

"-86.28"

 

alpha

=

"1"

 

colorize

=

"255,255,255"

 

image

=

"IMAGE_SCENE_BEAUTYSCHOOL_BGVEGGIES"

   

/>


	

<SceneLayer

 

name

=

"bgVeggies"

 

depth

=

"-240"

 

x

=

"162.5"

 

y

=

"387.96"

 

scalex

=

"2.1"

 

scaley

=

"2.641"

 

rotation

=

"0"

 

alpha

=

"1"

 

colorize

=

"255,255,255"

 

image

=

"IMAGE_SCENE_BEAUTYSCHOOL_BGVEGGIES"

   

/>


	

<SceneLayer

 

name

=

"bg"

 

depth

=

"-400"

 

x

=

"0"

 

y

=

"1200"

 

scalex

=

"2.344"

 

scaley

=

"4.688"

 

rotation

=

"0"

 

alpha

=

"1"

 

colorize

=

"255,255,255"

 

image

=

"IMAGE_SCENE_BEAUTYSCHOOL_BG"

   

/>


 
	

<!-- Buttons -->


 
	

<!-- Labels -->


 
	

<!-- Static Geometry -->


	

<rectangle

 

id

=

""

 

static

=

"true"

 

tag

=

"detaching"

 

material

=

"machine"

 

x

=

"-180.3577"

 

y

=

"688.2715"

 

width

=

"52.0001"

 

height

=

"162.2729"

 

rotation

=

"0.1023"

 

/>


	

<rectangle

 

id

=

""

 

static

=

"true"

 

tag

=

"detaching"

 

material

=

"machine"

 

x

=

"168.8892"

 

y

=

"698.1797"

 

width

=

"51.9996"

 

height

=

"164.1796"

 

rotation

=

"-0.0849"

 

/>


	

<circle

 

id

=

""

 

static

=

"true"

 

material

=

"rock"

 

x

=

"-585.2739"

 

y

=

"1410.2822"

 

radius

=

"26.2485"

 

/>


	

<rectangle

 

id

=

""

 

static

=

"true"

 

material

=

"rock"

 

x

=

"474.9556"

 

y

=

"1959.9241"

 

width

=

"310.5529"

 

height

=

"66.1086"

 

rotation

=

"0.1624"

 

/>


	

<line

 

id

=

"ceiling"

 

static

=

"true"

 

tag

=

"unwalkable"

 

material

=

"machine"

 

anchor

=

"-25,3050"

 

normal

=

"0,-1"

 

/>


	

<circle

 

id

=

"busterLeft"

 

static

=

"true"

 

tag

=

"ballbuster,detaching"

 

material

=

"machine"

 

x

=

"-157.7485"

 

y

=

"512.249"

 

radius

=

"133.249"

 

/>


	

<circle

 

id

=

"busterRight"

 

static

=

"true"

 

tag

=

"ballbuster,detaching"

 

material

=

"machine"

 

x

=

"169.001"

 

y

=

"505.499"

 

radius

=

"148"

 

/>


	

<rectangle

 

id

=

""

 

static

=

"true"

 

material

=

"rock"

 

x

=

"-889.6917"

 

y

=

"2070.5156"

 

width

=

"483.0165"

 

height

=

"729.4054"

 

rotation

=

"-0.065"

 

/>


	

<rectangle

 

id

=

"paddleHolder"

 

static

=

"true"

 

material

=

"rock"

 

nogeomcollisions

=

"true"

 

x

=

"-714.9111"

 

y

=

"1333.0996"

 

width

=

"165.9244"

 

height

=

"1011.0571"

 

rotation

=

"0.4612"

 

/>


	

<rectangle

 

id

=

""

 

static

=

"true"

 

material

=

"rock"

 

x

=

"-297.9329"

 

y

=

"1723.4141"

 

width

=

"77.8401"

 

height

=

"753.4477"

 

rotation

=

"1.4366"

 

/>


	

<rectangle

 

id

=

""

 

static

=

"true"

 

material

=

"rock"

 

x

=

"613.916"

 

y

=

"1686.3816"

 

width

=

"211.7337"

 

height

=

"585.6583"

 

rotation

=

"0.3594"

 

/>


	

<rectangle

 

id

=

""

 

static

=

"true"

 

material

=

"rock"

 

x

=

"-473.0271"

 

y

=

"1610.4092"

 

width

=

"58.5192"

 

height

=

"530.0442"

 

rotation

=

"-1.2357"

 

/>


	

<rectangle

 

id

=

""

 

static

=

"true"

 

material

=

"rock"

 

x

=

"582.2246"

 

y

=

"1185.532"

 

width

=

"165.9249"

 

height

=

"574.5053"

 

rotation

=

"-0.3243"

 

/>


	

<rectangle

 

id

=

""

 

static

=

"true"

 

material

=

"rock"

 

x

=

"-700.4377"

 

y

=

"910.5842"

 

width

=

"286.8521"

 

height

=

"1014.2016"

 

rotation

=

"1.2074"

 

/>


	

<rectangle

 

id

=

""

 

static

=

"true"

 

material

=

"rock"

 

x

=

"458.3115"

 

y

=

"822.8218"

 

width

=

"515.7076"

 

height

=

"310.7855"

 

rotation

=

"0.4212"

 

/>


	

<rectangle

 

id

=

""

 

static

=

"true"

 

material

=

"rock"

 

x

=

"394.0571"

 

y

=

"568.231"

 

width

=

"509.4068"

 

height

=

"538.1237"

 

rotation

=

"-0.0803"

 

/>


	

<rectangle

 

id

=

""

 

static

=

"true"

 

material

=

"rock"

 

x

=

"-395.6367"

 

y

=

"432.3032"

 

width

=

"503.3511"

 

height

=

"828.4016"

 

rotation

=

"0.0775"

 

/>


	

<line

 

id

=

"bound bottom"

 

static

=

"true"

 

material

=

"rock"

 

anchor

=

"-57.657,128.2148"

 

normal

=

"-0.0611,0.9981"

 

/>


	

<line

 

id

=

"bound right"

 

static

=

"true"

 

material

=

"rock"

 

anchor

=

"600,1247.5"

 

normal

=

"-1,0"

 

/>


	

<line

 

id

=

"bound left"

 

static

=

"true"

 

material

=

"rock"

 

anchor

=

"-1077.5127,1207.0002"

 

normal

=

"1,0"

 

/>


 
	

<!-- Dynamic Geometry -->


	

<rectangle

 

id

=

"paddle"

 

mass

=

"350"

 

static

=

"false"

 

tag

=

"walkable"

 

material

=

"rock"

 

image

=

"IMAGE_SCENE_BEAUTYSCHOOL_BEAUTYSTICK"

 

imagepos

=

"-384,1177"

 

imagerot

=

"0"

 

imagescale

=

"1,1"

 

x

=

"-586.502"

 

y

=

"1228"

 

width

=

"795.0039"

 

height

=

"48"

 

rotation

=

"0"

 

/>


 
	

<!-- Geometry Constraints -->


	

<hinge

 

body1

=

"paddle"

 

anchor

=

"-517.38330078125,1225.408203125"

/>


</scene

>