Whistler
Little Miss World of Goo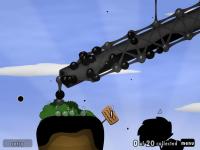 Normal: 20 balls
OCD: 29 seconds
Previous level:
Leap Hole
.
No following level.
learn how!
Signposts
They seem to follow the whistle.
One day, if they ever put together a companion DVD of their adventures...
One of the Goo Balls will probably say:
We got the moves, and you got the grooves!
-the classically trained Sign Painter
You need Flash player 8+ and JavaScript enabled to view this video.
There are 2 videos.
<level

 

ballsrequired

=

"20"

 

letterboxed

=

"false"

 

visualdebug

=

"false"

 

autobounds

=

"false"

 

textcolor

=

"255,255,255"

 

texteffects

=

"true"

 

timebugprobability

=

"0"

 

strandgeom

=

"false"

 

allowskip

=

"true"

 

>


 
	

<!-- Camera -->


	

<camera

 

aspect

=

"normal"

 

endpos

=

"5.7,609.27"

 

endzoom

=

"0.586"

>


		

<poi

 

pos

=

"-190.3,446.02"

 

traveltime

=

"0"

 

pause

=

"0"

 

zoom

=

"1.139"

 

/>


		

<poi

 

pos

=

"9.5,947.54"

 

traveltime

=

"4"

 

pause

=

"0"

 

zoom

=

"0.889"

 

/>


	</camera

>


	

<camera

 

aspect

=

"widescreen"

 

endpos

=

"0,609.27"

 

endzoom

=

"0.782"

>


		

<poi

 

pos

=

"-190.3,446.02"

 

traveltime

=

"0"

 

pause

=

"0"

 

zoom

=

"1.139"

 

/>


		

<poi

 

pos

=

"9.5,947.54"

 

traveltime

=

"4"

 

pause

=

"0"

 

zoom

=

"0.889"

 

/>


	</camera

>


 
	

<!-- Music -->


	

<music

 

id

=

"SOUND_LEVEL_WHISTLER_TEMP_JELLY"

 

/>


 
	

<!-- Fire -->


 
	

<!-- Signposts -->


		

<signpost

 

name

=

"signpost_brown"

 

depth

=

"-16"

 

x

=

"-203.91"

 

y

=

"468.58"

 

scalex

=

"0.821"

 

scaley

=

"0.821"

 

rotation

=

"-51.56"

 

alpha

=

"1"

 

colorize

=

"255,255,255"

 

image

=

"IMAGE_SCENE_WHISTLER_SIGNPOST_BROWN"

 

text

=

"SIGNPOST_WHISTLER_1"

   

/>


 
	

<!-- Pipes -->


	

<pipe

 

id

=

"0"

 

depth

=

"0"

 

>


		

<Vertex

 

x

=

"400"

 

y

=

"255"

 

/>


		

<Vertex

 

x

=

"400"

 

y

=

"-60"

 

/>


		

<Vertex

 

x

=

"495"

 

y

=

"-60"

 

/>


	</pipe

>


 
	

<!-- Balls -->


	

<BallInstance

 

type

=

"GooProduct"

 

x

=

"-64.41"

 

y

=

"1026.4"

 

id

=

"0"

 

angle

=

"0"

 

/>


	

<BallInstance

 

type

=

"GooProduct"

 

x

=

"-141"

 

y

=

"994"

 

id

=

"1"

 

angle

=

"0"

 

/>


	

<BallInstance

 

type

=

"GooProduct"

 

x

=

"309"

 

y

=

"969"

 

id

=

"2"

 

angle

=

"0"

 

/>


	

<BallInstance

 

type

=

"GooProduct"

 

x

=

"184"

 

y

=

"969"

 

id

=

"3"

 

angle

=

"0"

 

/>


	

<BallInstance

 

type

=

"GooProduct"

 

x

=

"59"

 

y

=

"969"

 

id

=

"4"

 

angle

=

"0"

 

/>


	

<BallInstance

 

type

=

"GooProduct"

 

x

=

"-59"

 

y

=

"969"

 

id

=

"5"

 

angle

=

"0"

 

/>


	

<BallInstance

 

type

=

"GooProduct"

 

x

=

"-291"

 

y

=

"969"

 

id

=

"6"

 

angle

=

"0"

 

/>


	

<BallInstance

 

type

=

"GooProduct"

 

x

=

"-329.89"

 

y

=

"1005.4"

 

id

=

"7"

 

angle

=

"0"

 

/>


	

<BallInstance

 

type

=

"GooProduct"

 

x

=

"-188.9"

 

y

=

"994.9"

 

id

=

"8"

 

angle

=

"0"

 

/>


	

<BallInstance

 

type

=

"GooProduct"

 

x

=

"306.08"

 

y

=

"1002.4"

 

id

=

"9"

 

angle

=

"0"

 

/>


	

<BallInstance

 

type

=

"GooProduct"

 

x

=

"180.08"

 

y

=

"1015.9"

 

id

=

"10"

 

angle

=

"0"

 

/>


	

<BallInstance

 

type

=

"GooProduct"

 

x

=

"384"

 

y

=

"994"

 

id

=

"11"

 

angle

=

"0"

 

/>


	

<BallInstance

 

type

=

"GooProduct"

 

x

=

"234"

 

y

=

"1026"

 

id

=

"12"

 

angle

=

"0"

 

/>


	

<BallInstance

 

type

=

"GooProduct"

 

x

=

"116"

 

y

=

"1044"

 

id

=

"13"

 

angle

=

"0"

 

/>


	

<BallInstance

 

type

=

"GooProduct"

 

x

=

"41"

 

y

=

"1051"

 

id

=

"14"

 

angle

=

"0"

 

/>


	

<BallInstance

 

type

=

"GooProduct"

 

x

=

"-59"

 

y

=

"1069"

 

id

=

"15"

 

angle

=

"0"

 

/>


	

<BallInstance

 

type

=

"GooProduct"

 

x

=

"-134"

 

y

=

"1069"

 

id

=

"16"

 

angle

=

"0"

 

/>


	

<BallInstance

 

type

=

"GooProduct"

 

x

=

"-259"

 

y

=

"1019"

 

id

=

"17"

 

angle

=

"0"

 

/>


	

<BallInstance

 

type

=

"GooProduct"

 

x

=

"261.08"

 

y

=

"993.4"

 

id

=

"18"

 

angle

=

"0"

 

/>


	

<BallInstance

 

type

=

"GooProduct"

 

x

=

"130.58"

 

y

=

"993.4"

 

id

=

"19"

 

angle

=

"0"

 

/>


	

<BallInstance

 

type

=

"GooProduct"

 

x

=

"-95.9"

 

y

=

"1009.89"

 

id

=

"20"

 

angle

=

"0"

 

/>


	

<BallInstance

 

type

=

"GooProduct"

 

x

=

"-167.9"

 

y

=

"1038.39"

 

id

=

"21"

 

angle

=

"0"

 

/>


	

<BallInstance

 

type

=

"GooProduct"

 

x

=

"79.59"

 

y

=

"1084.89"

 

id

=

"22"

 

angle

=

"0"

 

/>


	

<BallInstance

 

type

=

"GooProduct"

 

x

=

"78.09"

 

y

=

"1014.4"

 

id

=

"23"

 

angle

=

"0"

 

/>


	

<BallInstance

 

type

=

"water"

 

x

=

"-323.89"

 

y

=

"484.92"

 

id

=

"24"

 

discovered

=

"false"

 

angle

=

"0"

 

/>


	

<BallInstance

 

type

=

"water"

 

x

=

"-373.39"

 

y

=

"483.42"

 

id

=

"25"

 

discovered

=

"false"

 

angle

=

"0"

 

/>


	

<BallInstance

 

type

=

"water"

 

x

=

"-437.5"

 

y

=

"477.5"

 

id

=

"26"

 

discovered

=

"false"

 

angle

=

"0"

 

/>


	

<BallInstance

 

type

=

"water"

 

x

=

"-403.39"

 

y

=

"478.92"

 

id

=

"27"

 

discovered

=

"false"

 

angle

=

"0"

 

/>


	

<BallInstance

 

type

=

"common"

 

x

=

"250"

 

y

=

"810"

 

id

=

"28"

 

angle

=

"0"

 

/>


	

<BallInstance

 

type

=

"common"

 

x

=

"-500"

 

y

=

"872"

 

id

=

"29"

 

angle

=

"0"

 

/>


	

<BallInstance

 

type

=

"common"

 

x

=

"500"

 

y

=

"869"

 

id

=

"30"

 

angle

=

"0"

 

/>


	

<BallInstance

 

type

=

"common"

 

x

=

"494"

 

y

=

"770"

 

id

=

"31"

 

angle

=

"0"

 

/>


	

<BallInstance

 

type

=

"common"

 

x

=

"375"

 

y

=

"810"

 

id

=

"32"

 

angle

=

"0"

 

/>


	

<BallInstance

 

type

=

"common"

 

x

=

"-479"

 

y

=

"777"

 

id

=

"33"

 

angle

=

"0"

 

/>


	

<BallInstance

 

type

=

"common"

 

x

=

"-375"

 

y

=

"810"

 

id

=

"34"

 

angle

=

"0"

 

/>


	

<BallInstance

 

type

=

"common"

 

x

=

"-250"

 

y

=

"810"

 

id

=

"35"

 

angle

=

"0"

 

/>


	

<BallInstance

 

type

=

"common"

 

x

=

"-125"

 

y

=

"810"

 

id

=

"36"

 

angle

=

"0"

 

/>


	

<BallInstance

 

type

=

"common"

 

x

=

"125"

 

y

=

"810"

 

id

=

"37"

 

angle

=

"0"

 

/>


	

<BallInstance

 

type

=

"common"

 

x

=

"0"

 

y

=

"810"

 

id

=

"38"

 

angle

=

"0"

 

/>


	

<BallInstance

 

type

=

"common"

 

x

=

"250"

 

y

=

"935"

 

id

=

"39"

 

angle

=

"0"

 

/>


	

<BallInstance

 

type

=

"common"

 

x

=

"375"

 

y

=

"935"

 

id

=

"40"

 

angle

=

"0"

 

/>


	

<BallInstance

 

type

=

"common"

 

x

=

"-375"

 

y

=

"935"

 

id

=

"41"

 

angle

=

"0"

 

/>


	

<BallInstance

 

type

=

"common"

 

x

=

"-250"

 

y

=

"935"

 

id

=

"42"

 

angle

=

"0"

 

/>


	

<BallInstance

 

type

=

"common"

 

x

=

"-125"

 

y

=

"935"

 

id

=

"43"

 

angle

=

"0"

 

/>


	

<BallInstance

 

type

=

"common"

 

x

=

"125"

 

y

=

"935"

 

id

=

"44"

 

angle

=

"0"

 

/>


	

<BallInstance

 

type

=

"common"

 

x

=

"0"

 

y

=

"935"

 

id

=

"45"

 

angle

=

"0"

 

/>


	

<BallInstance

 

type

=

"UtilNoAttachUnwalkable"

 

x

=

"0"

 

y

=

"1047"

 

id

=

"46"

 

angle

=

"0"

 

/>


	

<BallInstance

 

type

=

"Anchor"

 

x

=

"0"

 

y

=

"1150.39"

 

id

=

"47"

 

angle

=

"0"

 

/>


 
	

<!-- Arms -->


	

<Strand

 

gb1

=

"30"

 

gb2

=

"31"

 

/>


	

<Strand

 

gb1

=

"29"

 

gb2

=

"33"

 

/>


	

<Strand

 

gb1

=

"42"

 

gb2

=

"43"

 

/>


	

<Strand

 

gb1

=

"41"

 

gb2

=

"42"

 

/>


	

<Strand

 

gb1

=

"34"

 

gb2

=

"41"

 

/>


	

<Strand

 

gb1

=

"35"

 

gb2

=

"34"

 

/>


	

<Strand

 

gb1

=

"36"

 

gb2

=

"35"

 

/>


	

<Strand

 

gb1

=

"38"

 

gb2

=

"36"

 

/>


	

<Strand

 

gb1

=

"37"

 

gb2

=

"38"

 

/>


	

<Strand

 

gb1

=

"28"

 

gb2

=

"37"

 

/>


	

<Strand

 

gb1

=

"32"

 

gb2

=

"28"

 

/>


	

<Strand

 

gb1

=

"40"

 

gb2

=

"32"

 

/>


	

<Strand

 

gb1

=

"39"

 

gb2

=

"40"

 

/>


	

<Strand

 

gb1

=

"44"

 

gb2

=

"39"

 

/>


	

<Strand

 

gb1

=

"45"

 

gb2

=

"44"

 

/>


	

<Strand

 

gb1

=

"46"

 

gb2

=

"45"

 

/>


	

<Strand

 

gb1

=

"47"

 

gb2

=

"46"

 

/>


	

<Strand

 

gb1

=

"36"

 

gb2

=

"43"

 

/>


	

<Strand

 

gb1

=

"42"

 

gb2

=

"35"

 

/>


	

<Strand

 

gb1

=

"41"

 

gb2

=

"29"

 

/>


	

<Strand

 

gb1

=

"42"

 

gb2

=

"34"

 

/>


	

<Strand

 

gb1

=

"36"

 

gb2

=

"42"

 

/>


	

<Strand

 

gb1

=

"45"

 

gb2

=

"36"

 

/>


	

<Strand

 

gb1

=

"37"

 

gb2

=

"45"

 

/>


	

<Strand

 

gb1

=

"39"

 

gb2

=

"37"

 

/>


	

<Strand

 

gb1

=

"30"

 

gb2

=

"40"

 

/>


	

<Strand

 

gb1

=

"32"

 

gb2

=

"39"

 

/>


	

<Strand

 

gb1

=

"32"

 

gb2

=

"30"

 

/>


	

<Strand

 

gb1

=

"28"

 

gb2

=

"40"

 

/>


	

<Strand

 

gb1

=

"44"

 

gb2

=

"28"

 

/>


	

<Strand

 

gb1

=

"38"

 

gb2

=

"44"

 

/>


	

<Strand

 

gb1

=

"43"

 

gb2

=

"38"

 

/>


	

<Strand

 

gb1

=

"35"

 

gb2

=

"43"

 

/>


	

<Strand

 

gb1

=

"29"

 

gb2

=

"34"

 

/>


	

<Strand

 

gb1

=

"41"

 

gb2

=

"35"

 

/>


	

<Strand

 

gb1

=

"43"

 

gb2

=

"45"

 

/>


	

<Strand

 

gb1

=

"39"

 

gb2

=

"28"

 

/>


	

<Strand

 

gb1

=

"37"

 

gb2

=

"44"

 

/>


	

<Strand

 

gb1

=

"45"

 

gb2

=

"38"

 

/>


 
	

<!-- Level Exit -->


	

<levelexit

 

id

=

"theExit"

 

pos

=

"400,255"

 

radius

=

"75"

 

filter

=

""

 

>


	</levelexit

>


 
</level

>
<scene

 

minx

=

"-700"

 

miny

=

"0"

 

maxx

=

"700"

 

maxy

=

"1300"

 

backgroundcolor

=

"0,0,0"

 

>


 
	

<!-- ForceFields -->


	

<linearforcefield

 

id

=

"water"

 

type

=

"gravity"

 

center

=

"-5.9092,76.187"

 

width

=

"1490.9258"

 

height

=

"191.4932"

 

force

=

"0,0"

 

dampeningfactor

=

"0"

 

antigrav

=

"true"

 

geomonly

=

"false"

 

enabled

=

"true"

 

water

=

"true"

 

color

=

"255,0,0,0"

 

depth

=

"1"

 

/>


	

<linearforcefield

 

type

=

"gravity"

 

force

=

"0,-10"

 

dampeningfactor

=

"0.25"

 

antigrav

=

"true"

 

geomonly

=

"false"

 

/>


 
	

<!-- Particles -->


	

<particles

 

effect

=

"breezeRight"

 

depth

=

"160"

 

pretick

=

"0"

 

/>


	

<particles

 

effect

=

"blackBallsRising"

 

depth

=

"400"

 

pos

=

"123.94580078125,1403.494140625"

 

pretick

=

"0"

 

/>


 
	

<!-- SceneLayers -->


	

<SceneLayer

 

name

=

"bush_leafy_1b_black"

 

depth

=

"40"

 

x

=

"-378.5"

 

y

=

"187"

 

scalex

=

"1"

 

scaley

=

"1"

 

rotation

=

"0"

 

alpha

=

"1"

 

colorize

=

"255,255,255"

 

image

=

"IMAGE_SCENE_WHISTLER_BUSH_LEAFY_1B_BLACK"

   

/>


		

<SceneLayer

 

name

=

"signpostPole_brown"

 

depth

=

"-16.8"

 

x

=

"-215.9"

 

y

=

"457.73"

 

scalex

=

"0.602"

 

scaley

=

"0.938"

 

rotation

=

"-47.07"

 

alpha

=

"1"

 

colorize

=

"255,255,255"

 

image

=

"IMAGE_SCENE_WHISTLER_SIGNPOSTPOLE_BROWN"

   

/>


		

<SceneLayer

 

name

=

"upper"

 

depth

=

"0"

 

x

=

"-193.5"

 

y

=

"1167.96"

 

scalex

=

"2.006"

 

scaley

=

"1.047"

 

rotation

=

"0"

 

alpha

=

"1"

 

colorize

=

"255,255,255"

 

image

=

"IMAGE_SCENE_WHISTLER_UPPER"

   

/>


		

<SceneLayer

 

name

=

"platform"

 

depth

=

"0"

 

x

=

"-384"

 

y

=

"230.51"

 

scalex

=

"1"

 

scaley

=

"1.032"

 

rotation

=

"0"

 

alpha

=

"1"

 

colorize

=

"255,255,255"

 

image

=

"IMAGE_SCENE_WHISTLER_PLATFORM"

   

/>


	

<SceneLayer

 

name

=

"bush_leafy_1"

 

depth

=

"-8"

 

x

=

"34.2"

 

y

=

"1164.27"

 

scalex

=

"0.932"

 

scaley

=

"0.921"

 

rotation

=

"-169.36"

 

alpha

=

"1"

 

colorize

=

"255,255,255"

 

image

=

"IMAGE_SCENE_WHISTLER_BUSH_LEAFY_1"

   

/>


	

<SceneLayer

 

name

=

"bush_leafy_1"

 

depth

=

"-8"

 

x

=

"-421.8"

 

y

=

"1056.27"

 

scalex

=

"0.932"

 

scaley

=

"0.921"

 

rotation

=

"-169.36"

 

alpha

=

"1"

 

colorize

=

"255,255,255"

 

image

=

"IMAGE_SCENE_WHISTLER_BUSH_LEAFY_1"

   

/>


	

<SceneLayer

 

name

=

"bush_leafy_1"

 

depth

=

"-8"

 

x

=

"-394.79"

 

y

=

"478.42"

 

scalex

=

"0.804"

 

scaley

=

"0.795"

 

rotation

=

"5"

 

alpha

=

"1"

 

colorize

=

"255,255,255"

 

image

=

"IMAGE_SCENE_WHISTLER_BUSH_LEAFY_1"

   

/>


	

<SceneLayer

 

name

=

"bush_leafy_1b"

 

depth

=

"-12"

 

x

=

"240.3"

 

y

=

"1241.5"

 

scalex

=

"0.822"

 

scaley

=

"0.822"

 

rotation

=

"-129.15"

 

alpha

=

"1"

 

colorize

=

"255,255,255"

 

image

=

"IMAGE_SCENE_WHISTLER_BUSH_LEAFY_1B"

   

/>


	

<SceneLayer

 

name

=

"bush_leafy_1b"

 

depth

=

"-12"

 

x

=

"-179.45"

 

y

=

"1163.5"

 

scalex

=

"0.822"

 

scaley

=

"0.822"

 

rotation

=

"-165.98"

 

alpha

=

"1"

 

colorize

=

"255,255,255"

 

image

=

"IMAGE_SCENE_WHISTLER_BUSH_LEAFY_1B"

   

/>


	

<SceneLayer

 

name

=

"bush_leafy_1b"

 

depth

=

"-12"

 

x

=

"-360.44"

 

y

=

"482.51"

 

scalex

=

"0.822"

 

scaley

=

"0.822"

 

rotation

=

"-13.53"

 

alpha

=

"1"

 

colorize

=

"255,255,255"

 

image

=

"IMAGE_SCENE_WHISTLER_BUSH_LEAFY_1B"

   

/>


	

<SceneLayer

 

name

=

"blackBogTree"

 

depth

=

"-120"

 

x

=

"108.04"

 

y

=

"214.42"

 

scalex

=

"0.378"

 

scaley

=

"0.378"

 

rotation

=

"-15.34"

 

alpha

=

"1"

 

colorize

=

"255,255,255"

 

image

=

"IMAGE_SCENE_WHISTLER_BLACKBOGTREE"

   

/>


	

<SceneLayer

 

name

=

"blackBogTree"

 

depth

=

"-80"

 

x

=

"48.51"

 

y

=

"269.75"

 

scalex

=

"0.63"

 

scaley

=

"0.63"

 

rotation

=

"14.44"

 

alpha

=

"1"

 

colorize

=

"255,255,255"

 

image

=

"IMAGE_SCENE_WHISTLER_BLACKBOGTREE"

   

/>


	

<SceneLayer

 

name

=

"wogcCloud2"

 

depth

=

"-240"

 

x

=

"581"

 

y

=

"1027"

 

scalex

=

"2.766"

 

scaley

=

"1"

 

rotation

=

"0"

 

alpha

=

"1"

 

colorize

=

"255,255,255"

 

image

=

"IMAGE_SCENE_WHISTLER_WOGCCLOUD2"

   

/>


	

<SceneLayer

 

name

=

"wogcCloud2"

 

depth

=

"-320"

 

x

=

"-519.05"

 

y

=

"687"

 

scalex

=

"2.985"

 

scaley

=

"1"

 

rotation

=

"0"

 

alpha

=

"1"

 

colorize

=

"255,255,255"

 

image

=

"IMAGE_SCENE_WHISTLER_WOGCCLOUD2"

   

/>


	

<SceneLayer

 

name

=

"wogcCloud2"

 

depth

=

"-400"

 

x

=

"570.98"

 

y

=

"443"

 

scalex

=

"1.719"

 

scaley

=

"1"

 

rotation

=

"0"

 

alpha

=

"1"

 

colorize

=

"255,255,255"

 

image

=

"IMAGE_SCENE_WHISTLER_WOGCCLOUD2"

   

/>


	

<SceneLayer

 

name

=

"sky_blue2a"

 

depth

=

"-480"

 

x

=

"0.01"

 

y

=

"648.5"

 

scalex

=

"5.472"

 

scaley

=

"6.894"

 

rotation

=

"0"

 

alpha

=

"1"

 

colorize

=

"255,255,255"

 

image

=

"IMAGE_SCENE_WHISTLER_SKY_BLUE2A"

   

/>


 
	

<!-- Buttons -->


 
	

<!-- Labels -->


 
	

<!-- Static Geometry -->


	

<circle

 

id

=

"stopper2"

 

static

=

"true"

 

tag

=

"stopsign"

 

material

=

"rock"

 

x

=

"-531"

 

y

=

"468.502"

 

radius

=

"50"

 

/>


	

<circle

 

id

=

"stopper1"

 

static

=

"true"

 

tag

=

"stopsign"

 

material

=

"rock"

 

x

=

"-225"

 

y

=

"460"

 

radius

=

"50"

 

/>


	

<circle

 

id

=

""

 

static

=

"true"

 

material

=

"rock"

 

x

=

"-364.3916"

 

y

=

"1136.394"

 

radius

=

"92.9956"

 

/>


	

<circle

 

id

=

""

 

static

=

"true"

 

material

=

"rock"

 

x

=

"-443.3916"

 

y

=

"379.9873"

 

radius

=

"86.4958"

 

/>


	

<circle

 

id

=

""

 

static

=

"true"

 

material

=

"rock"

 

x

=

"-321.3984"

 

y

=

"381.4883"

 

radius

=

"84.9958"

 

/>


	

<circle

 

id

=

""

 

static

=

"true"

 

material

=

"rock"

 

x

=

"-0.9106"

 

y

=

"1245.3862"

 

radius

=

"92.9956"

 

/>


	

<rectangle

 

id

=

""

 

static

=

"true"

 

material

=

"rock"

 

x

=

"403.884"

 

y

=

"1440.1072"

 

width

=

"173.991"

 

height

=

"874.8133"

 

rotation

=

"-1.115"

 

/>


	

<rectangle

 

id

=

""

 

static

=

"true"

 

material

=

"rock"

 

x

=

"-424.1372"

 

y

=

"170.4111"

 

width

=

"150.2979"

 

height

=

"423.3286"

 

rotation

=

"0.1357"

 

/>


	

<rectangle

 

id

=

""

 

static

=

"true"

 

material

=

"rock"

 

x

=

"-343.2446"

 

y

=

"159.4082"

 

width

=

"150.2978"

 

height

=

"459.2023"

 

rotation

=

"-0.1364"

 

/>


	

<rectangle

 

id

=

""

 

static

=

"true"

 

material

=

"rock"

 

x

=

"-563.3262"

 

y

=

"1159.1589"

 

width

=

"430.8589"

 

height

=

"173.9912"

 

rotation

=

"-0.1364"

 

/>


	

<rectangle

 

id

=

""

 

static

=

"true"

 

material

=

"rock"

 

x

=

"-188.4014"

 

y

=

"1270.3862"

 

width

=

"323.9839"

 

height

=

"173.9912"

 

rotation

=

"-0.1364"

 

/>


	

<rectangle

 

id

=

""

 

static

=

"true"

 

material

=

"rock"

 

x

=

"-479.386"

 

y

=

"1320.1357"

 

width

=

"494.975"

 

height

=

"316.4843"

 

rotation

=

"-0.2297"

 

/>


	

<rectangle

 

id

=

""

 

static

=

"true"

 

material

=

"rock"

 

x

=

"-382.3955"

 

y

=

"357.9878"

 

width

=

"140.9932"

 

height

=

"215.9932"

 

rotation

=

"0"

 

/>


	

<line

 

id

=

"bound bottom"

 

static

=

"true"

 

tag

=

"deadly"

 

material

=

"rock"

 

anchor

=

"0,110"

 

normal

=

"0,1"

 

/>


	

<line

 

id

=

"bound right"

 

static

=

"true"

 

tag

=

"detaching"

 

material

=

"rock"

 

anchor

=

"721.9971,716.5002"

 

normal

=

"-1,0"

 

/>


	

<line

 

id

=

"bound left"

 

static

=

"true"

 

tag

=

"detaching"

 

material

=

"rock"

 

anchor

=

"-718.8818,808.999"

 

normal

=

"1,0"

 

/>


 
	

<!-- Dynamic Geometry -->


	

<rectangle

 

id

=

"bar"

 

mass

=

"300"

 

static

=

"false"

 

tag

=

"unwalkable"

 

material

=

"rock"

 

image

=

"IMAGE_SCENE_WHISTLER_PIPE"

 

imagepos

=

"-3.0181,872.999"

 

imagerot

=

"0"

 

imagescale

=

"1.9141,1.4688"

 

x

=

"0"

 

y

=

"872.5"

 

width

=

"960"

 

height

=

"85"

 

rotation

=

"0"

 

/>


 
	

<!-- Geometry Constraints -->


</scene

>