World Of Goo: The Unknown World DEMO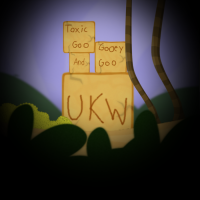 Authors:
Toxic Goo
,
gooey goo
Total downloads: 32
Latest version: 1
Release date: 04/17/2018 - 21:04
Gooey Goo and Toxic Goo are VERY proud to present World of Goo: The Unknown World!
A direct sequel to BOTH World of Goo 1/2 AND Lost In Paradise!
After defeating Superpredator X and a year passes, a mysterious person asks you to help him explore another planet! During landing however, your ship collides with another ship that sends you straight into the sea... you wake up, on the shoreline, you can still see various goo species from your ship scattered everywhere.. your objective is to rebuild your ship and wrangle as many goo as you can... can you survive on this Unknown World???
Updates:
Ver.1
Chapter 1 is here!
-25 levels
-LiP goo return!
-New gooballs!
-1 Bossfight!
-1 Challenge Level!
Recent Changes: Mapworldview slightly edited
MORE Recent changes: Ambiance for island map fixed, there have been reports of a missing cutscene that takes place in between sandyhighway and slidey night. The missing cutscene showed up randomly and returned home
There is 1 current download.