Gotcha!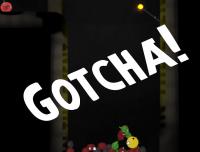 Author:
Daft as Brush
Total downloads: 3,258
Latest version: 0.4
Release date: 06/05/2010 - 10:57
Experimental Trickery!
Inspired by momo1526's "Pulley Up" idea... although it's nothing like that level.
Since then I've had a few more ideas of my own.
v0.2 - Better Spinner - New Signs
v0.3 - Mostly a few geometry tweaks
- Replaced the big Fire with a sticky out pipe, Moved a Sign
- Added a couple of particles and goo drips
v0.4 - New "feature" added about half way up
- New Util Ball - UtilNuker
- A couple of custom particle effects
And...
This entire goomod was created automatically by WooGLE
Yup, not only the level, addin and text xmls, but the Util balls (xml and resources) and the merge/xsl for the particle effects...
Let me know that it works for you...
then I can release the version of WooGLE that made it!

There is 1 current download.