Deathmod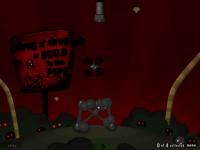 Author:
Ceecilion
Total downloads: 5,318
Latest version: 0.2.4
Release date: 10/21/2010 - 15:14
This mod changes all graphics to darker Versions of themself.
At this time following things are changed(*means that the change isn't complete) :
Levels:
Going Up
Small Divide
Hang Low
Impale Sticky
Ivy Tower* (The towers on the side aren't done)
Flying machine* (the metalbars aren't done. Rust?)
Goo balls:
Goo ball eyes are now red
System:
Marker
OCD-Flag
Sign_brown
Sign_grey
Music:
temp_main (worldmap)
World icons:
Island 1
Islands:
Island 1
Worldmap:
Background
Clouds
Burst
Island 1
i will bring it to an end, but it will cost Time.
If Anyone is willing to help, here is a list with things that must be done:
-Goo style ( eg.: Ivy-Goo-Strands with Dorns, etc )
-Fix the eyes( they are evil, not 24/7 awake )
-New sounds
-New Music
Ivy Tower: The Towers on the Side
Flying machine: The metalbars (rust)
-Also I need a better name for this project!