World of Goo UnderSnake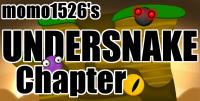 Author:
momo1526
Total downloads: 9,128
Latest version: 2.5
Release date: 03/23/2012 - 09:23
This is an entire World of Goo chapter that overrides Chapter 5
It contains 10 levels for YOU to beat, in order, with 3 custom gooballs. Special thanks to Albino Pokey for providing the sequel and to Goomatz for fixing my island.xsl to allow cutscenes.
Version 2.5:
Cutscenes
Island changed on Map World View
Level fixes to avoid loop holes
Enjoy!
Note:
You can rate this any way you like, but consider this: I invested a lot of time in designing, creating and debugging these levels, creating the chapter and level graphics, and even more time and effort pulling everything together, not to mention the cutscenes and the custom gooballs, so please don't just rate this as you would rate a single level or a mod, because with the difference in material, it just doesn't do this justice, this goes for all large mods and levels. Thank you. Now you can download! ———————————————————————————>
Can't get youtube data for 1CXcJL9Hjqk
There is 1 video.
There are 7 current downloads.