Alice and Bob and the Third Party
Information Superhighway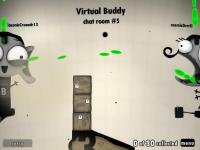 Normal: 30 balls
OCD: 42 balls
Previous level:
Graceful Failure
.
Next level:
MOM's Computer
.
somebody is listening
Signposts
I wonder what they are talking about...?
-the Sign Painter
An old electronic surveillance system!
These were built a long time ago
...to monitor communication between Highway Bandits.
But it was hard to know who's a bandit
and who's not.
It's probably best to monitor everyone just to be safe.
I wonder if it still works?
-the Virtual Sign Painter is Listening
You need Flash player 8+ and JavaScript enabled to view this video.
There is 1 video.
<level

 

ballsrequired

=

"30"

 

letterboxed

=

"false"

 

visualdebug

=

"false"

 

autobounds

=

"false"

 

textcolor

=

"255,255,255"

 

texteffects

=

"true"

 

timebugprobability

=

"0.4"

 

strandgeom

=

"true"

 

allowskip

=

"true"

 

>


 
	

<!-- Camera -->


	

<camera

 

aspect

=

"normal"

 

endpos

=

"1.55,834.66"

 

endzoom

=

"0.556"

>


		

<poi

 

pos

=

"1.55,392.43"

 

traveltime

=

"0"

 

pause

=

"0"

 

zoom

=

"0.792"

 

/>


		

<poi

 

pos

=

"1.55,2414.66"

 

traveltime

=

"10"

 

pause

=

"1"

 

zoom

=

"0.556"

 

/>


		

<poi

 

pos

=

"-3.44,2100.66"

 

traveltime

=

"2"

 

pause

=

"0"

 

zoom

=

"0.735"

 

/>


	</camera

>


	

<camera

 

aspect

=

"widescreen"

 

endpos

=

"0,834.66"

 

endzoom

=

"0.76"

>


		

<poi

 

pos

=

"1.55,392.43"

 

traveltime

=

"0"

 

pause

=

"0"

 

zoom

=

"0.792"

 

/>


		

<poi

 

pos

=

"0,2414.66"

 

traveltime

=

"10"

 

pause

=

"1"

 

zoom

=

"0.76"

 

/>


		

<poi

 

pos

=

"0,2100.66"

 

traveltime

=

"2"

 

pause

=

"0"

 

zoom

=

"0.76"

 

/>


	</camera

>


 
	

<!-- Music -->


	

<music

 

id

=

"SOUND_LEVEL_AB3_OVERTURE98EXCERPT1"

 

/>


 
	

<!-- Loop Sound -->


	

<loopsound

 

id

=

"SOUND_LEVEL_AB3_LOOP_STRONGWIND"

 

/>


 
	

<!-- Fire -->


 
	

<!-- Signposts -->


		

<signpost

 

name

=

"pterminalMonitor_up"

 

depth

=

"-8"

 

x

=

"430.54"

 

y

=

"2134.42"

 

scalex

=

"0.72"

 

scaley

=

"0.72"

 

rotation

=

"88.62"

 

alpha

=

"1"

 

colorize

=

"255,255,255"

 

image

=

"IMAGE_SCENE_AB3_PTERMINALMONITOR_UP"

 

text

=

"SIGNPOST_AB3_1"

   

/>


		

<signpost

 

name

=

"pterminalMonitor_up"

 

depth

=

"-8"

 

x

=

"-416.79"

 

y

=

"1590.62"

 

scalex

=

"0.72"

 

scaley

=

"0.72"

 

rotation

=

"56.08"

 

alpha

=

"1"

 

colorize

=

"255,255,255"

 

image

=

"IMAGE_SCENE_AB3_PTERMINALMONITOR_UP"

 

text

=

"SIGNPOST_AB3_2"

   

/>


 
	

<!-- Pipes -->


	

<pipe

 

id

=

"0"

 

depth

=

"0"

 

type

=

"ISH"

 

>


		

<Vertex

 

x

=

"20"

 

y

=

"580"

 

/>


		

<Vertex

 

x

=

"20"

 

y

=

"-395"

 

/>


		

<Vertex

 

x

=

"75"

 

y

=

"-395"

 

/>


	</pipe

>


 
	

<!-- Balls -->


	

<BallInstance

 

type

=

"Pilot"

 

x

=

"100.28"

 

y

=

"1013.67"

 

id

=

"0"

 

angle

=

"-63.43"

 

/>


	

<BallInstance

 

type

=

"Pilot"

 

x

=

"-83.54"

 

y

=

"1010.55"

 

id

=

"1"

 

angle

=

"116.57"

 

/>


	

<BallInstance

 

type

=

"Pilot"

 

x

=

"15.13"

 

y

=

"982.02"

 

id

=

"2"

 

angle

=

"-153.43"

 

/>


	

<BallInstance

 

type

=

"Pilot"

 

x

=

"10.15"

 

y

=

"850.87"

 

id

=

"3"

 

angle

=

"0"

 

/>


	

<BallInstance

 

type

=

"Pilot"

 

x

=

"62.01"

 

y

=

"997.8"

 

id

=

"4"

 

angle

=

"0"

 

/>


	

<BallInstance

 

type

=

"Pilot"

 

x

=

"35.88"

 

y

=

"989.13"

 

id

=

"5"

 

angle

=

"0"

 

/>


	

<BallInstance

 

type

=

"Pilot"

 

x

=

"-56.79"

 

y

=

"1003.27"

 

id

=

"6"

 

angle

=

"0"

 

/>


	

<BallInstance

 

type

=

"Pilot"

 

x

=

"82.55"

 

y

=

"1006.33"

 

id

=

"7"

 

angle

=

"0"

 

/>


	

<BallInstance

 

type

=

"Pilot"

 

x

=

"9.35"

 

y

=

"916.6"

 

id

=

"8"

 

angle

=

"0"

 

/>


	

<BallInstance

 

type

=

"Pilot"

 

x

=

"-13.32"

 

y

=

"988.2"

 

id

=

"9"

 

angle

=

"0"

 

/>


	

<BallInstance

 

type

=

"RectHead"

 

x

=

"379.2"

 

y

=

"1310.83"

 

id

=

"10"

 

angle

=

"-179.47"

 

/>


	

<BallInstance

 

type

=

"RectHead"

 

x

=

"-315.63"

 

y

=

"1705.09"

 

id

=

"11"

 

angle

=

"0.48"

 

/>


	

<BallInstance

 

type

=

"BlockHead"

 

x

=

"-241.82"

 

y

=

"1093.25"

 

id

=

"12"

 

angle

=

"0"

 

/>


	

<BallInstance

 

type

=

"BlockHead"

 

x

=

"297.68"

 

y

=

"347.16"

 

id

=

"13"

 

angle

=

"90"

 

/>


	

<BallInstance

 

type

=

"BlockHead"

 

x

=

"170.17"

 

y

=

"534.64"

 

id

=

"14"

 

angle

=

"180"

 

/>


	

<BallInstance

 

type

=

"BlockHead"

 

x

=

"425.67"

 

y

=

"247.85"

 

id

=

"15"

 

angle

=

"270"

 

/>


	

<BallInstance

 

type

=

"BlockHead"

 

x

=

"-304.31"

 

y

=

"1628.99"

 

id

=

"16"

 

angle

=

"0"

 

/>


	

<BallInstance

 

type

=

"BlockHead"

 

x

=

"-406.64"

 

y

=

"347.5"

 

id

=

"17"

 

angle

=

"90"

 

/>


	

<BallInstance

 

type

=

"BlockHead"

 

x

=

"326.13"

 

y

=

"1860.35"

 

id

=

"18"

 

angle

=

"180"

 

/>


	

<BallInstance

 

type

=

"BlockHead"

 

x

=

"380.17"

 

y

=

"1233.83"

 

id

=

"19"

 

angle

=

"270"

 

/>


	

<BallInstance

 

type

=

"BlockHead"

 

x

=

"-171.86"

 

y

=

"243.66"

 

id

=

"20"

 

angle

=

"0"

 

/>


	

<BallInstance

 

type

=

"BlockHead"

 

x

=

"-263.66"

 

y

=

"1194.67"

 

id

=

"21"

 

angle

=

"90"

 

/>


	

<BallInstance

 

type

=

"BlockHead"

 

x

=

"376.34"

 

y

=

"1388.67"

 

id

=

"22"

 

angle

=

"180"

 

/>


	

<BallInstance

 

type

=

"BlockHead"

 

x

=

"-102"

 

y

=

"2090.78"

 

id

=

"23"

 

angle

=

"270"

 

/>


	

<BallInstance

 

type

=

"BlockHead"

 

x

=

"-292.62"

 

y

=

"610.01"

 

id

=

"24"

 

angle

=

"0"

 

/>


	

<BallInstance

 

type

=

"BlockHead"

 

x

=

"357.28"

 

y

=

"1130"

 

id

=

"25"

 

angle

=

"90"

 

/>


	

<BallInstance

 

type

=

"Hex"

 

x

=

"-468.45"

 

y

=

"3102.6"

 

id

=

"26"

 

angle

=

"0"

 

/>


	

<BallInstance

 

type

=

"Hex"

 

x

=

"-385.96"

 

y

=

"2366.49"

 

id

=

"27"

 

angle

=

"0"

 

/>


	

<BallInstance

 

type

=

"Hex"

 

x

=

"491.2"

 

y

=

"3070.11"

 

id

=

"28"

 

angle

=

"0"

 

/>


	

<BallInstance

 

type

=

"Hex"

 

x

=

"582.35"

 

y

=

"2379"

 

id

=

"29"

 

angle

=

"0"

 

/>


	

<BallInstance

 

type

=

"Hex"

 

x

=

"552.75"

 

y

=

"2472.6"

 

id

=

"30"

 

angle

=

"0"

 

/>


	

<BallInstance

 

type

=

"Hex"

 

x

=

"520.75"

 

y

=

"2700.6"

 

id

=

"31"

 

angle

=

"0"

 

/>


	

<BallInstance

 

type

=

"Hex"

 

x

=

"-512.85"

 

y

=

"2854.2"

 

id

=

"32"

 

angle

=

"0"

 

/>


	

<BallInstance

 

type

=

"Hex"

 

x

=

"-516.05"

 

y

=

"2955"

 

id

=

"33"

 

angle

=

"0"

 

/>


	

<BallInstance

 

type

=

"Hex"

 

x

=

"-516.05"

 

y

=

"3017.4"

 

id

=

"34"

 

angle

=

"0"

 

/>


	

<BallInstance

 

type

=

"Hex"

 

x

=

"-503.25"

 

y

=

"3068.6"

 

id

=

"35"

 

angle

=

"0"

 

/>


	

<BallInstance

 

type

=

"Hex"

 

x

=

"520.75"

 

y

=

"3030.2"

 

id

=

"36"

 

angle

=

"0"

 

/>


	

<BallInstance

 

type

=

"Hex"

 

x

=

"525.55"

 

y

=

"2980.6"

 

id

=

"37"

 

angle

=

"0"

 

/>


	

<BallInstance

 

type

=

"Hex"

 

x

=

"520.75"

 

y

=

"2927.8"

 

id

=

"38"

 

angle

=

"0"

 

/>


	

<BallInstance

 

type

=

"Hex"

 

x

=

"522.35"

 

y

=

"2835"

 

id

=

"39"

 

angle

=

"0"

 

/>


	

<BallInstance

 

type

=

"Hex"

 

x

=

"527.15"

 

y

=

"2785.4"

 

id

=

"40"

 

angle

=

"0"

 

/>


	

<BallInstance

 

type

=

"Hex"

 

x

=

"456.75"

 

y

=

"3100.6"

 

id

=

"41"

 

angle

=

"0"

 

/>


	

<BallInstance

 

type

=

"Hex"

 

x

=

"368.75"

 

y

=

"3100.6"

 

id

=

"42"

 

angle

=

"0"

 

/>


	

<BallInstance

 

type

=

"Hex"

 

x

=

"279.15"

 

y

=

"3100.6"

 

id

=

"43"

 

angle

=

"0"

 

/>


	

<BallInstance

 

type

=

"Hex"

 

x

=

"191.15"

 

y

=

"3102.2"

 

id

=

"44"

 

angle

=

"0"

 

/>


	

<BallInstance

 

type

=

"Hex"

 

x

=

"95.15"

 

y

=

"3102.2"

 

id

=

"45"

 

angle

=

"0"

 

/>


	

<BallInstance

 

type

=

"Hex"

 

x

=

"13.55"

 

y

=

"3099"

 

id

=

"46"

 

angle

=

"0"

 

/>


	

<BallInstance

 

type

=

"Hex"

 

x

=

"-85.65"

 

y

=

"3100.6"

 

id

=

"47"

 

angle

=

"0"

 

/>


	

<BallInstance

 

type

=

"Hex"

 

x

=

"-175.25"

 

y

=

"3099"

 

id

=

"48"

 

angle

=

"0"

 

/>


	

<BallInstance

 

type

=

"Hex"

 

x

=

"-277.65"

 

y

=

"3100.6"

 

id

=

"49"

 

angle

=

"0"

 

/>


	

<BallInstance

 

type

=

"Hex"

 

x

=

"136.75"

 

y

=

"3095.8"

 

id

=

"50"

 

angle

=

"0"

 

/>


	

<BallInstance

 

type

=

"Hex"

 

x

=

"55.15"

 

y

=

"3097.4"

 

id

=

"51"

 

angle

=

"0"

 

/>


	

<BallInstance

 

type

=

"Hex"

 

x

=

"-31.25"

 

y

=

"3099"

 

id

=

"52"

 

angle

=

"0"

 

/>


	

<BallInstance

 

type

=

"Hex"

 

x

=

"-135.25"

 

y

=

"3100.6"

 

id

=

"53"

 

angle

=

"0"

 

/>


	

<BallInstance

 

type

=

"Hex"

 

x

=

"-218.45"

 

y

=

"3097.4"

 

id

=

"54"

 

angle

=

"0"

 

/>


	

<BallInstance

 

type

=

"Hex"

 

x

=

"-328.85"

 

y

=

"3097.4"

 

id

=

"55"

 

angle

=

"0"

 

/>


	

<BallInstance

 

type

=

"Hex"

 

x

=

"-520.85"

 

y

=

"2550.2"

 

id

=

"56"

 

angle

=

"0"

 

/>


	

<BallInstance

 

type

=

"Hex"

 

x

=

"-519.25"

 

y

=

"2443"

 

id

=

"57"

 

angle

=

"0"

 

/>


	

<BallInstance

 

type

=

"Hex"

 

x

=

"585.55"

 

y

=

"2435"

 

id

=

"58"

 

angle

=

"0"

 

/>


	

<BallInstance

 

type

=

"Hex"

 

x

=

"527.15"

 

y

=

"2598.2"

 

id

=

"59"

 

angle

=

"0"

 

/>


	

<BallInstance

 

type

=

"Hex"

 

x

=

"525.55"

 

y

=

"2519.8"

 

id

=

"60"

 

angle

=

"0"

 

/>


	

<BallInstance

 

type

=

"Hex"

 

x

=

"421.55"

 

y

=

"3097.4"

 

id

=

"61"

 

angle

=

"0"

 

/>


	

<BallInstance

 

type

=

"Hex"

 

x

=

"327.15"

 

y

=

"3099"

 

id

=

"62"

 

angle

=

"0"

 

/>


	

<BallInstance

 

type

=

"Hex"

 

x

=

"242.35"

 

y

=

"3100.6"

 

id

=

"63"

 

angle

=

"0"

 

/>


	

<BallInstance

 

type

=

"Hex"

 

x

=

"-520.85"

 

y

=

"2788.6"

 

id

=

"64"

 

angle

=

"0"

 

/>


	

<BallInstance

 

type

=

"Hex"

 

x

=

"-520.85"

 

y

=

"2705.4"

 

id

=

"65"

 

angle

=

"0"

 

/>


	

<BallInstance

 

type

=

"Hex"

 

x

=

"-517.65"

 

y

=

"2603"

 

id

=

"66"

 

angle

=

"0"

 

/>


	

<BallInstance

 

type

=

"Hex"

 

x

=

"-519.25"

 

y

=

"2500.6"

 

id

=

"67"

 

angle

=

"0"

 

/>


	

<BallInstance

 

type

=

"Hex"

 

x

=

"-482.45"

 

y

=

"2419"

 

id

=

"68"

 

angle

=

"0"

 

/>


 
	

<!-- Arms -->


	

<Strand

 

gb1

=

"2"

 

gb2

=

"0"

 

/>


	

<Strand

 

gb1

=

"1"

 

gb2

=

"2"

 

/>


	

<Strand

 

gb1

=

"8"

 

gb2

=

"3"

 

/>


	

<Strand

 

gb1

=

"2"

 

gb2

=

"8"

 

/>


 
	

<!-- Level Exit -->


	

<levelexit

 

id

=

"theExit"

 

pos

=

"20,580"

 

radius

=

"75"

 

filter

=

"Hex"

 

>


	</levelexit

>


 
</level

>
<scene

 

minx

=

"-720"

 

miny

=

"0"

 

maxx

=

"720"

 

maxy

=

"3000"

 

backgroundcolor

=

"0,0,0"

 

>


 
	

<!-- ForceFields -->


	

<linearforcefield

 

id

=

"blockhelperR"

 

type

=

"gravity"

 

center

=

"632.9487,226.8599"

 

width

=

"281.1982"

 

height

=

"485.0811"

 

force

=

"-2,0"

 

dampeningfactor

=

"0"

 

antigrav

=

"true"

 

geomonly

=

"false"

 

enabled

=

"true"

 

water

=

"false"

 

/>


	

<linearforcefield

 

id

=

"blockhelperL"

 

type

=

"gravity"

 

center

=

"-633.1191,223.4424"

 

width

=

"315.4668"

 

height

=

"491.916"

 

force

=

"2,0"

 

dampeningfactor

=

"0"

 

antigrav

=

"true"

 

geomonly

=

"false"

 

enabled

=

"true"

 

water

=

"false"

 

/>


	

<linearforcefield

 

id

=

"water"

 

type

=

"gravity"

 

center

=

"-0.196,59.0054"

 

width

=

"1694.5425"

 

height

=

"787.1729"

 

force

=

"0,20"

 

dampeningfactor

=

"0.1"

 

antigrav

=

"true"

 

geomonly

=

"false"

 

enabled

=

"true"

 

water

=

"true"

 

color

=

"255,0,0,0"

 

depth

=

"1"

 

/>


	

<linearforcefield

 

id

=

""

 

type

=

"gravity"

 

center

=

"-18.8521,3096.6001"

 

width

=

"1039.2002"

 

height

=

"60"

 

force

=

"2,9"

 

dampeningfactor

=

"0"

 

antigrav

=

"true"

 

geomonly

=

"false"

 

enabled

=

"true"

 

water

=

"false"

 

/>


	

<linearforcefield

 

id

=

""

 

type

=

"gravity"

 

center

=

"520.5479,2758.2"

 

width

=

"54"

 

height

=

"533.6001"

 

force

=

"0,8"

 

dampeningfactor

=

"0"

 

antigrav

=

"true"

 

geomonly

=

"false"

 

enabled

=

"true"

 

water

=

"false"

 

/>


	

<linearforcefield

 

id

=

""

 

type

=

"gravity"

 

center

=

"-518.4521,2726.2"

 

width

=

"52"

 

height

=

"682.3999"

 

force

=

"0,12"

 

dampeningfactor

=

"0"

 

antigrav

=

"true"

 

geomonly

=

"false"

 

enabled

=

"true"

 

water

=

"false"

 

/>


	

<linearforcefield

 

id

=

""

 

type

=

"gravity"

 

center

=

"572.3477,2348.6001"

 

width

=

"92"

 

height

=

"127.2002"

 

force

=

"-10,-4"

 

dampeningfactor

=

"0"

 

antigrav

=

"true"

 

geomonly

=

"false"

 

enabled

=

"true"

 

water

=

"false"

 

/>


	

<linearforcefield

 

id

=

""

 

type

=

"gravity"

 

center

=

"503.1479,2324.6001"

 

width

=

"43.2002"

 

height

=

"100"

 

force

=

"-10,8"

 

dampeningfactor

=

"0"

 

antigrav

=

"true"

 

geomonly

=

"false"

 

enabled

=

"true"

 

water

=

"false"

 

/>


	

<linearforcefield

 

id

=

""

 

type

=

"gravity"

 

center

=

"-374.9189,2466.2002"

 

width

=

"236.9336"

 

height

=

"96.7998"

 

force

=

"0,-15"

 

dampeningfactor

=

"0"

 

antigrav

=

"true"

 

geomonly

=

"false"

 

enabled

=

"true"

 

water

=

"false"

 

/>


	

<linearforcefield

 

id

=

""

 

type

=

"gravity"

 

center

=

"401.5479,2384.6001"

 

width

=

"200"

 

height

=

"140"

 

force

=

"-17,13.5"

 

dampeningfactor

=

"0"

 

antigrav

=

"true"

 

geomonly

=

"false"

 

enabled

=

"true"

 

water

=

"false"

 

/>


	

<linearforcefield

 

id

=

""

 

type

=

"gravity"

 

center

=

"-397.4521,2410.3335"

 

width

=

"282"

 

height

=

"208.5332"

 

force

=

"-16,20"

 

dampeningfactor

=

"0.3"

 

antigrav

=

"true"

 

geomonly

=

"false"

 

enabled

=

"true"

 

water

=

"false"

 

/>


	

<linearforcefield

 

type

=

"gravity"

 

force

=

"0,-10"

 

dampeningfactor

=

"0"

 

antigrav

=

"true"

 

geomonly

=

"false"

 

/>


 
	

<!-- Particles -->


	

<particles

 

effect

=

"blackBallsRising"

 

depth

=

"160"

 

pretick

=

"0"

 

/>


	

<particles

 

effect

=

"blackBallsRising"

 

depth

=

"-160"

 

pretick

=

"0"

 

/>


 
	

<!-- SceneLayers -->


	

<SceneLayer

 

name

=

"gear1blur"

 

depth

=

"-8"

 

x

=

"-724.17"

 

y

=

"456.5"

 

scalex

=

"0.932"

 

scaley

=

"0.932"

 

rotation

=

"0"

 

alpha

=

"1"

 

colorize

=

"0,0,0"

 

image

=

"IMAGE_SCENE_AB3_GEAR1BLUR"

 

anim

=

"rot_1rps"

 

animspeed

=

"-1"

   

/>


	

<SceneLayer

 

name

=

"gear1blur"

 

depth

=

"-8"

 

x

=

"716.66"

 

y

=

"452.17"

 

scalex

=

"0.979"

 

scaley

=

"0.979"

 

rotation

=

"0"

 

alpha

=

"1"

 

colorize

=

"0,0,0"

 

image

=

"IMAGE_SCENE_AB3_GEAR1BLUR"

 

anim

=

"rot_1rps"

 

animspeed

=

"1"

   

/>


	

<SceneLayer

 

name

=

"lf3"

 

depth

=

"80"

 

x

=

"93.55"

 

y

=

"750.2"

 

scalex

=

"4.675"

 

scaley

=

"4.675"

 

rotation

=

"0"

 

alpha

=

"0.60000002384186"

 

colorize

=

"255,255,255"

 

image

=

"IMAGE_SCENE_AB3_LF3"

   

/>


	

<SceneLayer

 

name

=

"lf3"

 

depth

=

"80"

 

x

=

"-311.25"

 

y

=

"2291"

 

scalex

=

"4.675"

 

scaley

=

"4.675"

 

rotation

=

"0"

 

alpha

=

"0.60000002384186"

 

colorize

=

"255,255,255"

 

image

=

"IMAGE_SCENE_AB3_LF3"

   

/>


	

<SceneLayer

 

name

=

"lf3"

 

depth

=

"80"

 

x

=

"-142.45"

 

y

=

"1807"

 

scalex

=

"5.563"

 

scaley

=

"5.563"

 

rotation

=

"0"

 

alpha

=

"0.60000002384186"

 

colorize

=

"255,255,255"

 

image

=

"IMAGE_SCENE_AB3_LF3"

   

/>


		

<SceneLayer

 

name

=

"c4"

 

depth

=

"0"

 

x

=

"55.4"

 

y

=

"1006.76"

 

scalex

=

"2.832"

 

scaley

=

"2.328"

 

rotation

=

"0"

 

alpha

=

"1"

 

colorize

=

"255,255,255"

 

image

=

"IMAGE_SCENE_AB3_C4"

   

/>


		

<SceneLayer

 

name

=

"c3"

 

depth

=

"0"

 

x

=

"-85.18"

 

y

=

"1425.2"

 

scalex

=

"2.196"

 

scaley

=

"2.344"

 

rotation

=

"0"

 

alpha

=

"1"

 

colorize

=

"255,255,255"

 

image

=

"IMAGE_SCENE_AB3_C3"

   

/>


		

<SceneLayer

 

name

=

"c2"

 

depth

=

"0"

 

x

=

"153.82"

 

y

=

"1711.22"

 

scalex

=

"3.547"

 

scaley

=

"2.875"

 

rotation

=

"0"

 

alpha

=

"1"

 

colorize

=

"255,255,255"

 

image

=

"IMAGE_SCENE_AB3_C2"

   

/>


		

<SceneLayer

 

name

=

"c1"

 

depth

=

"0"

 

x

=

"14.89"

 

y

=

"1977.12"

 

scalex

=

"2.688"

 

scaley

=

"2.094"

 

rotation

=

"0"

 

alpha

=

"1"

 

colorize

=

"255,255,255"

 

image

=

"IMAGE_SCENE_AB3_C1"

   

/>


		

<SceneLayer

 

name

=

"gear1blurBlack"

 

depth

=

"-8"

 

x

=

"-20.09"

 

y

=

"1342.77"

 

scalex

=

"0.324"

 

scaley

=

"0.324"

 

rotation

=

"0"

 

alpha

=

"1"

 

colorize

=

"0,0,0"

 

image

=

"IMAGE_SCENE_AB3_GEAR1BLURBLACK"

 

anim

=

"rot_1rps"

 

animspeed

=

"1"

   

/>


		

<SceneLayer

 

name

=

"gear1blurBlack"

 

depth

=

"-8"

 

x

=

"-130.82"

 

y

=

"1353.04"

 

scalex

=

"0.411"

 

scaley

=

"0.411"

 

rotation

=

"0"

 

alpha

=

"1"

 

colorize

=

"0,0,0"

 

image

=

"IMAGE_SCENE_AB3_GEAR1BLURBLACK"

 

anim

=

"rot_1rps"

 

animspeed

=

"1"

   

/>


		

<SceneLayer

 

name

=

"gear1blurBlack"

 

depth

=

"-8"

 

x

=

"46.17"

 

y

=

"1333.49"

 

scalex

=

"0.304"

 

scaley

=

"0.304"

 

rotation

=

"0"

 

alpha

=

"1"

 

colorize

=

"0,0,0"

 

image

=

"IMAGE_SCENE_AB3_GEAR1BLURBLACK"

 

anim

=

"rot_1rps"

 

animspeed

=

"1"

   

/>


		

<SceneLayer

 

name

=

"gear1blurBlack"

 

depth

=

"-8"

 

x

=

"-213.2"

 

y

=

"1369.87"

 

scalex

=

"0.498"

 

scaley

=

"0.498"

 

rotation

=

"0"

 

alpha

=

"1"

 

colorize

=

"0,0,0"

 

image

=

"IMAGE_SCENE_AB3_GEAR1BLURBLACK"

 

anim

=

"rot_1rps"

 

animspeed

=

"-1"

   

/>


		

<SceneLayer

 

name

=

"wheel2black"

 

depth

=

"-8"

 

x

=

"-1.21"

 

y

=

"1279.26"

 

scalex

=

"0.766"

 

scaley

=

"0.766"

 

rotation

=

"0"

 

alpha

=

"1"

 

colorize

=

"255,255,255"

 

image

=

"IMAGE_SCENE_AB3_WHEEL2BLACK"

 

anim

=

"rot_1rps"

 

animspeed

=

"1"

   

/>


		

<SceneLayer

 

name

=

"wheel2black"

 

depth

=

"-8"

 

x

=

"379.28"

 

y

=

"1011.76"

 

scalex

=

"0.766"

 

scaley

=

"0.766"

 

rotation

=

"0"

 

alpha

=

"1"

 

colorize

=

"255,255,255"

 

image

=

"IMAGE_SCENE_AB3_WHEEL2BLACK"

 

anim

=

"rot_1rps"

 

animspeed

=

"1"

   

/>


		

<SceneLayer

 

name

=

"wheel2black"

 

depth

=

"-8"

 

x

=

"-276.18"

 

y

=

"965.26"

 

scalex

=

"0.766"

 

scaley

=

"0.766"

 

rotation

=

"0"

 

alpha

=

"1"

 

colorize

=

"255,255,255"

 

image

=

"IMAGE_SCENE_AB3_WHEEL2BLACK"

 

anim

=

"rot_1rps"

 

animspeed

=

"1"

   

/>


		

<SceneLayer

 

name

=

"wheel2black"

 

depth

=

"-8"

 

x

=

"356.78"

 

y

=

"1712.22"

 

scalex

=

"0.766"

 

scaley

=

"0.766"

 

rotation

=

"0"

 

alpha

=

"1"

 

colorize

=

"255,255,255"

 

image

=

"IMAGE_SCENE_AB3_WHEEL2BLACK"

 

anim

=

"rot_1rps"

 

animspeed

=

"1"

   

/>


		

<SceneLayer

 

name

=

"wheel2black"

 

depth

=

"-8"

 

x

=

"59.8"

 

y

=

"1631.23"

 

scalex

=

"0.766"

 

scaley

=

"0.766"

 

rotation

=

"0"

 

alpha

=

"1"

 

colorize

=

"255,255,255"

 

image

=

"IMAGE_SCENE_AB3_WHEEL2BLACK"

 

anim

=

"rot_1rps"

 

animspeed

=

"1"

   

/>


		

<SceneLayer

 

name

=

"wheel2black"

 

depth

=

"-8"

 

x

=

"-129.19"

 

y

=

"1947.71"

 

scalex

=

"0.766"

 

scaley

=

"0.766"

 

rotation

=

"0"

 

alpha

=

"1"

 

colorize

=

"255,255,255"

 

image

=

"IMAGE_SCENE_AB3_WHEEL2BLACK"

 

anim

=

"rot_1rps"

 

animspeed

=

"1"

   

/>


		

<SceneLayer

 

name

=

"cSupport2"

 

depth

=

"-8"

 

x

=

"-178.88"

 

y

=

"660.79"

 

scalex

=

"1.639"

 

scaley

=

"1.171"

 

rotation

=

"0"

 

alpha

=

"1"

 

colorize

=

"255,255,255"

 

image

=

"IMAGE_SCENE_AB3_CSUPPORT2"

   

/>


		

<SceneLayer

 

name

=

"cSupport1"

 

depth

=

"-8"

 

x

=

"91.36"

 

y

=

"1154.04"

 

scalex

=

"2.979"

 

scaley

=

"1"

 

rotation

=

"-54.06"

 

alpha

=

"1"

 

colorize

=

"255,255,255"

 

image

=

"IMAGE_SCENE_AB3_CSUPPORT1"

   

/>


		

<SceneLayer

 

name

=

"cSupport1"

 

depth

=

"-8"

 

x

=

"-1.35"

 

y

=

"1508.62"

 

scalex

=

"2.932"

 

scaley

=

"1"

 

rotation

=

"55.33"

 

alpha

=

"1"

 

colorize

=

"255,255,255"

 

image

=

"IMAGE_SCENE_AB3_CSUPPORT1"

   

/>


		

<SceneLayer

 

name

=

"cSupport1"

 

depth

=

"-8"

 

x

=

"79.27"

 

y

=

"1829.57"

 

scalex

=

"1.837"

 

scaley

=

"1"

 

rotation

=

"-67.14"

 

alpha

=

"1"

 

colorize

=

"255,255,255"

 

image

=

"IMAGE_SCENE_AB3_CSUPPORT1"

   

/>


		

<SceneLayer

 

name

=

"bush_fg1a"

 

depth

=

"80"

 

x

=

"687.15"

 

y

=

"994.05"

 

scalex

=

"2.147"

 

scaley

=

"2.147"

 

rotation

=

"90.13"

 

alpha

=

"1"

 

colorize

=

"0,0,0"

 

image

=

"IMAGE_SCENE_AB3_BUSH_FG1A"

   

/>


		

<SceneLayer

 

name

=

"bush_fg1a"

 

depth

=

"80"

 

x

=

"669.95"

 

y

=

"2351.76"

 

scalex

=

"2.147"

 

scaley

=

"2.147"

 

rotation

=

"90.13"

 

alpha

=

"1"

 

colorize

=

"0,0,0"

 

image

=

"IMAGE_SCENE_AB3_BUSH_FG1A"

   

/>


		

<SceneLayer

 

name

=

"bush_fg1a"

 

depth

=

"80"

 

x

=

"653.01"

 

y

=

"2905.76"

 

scalex

=

"2.334"

 

scaley

=

"2.334"

 

rotation

=

"152.26"

 

alpha

=

"1"

 

colorize

=

"0,0,0"

 

image

=

"IMAGE_SCENE_AB3_BUSH_FG1A"

   

/>


		

<SceneLayer

 

name

=

"bush_fg1a"

 

depth

=

"80"

 

x

=

"-667.32"

 

y

=

"2154.58"

 

scalex

=

"2.161"

 

scaley

=

"2.161"

 

rotation

=

"-71.72"

 

alpha

=

"1"

 

colorize

=

"0,0,0"

 

image

=

"IMAGE_SCENE_AB3_BUSH_FG1A"

   

/>


		

<SceneLayer

 

name

=

"bush_fg1a"

 

depth

=

"80"

 

x

=

"-663.31"

 

y

=

"1338.44"

 

scalex

=

"2.123"

 

scaley

=

"2.123"

 

rotation

=

"-86.43"

 

alpha

=

"1"

 

colorize

=

"0,0,0"

 

image

=

"IMAGE_SCENE_AB3_BUSH_FG1A"

   

/>


		

<SceneLayer

 

name

=

"bush_fg1a"

 

depth

=

"80"

 

x

=

"-728.1"

 

y

=

"2555.37"

 

scalex

=

"2.123"

 

scaley

=

"2.123"

 

rotation

=

"-104.71"

 

alpha

=

"1"

 

colorize

=

"0,0,0"

 

image

=

"IMAGE_SCENE_AB3_BUSH_FG1A"

   

/>


		

<SceneLayer

 

name

=

"bush_fg1a"

 

depth

=

"80"

 

x

=

"-640.06"

 

y

=

"2931.35"

 

scalex

=

"2.123"

 

scaley

=

"2.123"

 

rotation

=

"-130.23"

 

alpha

=

"1"

 

colorize

=

"0,0,0"

 

image

=

"IMAGE_SCENE_AB3_BUSH_FG1A"

   

/>


	

<SceneLayer

 

name

=

"Alice"

 

depth

=

"8"

 

x

=

"508.37"

 

y

=

"2349.45"

 

scalex

=

"1.359"

 

scaley

=

"1.653"

 

rotation

=

"0"

 

alpha

=

"1"

 

colorize

=

"255,255,255"

 

image

=

"IMAGE_SCENE_AB3_ALICE"

   

/>


	

<SceneLayer

 

name

=

"Bob"

 

depth

=

"8"

 

x

=

"-513.29"

 

y

=

"2358.7"

 

scalex

=

"1.29"

 

scaley

=

"1.709"

 

rotation

=

"0"

 

alpha

=

"1"

 

colorize

=

"255,255,255"

 

image

=

"IMAGE_SCENE_AB3_BOB"

   

/>


	

<SceneLayer

 

name

=

"AliceBg"

 

depth

=

"-8"

 

x

=

"492.23"

 

y

=

"2418.53"

 

scalex

=

"2.651"

 

scaley

=

"2.06"

 

rotation

=

"0"

 

alpha

=

"1"

 

colorize

=

"255,255,255"

 

image

=

"IMAGE_SCENE_AB3_ALICEBG"

   

/>


	

<SceneLayer

 

name

=

"BobBg"

 

depth

=

"-8"

 

x

=

"-519.16"

 

y

=

"2441.74"

 

scalex

=

"2.446"

 

scaley

=

"2.029"

 

rotation

=

"0"

 

alpha

=

"1"

 

colorize

=

"255,255,255"

 

image

=

"IMAGE_SCENE_AB3_BOBBG"

   

/>


		

<SceneLayer

 

name

=

"cliffR"

 

depth

=

"0"

 

x

=

"618.76"

 

y

=

"1960.63"

 

scalex

=

"1.707"

 

scaley

=

"2.902"

 

rotation

=

"0"

 

alpha

=

"1"

 

colorize

=

"255,255,255"

 

image

=

"IMAGE_SCENE_AB3_CLIFFR"

   

/>


		

<SceneLayer

 

name

=

"cliffL"

 

depth

=

"0"

 

x

=

"-609.29"

 

y

=

"1930.88"

 

scalex

=

"2.231"

 

scaley

=

"3.576"

 

rotation

=

"0"

 

alpha

=

"1"

 

colorize

=

"255,255,255"

 

image

=

"IMAGE_SCENE_AB3_CLIFFL"

   

/>


		

<SceneLayer

 

name

=

"pterminalPole"

 

depth

=

"-8.8"

 

x

=

"480.7"

 

y

=

"2133.81"

 

scalex

=

"0.964"

 

scaley

=

"0.971"

 

rotation

=

"82.56"

 

alpha

=

"1"

 

colorize

=

"255,255,255"

 

image

=

"IMAGE_SCENE_AB3_PTERMINALPOLE"

   

/>


		

<SceneLayer

 

name

=

"pterminalPole"

 

depth

=

"-8.8"

 

x

=

"-379.9"

 

y

=

"1566.09"

 

scalex

=

"0.964"

 

scaley

=

"0.781"

 

rotation

=

"50.02"

 

alpha

=

"1"

 

colorize

=

"255,255,255"

 

image

=

"IMAGE_SCENE_AB3_PTERMINALPOLE"

   

/>


		

<SceneLayer

 

name

=

"bush_leafy_1b_black"

 

depth

=

"-8"

 

x

=

"-656.45"

 

y

=

"1899.81"

 

scalex

=

"0.8"

 

scaley

=

"0.8"

 

rotation

=

"-108.15"

 

alpha

=

"1"

 

colorize

=

"255,255,255"

 

image

=

"IMAGE_SCENE_AB3_BUSH_LEAFY_1B_BLACK"

   

/>


		

<SceneLayer

 

name

=

"bush_leafy_1b_black"

 

depth

=

"-8"

 

x

=

"684.34"

 

y

=

"2162.2"

 

scalex

=

"0.8"

 

scaley

=

"0.8"

 

rotation

=

"-1.1"

 

alpha

=

"1"

 

colorize

=

"255,255,255"

 

image

=

"IMAGE_SCENE_AB3_BUSH_LEAFY_1B_BLACK"

   

/>


		

<SceneLayer

 

name

=

"bush_leafy_1b_black"

 

depth

=

"-8"

 

x

=

"623.55"

 

y

=

"1981.4"

 

scalex

=

"0.8"

 

scaley

=

"0.8"

 

rotation

=

"127.76"

 

alpha

=

"1"

 

colorize

=

"255,255,255"

 

image

=

"IMAGE_SCENE_AB3_BUSH_LEAFY_1B_BLACK"

   

/>


	

<SceneLayer

 

name

=

"bg"

 

depth

=

"-480"

 

x

=

"1.56"

 

y

=

"1613.35"

 

scalex

=

"5.626"

 

scaley

=

"9.254"

 

rotation

=

"0"

 

alpha

=

"1"

 

colorize

=

"255,255,255"

 

image

=

"IMAGE_SCENE_AB3_BG"

   

/>


 
	

<!-- Buttons -->


 
	

<!-- Labels -->


	

<label

 

id

=

""

 

depth

=

"-80"

 

x

=

"485.36"

 

y

=

"2638.39"

 

align

=

"center"

 

rotation

=

"-3.221"

 

scale

=

"0.39"

 

overlay

=

"false"

 

screenspace

=

"false"

 

font

=

"FONT_SIGNPOST"

 

text

=

"LABEL_AB3_A"

  

/>


	

<label

 

id

=

""

 

depth

=

"-80"

 

x

=

"-466.94"

 

y

=

"2641.73"

 

align

=

"center"

 

rotation

=

"1.198"

 

scale

=

"0.39"

 

overlay

=

"false"

 

screenspace

=

"false"

 

font

=

"FONT_SIGNPOST"

 

text

=

"LABEL_AB3_B"

  

/>


	

<label

 

id

=

""

 

depth

=

"-240"

 

x

=

"5.49"

 

y

=

"2722.17"

 

align

=

"center"

 

rotation

=

"1.198"

 

scale

=

"0.58"

 

overlay

=

"false"

 

screenspace

=

"false"

 

font

=

"FONT_SIGNPOST"

 

text

=

"LABEL_AB3_CHATROOMTITLE2"

  

/>


	

<label

 

id

=

""

 

depth

=

"-240"

 

x

=

"0.95"

 

y

=

"2795.12"

 

align

=

"center"

 

rotation

=

"1.198"

 

scale

=

"0.78"

 

overlay

=

"false"

 

screenspace

=

"false"

 

font

=

"FONT_SIGNPOST"

 

text

=

"LABEL_AB3_CHATROOMTITLE1"

  

/>


 
	

<!-- Static Geometry -->


	

<circle

 

id

=

"gearKiller"

 

static

=

"true"

 

tag

=

"deadly"

 

material

=

"machine"

 

x

=

"714.4307"

 

y

=

"445.4531"

 

radius

=

"102.4536"

 

/>


	

<circle

 

id

=

"gearKiller"

 

static

=

"true"

 

tag

=

"deadly"

 

material

=

"machine"

 

x

=

"-725.8237"

 

y

=

"451.5244"

 

radius

=

"97.5798"

 

/>


	

<circle

 

id

=

"earKiller"

 

static

=

"true"

 

tag

=

"mostlydeadly"

 

material

=

"rock"

 

contacts

=

"false"

 

x

=

"-483.1555"

 

y

=

"2428.8875"

 

radius

=

"74.3962"

 

/>


	

<compositegeom

 

id

=

"killPits"

 

x

=

"-101.6465"

 

y

=

"1364.3721"

 

rotation

=

"0"

 

static

=

"true"

 

tag

=

"deadly"

 

material

=

"rock"

 

>


		

<circle

 

id

=

""

 

x

=

"-28.4993"

 

y

=

"-12.124"

 

radius

=

"52.0524"

 

/>


		

<circle

 

id

=

""

 

x

=

"146.6191"

 

y

=

"-26.9961"

 

radius

=

"30.5552"

 

/>


		

<circle

 

id

=

""

 

x

=

"78.6196"

 

y

=

"-25.123"

 

radius

=

"41.491"

 

/>


		

<circle

 

id

=

""

 

x

=

"-113.6067"

 

y

=

"1.8745"

 

radius

=

"64.1217"

 

/>


	</compositegeom

>


	

<compositegeom

 

id

=

"stickyplatform"

 

x

=

"54.542"

 

y

=

"1008.3823"

 

rotation

=

"0"

 

static

=

"true"

 

tag

=

"walkable"

 

material

=

"sticky"

 

>


		

<rectangle

 

id

=

""

 

x

=

"-154.937"

 

y

=

"-20.2139"

 

width

=

"17.9821"

 

height

=

"227.4348"

 

rotation

=

"1.198"

 

/>


		

<rectangle

 

id

=

""

 

x

=

"107.0552"

 

y

=

"0.0303"

 

width

=

"19.3416"

 

height

=

"330.3288"

 

rotation

=

"-1.1926"

 

/>


	</compositegeom

>


	

<compositegeom

 

id

=

"chutes"

 

x

=

"-3.6975"

 

y

=

"1667.0522"

 

rotation

=

"0"

 

static

=

"true"

 

tag

=

"unwalkable"

 

material

=

"machine"

 

>


		

<rectangle

 

id

=

""

 

x

=

"-78.5952"

 

y

=

"-293.5347"

 

width

=

"82.5071"

 

height

=

"101.5373"

 

rotation

=

"-0.3779"

 

/>


		

<rectangle

 

id

=

""

 

x

=

"160.4402"

 

y

=

"-328.2217"

 

width

=

"50.0463"

 

height

=

"69.9228"

 

rotation

=

"-0.3641"

 

/>


		

<rectangle

 

id

=

""

 

x

=

"110.0491"

 

y

=

"-328.5244"

 

width

=

"58.5684"

 

height

=

"50.4976"

 

rotation

=

"-0.3641"

 

/>


		

<rectangle

 

id

=

""

 

x

=

"-246.3909"

 

y

=

"-142.6338"

 

width

=

"28.2333"

 

height

=

"87.0598"

 

rotation

=

"-0.3779"

 

/>


		

<rectangle

 

id

=

""

 

x

=

"-253.0283"

 

y

=

"-216.6099"

 

width

=

"50.047"

 

height

=

"87.0598"

 

rotation

=

"-0.3779"

 

/>


		

<rectangle

 

id

=

""

 

x

=

"111.9348"

 

y

=

"55.1001"

 

width

=

"24.9998"

 

height

=

"374.9989"

 

rotation

=

"-1.2207"

 

/>


		

<rectangle

 

id

=

""

 

x

=

"62.7671"

 

y

=

"311.6851"

 

width

=

"25"

 

height

=

"252.0708"

 

rotation

=

"1.1929"

 

/>


	</compositegeom

>


	

<compositegeom

 

id

=

"chutePlatforms"

 

x

=

"25.3091"

 

y

=

"1487.5869"

 

rotation

=

"0"

 

static

=

"true"

 

tag

=

"unwalkable"

 

material

=

"rock"

 

>


		

<rectangle

 

id

=

""

 

x

=

"-277.4829"

 

y

=

"-497.876"

 

width

=

"100"

 

height

=

"96.9961"

 

rotation

=

"0"

 

/>


		

<rectangle

 

id

=

""

 

x

=

"336.5171"

 

y

=

"-478.125"

 

width

=

"100"

 

height

=

"138.4941"

 

rotation

=

"0"

 

/>


		

<rectangle

 

id

=

""

 

x

=

"-12.4407"

 

y

=

"439.9922"

 

width

=

"332.0854"

 

height

=

"25"

 

rotation

=

"0"

 

/>


		

<rectangle

 

id

=

""

 

x

=

"129.1001"

 

y

=

"157.5068"

 

width

=

"444.9824"

 

height

=

"43"

 

rotation

=

"0"

 

/>


		

<rectangle

 

id

=

""

 

x

=

"302.5171"

 

y

=

"236.6248"

 

width

=

"100"

 

height

=

"147.9937"

 

rotation

=

"0"

 

/>


		

<rectangle

 

id

=

""

 

x

=

"30.249"

 

y

=

"-541.3545"

 

width

=

"714.4697"

 

height

=

"18.5352"

 

rotation

=

"0"

 

/>


		

<rectangle

 

id

=

""

 

x

=

"-119.4946"

 

y

=

"-184.8662"

 

width

=

"535.9785"

 

height

=

"49.5352"

 

rotation

=

"0"

 

/>


		

<rectangle

 

id

=

""

 

x

=

"-329.4829"

 

y

=

"-47.8735"

 

width

=

"116"

 

height

=

"261.5225"

 

rotation

=

"0"

 

/>


		

<rectangle

 

id

=

""

 

x

=

"-128.0308"

 

y

=

"497.624"

 

width

=

"100"

 

height

=

"105.9961"

 

rotation

=

"0"

 

/>


	</compositegeom

>


	

<compositegeom

 

id

=

"channels"

 

x

=

"-13.8999"

 

y

=

"2561.6155"

 

rotation

=

"0"

 

static

=

"true"

 

tag

=

"detaching"

 

material

=

"fruit"

 

>


		

<rectangle

 

id

=

""

 

x

=

"-684.416"

 

y

=

"-514.9685"

 

width

=

"181.0249"

 

height

=

"380.6829"

 

rotation

=

"-0.6277"

 

/>


		

<rectangle

 

id

=

""

 

x

=

"713.3901"

 

y

=

"-544.5037"

 

width

=

"122.1103"

 

height

=

"346.4982"

 

rotation

=

"0.6764"

 

/>


		

<rectangle

 

id

=

""

 

x

=

"492.647"

 

y

=

"-257.5889"

 

width

=

"20.0007"

 

height

=

"148.1028"

 

rotation

=

"1.1172"

 

/>


		

<rectangle

 

id

=

""

 

x

=

"475.5757"

 

y

=

"-171.1047"

 

width

=

"19.9996"

 

height

=

"75.6945"

 

rotation

=

"1.1172"

 

/>


		

<rectangle

 

id

=

""

 

x

=

"19.7988"

 

y

=

"502.1846"

 

width

=

"885.7021"

 

height

=

"25.6001"

 

rotation

=

"0"

 

/>


		

<rectangle

 

id

=

""

 

x

=

"103.6475"

 

y

=

"638.1851"

 

width

=

"1276.3994"

 

height

=

"158.3999"

 

rotation

=

"0"

 

/>


		

<rectangle

 

id

=

""

 

x

=

"-506.219"

 

y

=

"-206.0007"

 

width

=

"78.1884"

 

height

=

"151.234"

 

rotation

=

"1.0525"

 

/>


		

<rectangle

 

id

=

""

 

x

=

"-385.3682"

 

y

=

"-69.1108"

 

width

=

"71.8381"

 

height

=

"19.0653"

 

rotation

=

"0.2197"

 

/>


		

<rectangle

 

id

=

""

 

x

=

"-389.4026"

 

y

=

"-241.1328"

 

width

=

"97.9227"

 

height

=

"37.6055"

 

rotation

=

"-0.3552"

 

/>


		

<rectangle

 

id

=

""

 

x

=

"-389.0566"

 

y

=

"-45.946"

 

width

=

"26.5216"

 

height

=

"62.4"

 

rotation

=

"1.1546"

 

/>


		

<rectangle

 

id

=

""

 

x

=

"-437.2588"

 

y

=

"-45.2683"

 

width

=

"68.3484"

 

height

=

"65.8955"

 

rotation

=

"-0.2493"

 

/>


		

<rectangle

 

id

=

""

 

x

=

"-503.0513"

 

y

=

"-335.8149"

 

width

=

"73.001"

 

height

=

"196.0005"

 

rotation

=

"0"

 

/>


		

<rectangle

 

id

=

""

 

x

=

"496.6475"

 

y

=

"139.1853"

 

width

=

"29.6006"

 

height

=

"640.4014"

 

rotation

=

"0"

 

/>


		

<rectangle

 

id

=

""

 

x

=

"549.1084"

 

y

=

"544.1494"

 

width

=

"47.8651"

 

height

=

"85.2058"

 

rotation

=

"0.7279"

 

/>


		

<rectangle

 

id

=

""

 

x

=

"474.3545"

 

y

=

"476.6191"

 

width

=

"33.1167"

 

height

=

"72.9132"

 

rotation

=

"0.7279"

 

/>


		

<rectangle

 

id

=

""

 

x

=

"-511.9697"

 

y

=

"550.2483"

 

width

=

"47.8655"

 

height

=

"81.0107"

 

rotation

=

"-0.8429"

 

/>


		

<rectangle

 

id

=

""

 

x

=

"466"

 

y

=

"-94.2166"

 

width

=

"65.6571"

 

height

=

"112.1949"

 

rotation

=

"0.1506"

 

/>


		

<rectangle

 

id

=

""

 

x

=

"690.1982"

 

y

=

"-237.7698"

 

width

=

"124.6226"

 

height

=

"388.5201"

 

rotation

=

"-0.0178"

 

/>


		

<rectangle

 

id

=

""

 

x

=

"616.5444"

 

y

=

"-63.6235"

 

width

=

"44.2367"

 

height

=

"109.169"

 

rotation

=

"1.0588"

 

/>


		

<rectangle

 

id

=

""

 

x

=

"510.8892"

 

y

=

"-151.1162"

 

width

=

"109.1689"

 

height

=

"85.2857"

 

rotation

=

"-0.512"

 

/>


		

<rectangle

 

id

=

""

 

x

=

"627.3018"

 

y

=

"-331.304"

 

width

=

"109.1688"

 

height

=

"178.0618"

 

rotation

=

"0.4591"

 

/>


		

<rectangle

 

id

=

""

 

x

=

"-441.8538"

 

y

=

"479.8191"

 

width

=

"27.5347"

 

height

=

"74.6162"

 

rotation

=

"-0.8429"

 

/>


		

<rectangle

 

id

=

""

 

x

=

"-470.7524"

 

y

=

"198.1177"

 

width

=

"17.5996"

 

height

=

"532.9341"

 

rotation

=

"0"

 

/>


		

<rectangle

 

id

=

""

 

x

=

"650.6475"

 

y

=

"251.3845"

 

width

=

"186.3994"

 

height

=

"615.2002"

 

rotation

=

"0"

 

/>


		

<rectangle

 

id

=

""

 

x

=

"-627.9524"

 

y

=

"134.9846"

 

width

=

"200.8003"

 

height

=

"1174.4004"

 

rotation

=

"0"

 

/>


	</compositegeom

>


	

<line

 

id

=

"right"

 

static

=

"true"

 

tag

=

"detaching"

 

material

=

"rock"

 

anchor

=

"750,1442.5"

 

normal

=

"-1,0"

 

/>


	

<line

 

id

=

"left"

 

static

=

"true"

 

tag

=

"detaching"

 

material

=

"rock"

 

anchor

=

"-750,1455"

 

normal

=

"1,0"

 

/>


	

<line

 

id

=

"bottom"

 

static

=

"true"

 

material

=

"rock"

 

anchor

=

"1.5479,-301.0137"

 

normal

=

"0,1"

 

/>


 
	

<!-- Dynamic Geometry -->


 
	

<!-- Geometry Constraints -->


</scene

>