Bulletin Board System
Information Superhighway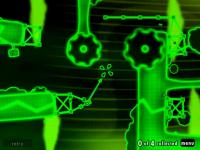 Normal: 4 balls
OCD: 13 balls
Previous level:
Hello, World
.
Next level:
Grape Vine Virus
.
packet loss mitigation operation
Signposts
This place is falling apart...
But the Information Superhighway isn't all green, you know.
It used to be beautiful.
The video drivers must need upgrading.
I bet we'll be able to tighten up the graphics around level three.
-the Virtual Sign Painter
You need Flash player 8+ and JavaScript enabled to view this video.
There is 1 video.
<level

 

ballsrequired

=

"4"

 

letterboxed

=

"false"

 

visualdebug

=

"false"

 

autobounds

=

"false"

 

textcolor

=

"0,255,0"

 

timebugprobability

=

"0"

 

strandgeom

=

"false"

 

allowskip

=

"true"

  

cursor1color

=

"0,255,0"

 

cursor2color

=

"0,255,255"

 

cursor3color

=

"0,0,255"

 

cursor4color

=

"255,0,0"

>


 
	

<!-- Camera -->


	

<camera

 

aspect

=

"normal"

 

endpos

=

"122.67,584.75"

 

endzoom

=

"0.513"

>


		

<poi

 

pos

=

"469,305"

 

traveltime

=

"0"

 

pause

=

"0"

 

zoom

=

"1.176"

 

/>


		

<poi

 

pos

=

"-60.83,537.13"

 

traveltime

=

"4"

 

pause

=

"0"

 

zoom

=

"0.559"

 

/>


		

<poi

 

pos

=

"-548,644.75"

 

traveltime

=

"4"

 

pause

=

"0"

 

zoom

=

"0.846"

 

/>


	</camera

>


	

<camera

 

aspect

=

"widescreen"

 

endpos

=

"96.17,577.88"

 

endzoom

=

"0.559"

>


		

<poi

 

pos

=

"529,275"

 

traveltime

=

"0"

 

pause

=

"0"

 

zoom

=

"1.176"

 

/>


		

<poi

 

pos

=

"129.17,541.88"

 

traveltime

=

"4"

 

pause

=

"0"

 

zoom

=

"0.559"

 

/>


		

<poi

 

pos

=

"-489.14,674.75"

 

traveltime

=

"4"

 

pause

=

"0"

 

zoom

=

"0.846"

 

/>


	</camera

>


 
	

<!-- Music -->


	

<music

 

id

=

"SOUND_LEVEL_BULLETINBOARDSYSTEM_OVERTURE98EXCERPT1"

 

/>


 
	

<!-- Loop Sound -->


	

<loopsound

 

id

=

"SOUND_LEVEL_BULLETINBOARDSYSTEM_LOOP_SQUEAKSINTHEWIND"

 

/>


 
	

<!-- Fire -->


 
	

<!-- Signposts -->


		

<signpost

 

name

=

"signpost_ish"

 

depth

=

"-8"

 

x

=

"-823.62"

 

y

=

"658.36"

 

scalex

=

"0.737"

 

scaley

=

"0.737"

 

rotation

=

"-169.06"

 

alpha

=

"1"

 

colorize

=

"255,255,255"

 

image

=

"IMAGE_SCENE_BULLETINBOARDSYSTEM_SIGNPOST_ISH"

 

text

=

"SIGNPOST_BULLETINBOARDSYSTEM_1"

   

/>


 
	

<!-- Pipes -->


	

<pipe

 

id

=

"0"

 

depth

=

"0"

 

type

=

"ISH"

 

>


		

<Vertex

 

x

=

"570"

 

y

=

"260"

 

/>


		

<Vertex

 

x

=

"770"

 

y

=

"260"

 

/>


		

<Vertex

 

x

=

"770"

 

y

=

"35"

 

/>


	</pipe

>


 
	

<!-- Balls -->


	

<BallInstance

 

type

=

"Pixel"

 

x

=

"-428.98"

 

y

=

"248.52"

 

id

=

"0"

 

discovered

=

"false"

 

angle

=

"0"

 

/>


	

<BallInstance

 

type

=

"Pixel"

 

x

=

"-433.99"

 

y

=

"378.52"

 

id

=

"1"

 

discovered

=

"false"

 

angle

=

"0"

 

/>


	

<BallInstance

 

type

=

"Pixel"

 

x

=

"-545.98"

 

y

=

"247.02"

 

id

=

"2"

 

discovered

=

"false"

 

angle

=

"0"

 

/>


	

<BallInstance

 

type

=

"Pixel"

 

x

=

"-553.98"

 

y

=

"373.52"

 

id

=

"3"

 

discovered

=

"false"

 

angle

=

"0"

 

/>


	

<BallInstance

 

type

=

"Pixel"

 

x

=

"-485.47"

 

y

=

"268.02"

 

id

=

"4"

 

discovered

=

"false"

 

angle

=

"0"

 

/>


	

<BallInstance

 

type

=

"Pixel"

 

x

=

"-488.47"

 

y

=

"345.02"

 

id

=

"5"

 

discovered

=

"false"

 

angle

=

"0"

 

/>


	

<BallInstance

 

type

=

"Bit"

 

x

=

"-530.49"

 

y

=

"805.53"

 

id

=

"6"

 

angle

=

"0"

 

/>


	

<BallInstance

 

type

=

"Bit"

 

x

=

"-557.72"

 

y

=

"747.14"

 

id

=

"7"

 

angle

=

"0"

 

/>


	

<BallInstance

 

type

=

"Bit"

 

x

=

"-703.21"

 

y

=

"820.5"

 

id

=

"8"

 

angle

=

"0"

 

/>


	

<BallInstance

 

type

=

"Bit"

 

x

=

"-721.89"

 

y

=

"730.32"

 

id

=

"9"

 

angle

=

"0"

 

/>


	

<BallInstance

 

type

=

"Bit"

 

x

=

"-613.13"

 

y

=

"750.63"

 

id

=

"10"

 

angle

=

"0"

 

/>


	

<BallInstance

 

type

=

"Bit"

 

x

=

"-592.36"

 

y

=

"720.74"

 

id

=

"11"

 

angle

=

"0"

 

/>


	

<BallInstance

 

type

=

"Bit"

 

x

=

"-683.35"

 

y

=

"791.71"

 

id

=

"12"

 

angle

=

"0"

 

/>


	

<BallInstance

 

type

=

"Bit"

 

x

=

"-600.52"

 

y

=

"813.85"

 

id

=

"13"

 

angle

=

"0"

 

/>


	

<BallInstance

 

type

=

"Bit"

 

x

=

"-648.84"

 

y

=

"768.01"

 

id

=

"14"

 

angle

=

"0"

 

/>


	

<BallInstance

 

type

=

"Bit"

 

x

=

"-737.93"

 

y

=

"782.07"

 

id

=

"15"

 

angle

=

"0"

 

/>


	

<BallInstance

 

type

=

"Bit"

 

x

=

"-584.47"

 

y

=

"774.75"

 

id

=

"16"

 

angle

=

"0"

 

/>


	

<BallInstance

 

type

=

"Bit"

 

x

=

"-687.84"

 

y

=

"741.91"

 

id

=

"17"

 

angle

=

"0"

 

/>


	

<BallInstance

 

type

=

"Pixel"

 

x

=

"329.96"

 

y

=

"223"

 

id

=

"18"

 

discovered

=

"false"

 

angle

=

"0"

 

/>


	

<BallInstance

 

type

=

"Pixel"

 

x

=

"224.46"

 

y

=

"284.01"

 

id

=

"19"

 

discovered

=

"false"

 

angle

=

"0"

 

/>


	

<BallInstance

 

type

=

"Pixel"

 

x

=

"266.46"

 

y

=

"324.51"

 

id

=

"20"

 

discovered

=

"false"

 

angle

=

"0"

 

/>


	

<BallInstance

 

type

=

"Pixel"

 

x

=

"261.96"

 

y

=

"248.01"

 

id

=

"21"

 

discovered

=

"false"

 

angle

=

"0"

 

/>


	

<BallInstance

 

type

=

"Pixel"

 

x

=

"324.95"

 

y

=

"353.01"

 

id

=

"22"

 

discovered

=

"false"

 

angle

=

"0"

 

/>


	

<BallInstance

 

type

=

"Pixel"

 

x

=

"204.96"

 

y

=

"223"

 

id

=

"23"

 

discovered

=

"false"

 

angle

=

"0"

 

/>


	

<BallInstance

 

type

=

"Pixel"

 

x

=

"204.96"

 

y

=

"348"

 

id

=

"24"

 

discovered

=

"false"

 

angle

=

"0"

 

/>


	

<BallInstance

 

type

=

"Pixel"

 

x

=

"204.51"

 

y

=

"926.82"

 

id

=

"25"

 

discovered

=

"false"

 

angle

=

"0"

 

/>


	

<BallInstance

 

type

=

"Pixel"

 

x

=

"-146.01"

 

y

=

"925.06"

 

id

=

"26"

 

discovered

=

"false"

 

angle

=

"0"

 

/>


	

<BallInstance

 

type

=

"Pixel"

 

x

=

"-26.02"

 

y

=

"928.06"

 

id

=

"27"

 

discovered

=

"false"

 

angle

=

"0"

 

/>


	

<BallInstance

 

type

=

"Pixel"

 

x

=

"86"

 

y

=

"936.69"

 

id

=

"28"

 

discovered

=

"false"

 

angle

=

"0"

 

/>


	

<BallInstance

 

type

=

"Pixel"

 

x

=

"292.99"

 

y

=

"910.46"

 

id

=

"29"

 

discovered

=

"false"

 

angle

=

"0"

 

/>


	

<BallInstance

 

type

=

"Pixel"

 

x

=

"344.06"

 

y

=

"637.96"

 

id

=

"30"

 

discovered

=

"false"

 

angle

=

"0"

 

/>


	

<BallInstance

 

type

=

"Pixel"

 

x

=

"341.47"

 

y

=

"768.03"

 

id

=

"31"

 

discovered

=

"false"

 

angle

=

"0"

 

/>


	

<BallInstance

 

type

=

"Pixel"

 

x

=

"219.09"

 

y

=

"640.27"

 

id

=

"32"

 

discovered

=

"false"

 

angle

=

"0"

 

/>


	

<BallInstance

 

type

=

"Pixel"

 

x

=

"221.4"

 

y

=

"765.25"

 

id

=

"33"

 

discovered

=

"false"

 

angle

=

"0"

 

/>


	

<BallInstance

 

type

=

"Pixel"

 

x

=

"-634.4"

 

y

=

"705.46"

 

id

=

"34"

 

angle

=

"0"

 

/>


	

<BallInstance

 

type

=

"Pixel"

 

x

=

"-627.7"

 

y

=

"835.39"

 

id

=

"35"

 

angle

=

"0"

 

/>


	

<BallInstance

 

type

=

"Pixel"

 

x

=

"-758.89"

 

y

=

"716.69"

 

id

=

"36"

 

angle

=

"0"

 

/>


	

<BallInstance

 

type

=

"Pixel"

 

x

=

"-747.66"

 

y

=

"841.19"

 

id

=

"37"

 

angle

=

"0"

 

/>


 
	

<!-- Arms -->


	

<Strand

 

gb1

=

"22"

 

gb2

=

"23"

 

/>


	

<Strand

 

gb1

=

"24"

 

gb2

=

"18"

 

/>


	

<Strand

 

gb1

=

"23"

 

gb2

=

"24"

 

/>


	

<Strand

 

gb1

=

"18"

 

gb2

=

"23"

 

/>


	

<Strand

 

gb1

=

"22"

 

gb2

=

"18"

 

/>


	

<Strand

 

gb1

=

"24"

 

gb2

=

"22"

 

/>


	

<Strand

 

gb1

=

"26"

 

gb2

=

"27"

 

/>


	

<Strand

 

gb1

=

"27"

 

gb2

=

"28"

 

/>


	

<Strand

 

gb1

=

"25"

 

gb2

=

"28"

 

/>


	

<Strand

 

gb1

=

"29"

 

gb2

=

"25"

 

/>


	

<Strand

 

gb1

=

"33"

 

gb2

=

"29"

 

/>


	

<Strand

 

gb1

=

"31"

 

gb2

=

"29"

 

/>


	

<Strand

 

gb1

=

"31"

 

gb2

=

"32"

 

/>


	

<Strand

 

gb1

=

"33"

 

gb2

=

"30"

 

/>


	

<Strand

 

gb1

=

"32"

 

gb2

=

"33"

 

/>


	

<Strand

 

gb1

=

"30"

 

gb2

=

"32"

 

/>


	

<Strand

 

gb1

=

"31"

 

gb2

=

"30"

 

/>


	

<Strand

 

gb1

=

"33"

 

gb2

=

"31"

 

/>


	

<Strand

 

gb1

=

"0"

 

gb2

=

"3"

 

/>


	

<Strand

 

gb1

=

"2"

 

gb2

=

"0"

 

/>


	

<Strand

 

gb1

=

"2"

 

gb2

=

"3"

 

/>


	

<Strand

 

gb1

=

"1"

 

gb2

=

"2"

 

/>


	

<Strand

 

gb1

=

"1"

 

gb2

=

"0"

 

/>


	

<Strand

 

gb1

=

"3"

 

gb2

=

"1"

 

/>


	

<Strand

 

gb1

=

"35"

 

gb2

=

"36"

 

/>


	

<Strand

 

gb1

=

"37"

 

gb2

=

"34"

 

/>


	

<Strand

 

gb1

=

"36"

 

gb2

=

"37"

 

/>


	

<Strand

 

gb1

=

"34"

 

gb2

=

"36"

 

/>


	

<Strand

 

gb1

=

"35"

 

gb2

=

"34"

 

/>


	

<Strand

 

gb1

=

"37"

 

gb2

=

"35"

 

/>


 
	

<!-- Level Exit -->


	

<levelexit

 

id

=

"theExit"

 

pos

=

"570,260"

 

radius

=

"75"

 

filter

=

""

 

>


	</levelexit

>


 
</level

>
<scene

 

minx

=

"-1150"

 

miny

=

"0"

 

maxx

=

"1150"

 

maxy

=

"1200"

 

backgroundcolor

=

"0,0,0"

 

>


 
	

<!-- ForceFields -->


	

<linearforcefield

 

id

=

"damper"

 

type

=

"gravity"

 

center

=

"-15.4053,1002.6392"

 

width

=

"669.9648"

 

height

=

"448.4814"

 

force

=

"0,0"

 

dampeningfactor

=

"0.7"

 

antigrav

=

"true"

 

geomonly

=

"false"

 

enabled

=

"true"

 

water

=

"false"

 

/>


	

<linearforcefield

 

type

=

"gravity"

 

force

=

"-9.8,0"

 

dampeningfactor

=

"0"

 

antigrav

=

"true"

 

geomonly

=

"false"

 

/>


 
	

<!-- Particles -->


	

<particles

 

effect

=

"ish_HeavyBreezeLeft"

 

depth

=

"80"

 

pretick

=

"0"

 

/>


	

<particles

 

effect

=

"ish_RainLeavesLeft"

 

depth

=

"-240"

 

pretick

=

"0"

 

/>


 
	

<!-- SceneLayers -->


	

<SceneLayer

 

name

=

"pupil"

 

depth

=

"8"

 

x

=

"66.46"

 

y

=

"682.5"

 

scalex

=

"1"

 

scaley

=

"1"

 

rotation

=

"0"

 

alpha

=

"1"

 

colorize

=

"255,255,255"

 

image

=

"IMAGE_SCENE_BULLETINBOARDSYSTEM_PUPIL"

   

/>


	

<SceneLayer

 

name

=

"pupil"

 

depth

=

"8"

 

x

=

"-345.02"

 

y

=

"682"

 

scalex

=

"1"

 

scaley

=

"1"

 

rotation

=

"0"

 

alpha

=

"1"

 

colorize

=

"255,255,255"

 

image

=

"IMAGE_SCENE_BULLETINBOARDSYSTEM_PUPIL"

   

/>


	

<SceneLayer

 

name

=

"ish_scanlines"

 

depth

=

"320"

 

x

=

"-98.97"

 

y

=

"654.92"

 

scalex

=

"50"

 

scaley

=

"1.172"

 

rotation

=

"0"

 

alpha

=

"1"

 

colorize

=

"255,255,255"

 

image

=

"IMAGE_SCENE_BULLETINBOARDSYSTEM_ISH_SCANLINES"

   

tilex

=

"true"

 

tiley

=

"true"

 

/>


	

<SceneLayer

 

name

=

"ish_gearblur"

 

depth

=

"0.8"

 

x

=

"-341.76"

 

y

=

"680.24"

 

scalex

=

"0.959"

 

scaley

=

"0.959"

 

rotation

=

"0"

 

alpha

=

"1"

 

colorize

=

"255,255,255"

 

image

=

"IMAGE_SCENE_BULLETINBOARDSYSTEM_ISH_GEARBLUR"

 

anim

=

"rot_1rps"

 

animspeed

=

"1"

   

/>


	

<SceneLayer

 

name

=

"ish_gearblur"

 

depth

=

"0.8"

 

x

=

"64.27"

 

y

=

"682.18"

 

scalex

=

"1.178"

 

scaley

=

"1.178"

 

rotation

=

"0"

 

alpha

=

"1"

 

colorize

=

"255,255,255"

 

image

=

"IMAGE_SCENE_BULLETINBOARDSYSTEM_ISH_GEARBLUR"

 

anim

=

"rot_1rps"

 

animspeed

=

"-1"

   

/>


	

<SceneLayer

 

name

=

"ish_gearblur"

 

depth

=

"0.8"

 

x

=

"539.55"

 

y

=

"443.39"

 

scalex

=

"0.601"

 

scaley

=

"0.601"

 

rotation

=

"0"

 

alpha

=

"1"

 

colorize

=

"255,255,255"

 

image

=

"IMAGE_SCENE_BULLETINBOARDSYSTEM_ISH_GEARBLUR"

 

anim

=

"rot_1rps"

 

animspeed

=

"-1"

   

/>


		

<SceneLayer

 

name

=

"main_19"

 

depth

=

"0"

 

x

=

"481.95"

 

y

=

"65.53"

 

scalex

=

"1.631"

 

scaley

=

"1.045"

 

rotation

=

"0"

 

alpha

=

"1"

 

colorize

=

"255,255,255"

 

image

=

"IMAGE_SCENE_BULLETINBOARDSYSTEM_MAIN_19"

   

/>


		

<SceneLayer

 

name

=

"main_18"

 

depth

=

"0"

 

x

=

"135.97"

 

y

=

"91.64"

 

scalex

=

"1.086"

 

scaley

=

"1.438"

 

rotation

=

"0"

 

alpha

=

"1"

 

colorize

=

"255,255,255"

 

image

=

"IMAGE_SCENE_BULLETINBOARDSYSTEM_MAIN_18"

   

/>


		

<SceneLayer

 

name

=

"main_15"

 

depth

=

"0"

 

x

=

"-839.77"

 

y

=

"284.77"

 

scalex

=

"1.26"

 

scaley

=

"1.983"

 

rotation

=

"0"

 

alpha

=

"1"

 

colorize

=

"255,255,255"

 

image

=

"IMAGE_SCENE_BULLETINBOARDSYSTEM_MAIN_15"

   

/>


		

<SceneLayer

 

name

=

"main_12"

 

depth

=

"0"

 

x

=

"448.47"

 

y

=

"446.01"

 

scalex

=

"1.353"

 

scaley

=

"1.295"

 

rotation

=

"0"

 

alpha

=

"1"

 

colorize

=

"255,255,255"

 

image

=

"IMAGE_SCENE_BULLETINBOARDSYSTEM_MAIN_12"

   

/>


		

<SceneLayer

 

name

=

"main_09"

 

depth

=

"0"

 

x

=

"119.48"

 

y

=

"503.04"

 

scalex

=

"1.223"

 

scaley

=

"1.252"

 

rotation

=

"0"

 

alpha

=

"1"

 

colorize

=

"255,255,255"

 

image

=

"IMAGE_SCENE_BULLETINBOARDSYSTEM_MAIN_09"

   

/>


		

<SceneLayer

 

name

=

"main_07"

 

depth

=

"0"

 

x

=

"919.67"

 

y

=

"453.99"

 

scalex

=

"1.807"

 

scaley

=

"1.776"

 

rotation

=

"0"

 

alpha

=

"1"

 

colorize

=

"255,255,255"

 

image

=

"IMAGE_SCENE_BULLETINBOARDSYSTEM_MAIN_07"

   

/>


		

<SceneLayer

 

name

=

"main_04"

 

depth

=

"0"

 

x

=

"-941.39"

 

y

=

"806.24"

 

scalex

=

"1.018"

 

scaley

=

"1.827"

 

rotation

=

"0"

 

alpha

=

"1"

 

colorize

=

"255,255,255"

 

image

=

"IMAGE_SCENE_BULLETINBOARDSYSTEM_MAIN_04"

   

/>


		

<SceneLayer

 

name

=

"main_03"

 

depth

=

"0"

 

x

=

"486.51"

 

y

=

"1053.31"

 

scalex

=

"1.295"

 

scaley

=

"1.146"

 

rotation

=

"0"

 

alpha

=

"1"

 

colorize

=

"255,255,255"

 

image

=

"IMAGE_SCENE_BULLETINBOARDSYSTEM_MAIN_03"

   

/>


		

<SceneLayer

 

name

=

"main_02"

 

depth

=

"0"

 

x

=

"-326.51"

 

y

=

"875.98"

 

scalex

=

"1.176"

 

scaley

=

"2.54"

 

rotation

=

"0"

 

alpha

=

"1"

 

colorize

=

"255,255,255"

 

image

=

"IMAGE_SCENE_BULLETINBOARDSYSTEM_MAIN_02"

   

/>


	

<SceneLayer

 

name

=

"ish_gearblur"

 

depth

=

"-8"

 

x

=

"-644.5"

 

y

=

"358.5"

 

scalex

=

"0.59"

 

scaley

=

"0.59"

 

rotation

=

"0"

 

alpha

=

"1"

 

colorize

=

"255,255,255"

 

image

=

"IMAGE_SCENE_BULLETINBOARDSYSTEM_ISH_GEARBLUR"

 

anim

=

"rot_1rps"

 

animspeed

=

"-1"

   

/>


	

<SceneLayer

 

name

=

"ish_gearblur"

 

depth

=

"-8"

 

x

=

"-292.76"

 

y

=

"1065.24"

 

scalex

=

"0.686"

 

scaley

=

"0.686"

 

rotation

=

"0"

 

alpha

=

"1"

 

colorize

=

"255,255,255"

 

image

=

"IMAGE_SCENE_BULLETINBOARDSYSTEM_ISH_GEARBLUR"

 

anim

=

"rot_1rps"

 

animspeed

=

"1"

   

/>


		

<SceneLayer

 

name

=

"signpostPole_ish"

 

depth

=

"-8.8"

 

x

=

"-825.37"

 

y

=

"680.83"

 

scalex

=

"1"

 

scaley

=

"1.037"

 

rotation

=

"-171.52"

 

alpha

=

"1"

 

colorize

=

"255,255,255"

 

image

=

"IMAGE_SCENE_BULLETINBOARDSYSTEM_SIGNPOSTPOLE_ISH"

   

/>


	

<SceneLayer

 

name

=

"ish_bush"

 

depth

=

"-56"

 

x

=

"120.01"

 

y

=

"1108.02"

 

scalex

=

"0.844"

 

scaley

=

"1"

 

rotation

=

"-172.48"

 

alpha

=

"1"

 

colorize

=

"255,255,255"

 

image

=

"IMAGE_SCENE_BULLETINBOARDSYSTEM_ISH_BUSH"

   

/>


	

<SceneLayer

 

name

=

"ish_bush"

 

depth

=

"-56"

 

x

=

"3.02"

 

y

=

"103.07"

 

scalex

=

"0.844"

 

scaley

=

"1"

 

rotation

=

"94.94"

 

alpha

=

"1"

 

colorize

=

"255,255,255"

 

image

=

"IMAGE_SCENE_BULLETINBOARDSYSTEM_ISH_BUSH"

   

/>


	

<SceneLayer

 

name

=

"ish_bush"

 

depth

=

"-56"

 

x

=

"228"

 

y

=

"184.09"

 

scalex

=

"0.844"

 

scaley

=

"1"

 

rotation

=

"-87.17"

 

alpha

=

"1"

 

colorize

=

"255,255,255"

 

image

=

"IMAGE_SCENE_BULLETINBOARDSYSTEM_ISH_BUSH"

   

/>


	

<SceneLayer

 

name

=

"ish_bush"

 

depth

=

"-56"

 

x

=

"223.5"

 

y

=

"584.57"

 

scalex

=

"0.844"

 

scaley

=

"1"

 

rotation

=

"-87.17"

 

alpha

=

"1"

 

colorize

=

"255,255,255"

 

image

=

"IMAGE_SCENE_BULLETINBOARDSYSTEM_ISH_BUSH"

   

/>


	

<SceneLayer

 

name

=

"ish_bush"

 

depth

=

"-56"

 

x

=

"-824.95"

 

y

=

"368.06"

 

scalex

=

"0.844"

 

scaley

=

"1"

 

rotation

=

"13.11"

 

alpha

=

"1"

 

colorize

=

"255,255,255"

 

image

=

"IMAGE_SCENE_BULLETINBOARDSYSTEM_ISH_BUSH"

   

/>


	

<SceneLayer

 

name

=

"ish_bush"

 

depth

=

"-56"

 

x

=

"-946.84"

 

y

=

"872.96"

 

scalex

=

"0.752"

 

scaley

=

"1"

 

rotation

=

"5.95"

 

alpha

=

"1"

 

colorize

=

"255,255,255"

 

image

=

"IMAGE_SCENE_BULLETINBOARDSYSTEM_ISH_BUSH"

   

/>


	

<SceneLayer

 

name

=

"ish_tree"

 

depth

=

"-120"

 

x

=

"295.08"

 

y

=

"567.02"

 

scalex

=

"0.288"

 

scaley

=

"0.288"

 

rotation

=

"-105.28"

 

alpha

=

"1"

 

colorize

=

"255,255,255"

 

image

=

"IMAGE_SCENE_BULLETINBOARDSYSTEM_ISH_TREE"

   

/>


	

<SceneLayer

 

name

=

"ish_tree"

 

depth

=

"-120"

 

x

=

"342.46"

 

y

=

"182.81"

 

scalex

=

"0.485"

 

scaley

=

"0.485"

 

rotation

=

"-98.14"

 

alpha

=

"1"

 

colorize

=

"255,255,255"

 

image

=

"IMAGE_SCENE_BULLETINBOARDSYSTEM_ISH_TREE"

   

/>


	

<SceneLayer

 

name

=

"ish_tree"

 

depth

=

"-120"

 

x

=

"418.06"

 

y

=

"726.96"

 

scalex

=

"0.846"

 

scaley

=

"0.846"

 

rotation

=

"-67.59"

 

alpha

=

"1"

 

colorize

=

"255,255,255"

 

image

=

"IMAGE_SCENE_BULLETINBOARDSYSTEM_ISH_TREE"

   

/>


	

<SceneLayer

 

name

=

"ish_cloud"

 

depth

=

"-320"

 

x

=

"679.77"

 

y

=

"71.47"

 

scalex

=

"1.908"

 

scaley

=

"1.908"

 

rotation

=

"-90"

 

alpha

=

"1"

 

colorize

=

"255,255,255"

 

image

=

"IMAGE_SCENE_BULLETINBOARDSYSTEM_ISH_CLOUD"

   

/>


	

<SceneLayer

 

name

=

"ish_cloud"

 

depth

=

"-320"

 

x

=

"477.28"

 

y

=

"965.42"

 

scalex

=

"1.908"

 

scaley

=

"1.908"

 

rotation

=

"-90"

 

alpha

=

"1"

 

colorize

=

"255,255,255"

 

image

=

"IMAGE_SCENE_BULLETINBOARDSYSTEM_ISH_CLOUD"

   

/>


	

<SceneLayer

 

name

=

"ish_cloud"

 

depth

=

"-320"

 

x

=

"-820.16"

 

y

=

"1100.42"

 

scalex

=

"1.908"

 

scaley

=

"1.908"

 

rotation

=

"-90"

 

alpha

=

"1"

 

colorize

=

"255,255,255"

 

image

=

"IMAGE_SCENE_BULLETINBOARDSYSTEM_ISH_CLOUD"

   

/>


	

<SceneLayer

 

name

=

"ish_cloud"

 

depth

=

"-320"

 

x

=

"-692.66"

 

y

=

"26.47"

 

scalex

=

"1.908"

 

scaley

=

"1.908"

 

rotation

=

"-90"

 

alpha

=

"1"

 

colorize

=

"255,255,255"

 

image

=

"IMAGE_SCENE_BULLETINBOARDSYSTEM_ISH_CLOUD"

   

/>


	

<SceneLayer

 

name

=

"bg"

 

depth

=

"-480"

 

x

=

"0.02"

 

y

=

"600.01"

 

scalex

=

"8.986"

 

scaley

=

"4.688"

 

rotation

=

"0"

 

alpha

=

"1"

 

colorize

=

"255,255,255"

 

image

=

"IMAGE_SCENE_BULLETINBOARDSYSTEM_BG"

   

/>


 
	

<!-- Buttons -->


 
	

<!-- Labels -->


 
	

<!-- Static Geometry -->


	

<rectangle

 

id

=

""

 

static

=

"true"

 

material

=

"rock"

 

x

=

"-75.7451"

 

y

=

"1216.0613"

 

width

=

"633.4672"

 

height

=

"245.1976"

 

rotation

=

"0.2359"

 

/>


	

<rectangle

 

id

=

""

 

static

=

"true"

 

material

=

"rock"

 

x

=

"491.8433"

 

y

=

"1104.1934"

 

width

=

"153.9994"

 

height

=

"935.7907"

 

rotation

=

"1.1837"

 

/>


	

<rectangle

 

id

=

""

 

static

=

"true"

 

material

=

"rock"

 

x

=

"200.5991"

 

y

=

"446.728"

 

width

=

"99.2747"

 

height

=

"95.4723"

 

rotation

=

"0.7625"

 

/>


	

<rectangle

 

id

=

""

 

static

=

"true"

 

material

=

"rock"

 

x

=

"196.1328"

 

y

=

"118.4673"

 

width

=

"99.2749"

 

height

=

"184.9163"

 

rotation

=

"0.7495"

 

/>


	

<rectangle

 

id

=

""

 

static

=

"true"

 

material

=

"rock"

 

x

=

"479.1343"

 

y

=

"-22.5327"

 

width

=

"773.2555"

 

height

=

"215.6307"

 

rotation

=

"-0.0748"

 

/>


	

<rectangle

 

id

=

""

 

static

=

"true"

 

material

=

"rock"

 

x

=

"922.5469"

 

y

=

"125.189"

 

width

=

"153.9996"

 

height

=

"623.2443"

 

rotation

=

"-0.6769"

 

/>


	

<rectangle

 

id

=

""

 

static

=

"true"

 

material

=

"rock"

 

x

=

"938.1182"

 

y

=

"639.1653"

 

width

=

"153.9998"

 

height

=

"669.671"

 

rotation

=

"0.3913"

 

/>


	

<circle

 

id

=

"sk2"

 

static

=

"true"

 

tag

=

"deadly"

 

material

=

"machine"

 

x

=

"537.2251"

 

y

=

"443.2568"

 

radius

=

"56.2517"

 

/>


	

<circle

 

id

=

"k2"

 

static

=

"true"

 

tag

=

"deadly"

 

material

=

"machine"

 

x

=

"-641.7302"

 

y

=

"359.7544"

 

radius

=

"63.7413"

 

/>


	

<circle

 

id

=

"k2"

 

static

=

"true"

 

tag

=

"deadly"

 

material

=

"machine"

 

x

=

"64.7515"

 

y

=

"684.2463"

 

radius

=

"140.2489"

 

/>


	

<compositegeom

 

id

=

"k1"

 

x

=

"-343.25"

 

y

=

"841.7468"

 

rotation

=

"0"

 

static

=

"true"

 

tag

=

"deadly"

 

material

=

"machine"

 

>


		

<circle

 

id

=

""

 

x

=

"55"

 

y

=

"216.0005"

 

radius

=

"56.7482"

 

/>


		

<circle

 

id

=

""

 

x

=

"-0.5"

 

y

=

"-161.5"

 

radius

=

"111.2484"

 

/>


		

<rectangle

 

id

=

""

 

x

=

"1.4678"

 

y

=

"65.7913"

 

width

=

"44.8086"

 

height

=

"378.1896"

 

rotation

=

"-0.0133"

 

/>


	</compositegeom

>


	

<rectangle

 

id

=

"p1"

 

static

=

"true"

 

tag

=

"walkable"

 

material

=

"verysticky"

 

x

=

"-981.0046"

 

y

=

"808.999"

 

width

=

"440.0092"

 

height

=

"150"

 

rotation

=

"-0.1163"

 

/>


	

<rectangle

 

id

=

"p2"

 

static

=

"true"

 

tag

=

"unwalkable"

 

material

=

"verysticky"

 

x

=

"-868.6519"

 

y

=

"284.502"

 

width

=

"630.3037"

 

height

=

"149.9999"

 

rotation

=

"0.0769"

 

/>


	

<rectangle

 

id

=

"killbar2"

 

static

=

"true"

 

material

=

"rock"

 

x

=

"353.2524"

 

y

=

"444"

 

width

=

"336.5049"

 

height

=

"36.002"

 

rotation

=

"0"

 

/>


	

<rectangle

 

id

=

"finalplatform"

 

static

=

"true"

 

tag

=

"walkable"

 

material

=

"verysticky"

 

x

=

"119.7314"

 

y

=

"317.1033"

 

width

=

"167.4599"

 

height

=

"942.0116"

 

rotation

=

"-0.0288"

 

/>


	

<line

 

id

=

"pit"

 

static

=

"true"

 

tag

=

"deadly"

 

material

=

"rock"

 

anchor

=

"5,1204"

 

normal

=

"0.0059,-1"

 

/>


	

<line

 

id

=

"pit"

 

static

=

"true"

 

tag

=

"deadly"

 

material

=

"rock"

 

anchor

=

"-96.5037,-23.501"

 

normal

=

"-0.0031,1"

 

/>


	

<line

 

id

=

""

 

static

=

"true"

 

tag

=

"deadly"

 

material

=

"rock"

 

anchor

=

"1065.0049,567.4971"

 

normal

=

"-1,0"

 

/>


	

<line

 

id

=

""

 

static

=

"true"

 

tag

=

"deadly"

 

material

=

"rock"

 

anchor

=

"-1167.0088,632"

 

normal

=

"1,0"

 

/>


 
	

<!-- Dynamic Geometry -->


 
	

<!-- Geometry Constraints -->


</scene

>