Deliverance
Information Superhighway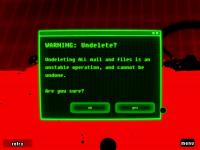 OCD: 7 moves
Previous level:
MOM's Computer
.
Next level:
Infesty the Worm
.
recycle bin and back again
Signposts
Balancing on the edge of the Big Recycle Bin,
the last of the Goo Balls didn't seem to know that they were extremely explosive
or that all the mail and files in the history of the Information Superhighway...
...were about to be undeleted!
-the Virtual Sign Painter
You're not supposed to be down here.
Where will all the spam and bad files go when they are undeleted?
It can't be good for whoever receives them.
-the Virtual Sign Painter
You need Flash player 8+ and JavaScript enabled to view this video.
There is 1 video.
<level

 

ballsrequired

=

"6"

 

letterboxed

=

"false"

 

visualdebug

=

"false"

 

autobounds

=

"true"

 

textcolor

=

"0,255,0"

 

texteffects

=

"false"

 

timebugprobability

=

"0"

 

strandgeom

=

"false"

 

allowskip

=

"false"

  

cursor1color

=

"0,255,0"

 

cursor2color

=

"0,255,255"

 

cursor3color

=

"0,0,255"

 

cursor4color

=

"255,0,0"

>


 
	

<!-- Camera -->


	

<camera

 

aspect

=

"normal"

>


		

<poi

 

pos

=

"0,6096.39"

 

traveltime

=

"0"

 

pause

=

"0"

 

zoom

=

"0.8"

 

/>


		

<poi

 

pos

=

"0,5254.39"

 

traveltime

=

"1.5"

 

pause

=

"0"

 

zoom

=

"0.8"

 

/>


	</camera

>


	

<camera

 

aspect

=

"widescreen"

>


		

<poi

 

pos

=

"0,6096.39"

 

traveltime

=

"0"

 

pause

=

"0"

 

zoom

=

"1.095"

 

/>


		

<poi

 

pos

=

"0,5304.39"

 

traveltime

=

"1.5"

 

pause

=

"0"

 

zoom

=

"1.095"

 

/>


	</camera

>


 
	

<!-- Music -->


	

<music

 

id

=

"SOUND_LEVEL_DELIVERANCE_TEMP_DWTD1"

 

/>


 
	

<!-- Fire -->


	

<fire

 

depth

=

"-8"

 

particles

=

"ish_smallfire"

 

x

=

"247.001953125"

 

y

=

"1493.0009765625"

 

radius

=

"70.1640625"

 

/>


	

<fire

 

depth

=

"-8"

 

particles

=

"ish_smallfire"

 

x

=

"42.17236328125"

 

y

=

"5472.66918945313"

 

radius

=

"70.1644287109375"

 

/>


	

<fire

 

depth

=

"-8"

 

particles

=

"ish_smallfire"

 

x

=

"132.571296691895"

 

y

=

"3225.10205078125"

 

radius

=

"76.1714210510254"

 

/>


	

<fire

 

depth

=

"-8"

 

particles

=

"ish_smallfire"

 

x

=

"-105.429679870605"

 

y

=

"2866.0625"

 

radius

=

"76.1712989807129"

 

/>


	

<fire

 

depth

=

"-8"

 

particles

=

"ish_smallfire"

 

x

=

"-146.83984375"

 

y

=

"3939.82739257813"

 

radius

=

"76.1639404296875"

 

/>


	

<fire

 

depth

=

"-8"

 

particles

=

"ish_smallfire"

 

x

=

"24.6650390625"

 

y

=

"4435.82739257813"

 

radius

=

"76.1639404296875"

 

/>


 
	

<!-- Signposts -->


		

<signpost

 

name

=

"signpost_ish"

 

depth

=

"-8"

 

x

=

"-326.52"

 

y

=

"5358.1"

 

scalex

=

"0.727"

 

scaley

=

"0.727"

 

rotation

=

"98.36"

 

alpha

=

"1"

 

colorize

=

"255,255,255"

 

image

=

"IMAGE_SCENE_DELIVERANCE_SIGNPOST_ISH"

 

text

=

"SIGNPOST_DELIVERANCE_1"

   

/>


		

<signpost

 

name

=

"signpost_ish"

 

depth

=

"-8"

 

x

=

"-177.96"

 

y

=

"3090.92"

 

scalex

=

"0.727"

 

scaley

=

"0.727"

 

rotation

=

"-77.26"

 

alpha

=

"1"

 

colorize

=

"255,255,255"

 

image

=

"IMAGE_SCENE_DELIVERANCE_SIGNPOST_ISH"

 

text

=

"SIGNPOST_DELIVERANCE_2"

   

/>


 
	

<!-- Pipes -->


 
	

<!-- Balls -->


	

<BallInstance

 

type

=

"UndeletePill"

 

x

=

"24"

 

y

=

"6243.04"

 

id

=

"0"

 

angle

=

"0"

 

/>


	

<BallInstance

 

type

=

"PixelProduct"

 

x

=

"217.3"

 

y

=

"1859.01"

 

id

=

"1"

 

discovered

=

"false"

 

angle

=

"0"

 

/>


	

<BallInstance

 

type

=

"PixelProduct"

 

x

=

"117.3"

 

y

=

"1828.01"

 

id

=

"2"

 

discovered

=

"false"

 

angle

=

"0"

 

/>


	

<BallInstance

 

type

=

"PixelProduct"

 

x

=

"5.3"

 

y

=

"1800.01"

 

id

=

"3"

 

discovered

=

"false"

 

angle

=

"0"

 

/>


	

<BallInstance

 

type

=

"PixelProduct"

 

x

=

"-78.7"

 

y

=

"1798.01"

 

id

=

"4"

 

discovered

=

"false"

 

angle

=

"0"

 

/>


	

<BallInstance

 

type

=

"PixelProduct"

 

x

=

"-173.7"

 

y

=

"1829.01"

 

id

=

"5"

 

discovered

=

"false"

 

angle

=

"0"

 

/>


	

<BallInstance

 

type

=

"PixelProduct"

 

x

=

"-243.7"

 

y

=

"1853.01"

 

id

=

"6"

 

discovered

=

"false"

 

angle

=

"0"

 

/>


	

<BallInstance

 

type

=

"PixelProduct"

 

x

=

"-227.7"

 

y

=

"1809.01"

 

id

=

"7"

 

discovered

=

"false"

 

angle

=

"0"

 

/>


	

<BallInstance

 

type

=

"PixelProduct"

 

x

=

"185.08"

 

y

=

"1811.43"

 

id

=

"8"

 

discovered

=

"false"

 

angle

=

"0"

 

/>


	

<BallInstance

 

type

=

"PixelProduct"

 

x

=

"75.59"

 

y

=

"1784.43"

 

id

=

"9"

 

discovered

=

"false"

 

angle

=

"0"

 

/>


	

<BallInstance

 

type

=

"PixelProduct"

 

x

=

"-388.38"

 

y

=

"1437.44"

 

id

=

"10"

 

discovered

=

"false"

 

angle

=

"0"

 

/>


	

<BallInstance

 

type

=

"PixelProduct"

 

x

=

"-383.89"

 

y

=

"1552.94"

 

id

=

"11"

 

discovered

=

"false"

 

angle

=

"0"

 

/>


	

<BallInstance

 

type

=

"PixelProduct"

 

x

=

"38.93"

 

y

=

"1287.44"

 

id

=

"12"

 

discovered

=

"false"

 

angle

=

"0"

 

/>


	

<BallInstance

 

type

=

"PixelProduct"

 

x

=

"26.26"

 

y

=

"1426.1"

 

id

=

"13"

 

discovered

=

"false"

 

angle

=

"0"

 

/>


	

<BallInstance

 

type

=

"PixelProduct"

 

x

=

"26.26"

 

y

=

"1540.1"

 

id

=

"14"

 

discovered

=

"false"

 

angle

=

"0"

 

/>


	

<BallInstance

 

type

=

"PixelProduct"

 

x

=

"23.26"

 

y

=

"1645.1"

 

id

=

"15"

 

discovered

=

"false"

 

angle

=

"0"

 

/>


	

<BallInstance

 

type

=

"PixelProduct"

 

x

=

"-38.41"

 

y

=

"1751.43"

 

id

=

"16"

 

discovered

=

"false"

 

angle

=

"0"

 

/>


	

<BallInstance

 

type

=

"PixelProduct"

 

x

=

"-135.9"

 

y

=

"1784.43"

 

id

=

"17"

 

discovered

=

"false"

 

angle

=

"0"

 

/>


	

<BallInstance

 

type

=

"Anchor"

 

x

=

"-395.89"

 

y

=

"1669.93"

 

id

=

"18"

 

discovered

=

"false"

 

angle

=

"0"

 

/>


	

<BallInstance

 

type

=

"Anchor"

 

x

=

"-299.4"

 

y

=

"1862.42"

 

id

=

"19"

 

discovered

=

"false"

 

angle

=

"0"

 

/>


	

<BallInstance

 

type

=

"Anchor"

 

x

=

"277.85"

 

y

=

"1866.02"

 

id

=

"20"

 

discovered

=

"false"

 

angle

=

"0"

 

/>


	

<BallInstance

 

type

=

"Bit"

 

x

=

"-246.01"

 

y

=

"5614.45"

 

id

=

"21"

 

angle

=

"0"

 

/>


	

<BallInstance

 

type

=

"Bit"

 

x

=

"-177.01"

 

y

=

"5672.57"

 

id

=

"22"

 

angle

=

"0"

 

/>


	

<BallInstance

 

type

=

"Bit"

 

x

=

"-213.5"

 

y

=

"5678.68"

 

id

=

"23"

 

angle

=

"0"

 

/>


	

<BallInstance

 

type

=

"Bit"

 

x

=

"301.81"

 

y

=

"5565.82"

 

id

=

"24"

 

angle

=

"0"

 

/>


	

<BallInstance

 

type

=

"Bit"

 

x

=

"-180.19"

 

y

=

"5603.82"

 

id

=

"25"

 

angle

=

"0"

 

/>


	

<BallInstance

 

type

=

"Bit"

 

x

=

"-95.07"

 

y

=

"5017.27"

 

id

=

"26"

 

angle

=

"0"

 

/>


	

<BallInstance

 

type

=

"Bit"

 

x

=

"-68.07"

 

y

=

"5046.27"

 

id

=

"27"

 

angle

=

"0"

 

/>


	

<BallInstance

 

type

=

"Bit"

 

x

=

"-27.07"

 

y

=

"5017.27"

 

id

=

"28"

 

angle

=

"0"

 

/>


	

<BallInstance

 

type

=

"Bit"

 

x

=

"-67.07"

 

y

=

"4990.27"

 

id

=

"29"

 

angle

=

"0"

 

/>


	

<BallInstance

 

type

=

"Bit"

 

x

=

"303.56"

 

y

=

"5613.64"

 

id

=

"30"

 

angle

=

"0"

 

/>


	

<BallInstance

 

type

=

"Bit"

 

x

=

"-43.07"

 

y

=

"5056.27"

 

id

=

"31"

 

angle

=

"0"

 

/>


	

<BallInstance

 

type

=

"Bit"

 

x

=

"347.37"

 

y

=

"5589.09"

 

id

=

"32"

 

angle

=

"0"

 

/>


	

<BallInstance

 

type

=

"Bit"

 

x

=

"281.08"

 

y

=

"5630.05"

 

id

=

"33"

 

angle

=

"0"

 

/>


	

<BallInstance

 

type

=

"Bit"

 

x

=

"-386.39"

 

y

=

"1579.44"

 

id

=

"34"

 

discovered

=

"false"

 

angle

=

"0"

 

/>


	

<BallInstance

 

type

=

"Bit"

 

x

=

"-382.39"

 

y

=

"1508.44"

 

id

=

"35"

 

discovered

=

"false"

 

angle

=

"0"

 

/>


	

<BallInstance

 

type

=

"Bit"

 

x

=

"-387.39"

 

y

=

"1471.44"

 

id

=

"36"

 

discovered

=

"false"

 

angle

=

"0"

 

/>


	

<BallInstance

 

type

=

"Bit"

 

x

=

"-388.39"

 

y

=

"1634.44"

 

id

=

"37"

 

discovered

=

"false"

 

angle

=

"0"

 

/>


	

<BallInstance

 

type

=

"Bit"

 

x

=

"-388.39"

 

y

=

"1596.44"

 

id

=

"38"

 

discovered

=

"false"

 

angle

=

"0"

 

/>


	

<BallInstance

 

type

=

"Bit"

 

x

=

"-389.89"

 

y

=

"1615.94"

 

id

=

"39"

 

discovered

=

"false"

 

angle

=

"0"

 

/>


	

<BallInstance

 

type

=

"Bit"

 

x

=

"-382.39"

 

y

=

"1510.95"

 

id

=

"40"

 

discovered

=

"false"

 

angle

=

"0"

 

/>


	

<BallInstance

 

type

=

"Bit"

 

x

=

"-383.89"

 

y

=

"1479.45"

 

id

=

"41"

 

discovered

=

"false"

 

angle

=

"0"

 

/>


	

<BallInstance

 

type

=

"Bit"

 

x

=

"11.43"

 

y

=

"2591.73"

 

id

=

"42"

 

discovered

=

"false"

 

angle

=

"0"

 

/>


	

<BallInstance

 

type

=

"Bit"

 

x

=

"-64.41"

 

y

=

"2605.3"

 

id

=

"43"

 

discovered

=

"false"

 

angle

=

"0"

 

/>


	

<BallInstance

 

type

=

"Bit"

 

x

=

"-37.41"

 

y

=

"2634.3"

 

id

=

"44"

 

discovered

=

"false"

 

angle

=

"0"

 

/>


	

<BallInstance

 

type

=

"Bit"

 

x

=

"-92.83"

 

y

=

"2608.22"

 

id

=

"45"

 

discovered

=

"false"

 

angle

=

"0"

 

/>


	

<BallInstance

 

type

=

"Bit"

 

x

=

"-10.34"

 

y

=

"2572.22"

 

id

=

"46"

 

discovered

=

"false"

 

angle

=

"0"

 

/>


	

<BallInstance

 

type

=

"Bit"

 

x

=

"3.59"

 

y

=

"2605.3"

 

id

=

"47"

 

discovered

=

"false"

 

angle

=

"0"

 

/>


	

<BallInstance

 

type

=

"Bit"

 

x

=

"-36.41"

 

y

=

"2578.3"

 

id

=

"48"

 

discovered

=

"false"

 

angle

=

"0"

 

/>


	

<BallInstance

 

type

=

"Bit"

 

x

=

"-23.41"

 

y

=

"2674.3"

 

id

=

"49"

 

discovered

=

"false"

 

angle

=

"0"

 

/>


	

<BallInstance

 

type

=

"Bit"

 

x

=

"-13.74"

 

y

=

"3567.95"

 

id

=

"50"

 

discovered

=

"false"

 

angle

=

"0"

 

/>


	

<BallInstance

 

type

=

"Bit"

 

x

=

"-273"

 

y

=

"3735"

 

id

=

"51"

 

discovered

=

"false"

 

angle

=

"0"

 

/>


	

<BallInstance

 

type

=

"Bit"

 

x

=

"-303"

 

y

=

"3749"

 

id

=

"52"

 

discovered

=

"false"

 

angle

=

"0"

 

/>


	

<BallInstance

 

type

=

"Bit"

 

x

=

"-245"

 

y

=

"3764"

 

id

=

"53"

 

discovered

=

"false"

 

angle

=

"0"

 

/>


	

<BallInstance

 

type

=

"Bit"

 

x

=

"88.56"

 

y

=

"4213.06"

 

id

=

"54"

 

discovered

=

"false"

 

angle

=

"0"

 

/>


	

<BallInstance

 

type

=

"Bit"

 

x

=

"56.56"

 

y

=

"4217.06"

 

id

=

"55"

 

discovered

=

"false"

 

angle

=

"0"

 

/>


	

<BallInstance

 

type

=

"Bit"

 

x

=

"-281.44"

 

y

=

"3779.06"

 

id

=

"56"

 

discovered

=

"false"

 

angle

=

"0"

 

/>


	

<BallInstance

 

type

=

"Bit"

 

x

=

"2.56"

 

y

=

"3604.06"

 

id

=

"57"

 

discovered

=

"false"

 

angle

=

"0"

 

/>


	

<BallInstance

 

type

=

"Bit"

 

x

=

"-119.72"

 

y

=

"3336.87"

 

id

=

"58"

 

discovered

=

"false"

 

angle

=

"0"

 

/>


	

<BallInstance

 

type

=

"Bit"

 

x

=

"-83.28"

 

y

=

"3358.84"

 

id

=

"59"

 

discovered

=

"false"

 

angle

=

"0"

 

/>


	

<BallInstance

 

type

=

"Bit"

 

x

=

"-117.85"

 

y

=

"3379.93"

 

id

=

"60"

 

discovered

=

"false"

 

angle

=

"0"

 

/>


	

<BallInstance

 

type

=

"Bit"

 

x

=

"-157.23"

 

y

=

"3355.88"

 

id

=

"61"

 

discovered

=

"false"

 

angle

=

"0"

 

/>


	

<BallInstance

 

type

=

"Bit"

 

x

=

"50.69"

 

y

=

"3589.7"

 

id

=

"62"

 

discovered

=

"false"

 

angle

=

"0"

 

/>


	

<BallInstance

 

type

=

"Bit"

 

x

=

"18.13"

 

y

=

"3575.44"

 

id

=

"63"

 

discovered

=

"false"

 

angle

=

"0"

 

/>


	

<BallInstance

 

type

=

"Bit"

 

x

=

"-143.71"

 

y

=

"3374.24"

 

id

=

"64"

 

discovered

=

"false"

 

angle

=

"0"

 

/>


	

<BallInstance

 

type

=

"Bit"

 

x

=

"24.34"

 

y

=

"3614.58"

 

id

=

"65"

 

discovered

=

"false"

 

angle

=

"0"

 

/>


	

<BallInstance

 

type

=

"Pixel"

 

x

=

"-143.65"

 

y

=

"5647.72"

 

id

=

"66"

 

angle

=

"0"

 

/>


	

<BallInstance

 

type

=

"Pixel"

 

x

=

"-254.45"

 

y

=

"5664.24"

 

id

=

"67"

 

angle

=

"0"

 

/>


	

<BallInstance

 

type

=

"Pixel"

 

x

=

"-161.14"

 

y

=

"5555.34"

 

id

=

"68"

 

angle

=

"0"

 

/>


	

<BallInstance

 

type

=

"Pixel"

 

x

=

"-269.96"

 

y

=

"5571.52"

 

id

=

"69"

 

angle

=

"0"

 

/>


	

<BallInstance

 

type

=

"Pixel"

 

x

=

"-11.91"

 

y

=

"5084.84"

 

id

=

"70"

 

angle

=

"0"

 

/>


	

<BallInstance

 

type

=

"Pixel"

 

x

=

"-123.91"

 

y

=

"5082.84"

 

id

=

"71"

 

angle

=

"0"

 

/>


	

<BallInstance

 

type

=

"Pixel"

 

x

=

"-13.91"

 

y

=

"4990.84"

 

id

=

"72"

 

angle

=

"0"

 

/>


	

<BallInstance

 

type

=

"Pixel"

 

x

=

"-123.91"

 

y

=

"4988.84"

 

id

=

"73"

 

angle

=

"0"

 

/>


	

<BallInstance

 

type

=

"Pixel"

 

x

=

"354.02"

 

y

=

"5651.7"

 

id

=

"74"

 

angle

=

"0"

 

/>


	

<BallInstance

 

type

=

"Pixel"

 

x

=

"242.84"

 

y

=

"5637.99"

 

id

=

"75"

 

angle

=

"0"

 

/>


	

<BallInstance

 

type

=

"Pixel"

 

x

=

"361.87"

 

y

=

"5558.01"

 

id

=

"76"

 

angle

=

"0"

 

/>


	

<BallInstance

 

type

=

"Pixel"

 

x

=

"252.68"

 

y

=

"5544.51"

 

id

=

"77"

 

angle

=

"0"

 

/>


	

<BallInstance

 

type

=

"Pixel"

 

x

=

"25.59"

 

y

=

"2657.3"

 

id

=

"78"

 

discovered

=

"false"

 

angle

=

"0"

 

/>


	

<BallInstance

 

type

=

"Pixel"

 

x

=

"-86.41"

 

y

=

"2655.3"

 

id

=

"79"

 

discovered

=

"false"

 

angle

=

"0"

 

/>


	

<BallInstance

 

type

=

"Pixel"

 

x

=

"23.59"

 

y

=

"2563.3"

 

id

=

"80"

 

discovered

=

"false"

 

angle

=

"0"

 

/>


	

<BallInstance

 

type

=

"Pixel"

 

x

=

"-86.41"

 

y

=

"2561.3"

 

id

=

"81"

 

discovered

=

"false"

 

angle

=

"0"

 

/>


	

<BallInstance

 

type

=

"Pixel"

 

x

=

"43.47"

 

y

=

"3649.09"

 

id

=

"82"

 

discovered

=

"false"

 

angle

=

"0"

 

/>


	

<BallInstance

 

type

=

"Pixel"

 

x

=

"-71.35"

 

y

=

"3405.37"

 

id

=

"83"

 

discovered

=

"false"

 

angle

=

"0"

 

/>


	

<BallInstance

 

type

=

"Pixel"

 

x

=

"-77.44"

 

y

=

"3333.19"

 

id

=

"84"

 

discovered

=

"false"

 

angle

=

"0"

 

/>


	

<BallInstance

 

type

=

"Pixel"

 

x

=

"-181.56"

 

y

=

"3336.43"

 

id

=

"85"

 

discovered

=

"false"

 

angle

=

"0"

 

/>


	

<BallInstance

 

type

=

"Pixel"

 

x

=

"-183.34"

 

y

=

"3403.41"

 

id

=

"86"

 

discovered

=

"false"

 

angle

=

"0"

 

/>


	

<BallInstance

 

type

=

"Pixel"

 

x

=

"-321.1"

 

y

=

"3708.98"

 

id

=

"87"

 

discovered

=

"false"

 

angle

=

"0"

 

/>


	

<BallInstance

 

type

=

"Pixel"

 

x

=

"-222.1"

 

y

=

"3729.98"

 

id

=

"88"

 

discovered

=

"false"

 

angle

=

"0"

 

/>


	

<BallInstance

 

type

=

"Pixel"

 

x

=

"-231.1"

 

y

=

"3813.98"

 

id

=

"89"

 

discovered

=

"false"

 

angle

=

"0"

 

/>


	

<BallInstance

 

type

=

"Pixel"

 

x

=

"74.9"

 

y

=

"4259.98"

 

id

=

"90"

 

discovered

=

"false"

 

angle

=

"0"

 

/>


	

<BallInstance

 

type

=

"Pixel"

 

x

=

"8.9"

 

y

=

"4198.98"

 

id

=

"91"

 

discovered

=

"false"

 

angle

=

"0"

 

/>


	

<BallInstance

 

type

=

"Pixel"

 

x

=

"121.9"

 

y

=

"4190.98"

 

id

=

"92"

 

discovered

=

"false"

 

angle

=

"0"

 

/>


	

<BallInstance

 

type

=

"Pixel"

 

x

=

"-334.1"

 

y

=

"3788.98"

 

id

=

"93"

 

discovered

=

"false"

 

angle

=

"0"

 

/>


	

<BallInstance

 

type

=

"Pixel"

 

x

=

"-54.1"

 

y

=

"3612.98"

 

id

=

"94"

 

discovered

=

"false"

 

angle

=

"0"

 

/>


	

<BallInstance

 

type

=

"Pixel"

 

x

=

"69.39"

 

y

=

"3569.18"

 

id

=

"95"

 

discovered

=

"false"

 

angle

=

"0"

 

/>


	

<BallInstance

 

type

=

"Pixel"

 

x

=

"-25.35"

 

y

=

"3537.19"

 

id

=

"96"

 

discovered

=

"false"

 

angle

=

"0"

 

/>


 
	

<!-- Arms -->


	

<Strand

 

gb1

=

"5"

 

gb2

=

"6"

 

/>


	

<Strand

 

gb1

=

"4"

 

gb2

=

"5"

 

/>


	

<Strand

 

gb1

=

"3"

 

gb2

=

"4"

 

/>


	

<Strand

 

gb1

=

"2"

 

gb2

=

"3"

 

/>


	

<Strand

 

gb1

=

"1"

 

gb2

=

"2"

 

/>


	

<Strand

 

gb1

=

"1"

 

gb2

=

"20"

 

/>


	

<Strand

 

gb1

=

"8"

 

gb2

=

"1"

 

/>


	

<Strand

 

gb1

=

"2"

 

gb2

=

"8"

 

/>


	

<Strand

 

gb1

=

"9"

 

gb2

=

"2"

 

/>


	

<Strand

 

gb1

=

"3"

 

gb2

=

"9"

 

/>


	

<Strand

 

gb1

=

"16"

 

gb2

=

"3"

 

/>


	

<Strand

 

gb1

=

"4"

 

gb2

=

"16"

 

/>


	

<Strand

 

gb1

=

"17"

 

gb2

=

"4"

 

/>


	

<Strand

 

gb1

=

"5"

 

gb2

=

"17"

 

/>


	

<Strand

 

gb1

=

"7"

 

gb2

=

"5"

 

/>


	

<Strand

 

gb1

=

"6"

 

gb2

=

"7"

 

/>


	

<Strand

 

gb1

=

"19"

 

gb2

=

"6"

 

/>


	

<Strand

 

gb1

=

"8"

 

gb2

=

"20"

 

/>


	

<Strand

 

gb1

=

"11"

 

gb2

=

"10"

 

/>


	

<Strand

 

gb1

=

"18"

 

gb2

=

"11"

 

/>


	

<Strand

 

gb1

=

"13"

 

gb2

=

"12"

 

/>


	

<Strand

 

gb1

=

"14"

 

gb2

=

"13"

 

/>


	

<Strand

 

gb1

=

"15"

 

gb2

=

"14"

 

/>


	

<Strand

 

gb1

=

"9"

 

gb2

=

"15"

 

/>


	

<Strand

 

gb1

=

"16"

 

gb2

=

"15"

 

/>


	

<Strand

 

gb1

=

"17"

 

gb2

=

"16"

 

/>


	

<Strand

 

gb1

=

"9"

 

gb2

=

"8"

 

/>


	

<Strand

 

gb1

=

"16"

 

gb2

=

"9"

 

/>


	

<Strand

 

gb1

=

"7"

 

gb2

=

"17"

 

/>


	

<Strand

 

gb1

=

"19"

 

gb2

=

"7"

 

/>


	

<Strand

 

gb1

=

"81"

 

gb2

=

"79"

 

/>


	

<Strand

 

gb1

=

"80"

 

gb2

=

"81"

 

/>


	

<Strand

 

gb1

=

"78"

 

gb2

=

"80"

 

/>


	

<Strand

 

gb1

=

"79"

 

gb2

=

"78"

 

/>


	

<Strand

 

gb1

=

"78"

 

gb2

=

"81"

 

/>


	

<Strand

 

gb1

=

"79"

 

gb2

=

"80"

 

/>


	

<Strand

 

gb1

=

"66"

 

gb2

=

"69"

 

/>


	

<Strand

 

gb1

=

"67"

 

gb2

=

"68"

 

/>


	

<Strand

 

gb1

=

"69"

 

gb2

=

"67"

 

/>


	

<Strand

 

gb1

=

"68"

 

gb2

=

"69"

 

/>


	

<Strand

 

gb1

=

"66"

 

gb2

=

"68"

 

/>


	

<Strand

 

gb1

=

"67"

 

gb2

=

"66"

 

/>


	

<Strand

 

gb1

=

"83"

 

gb2

=

"85"

 

/>


	

<Strand

 

gb1

=

"90"

 

gb2

=

"91"

 

/>


	

<Strand

 

gb1

=

"89"

 

gb2

=

"87"

 

/>


	

<Strand

 

gb1

=

"82"

 

gb2

=

"96"

 

/>


	

<Strand

 

gb1

=

"86"

 

gb2

=

"84"

 

/>


	

<Strand

 

gb1

=

"90"

 

gb2

=

"92"

 

/>


	

<Strand

 

gb1

=

"93"

 

gb2

=

"88"

 

/>


	

<Strand

 

gb1

=

"94"

 

gb2

=

"95"

 

/>


	

<Strand

 

gb1

=

"88"

 

gb2

=

"89"

 

/>


	

<Strand

 

gb1

=

"87"

 

gb2

=

"93"

 

/>


	

<Strand

 

gb1

=

"96"

 

gb2

=

"94"

 

/>


	

<Strand

 

gb1

=

"83"

 

gb2

=

"86"

 

/>


	

<Strand

 

gb1

=

"84"

 

gb2

=

"85"

 

/>


	

<Strand

 

gb1

=

"95"

 

gb2

=

"96"

 

/>


	

<Strand

 

gb1

=

"86"

 

gb2

=

"85"

 

/>


	

<Strand

 

gb1

=

"83"

 

gb2

=

"84"

 

/>


	

<Strand

 

gb1

=

"82"

 

gb2

=

"95"

 

/>


	

<Strand

 

gb1

=

"87"

 

gb2

=

"88"

 

/>


	

<Strand

 

gb1

=

"91"

 

gb2

=

"92"

 

/>


	

<Strand

 

gb1

=

"93"

 

gb2

=

"89"

 

/>


	

<Strand

 

gb1

=

"94"

 

gb2

=

"82"

 

/>


	

<Strand

 

gb1

=

"70"

 

gb2

=

"73"

 

/>


	

<Strand

 

gb1

=

"71"

 

gb2

=

"72"

 

/>


	

<Strand

 

gb1

=

"73"

 

gb2

=

"71"

 

/>


	

<Strand

 

gb1

=

"72"

 

gb2

=

"73"

 

/>


	

<Strand

 

gb1

=

"70"

 

gb2

=

"72"

 

/>


	

<Strand

 

gb1

=

"71"

 

gb2

=

"70"

 

/>


	

<Strand

 

gb1

=

"74"

 

gb2

=

"77"

 

/>


	

<Strand

 

gb1

=

"75"

 

gb2

=

"76"

 

/>


	

<Strand

 

gb1

=

"77"

 

gb2

=

"75"

 

/>


	

<Strand

 

gb1

=

"76"

 

gb2

=

"77"

 

/>


	

<Strand

 

gb1

=

"74"

 

gb2

=

"76"

 

/>


	

<Strand

 

gb1

=

"75"

 

gb2

=

"74"

 

/>


 
	

<!-- Level Exit -->


	

<endonmessage

 

id

=

"END_DELIVERANCE"

/>


 
</level

>
<scene

 

minx

=

"-500"

 

miny

=

"0"

 

maxx

=

"500"

 

maxy

=

"6500"

 

backgroundcolor

=

"0,0,0"

 

>


 
	

<!-- ForceFields -->


	

<linearforcefield

 

id

=

"cR"

 

type

=

"gravity"

 

center

=

"143.333,2139.9204"

 

width

=

"262.4863"

 

height

=

"296.9854"

 

force

=

"-7,0"

 

dampeningfactor

=

"0"

 

antigrav

=

"true"

 

geomonly

=

"false"

 

enabled

=

"true"

 

water

=

"false"

 

/>


	

<linearforcefield

 

id

=

"cL"

 

type

=

"gravity"

 

center

=

"-165.6511,2139.9204"

 

width

=

"262.4868"

 

height

=

"296.9854"

 

force

=

"7,0"

 

dampeningfactor

=

"0"

 

antigrav

=

"true"

 

geomonly

=

"false"

 

enabled

=

"true"

 

water

=

"false"

 

/>


	

<linearforcefield

 

id

=

"skeletonfield"

 

type

=

"gravity"

 

center

=

"10.3206,931.5112"

 

width

=

"2607.2612"

 

height

=

"2113.1807"

 

force

=

"0,11"

 

dampeningfactor

=

"0.0"

 

antigrav

=

"true"

 

geomonly

=

"true"

 

enabled

=

"false"

 

water

=

"false"

 

/>


	

<linearforcefield

 

id

=

"waterFull"

 

type

=

"gravity"

 

center

=

"-13.7495,431.7402"

 

width

=

"1221.5088"

 

height

=

"981.4805"

 

force

=

"0,20"

 

dampeningfactor

=

"0.5"

 

antigrav

=

"false"

 

geomonly

=

"false"

 

enabled

=

"true"

 

water

=

"true"

 

color

=

"255,255,0,0"

 

depth

=

"0"

 

/>


	

<linearforcefield

 

type

=

"gravity"

 

force

=

"0,-10"

 

dampeningfactor

=

"0.00"

 

antigrav

=

"true"

 

geomonly

=

"false"

 

/>


 
	

<!-- Particles -->


	

<particles

 

effect

=

"ish_bubbles"

 

depth

=

"0"

 

pos

=

"332.8525390625,921.947265625"

 

pretick

=

"0"

 

/>


	

<particles

 

effect

=

"ish_bubbles"

 

depth

=

"0"

 

pos

=

"131.8330078125,924.947265625"

 

pretick

=

"0"

 

/>


	

<particles

 

effect

=

"ish_bubbles"

 

depth

=

"0"

 

pos

=

"-60.1865234375,921.947265625"

 

pretick

=

"0"

 

/>


	

<particles

 

effect

=

"ish_bubbles"

 

depth

=

"0"

 

pos

=

"-263.0087890625,913.064453125"

 

pretick

=

"0"

 

/>


	

<particles

 

effect

=

"ish_SmallLeaves"

 

depth

=

"-160"

 

pretick

=

"0"

 

/>


 
	

<!-- SceneLayers -->


	

<SceneLayer

 

name

=

"ish_scanlines"

 

depth

=

"320"

 

x

=

"20.16"

 

y

=

"5728.48"

 

scalex

=

"50"

 

scaley

=

"1.172"

 

rotation

=

"0"

 

alpha

=

"1"

 

colorize

=

"255,255,255"

 

image

=

"IMAGE_SCENE_DELIVERANCE_ISH_SCANLINES"

   

tilex

=

"true"

 

tiley

=

"true"

 

/>


	

<SceneLayer

 

name

=

"binR"

 

depth

=

"16"

 

x

=

"280.12"

 

y

=

"5211.96"

 

scalex

=

"1.134"

 

scaley

=

"1.418"

 

rotation

=

"0"

 

alpha

=

"1"

 

colorize

=

"255,255,255"

 

image

=

"IMAGE_SCENE_DELIVERANCE_BINR"

   

/>


	

<SceneLayer

 

name

=

"binL"

 

depth

=

"16"

 

x

=

"-186.79"

 

y

=

"5216.93"

 

scalex

=

"1.172"

 

scaley

=

"1.449"

 

rotation

=

"0"

 

alpha

=

"1"

 

colorize

=

"255,255,255"

 

image

=

"IMAGE_SCENE_DELIVERANCE_BINL"

   

/>


	

<SceneLayer

 

name

=

"upperGround"

 

depth

=

"8"

 

x

=

"-0.04"

 

y

=

"4867.92"

 

scalex

=

"1.953"

 

scaley

=

"1.609"

 

rotation

=

"0"

 

alpha

=

"1"

 

colorize

=

"255,255,255"

 

image

=

"IMAGE_SCENE_DELIVERANCE_UPPERGROUND"

   

/>


		

<SceneLayer

 

name

=

"signpostPole_ish"

 

depth

=

"-8.8"

 

x

=

"-302.7"

 

y

=

"5358.17"

 

scalex

=

"1"

 

scaley

=

"1.037"

 

rotation

=

"95.9"

 

alpha

=

"1"

 

colorize

=

"255,255,255"

 

image

=

"IMAGE_SCENE_DELIVERANCE_SIGNPOSTPOLE_ISH"

   

/>


		

<SceneLayer

 

name

=

"wiroot2"

 

depth

=

"4.8"

 

x

=

"-345.43"

 

y

=

"3419.11"

 

scalex

=

"1"

 

scaley

=

"1.472"

 

rotation

=

"124.53"

 

alpha

=

"1"

 

colorize

=

"255,255,255"

 

image

=

"IMAGE_SCENE_DELIVERANCE_WIROOT2"

   

/>


		

<SceneLayer

 

name

=

"wiroot2"

 

depth

=

"4.8"

 

x

=

"218.6"

 

y

=

"4088.13"

 

scalex

=

"1"

 

scaley

=

"1.472"

 

rotation

=

"-145.04"

 

alpha

=

"1"

 

colorize

=

"255,255,255"

 

image

=

"IMAGE_SCENE_DELIVERANCE_WIROOT2"

   

/>


		

<SceneLayer

 

name

=

"wiroot2"

 

depth

=

"4.8"

 

x

=

"-396.38"

 

y

=

"4748.09"

 

scalex

=

"1"

 

scaley

=

"1.472"

 

rotation

=

"-59.8"

 

alpha

=

"1"

 

colorize

=

"255,255,255"

 

image

=

"IMAGE_SCENE_DELIVERANCE_WIROOT2"

   

/>


		

<SceneLayer

 

name

=

"wiroot1"

 

depth

=

"4.8"

 

x

=

"291.89"

 

y

=

"2556.49"

 

scalex

=

"1.071"

 

scaley

=

"1.071"

 

rotation

=

"2.19"

 

alpha

=

"1"

 

colorize

=

"255,255,255"

 

image

=

"IMAGE_SCENE_DELIVERANCE_WIROOT1"

   

/>


		

<SceneLayer

 

name

=

"wiroot1"

 

depth

=

"4.8"

 

x

=

"-336.13"

 

y

=

"4353.54"

 

scalex

=

"1.071"

 

scaley

=

"1.071"

 

rotation

=

"149.91"

 

alpha

=

"1"

 

colorize

=

"255,255,255"

 

image

=

"IMAGE_SCENE_DELIVERANCE_WIROOT1"

   

/>


		

<SceneLayer

 

name

=

"wiroot1"

 

depth

=

"4.8"

 

x

=

"377.9"

 

y

=

"4732.49"

 

scalex

=

"1.071"

 

scaley

=

"1.071"

 

rotation

=

"51.33"

 

alpha

=

"1"

 

colorize

=

"255,255,255"

 

image

=

"IMAGE_SCENE_DELIVERANCE_WIROOT1"

   

/>


	

<SceneLayer

 

name

=

"shaftMainR"

 

depth

=

"4"

 

x

=

"302.04"

 

y

=

"3182.1"

 

scalex

=

"1.547"

 

scaley

=

"6.566"

 

rotation

=

"0"

 

alpha

=

"1"

 

colorize

=

"255,255,255"

 

image

=

"IMAGE_SCENE_DELIVERANCE_SHAFTMAINR"

   

/>


	

<SceneLayer

 

name

=

"shaftMainL"

 

depth

=

"4"

 

x

=

"-311.53"

 

y

=

"3226.07"

 

scalex

=

"1.59"

 

scaley

=

"6.527"

 

rotation

=

"0"

 

alpha

=

"1"

 

colorize

=

"255,255,255"

 

image

=

"IMAGE_SCENE_DELIVERANCE_SHAFTMAINL"

   

/>


		

<SceneLayer

 

name

=

"signpostPole_ish"

 

depth

=

"-8.8"

 

x

=

"-201.72"

 

y

=

"3089.02"

 

scalex

=

"1"

 

scaley

=

"1.037"

 

rotation

=

"-79.72"

 

alpha

=

"1"

 

colorize

=

"255,255,255"

 

image

=

"IMAGE_SCENE_DELIVERANCE_SIGNPOSTPOLE_ISH"

   

/>


	

<SceneLayer

 

name

=

"bush_r"

 

depth

=

"-8"

 

x

=

"-381.14"

 

y

=

"1674.64"

 

scalex

=

"1.408"

 

scaley

=

"1.865"

 

rotation

=

"-142.55"

 

alpha

=

"1"

 

colorize

=

"255,255,255"

 

image

=

"IMAGE_SCENE_DELIVERANCE_BUSH_R"

   

/>


	

<SceneLayer

 

name

=

"bush_r"

 

depth

=

"-8"

 

x

=

"361.92"

 

y

=

"1624.6"

 

scalex

=

"1.408"

 

scaley

=

"1.865"

 

rotation

=

"149.43"

 

alpha

=

"1"

 

colorize

=

"255,255,255"

 

image

=

"IMAGE_SCENE_DELIVERANCE_BUSH_R"

   

/>


		

<SceneLayer

 

name

=

"ish_bush"

 

depth

=

"-8"

 

x

=

"443.25"

 

y

=

"4944.72"

 

scalex

=

"0.8"

 

scaley

=

"1"

 

rotation

=

"-0.57"

 

alpha

=

"1"

 

colorize

=

"255,255,255"

 

image

=

"IMAGE_SCENE_DELIVERANCE_ISH_BUSH"

   

/>


		

<SceneLayer

 

name

=

"ish_bush"

 

depth

=

"-8"

 

x

=

"-362.76"

 

y

=

"4949.72"

 

scalex

=

"0.8"

 

scaley

=

"1"

 

rotation

=

"14.18"

 

alpha

=

"1"

 

colorize

=

"255,255,255"

 

image

=

"IMAGE_SCENE_DELIVERANCE_ISH_BUSH"

   

/>


		

<SceneLayer

 

name

=

"ish_tree"

 

depth

=

"-16"

 

x

=

"435.13"

 

y

=

"5002"

 

scalex

=

"0.123"

 

scaley

=

"0.123"

 

rotation

=

"-30.83"

 

alpha

=

"1"

 

colorize

=

"255,255,255"

 

image

=

"IMAGE_SCENE_DELIVERANCE_ISH_TREE"

   

/>


		

<SceneLayer

 

name

=

"ish_tree"

 

depth

=

"-16"

 

x

=

"416.25"

 

y

=

"5030.63"

 

scalex

=

"0.24"

 

scaley

=

"0.24"

 

rotation

=

"-3.91"

 

alpha

=

"1"

 

colorize

=

"255,255,255"

 

image

=

"IMAGE_SCENE_DELIVERANCE_ISH_TREE"

   

/>


		

<SceneLayer

 

name

=

"ish_tree"

 

depth

=

"-16"

 

x

=

"-415.89"

 

y

=

"5007.57"

 

scalex

=

"0.15"

 

scaley

=

"0.15"

 

rotation

=

"18.49"

 

alpha

=

"1"

 

colorize

=

"255,255,255"

 

image

=

"IMAGE_SCENE_DELIVERANCE_ISH_TREE"

   

/>


		

<SceneLayer

 

name

=

"ish_tree"

 

depth

=

"-16"

 

x

=

"-385.74"

 

y

=

"5027.88"

 

scalex

=

"0.289"

 

scaley

=

"0.289"

 

rotation

=

"-3.91"

 

alpha

=

"1"

 

colorize

=

"255,255,255"

 

image

=

"IMAGE_SCENE_DELIVERANCE_ISH_TREE"

   

/>


		

<SceneLayer

 

name

=

"pipe3"

 

depth

=

"-16"

 

x

=

"188.91"

 

y

=

"3304.89"

 

scalex

=

"0.836"

 

scaley

=

"0.629"

 

rotation

=

"34.89"

 

alpha

=

"1"

 

colorize

=

"255,255,255"

 

image

=

"IMAGE_SCENE_DELIVERANCE_PIPE3"

   

/>


		

<SceneLayer

 

name

=

"pipe3"

 

depth

=

"-16"

 

x

=

"-263.57"

 

y

=

"3956.35"

 

scalex

=

"1.138"

 

scaley

=

"0.672"

 

rotation

=

"159.05"

 

alpha

=

"1"

 

colorize

=

"255,255,255"

 

image

=

"IMAGE_SCENE_DELIVERANCE_PIPE3"

   

/>


		

<SceneLayer

 

name

=

"pipe3"

 

depth

=

"-16"

 

x

=

"-207.16"

 

y

=

"2871.07"

 

scalex

=

"0.959"

 

scaley

=

"0.629"

 

rotation

=

"156.72"

 

alpha

=

"1"

 

colorize

=

"255,255,255"

 

image

=

"IMAGE_SCENE_DELIVERANCE_PIPE3"

   

/>


		

<SceneLayer

 

name

=

"pipe3"

 

depth

=

"-16"

 

x

=

"112.98"

 

y

=

"4463.67"

 

scalex

=

"0.865"

 

scaley

=

"0.729"

 

rotation

=

"0"

 

alpha

=

"1"

 

colorize

=

"255,255,255"

 

image

=

"IMAGE_SCENE_DELIVERANCE_PIPE3"

   

/>


		

<SceneLayer

 

name

=

"pipe2"

 

depth

=

"-16"

 

x

=

"347.06"

 

y

=

"1551.41"

 

scalex

=

"1.091"

 

scaley

=

"0.773"

 

rotation

=

"-128.12"

 

alpha

=

"1"

 

colorize

=

"255,255,255"

 

image

=

"IMAGE_SCENE_DELIVERANCE_PIPE2"

   

/>


		

<SceneLayer

 

name

=

"pipe2"

 

depth

=

"-16"

 

x

=

"139.31"

 

y

=

"5378"

 

scalex

=

"1"

 

scaley

=

"1"

 

rotation

=

"172.85"

 

alpha

=

"1"

 

colorize

=

"255,255,255"

 

image

=

"IMAGE_SCENE_DELIVERANCE_PIPE2"

   

/>


	

<SceneLayer

 

name

=

"shaftBg"

 

depth

=

"-80"

 

x

=

"-0.02"

 

y

=

"2230.25"

 

scalex

=

"3.945"

 

scaley

=

"19.234"

 

rotation

=

"0"

 

alpha

=

"1"

 

colorize

=

"255,255,255"

 

image

=

"IMAGE_SCENE_DELIVERANCE_SHAFTBG"

   

/>


	

<SceneLayer

 

name

=

"binBg"

 

depth

=

"-80"

 

x

=

"22.61"

 

y

=

"5190.53"

 

scalex

=

"2.091"

 

scaley

=

"2.495"

 

rotation

=

"0"

 

alpha

=

"1"

 

colorize

=

"255,255,255"

 

image

=

"IMAGE_SCENE_DELIVERANCE_BINBG"

   

/>


	

<SceneLayer

 

name

=

"gearBallbuster"

 

depth

=

"-40"

 

x

=

"451.62"

 

y

=

"819.05"

 

scalex

=

"2.084"

 

scaley

=

"2.084"

 

rotation

=

"0"

 

alpha

=

"1"

 

colorize

=

"0,0,0"

 

image

=

"IMAGE_SCENE_DELIVERANCE_GEARBALLBUSTER"

 

anim

=

"rot_1rps"

 

animspeed

=

"-0.5"

   

/>


	

<SceneLayer

 

name

=

"blackBogTree"

 

depth

=

"-40"

 

x

=

"-335.49"

 

y

=

"943.28"

 

scalex

=

"0.235"

 

scaley

=

"0.235"

 

rotation

=

"17.81"

 

alpha

=

"1"

 

colorize

=

"255,255,255"

 

image

=

"IMAGE_SCENE_DELIVERANCE_BLACKBOGTREE"

   

/>


	

<SceneLayer

 

name

=

"blackBogTree"

 

depth

=

"-40"

 

x

=

"-271.9"

 

y

=

"981.47"

 

scalex

=

"0.455"

 

scaley

=

"0.455"

 

rotation

=

"-13.5"

 

alpha

=

"1"

 

colorize

=

"255,255,255"

 

image

=

"IMAGE_SCENE_DELIVERANCE_BLACKBOGTREE"

   

/>


	

<SceneLayer

 

name

=

"wheel1black"

 

depth

=

"-40"

 

x

=

"481.69"

 

y

=

"893.45"

 

scalex

=

"2.262"

 

scaley

=

"2.262"

 

rotation

=

"0"

 

alpha

=

"1"

 

colorize

=

"255,255,255"

 

image

=

"IMAGE_SCENE_DELIVERANCE_WHEEL1BLACK"

 

anim

=

"rot_1rps"

 

animspeed

=

"-0.1"

   

/>


		

<SceneLayer

 

name

=

"ish_cloud"

 

depth

=

"-240"

 

x

=

"-414.79"

 

y

=

"6335.67"

 

scalex

=

"3.526"

 

scaley

=

"5.786"

 

rotation

=

"15.42"

 

alpha

=

"1"

 

colorize

=

"255,255,255"

 

image

=

"IMAGE_SCENE_DELIVERANCE_ISH_CLOUD"

   

/>


		

<SceneLayer

 

name

=

"ish_cloud"

 

depth

=

"-240"

 

x

=

"647.74"

 

y

=

"5949.6"

 

scalex

=

"2.879"

 

scaley

=

"3.498"

 

rotation

=

"-7.56"

 

alpha

=

"1"

 

colorize

=

"255,255,255"

 

image

=

"IMAGE_SCENE_DELIVERANCE_ISH_CLOUD"

   

/>


		

<SceneLayer

 

name

=

"ish_cloud"

 

depth

=

"-240"

 

x

=

"488.74"

 

y

=

"5302.75"

 

scalex

=

"2.27"

 

scaley

=

"2.27"

 

rotation

=

"-12.46"

 

alpha

=

"1"

 

colorize

=

"255,255,255"

 

image

=

"IMAGE_SCENE_DELIVERANCE_ISH_CLOUD"

   

/>


		

<SceneLayer

 

name

=

"ish_cloud"

 

depth

=

"-240"

 

x

=

"-583.34"

 

y

=

"5118.75"

 

scalex

=

"2.27"

 

scaley

=

"2.27"

 

rotation

=

"9.71"

 

alpha

=

"1"

 

colorize

=

"255,255,255"

 

image

=

"IMAGE_SCENE_DELIVERANCE_ISH_CLOUD"

   

/>


	

<SceneLayer

 

name

=

"upperBg"

 

depth

=

"-800"

 

x

=

"0"

 

y

=

"5667.54"

 

scalex

=

"3.906"

 

scaley

=

"6.597"

 

rotation

=

"0"

 

alpha

=

"1"

 

colorize

=

"255,255,255"

 

image

=

"IMAGE_SCENE_DELIVERANCE_UPPERBG"

   

/>


 
	

<!-- Buttons -->


 
	

<!-- Labels -->


 
	

<!-- Static Geometry -->


	

<rectangle

 

id

=

"killside1"

 

static

=

"true"

 

tag

=

"deadly"

 

material

=

"rock"

 

x

=

"-375.6965"

 

y

=

"4853.7371"

 

width

=

"391.1339"

 

height

=

"96.9003"

 

rotation

=

"0.1728"

 

/>


	

<rectangle

 

id

=

"killside2"

 

static

=

"true"

 

tag

=

"deadly"

 

material

=

"rock"

 

x

=

"413.1802"

 

y

=

"4860.0483"

 

width

=

"347.081"

 

height

=

"96.8999"

 

rotation

=

"-0.1355"

 

/>


	

<circle

 

id

=

"rim2"

 

static

=

"true"

 

material

=

"sticky"

 

x

=

"320"

 

y

=

"5470"

 

radius

=

"80"

 

/>


	

<circle

 

id

=

"rim1"

 

static

=

"true"

 

material

=

"sticky"

 

x

=

"-230"

 

y

=

"5483"

 

radius

=

"80"

 

/>


	

<rectangle

 

id

=

"ballBuster"

 

static

=

"true"

 

tag

=

"ballbuster,mostlydeadly"

 

material

=

"rock"

 

contacts

=

"false"

 

x

=

"-39.1816"

 

y

=

"397.6626"

 

width

=

"1340.0586"

 

height

=

"987.0088"

 

rotation

=

"0"

 

/>


	

<rectangle

 

id

=

"ballFilter"

 

static

=

"true"

 

tag

=

"mostlydeadly,geomkiller"

 

material

=

"rock"

 

contacts

=

"false"

 

x

=

"-7.1816"

 

y

=

"2114.5513"

 

width

=

"588.0586"

 

height

=

"87.0088"

 

rotation

=

"0"

 

/>


	

<compositegeom

 

id

=

""

 

x

=

"-194.9932"

 

y

=

"5189.915"

 

rotation

=

"0"

 

static

=

"true"

 

material

=

"machine"

 

>


		

<rectangle

 

id

=

""

 

x

=

"0.6653"

 

y

=

"201.1262"

 

width

=

"78.4722"

 

height

=

"176.9296"

 

rotation

=

"-0.0625"

 

/>


		

<rectangle

 

id

=

""

 

x

=

"0"

 

y

=

"0"

 

width

=

"78.4723"

 

height

=

"582.6401"

 

rotation

=

"0.036"

 

/>


	</compositegeom

>


	

<compositegeom

 

id

=

""

 

x

=

"284.8169"

 

y

=

"5188.1877"

 

rotation

=

"0"

 

static

=

"true"

 

material

=

"machine"

 

>


		

<rectangle

 

id

=

""

 

x

=

"-4.9697"

 

y

=

"173.3689"

 

width

=

"65.6199"

 

height

=

"210.8369"

 

rotation

=

"0.0713"

 

/>


		

<rectangle

 

id

=

""

 

x

=

"0"

 

y

=

"0"

 

width

=

"79.286"

 

height

=

"561.8177"

 

rotation

=

"-0.0465"

 

/>


	</compositegeom

>


	

<rectangle

 

id

=

""

 

static

=

"true"

 

material

=

"machine"

 

x

=

"-305.3691"

 

y

=

"4389.4895"

 

width

=

"72.5882"

 

height

=

"1072.2614"

 

rotation

=

"-0.2318"

 

/>


	

<rectangle

 

id

=

""

 

static

=

"true"

 

material

=

"machine"

 

x

=

"217.0029"

 

y

=

"4486.5686"

 

width

=

"65.9304"

 

height

=

"852.1885"

 

rotation

=

"-0.1164"

 

/>


	

<rectangle

 

id

=

""

 

static

=

"true"

 

material

=

"machine"

 

x

=

"266.019"

 

y

=

"3693.3765"

 

width

=

"150.0007"

 

height

=

"779.5198"

 

rotation

=

"0.1466"

 

/>


	

<rectangle

 

id

=

""

 

static

=

"true"

 

material

=

"machine"

 

x

=

"-396.5164"

 

y

=

"3528.8335"

 

width

=

"140.5278"

 

height

=

"741.9816"

 

rotation

=

"0.1878"

 

/>


	

<rectangle

 

id

=

""

 

static

=

"true"

 

material

=

"machine"

 

x

=

"324.4995"

 

y

=

"2529.4385"

 

width

=

"159.001"

 

height

=

"1594.877"

 

rotation

=

"0"

 

/>


	

<rectangle

 

id

=

""

 

static

=

"true"

 

material

=

"machine"

 

x

=

"-321.501"

 

y

=

"2453.9307"

 

width

=

"125"

 

height

=

"1447.8613"

 

rotation

=

"0"

 

/>


	

<line

 

id

=

"ceil"

 

static

=

"true"

 

tag

=

"deadly"

 

material

=

"rock"

 

anchor

=

"0,7010"

 

normal

=

"0,-1"

 

/>


	

<line

 

id

=

"bottom"

 

static

=

"true"

 

material

=

"machine"

 

anchor

=

"75,280"

 

normal

=

"0,1"

 

/>


	

<line

 

id

=

""

 

static

=

"true"

 

material

=

"rock"

 

anchor

=

"720.5,2382"

 

normal

=

"-0.9962,0.0869"

 

/>


	

<line

 

id

=

""

 

static

=

"true"

 

material

=

"rock"

 

anchor

=

"-718.5,2289"

 

normal

=

"0.996,0.0894"

 

/>


	

<rectangle

 

id

=

"blockblock"

 

static

=

"true"

 

tag

=

"break=2"

 

material

=

"machine"

 

image

=

"IMAGE_SCENE_DELIVERANCE_BLOCKER"

 

imagepos

=

"11.8203,4679.7742"

 

imagerot

=

"0.0431"

 

imagescale

=

"4.7226,1.2267"

 

x

=

"11.2285"

 

y

=

"4680.7661"

 

width

=

"431.7303"

 

height

=

"112.1451"

 

rotation

=

"0.0431"

 

/>


	

<rectangle

 

id

=

"blockblock"

 

static

=

"true"

 

tag

=

"break=2"

 

material

=

"machine"

 

image

=

"IMAGE_SCENE_DELIVERANCE_BLOCKER"

 

imagepos

=

"-99.4399,4105.4585"

 

imagerot

=

"-0.0524"

 

imagescale

=

"6.0367,1.6135"

 

x

=

"-100.0693"

 

y

=

"4106.821"

 

width

=

"551.8569"

 

height

=

"147.5016"

 

rotation

=

"-0.0524"

 

/>


	

<rectangle

 

id

=

"blockblock"

 

static

=

"true"

 

tag

=

"break=2"

 

material

=

"machine"

 

image

=

"IMAGE_SCENE_DELIVERANCE_BLOCKER"

 

imagepos

=

"-19.2778,3289.687"

 

imagerot

=

"0.0356"

 

imagescale

=

"6.4155,1.6135"

 

x

=

"-20.0674"

 

y

=

"3291.0352"

 

width

=

"586.4867"

 

height

=

"147.5014"

 

rotation

=

"0.0356"

 

/>


	

<rectangle

 

id

=

"blockblock"

 

static

=

"true"

 

tag

=

"break=2"

 

material

=

"machine"

 

image

=

"IMAGE_SCENE_DELIVERANCE_BLOCKER"

 

imagepos

=

"-1.6504,2198.6649"

 

imagerot

=

"0"

 

imagescale

=

"5.5596,1.5979"

 

x

=

"-2.271"

 

y

=

"2200.0654"

 

width

=

"508.2393"

 

height

=

"146.0762"

 

rotation

=

"0"

 

/>


	

<rectangle

 

id

=

"blockblock"

 

static

=

"true"

 

tag

=

"break=2"

 

material

=

"machine"

 

image

=

"IMAGE_SCENE_DELIVERANCE_BLOCKER"

 

imagepos

=

"1.3496,2383.619"

 

imagerot

=

"0"

 

imagescale

=

"5.5596,1.6135"

 

x

=

"0.729"

 

y

=

"2385.0791"

 

width

=

"508.2393"

 

height

=

"147.5059"

 

rotation

=

"0"

 

/>


	

<rectangle

 

id

=

""

 

static

=

"true"

 

material

=

"machine"

 

x

=

"597.4922"

 

y

=

"1619.3145"

 

width

=

"232.5021"

 

height

=

"703.8712"

 

rotation

=

"0.9412"

 

/>


	

<rectangle

 

id

=

""

 

static

=

"true"

 

material

=

"machine"

 

x

=

"-660.1016"

 

y

=

"1698.4331"

 

width

=

"280.2799"

 

height

=

"754.1204"

 

rotation

=

"-1.1361"

 

/>


 
	

<!-- Dynamic Geometry -->


	

<rectangle

 

id

=

"s_al1"

 

mass

=

"50"

 

static

=

"false"

 

material

=

"machine"

 

contacts

=

"false"

 

image

=

"IMAGE_SCENE_DELIVERANCE_BONE"

 

imagepos

=

"-259.5688,313.0518"

 

imagerot

=

"-1.6385"

 

imagescale

=

"0.3974,1.6436"

 

x

=

"-317.0054"

 

y

=

"320.7661"

 

width

=

"262.4983"

 

height

=

"34.0508"

 

rotation

=

"-0.0234"

 

/>


	

<rectangle

 

id

=

"s_al2"

 

mass

=

"50"

 

static

=

"false"

 

material

=

"machine"

 

contacts

=

"false"

 

image

=

"IMAGE_SCENE_DELIVERANCE_BONE"

 

imagepos

=

"-504.1514,530.493"

 

imagerot

=

"0.3722"

 

imagescale

=

"0.5274,1.9261"

 

x

=

"-501.4729"

 

y

=

"527.6851"

 

width

=

"45.9994"

 

height

=

"445.3014"

 

rotation

=

"0.3741"

 

/>


	

<rectangle

 

id

=

"s_ar1"

 

mass

=

"50"

 

static

=

"false"

 

material

=

"machine"

 

contacts

=

"false"

 

image

=

"IMAGE_SCENE_DELIVERANCE_BONE"

 

imagepos

=

"70.5444,206.6351"

 

imagerot

=

"1.0579"

 

imagescale

=

"0.4776,1.5189"

 

x

=

"115.4934"

 

y

=

"181.7109"

 

width

=

"31.51"

 

height

=

"250.4242"

 

rotation

=

"1.0527"

 

/>


	

<rectangle

 

id

=

"s_ar2"

 

mass

=

"50"

 

static

=

"false"

 

material

=

"machine"

 

contacts

=

"false"

 

image

=

"IMAGE_SCENE_DELIVERANCE_BONE"

 

imagepos

=

"350.7783,281.8442"

 

imagerot

=

"-0.7745"

 

imagescale

=

"0.5274,1.9033"

 

x

=

"348.5273"

 

y

=

"277.6855"

 

width

=

"45.9996"

 

height

=

"445.3011"

 

rotation

=

"-0.7751"

 

/>


	

<rectangle

 

id

=

"s_fl4"

 

mass

=

"50"

 

static

=

"false"

 

material

=

"machine"

 

contacts

=

"false"

 

image

=

"IMAGE_SCENE_DELIVERANCE_FINGER"

 

imagepos

=

"-633.5518,700.1133"

 

imagerot

=

"2.4596"

 

imagescale

=

"0.8533,0.607"

 

x

=

"-655.531"

 

y

=

"715.4849"

 

width

=

"30.7443"

 

height

=

"117.2141"

 

rotation

=

"0.7615"

 

/>


	

<rectangle

 

id

=

"s_fl3"

 

mass

=

"50"

 

static

=

"false"

 

material

=

"machine"

 

contacts

=

"false"

 

image

=

"IMAGE_SCENE_DELIVERANCE_FINGER"

 

imagepos

=

"-647.5792,781.9307"

 

imagerot

=

"2.2157"

 

imagescale

=

"1.0965,0.607"

 

x

=

"-631.8274"

 

y

=

"766.3931"

 

width

=

"30.7441"

 

height

=

"102.5003"

 

rotation

=

"0.6698"

 

/>


	

<rectangle

 

id

=

"s_fl2"

 

mass

=

"50"

 

static

=

"false"

 

material

=

"machine"

 

contacts

=

"false"

 

image

=

"IMAGE_SCENE_DELIVERANCE_FINGER"

 

imagepos

=

"-590.6112,795.5308"

 

imagerot

=

"1.7588"

 

imagescale

=

"0.8156,0.5465"

 

x

=

"-597.501"

 

y

=

"805.8584"

 

width

=

"23.7208"

 

height

=

"73.6171"

 

rotation

=

"0.2578"

 

/>


	

<rectangle

 

id

=

"s_fl1"

 

mass

=

"50"

 

static

=

"false"

 

material

=

"machine"

 

contacts

=

"false"

 

image

=

"IMAGE_SCENE_DELIVERANCE_FINGER"

 

imagepos

=

"-453.2219,689.0308"

 

imagerot

=

"-3.0243"

 

imagescale

=

"1.0818,0.8869"

 

x

=

"-435.0122"

 

y

=

"702.8438"

 

width

=

"178.9884"

 

height

=

"30.744"

 

rotation

=

"0.0768"

 

/>


	

<rectangle

 

id

=

"s_fr4"

 

mass

=

"50"

 

static

=

"false"

 

material

=

"machine"

 

contacts

=

"false"

 

image

=

"IMAGE_SCENE_DELIVERANCE_FINGER"

 

imagepos

=

"553.1953,361.275"

 

imagerot

=

"-3.0228"

 

imagescale

=

"1.1269,0.5357"

 

x

=

"576.5566"

 

y

=

"363.1963"

 

width

=

"30.7435"

 

height

=

"178.9881"

 

rotation

=

"-1.3902"

 

/>


	

<rectangle

 

id

=

"s_fr3"

 

mass

=

"50"

 

static

=

"false"

 

material

=

"machine"

 

contacts

=

"false"

 

image

=

"IMAGE_SCENE_DELIVERANCE_FINGER"

 

imagepos

=

"586.3345,438.7912"

 

imagerot

=

"-2.7128"

 

imagescale

=

"1.0766,0.6098"

 

x

=

"602.1943"

 

y

=

"452.2974"

 

width

=

"30.7448"

 

height

=

"178.9875"

 

rotation

=

"-1.0615"

 

/>


	

<rectangle

 

id

=

"s_fr2"

 

mass

=

"50"

 

static

=

"false"

 

material

=

"machine"

 

contacts

=

"false"

 

image

=

"IMAGE_SCENE_DELIVERANCE_FINGER"

 

imagepos

=

"552.7539,512.705"

 

imagerot

=

"-2.1265"

 

imagescale

=

"1.1462,0.772"

 

x

=

"561.3267"

 

y

=

"539.4077"

 

width

=

"30.744"

 

height

=

"178.9875"

 

rotation

=

"-0.571"

 

/>


	

<rectangle

 

id

=

"s_fr1"

 

mass

=

"50"

 

static

=

"false"

 

material

=

"machine"

 

contacts

=

"false"

 

image

=

"IMAGE_SCENE_DELIVERANCE_FINGER"

 

imagepos

=

"349.7745,433.3701"

 

imagerot

=

"2.4828"

 

imagescale

=

"1.0818,0.8869"

 

x

=

"333.772"

 

y

=

"452.8091"

 

width

=

"30.744"

 

height

=

"178.9879"

 

rotation

=

"0.9422"

 

/>


	

<rectangle

 

id

=

"s_b4"

 

mass

=

"50"

 

static

=

"false"

 

material

=

"machine"

 

contacts

=

"false"

 

image

=

"IMAGE_SCENE_DELIVERANCE_BONEBUMPED"

 

imagepos

=

"-97.3792,70.023"

 

imagerot

=

"1.2159"

 

imagescale

=

"0.736,1.5029"

 

x

=

"-160.7893"

 

y

=

"104.2007"

 

width

=

"46.0001"

 

height

=

"198.8394"

 

rotation

=

"1.2383"

 

/>


	

<rectangle

 

id

=

"s_b3"

 

mass

=

"50"

 

static

=

"false"

 

material

=

"machine"

 

contacts

=

"false"

 

image

=

"IMAGE_SCENE_DELIVERANCE_BONEBUMPED"

 

imagepos

=

"-137.3371,151.8599"

 

imagerot

=

"-1.3862"

 

imagescale

=

"0.6313,1.147"

 

x

=

"-133.259"

 

y

=

"148.6948"

 

width

=

"254.1399"

 

height

=

"46.0001"

 

rotation

=

"0.1756"

 

/>


	

<rectangle

 

id

=

"s_b2"

 

mass

=

"50"

 

static

=

"false"

 

material

=

"machine"

 

contacts

=

"false"

 

image

=

"IMAGE_SCENE_DELIVERANCE_BONEBUMPED"

 

imagepos

=

"-146.8882,206.9753"

 

imagerot

=

"1.2035"

 

imagescale

=

"0.6591,1.3325"

 

x

=

"-145.6604"

 

y

=

"211.5186"

 

width

=

"45.9999"

 

height

=

"293.9602"

 

rotation

=

"1.1943"

 

/>


	

<rectangle

 

id

=

"s_b1"

 

mass

=

"50"

 

static

=

"false"

 

material

=

"machine"

 

contacts

=

"false"

 

image

=

"IMAGE_SCENE_DELIVERANCE_BONEBUMPED"

 

imagepos

=

"-132.8159,286.52"

 

imagerot

=

"-1.3862"

 

imagescale

=

"0.6591,1.3651"

 

x

=

"-133.4639"

 

y

=

"280.9492"

 

width

=

"46.0001"

 

height

=

"304.0676"

 

rotation

=

"-1.3952"

 

/>


	

<rectangle

 

id

=

"skull"

 

mass

=

"50"

 

static

=

"false"

 

material

=

"machine"

 

contacts

=

"false"

 

image

=

"IMAGE_SCENE_DELIVERANCE_SKULL"

 

imagepos

=

"-96.203,459.9902"

 

imagerot

=

"-0.229"

 

imagescale

=

"1.3188,1.3188"

 

x

=

"-94.9998"

 

y

=

"463"

 

width

=

"280"

 

height

=

"280.0004"

 

rotation

=

"-0.2186"

 

/>


	

<rectangle

 

id

=

"block"

 

mass

=

"50"

 

static

=

"false"

 

tag

=

"break=2"

 

material

=

"rock"

 

image

=

"IMAGE_SCENE_DELIVERANCE_CRATE3"

 

imagepos

=

"195.6836,2516.394"

 

imagerot

=

"1.5674"

 

imagescale

=

"0.976,1.136"

 

x

=

"195.6138"

 

y

=

"2515.6758"

 

width

=

"103.8478"

 

height

=

"89.2222"

 

rotation

=

"-0.0034"

 

/>


	

<rectangle

 

id

=

"block"

 

mass

=

"50"

 

static

=

"false"

 

tag

=

"break=2"

 

material

=

"rock"

 

image

=

"IMAGE_SCENE_DELIVERANCE_CRATE3"

 

imagepos

=

"123.8281,3689.8258"

 

imagerot

=

"0.0029"

 

imagescale

=

"1.4925,0.976"

 

x

=

"122.7334"

 

y

=

"3689.8262"

 

width

=

"136.4449"

 

height

=

"89.2213"

 

rotation

=

"0.0029"

 

/>


	

<rectangle

 

id

=

"block"

 

mass

=

"50"

 

static

=

"false"

 

tag

=

"break=2"

 

material

=

"rock"

 

image

=

"IMAGE_SCENE_DELIVERANCE_CRATE3"

 

imagepos

=

"144.2876,4903.8142"

 

imagerot

=

"1.5708"

 

imagescale

=

"1.4924,1.5073"

 

x

=

"144.3223"

 

y

=

"4902.7305"

 

width

=

"137.791"

 

height

=

"136.4316"

 

rotation

=

"0"

 

/>


	

<rectangle

 

id

=

"block"

 

mass

=

"50"

 

static

=

"false"

 

tag

=

"break=2"

 

material

=

"rock"

 

image

=

"IMAGE_SCENE_DELIVERANCE_CRATE3"

 

imagepos

=

"-105.6706,5314.8142"

 

imagerot

=

"1.5708"

 

imagescale

=

"1.4924,0.8666"

 

x

=

"-105.6738"

 

y

=

"5313.7305"

 

width

=

"79.2207"

 

height

=

"136.4316"

 

rotation

=

"0"

 

/>


	

<rectangle

 

id

=

"block"

 

mass

=

"50"

 

static

=

"false"

 

tag

=

"break=2"

 

material

=

"rock"

 

image

=

"IMAGE_SCENE_DELIVERANCE_CRATE3"

 

imagepos

=

"-47.2944,4914.437"

 

imagerot

=

"0.0487"

 

imagescale

=

"2.0328,0.9934"

 

x

=

"-48.8445"

 

y

=

"4914.3696"

 

width

=

"185.8353"

 

height

=

"90.8101"

 

rotation

=

"0.0487"

 

/>


	

<rectangle

 

id

=

"block"

 

mass

=

"50"

 

static

=

"false"

 

tag

=

"break=2"

 

material

=

"rock"

 

image

=

"IMAGE_SCENE_DELIVERANCE_CRATE3"

 

imagepos

=

"153.4663,4791.6865"

 

imagerot

=

"1.5351"

 

imagescale

=

"1.1016,0.8666"

 

x

=

"153.436"

 

y

=

"4790.8479"

 

width

=

"79.2215"

 

height

=

"100.7052"

 

rotation

=

"-0.0357"

 

/>


	

<rectangle

 

id

=

"block"

 

mass

=

"50"

 

static

=

"false"

 

tag

=

"break=2"

 

material

=

"rock"

 

image

=

"IMAGE_SCENE_DELIVERANCE_CRATE3"

 

imagepos

=

"198.6001,5336.3672"

 

imagerot

=

"1.5351"

 

imagescale

=

"1.4924,0.8666"

 

x

=

"198.5566"

 

y

=

"5335.2563"

 

width

=

"79.2215"

 

height

=

"136.4316"

 

rotation

=

"-0.0357"

 

/>


	

<rectangle

 

id

=

"block"

 

mass

=

"50"

 

static

=

"false"

 

tag

=

"break=2"

 

material

=

"rock"

 

image

=

"IMAGE_SCENE_DELIVERANCE_CRATE3"

 

imagepos

=

"-105.6326,4796.2969"

 

imagerot

=

"1.5708"

 

imagescale

=

"1.3206,0.8666"

 

x

=

"-105.6357"

 

y

=

"4795.332"

 

width

=

"79.2207"

 

height

=

"120.7227"

 

rotation

=

"0"

 

/>


	

<rectangle

 

id

=

"block"

 

mass

=

"50"

 

static

=

"false"

 

tag

=

"break=2"

 

material

=

"rock"

 

image

=

"IMAGE_SCENE_DELIVERANCE_CRATE3"

 

imagepos

=

"57.3672,5051.2969"

 

imagerot

=

"1.5708"

 

imagescale

=

"1.3206,0.8666"

 

x

=

"57.3643"

 

y

=

"5050.332"

 

width

=

"79.2207"

 

height

=

"120.7227"

 

rotation

=

"0"

 

/>


	

<rectangle

 

id

=

"block"

 

mass

=

"50"

 

static

=

"false"

 

tag

=

"break=2"

 

material

=

"rock"

 

image

=

"IMAGE_SCENE_DELIVERANCE_CRATE3"

 

imagepos

=

"156.2168,3589.9833"

 

imagerot

=

"1.5088"

 

imagescale

=

"1.0342,0.8666"

 

x

=

"156.1592"

 

y

=

"3589.2266"

 

width

=

"79.2206"

 

height

=

"94.5484"

 

rotation

=

"-0.062"

 

/>


	

<rectangle

 

id

=

"block"

 

mass

=

"50"

 

static

=

"false"

 

tag

=

"break=2"

 

material

=

"rock"

 

image

=

"IMAGE_SCENE_DELIVERANCE_CRATE3"

 

imagepos

=

"-46.1305,2526.9473"

 

imagerot

=

"1.5708"

 

imagescale

=

"1.2905,0.976"

 

x

=

"-46.134"

 

y

=

"2526.041"

 

width

=

"89.2212"

 

height

=

"117.9766"

 

rotation

=

"0"

 

/>


	

<rectangle

 

id

=

"block"

 

mass

=

"50"

 

static

=

"false"

 

tag

=

"break=2"

 

material

=

"rock"

 

image

=

"IMAGE_SCENE_DELIVERANCE_CRATE3"

 

imagepos

=

"-42.1735,2882.6592"

 

imagerot

=

"1.5708"

 

imagescale

=

"1.6914,0.976"

 

x

=

"-42.1768"

 

y

=

"2881.4614"

 

width

=

"89.2207"

 

height

=

"154.626"

 

rotation

=

"0"

 

/>


	

<rectangle

 

id

=

"block"

 

mass

=

"50"

 

static

=

"false"

 

tag

=

"break=2"

 

material

=

"rock"

 

image

=

"IMAGE_SCENE_DELIVERANCE_CRATE3"

 

imagepos

=

"-271.3352,3620.0474"

 

imagerot

=

"-1.3884"

 

imagescale

=

"1.6058,0.976"

 

x

=

"-271.5391"

 

y

=

"3621.2852"

 

width

=

"89.2225"

 

height

=

"146.8006"

 

rotation

=

"0.1824"

 

/>


	

<rectangle

 

id

=

"block"

 

mass

=

"50"

 

static

=

"false"

 

tag

=

"break=2"

 

material

=

"rock"

 

image

=

"IMAGE_SCENE_DELIVERANCE_CRATE3"

 

imagepos

=

"-32.4236,3472.5498"

 

imagerot

=

"-3.0162"

 

imagescale

=

"1.6058,0.976"

 

x

=

"-31.207"

 

y

=

"3472.6887"

 

width

=

"146.8008"

 

height

=

"89.2224"

 

rotation

=

"0.1254"

 

/>


	

<rectangle

 

id

=

"block"

 

mass

=

"50"

 

static

=

"false"

 

tag

=

"break=2"

 

material

=

"rock"

 

image

=

"IMAGE_SCENE_DELIVERANCE_CRATE3"

 

imagepos

=

"-124.9653,3706.6508"

 

imagerot

=

"1.5708"

 

imagescale

=

"1.136,1.6245"

 

x

=

"-124.9668"

 

y

=

"3705.8198"

 

width

=

"148.5059"

 

height

=

"103.8486"

 

rotation

=

"0"

 

/>


	

<rectangle

 

id

=

"block"

 

mass

=

"50"

 

static

=

"false"

 

tag

=

"break=2"

 

material

=

"rock"

 

image

=

"IMAGE_SCENE_DELIVERANCE_CRATE3"

 

imagepos

=

"-64.3267,5203.6582"

 

imagerot

=

"1.5708"

 

imagescale

=

"0.7777,0.976"

 

x

=

"-64.3271"

 

y

=

"5203.0898"

 

width

=

"89.2207"

 

height

=

"71.0947"

 

rotation

=

"0"

 

/>


	

<rectangle

 

id

=

"block"

 

mass

=

"50"

 

static

=

"false"

 

tag

=

"break=2"

 

material

=

"rock"

 

image

=

"IMAGE_SCENE_DELIVERANCE_CRATE3"

 

imagepos

=

"168.1729,5142.1582"

 

imagerot

=

"1.5708"

 

imagescale

=

"0.7777,0.976"

 

x

=

"168.1719"

 

y

=

"5141.5898"

 

width

=

"89.2207"

 

height

=

"71.0947"

 

rotation

=

"0"

 

/>


	

<rectangle

 

id

=

"block"

 

mass

=

"50"

 

static

=

"false"

 

tag

=

"break=2"

 

material

=

"rock"

 

image

=

"IMAGE_SCENE_DELIVERANCE_CRATE3"

 

imagepos

=

"138.2212,5223.6582"

 

imagerot

=

"1.5708"

 

imagescale

=

"0.7777,1.2573"

 

x

=

"138.1709"

 

y

=

"5223.0898"

 

width

=

"114.9355"

 

height

=

"71.0947"

 

rotation

=

"0"

 

/>


	

<rectangle

 

id

=

"block"

 

mass

=

"50"

 

static

=

"false"

 

tag

=

"break=2"

 

material

=

"rock"

 

image

=

"IMAGE_SCENE_DELIVERANCE_CRATE3"

 

imagepos

=

"-261.3061,3357.5908"

 

imagerot

=

"1.5708"

 

imagescale

=

"0.7777,0.976"

 

x

=

"-261.3062"

 

y

=

"3357.022"

 

width

=

"89.2207"

 

height

=

"71.0947"

 

rotation

=

"0"

 

/>


	

<rectangle

 

id

=

"block"

 

mass

=

"50"

 

static

=

"false"

 

tag

=

"break=2"

 

material

=

"rock"

 

image

=

"IMAGE_SCENE_DELIVERANCE_CRATE3"

 

imagepos

=

"-148.8073,3572.5613"

 

imagerot

=

"1.5708"

 

imagescale

=

"1.3396,0.976"

 

x

=

"-148.8115"

 

y

=

"3571.5913"

 

width

=

"89.2207"

 

height

=

"122.4678"

 

rotation

=

"0"

 

/>


	

<rectangle

 

id

=

"block"

 

mass

=

"50"

 

static

=

"false"

 

tag

=

"break=2"

 

material

=

"rock"

 

image

=

"IMAGE_SCENE_DELIVERANCE_CRATE3"

 

imagepos

=

"-185.2319,2840.8105"

 

imagerot

=

"-3.087"

 

imagescale

=

"1.0027,1.0205"

 

x

=

"-184.5469"

 

y

=

"2840.8008"

 

width

=

"91.6686"

 

height

=

"93.2931"

 

rotation

=

"0.0546"

 

/>


	

<rectangle

 

id

=

"block"

 

mass

=

"50"

 

static

=

"false"

 

tag

=

"break=2"

 

material

=

"rock"

 

image

=

"IMAGE_SCENE_DELIVERANCE_CRATE3"

 

imagepos

=

"207.9713,2671.6566"

 

imagerot

=

"1.5708"

 

imagescale

=

"1.136,0.976"

 

x

=

"207.9668"

 

y

=

"2670.8213"

 

width

=

"89.2207"

 

height

=

"103.8496"

 

rotation

=

"0"

 

/>


	

<rectangle

 

id

=

"block"

 

mass

=

"50"

 

static

=

"false"

 

tag

=

"break=2"

 

material

=

"rock"

 

image

=

"IMAGE_SCENE_DELIVERANCE_CRATE3"

 

imagepos

=

"96.9863,2671.2416"

 

imagerot

=

"0"

 

imagescale

=

"0.976,1.136"

 

x

=

"96.2695"

 

y

=

"2671.2471"

 

width

=

"89.2207"

 

height

=

"103.8496"

 

rotation

=

"0"

 

/>


	

<rectangle

 

id

=

"block"

 

mass

=

"50"

 

static

=

"false"

 

tag

=

"break=2"

 

material

=

"rock"

 

image

=

"IMAGE_SCENE_DELIVERANCE_CRATE1"

 

imagepos

=

"202.0513,2779.957"

 

imagerot

=

"0"

 

imagescale

=

"0.7543,0.8243"

 

x

=

"202.5391"

 

y

=

"2780.8896"

 

width

=

"68.9629"

 

height

=

"75.3652"

 

rotation

=

"0"

 

/>


	

<rectangle

 

id

=

"block"

 

mass

=

"50"

 

static

=

"false"

 

tag

=

"break=2"

 

material

=

"rock"

 

image

=

"IMAGE_SCENE_DELIVERANCE_CRATE1"

 

imagepos

=

"6.304,3375.7437"

 

imagerot

=

"0"

 

imagescale

=

"0.9759,1.1358"

 

x

=

"6.9309"

 

y

=

"3377.0156"

 

width

=

"89.2202"

 

height

=

"103.8477"

 

rotation

=

"0"

 

/>


	

<rectangle

 

id

=

"block"

 

mass

=

"50"

 

static

=

"false"

 

tag

=

"break=2"

 

material

=

"rock"

 

image

=

"IMAGE_SCENE_DELIVERANCE_CRATE1"

 

imagepos

=

"117.2016,3490.2378"

 

imagerot

=

"0"

 

imagescale

=

"1.3985,1.1358"

 

x

=

"118.1084"

 

y

=

"3491.5112"

 

width

=

"127.8691"

 

height

=

"103.8477"

 

rotation

=

"0"

 

/>


	

<rectangle

 

id

=

"block"

 

mass

=

"50"

 

static

=

"false"

 

tag

=

"break=2"

 

material

=

"rock"

 

image

=

"IMAGE_SCENE_DELIVERANCE_CRATE1"

 

imagepos

=

"191.6458,2619.8618"

 

imagerot

=

"-1.5708"

 

imagescale

=

"1.1358,0.9759"

 

x

=

"192.7471"

 

y

=

"2619.1182"

 

width

=

"89.2207"

 

height

=

"103.8496"

 

rotation

=

"0"

 

/>


	

<rectangle

 

id

=

"block"

 

mass

=

"50"

 

static

=

"false"

 

tag

=

"break=2"

 

material

=

"rock"

 

image

=

"IMAGE_SCENE_DELIVERANCE_CRATE1"

 

imagepos

=

"-186.5906,2748.8356"

 

imagerot

=

"-1.5708"

 

imagescale

=

"1.4386,1.1165"

 

x

=

"-185.3474"

 

y

=

"2747.8662"

 

width

=

"102.0786"

 

height

=

"131.5332"

 

rotation

=

"0"

 

/>


	

<rectangle

 

id

=

"block"

 

mass

=

"50"

 

static

=

"false"

 

tag

=

"break=2"

 

material

=

"rock"

 

image

=

"IMAGE_SCENE_DELIVERANCE_CRATE1"

 

imagepos

=

"-185.0054,2627.1216"

 

imagerot

=

"0"

 

imagescale

=

"0.9759,1.1358"

 

x

=

"-184.377"

 

y

=

"2628.3936"

 

width

=

"89.2217"

 

height

=

"103.8496"

 

rotation

=

"0"

 

/>


	

<rectangle

 

id

=

"block"

 

mass

=

"50"

 

static

=

"false"

 

tag

=

"break=2"

 

material

=

"rock"

 

image

=

"IMAGE_SCENE_DELIVERANCE_CRATE1"

 

imagepos

=

"74.7077,2533.8711"

 

imagerot

=

"0"

 

imagescale

=

"1.3551,1.5773"

 

x

=

"75.5669"

 

y

=

"2535.6699"

 

width

=

"123.8955"

 

height

=

"144.207"

 

rotation

=

"0"

 

/>


	

<rectangle

 

id

=

"block"

 

mass

=

"50"

 

static

=

"false"

 

tag

=

"break=2"

 

material

=

"rock"

 

image

=

"IMAGE_SCENE_DELIVERANCE_CRATE1"

 

imagepos

=

"103.0117,3378.894"

 

imagerot

=

"0"

 

imagescale

=

"0.9759,1.1358"

 

x

=

"103.6396"

 

y

=

"3380.1672"

 

width

=

"89.2207"

 

height

=

"103.8501"

 

rotation

=

"0"

 

/>


	

<rectangle

 

id

=

"block"

 

mass

=

"50"

 

static

=

"false"

 

tag

=

"break=2"

 

material

=

"rock"

 

image

=

"IMAGE_SCENE_DELIVERANCE_CRATE2"

 

imagepos

=

"-207.3594,3484.5417"

 

imagerot

=

"-3.0949"

 

imagescale

=

"1.7446,1.0697"

 

x

=

"-207.106"

 

y

=

"3483.5781"

 

width

=

"159.4934"

 

height

=

"97.7925"

 

rotation

=

"0.0467"

 

/>


	

<rectangle

 

id

=

"block"

 

mass

=

"50"

 

static

=

"false"

 

tag

=

"break=2"

 

material

=

"rock"

 

image

=

"IMAGE_SCENE_DELIVERANCE_CRATE2"

 

imagepos

=

"3.0316,3715.7762"

 

imagerot

=

"1.5708"

 

imagescale

=

"1.1423,0.976"

 

x

=

"2.1946"

 

y

=

"3715.6055"

 

width

=

"89.2202"

 

height

=

"104.4297"

 

rotation

=

"0"

 

/>


	

<rectangle

 

id

=

"block"

 

mass

=

"50"

 

static

=

"false"

 

tag

=

"break=2"

 

material

=

"rock"

 

image

=

"IMAGE_SCENE_DELIVERANCE_CRATE2"

 

imagepos

=

"11.4032,4796.2402"

 

imagerot

=

"-0.0076"

 

imagescale

=

"0.7619,1.2771"

 

x

=

"11.3184"

 

y

=

"4797.3237"

 

width

=

"69.6514"

 

height

=

"116.7517"

 

rotation

=

"-0.0076"

 

/>


	

<rectangle

 

id

=

"block"

 

mass

=

"50"

 

static

=

"false"

 

tag

=

"break=2"

 

material

=

"rock"

 

image

=

"IMAGE_SCENE_DELIVERANCE_CRATE2"

 

imagepos

=

"37.4032,5187.2402"

 

imagerot

=

"-0.0076"

 

imagescale

=

"0.7619,1.2771"

 

x

=

"37.3184"

 

y

=

"5188.3237"

 

width

=

"69.6514"

 

height

=

"116.7517"

 

rotation

=

"-0.0076"

 

/>


	

<rectangle

 

id

=

"block"

 

mass

=

"50"

 

static

=

"false"

 

tag

=

"break=2"

 

material

=

"rock"

 

image

=

"IMAGE_SCENE_DELIVERANCE_CRATE2"

 

imagepos

=

"162.7783,5041.5903"

 

imagerot

=

"1.5708"

 

imagescale

=

"1.0565,1.031"

 

x

=

"161.8516"

 

y

=

"5041.4678"

 

width

=

"94.2515"

 

height

=

"96.582"

 

rotation

=

"0"

 

/>


	

<rectangle

 

id

=

"block"

 

mass

=

"50"

 

static

=

"false"

 

tag

=

"break=2"

 

material

=

"rock"

 

image

=

"IMAGE_SCENE_DELIVERANCE_CRATE2"

 

imagepos

=

"-82.9973,5129.7502"

 

imagerot

=

"1.5708"

 

imagescale

=

"0.7619,1.2771"

 

x

=

"-84.1113"

 

y

=

"5129.6543"

 

width

=

"116.751"

 

height

=

"69.6514"

 

rotation

=

"0"

 

/>


	

<rectangle

 

id

=

"block"

 

mass

=

"50"

 

static

=

"false"

 

tag

=

"break=2"

 

material

=

"rock"

 

image

=

"IMAGE_SCENE_DELIVERANCE_CRATE2"

 

imagepos

=

"-50.335,3806.783"

 

imagerot

=

"1.7146"

 

imagescale

=

"0.7619,2.3866"

 

x

=

"-52.4043"

 

y

=

"3806.387"

 

width

=

"218.1795"

 

height

=

"69.6514"

 

rotation

=

"0.1438"

 

/>


	

<rectangle

 

id

=

"block"

 

mass

=

"50"

 

static

=

"false"

 

tag

=

"break=2"

 

material

=

"rock"

 

image

=

"IMAGE_SCENE_DELIVERANCE_CRATE2"

 

imagepos

=

"123.0053,3785.4075"

 

imagerot

=

"-1.4043"

 

imagescale

=

"0.8858,0.969"

 

x

=

"123.7905"

 

y

=

"3785.6453"

 

width

=

"88.5819"

 

height

=

"80.974"

 

rotation

=

"0.1665"

 

/>


	

<rectangle

 

id

=

"block"

 

mass

=

"50"

 

static

=

"false"

 

tag

=

"break=2"

 

material

=

"rock"

 

image

=

"IMAGE_SCENE_DELIVERANCE_CRATE2"

 

imagepos

=

"-46.1243,2741.7592"

 

imagerot

=

"0"

 

imagescale

=

"1.5973,1.136"

 

x

=

"-46.2993"

 

y

=

"2742.7314"

 

width

=

"146.0225"

 

height

=

"103.8496"

 

rotation

=

"0"

 

/>


	

<rectangle

 

id

=

"block"

 

mass

=

"50"

 

static

=

"false"

 

tag

=

"break=2"

 

material

=

"rock"

 

image

=

"IMAGE_SCENE_DELIVERANCE_CRATE2"

 

imagepos

=

"-166.6754,2515.8314"

 

imagerot

=

"0"

 

imagescale

=

"1.5973,1.136"

 

x

=

"-166.8491"

 

y

=

"2516.8037"

 

width

=

"146.0225"

 

height

=

"103.8496"

 

rotation

=

"0"

 

/>


 
	

<!-- Geometry Constraints -->


	

<hinge

 

body1

=

"s_fl1"

 

body2

=

"s_al2"

 

anchor

=

"-555,693"

/>


	

<hinge

 

body1

=

"s_fl2"

 

body2

=

"s_al2"

 

anchor

=

"-562.3330078125,726.3330078125"

/>


	

<hinge

 

body1

=

"s_fl3"

 

body2

=

"s_al2"

 

anchor

=

"-583,705"

/>


	

<hinge

 

body1

=

"s_fl4"

 

body2

=

"s_al2"

 

anchor

=

"-571,665"

/>


	

<hinge

 

body1

=

"s_fr1"

 

body2

=

"s_ar2"

 

anchor

=

"433,381"

/>


	

<hinge

 

body1

=

"s_fr2"

 

body2

=

"s_ar2"

 

anchor

=

"497,427"

/>


	

<hinge

 

body1

=

"s_fr3"

 

body2

=

"s_ar2"

 

anchor

=

"485,403"

/>


	

<hinge

 

body1

=

"s_fr4"

 

body2

=

"s_ar2"

 

anchor

=

"439,355"

/>


	

<hinge

 

body1

=

"s_ar1"

 

body2

=

"s_b1"

 

anchor

=

"-61,285"

/>


	

<hinge

 

body1

=

"s_al1"

 

body2

=

"s_b1"

 

anchor

=

"-73,303"

/>


	

<hinge

 

body1

=

"s_b4"

 

anchor

=

"3,49"

/>


	

<hinge

 

body1

=

"s_b3"

 

body2

=

"s_b4"

 

anchor

=

"-235,131"

/>


	

<hinge

 

body1

=

"s_b2"

 

body2

=

"s_b3"

 

anchor

=

"-29,167"

/>


	

<hinge

 

body1

=

"s_b1"

 

body2

=

"s_b2"

 

anchor

=

"-263,259"

/>


	

<hinge

 

body1

=

"skull"

 

body2

=

"s_b1"

 

anchor

=

"-3,307"

/>


	

<hinge

 

body1

=

"s_ar1"

 

body2

=

"s_ar2"

 

anchor

=

"208,132"

/>


	

<hinge

 

body1

=

"s_al2"

 

body2

=

"s_al1"

 

anchor

=

"-427,331"

/>


</scene

>