ISH Signs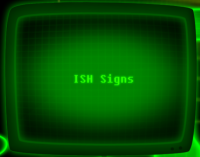 Author:
puggsoy
Total downloads: 2,103
Latest version: 1.0
Release date: 01/22/2012 - 11:52
This addin makes all signs in World Of Goo, custom and original levels, display in the way of the digital signs in Chapter 4: Information Super Highway. This will have an effect on all levels, in all chapters and with all signs (even wooden ones), so remember to install and uninstall this mod to your needs.
Note: When this addin is enabled and a level is tested directly from WooGLE, a glitch occurs and only the text is displayed. This may be fixed in later versions.
-----------------------------------------------------------------------------------
This is my first WoG mod, and made it so that people can play digitally-based levels without the weirdness of wooden signs. Hope you like it!
Update: Wooden Signs is now also available as a separate goomod, see below. It makes all signs in Chapter 4 display as wooden, while leaving all other signs normal.
Feel free to use either of these in your own goomods. Level packs, chapters, themes, whatever. Credit would be nice, but it's not necessary.
There are 2 current downloads.