Jingle Balls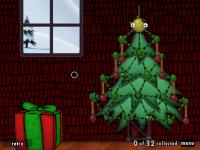 Authors:
davidc
,
xanax
,
CosminMirza
Total downloads: 36,457
Latest version: 1.2
Release date: 12/22/2008 - 08:32
'Twas the night before Christmas, when all through the house
Not a creature was stirring, not even a mouse.
The Goo Balls were nestled all snug by the fire.
In hope of avoiding the Sign Painter's ire.
Fat chance.
Credits
Level design: David Croft (davidc)
Graphic art: Sébastien Kerguen (xanax)
Music composition: Cosmin Mirza
Thanks to spazturtle for the original Santa ball.
Thanks to the translators: Altom, Manray, Nicosmus, Vials, Elvis, Thorin, Herminator and Soultaker and others.
Thanks also to the beta-testers: Vials, Mincus, Herminator, Decar.
And thanks of course to 2D Boy. Enjoy your nap!
Happy Christmas to all, and to all a good-night!